Written by Michael Auliso and republished here with his permission.
Missing some random photographs on page 1 and all photographs on page 2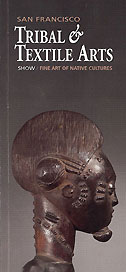 I found it difficult to write my review this year since at this point the show doesn't need reviewing but needs "reviving". If more customers don't start attending this show and spending money, it faces an uncertain future (in my humble opinion).
As I've written before, this show is going through a period of "adjustment" mostly because of the economy, resulting in issues with attendance, buyer apathy, and dealers not signing up to exhibit. I had hoped the issues it was having could be resolved and it would have found its equilibrium point by now. But the "economy" is STILL all encompassing for most dealers and their customers these days.
Despite what the media says, there is no economic recovery and for perspective, the number of people in the U.S. on "food stamps" has swelled to nearly 50 million (equal to the population of Spain or South Korea). Also, 8.5 million people have lost their jobs in the last 5 years which is like having all of New York City out of the labor force. That's a serious impact and explains why the prices for Tribal Art in the middle market are down so sharply. As I keep saying it is a great time to buy.
Before this current environment, there was not only a raging Tribal show in San Francisco but also a thriving Asian show. In fact, not long ago the San Francisco Asian Art Show had far more attendance than the Tribal Show. Now that show doesn't exist. Yes, the Asian Art show held the prior week was cancelled. So, some dealers from that show were combined into a single show now. The billing also changed and it is now promoted as "Tribal & Textile Arts Show, Fine Art of Native Cultures". The tribal show already had an overly broad mix of dealers and now that has been expanded further. You decide if that is a good thing?
Also at the Fort Mason complex was an "independent" African Art exhibit produced by dealer Andrew Berz. The exhibit was held in the large Fleet Room and the pieces were high quality. The exhibit was ambitious and large scale. The opening night was well attended but afterwards it looked like you could land a helicopter in there (a little too much space). Andrew explained that photos were not possible since he has a customer who refuses to buy an object if it is seen on the internet…
To avoid being redundant, below are links to previous reviews where most aspects of this show have already been covered:
Okay, lets check out some photos. Note: these images only represent a small sampling of dealers and pieces found at the show. I'm only serving you "one drop" from the soup bowl.
For years now, New Guinea collectors Sam and Sharon singer have graciously hosted an invitation only party in their home before the kick off of the San Francisco show. Their house is a shoe-free-zone and this hilarious sign was posted on the front door. Apparently Wayne Heathcote doesn't remove his shoes for anyone!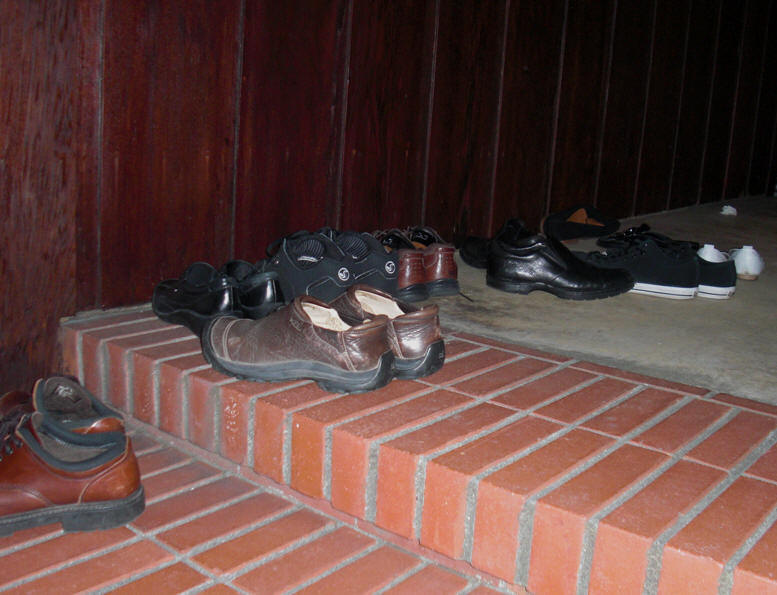 Two things can be concluded from this photo: 1) Its late and most people had already left and 2) the "fashion police" were not in attendance to hand out violations.
Kevin Conru was in great form again this year, keeping the quality of the offerings at a high level.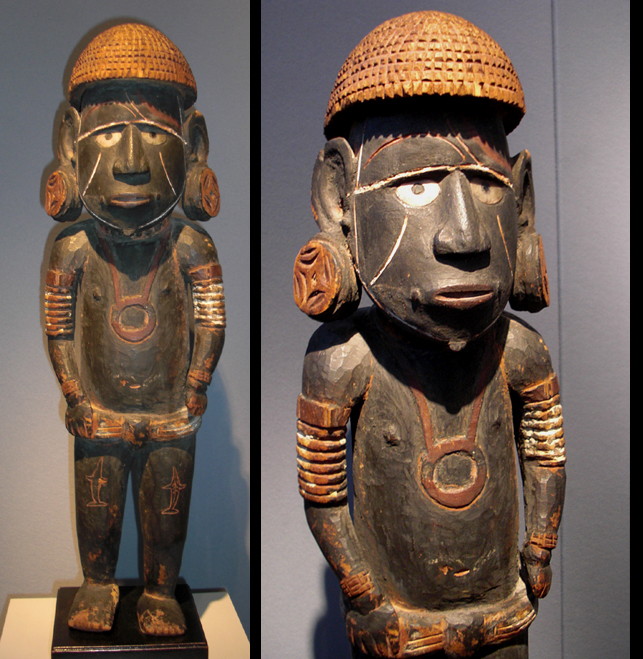 (Kevin Conru) Solomon Island Figure
(Conru) with a large South African Milk container. His assistant standing next to it for scale.
Fily Keita (Los Angeles) with a handsome Lwena prestige Staff/ spear from Angola
(Fily Keita) Also with this fine Ngbaka mask
David Zemanek (Zemanek-Munster Auction) Wurzburg German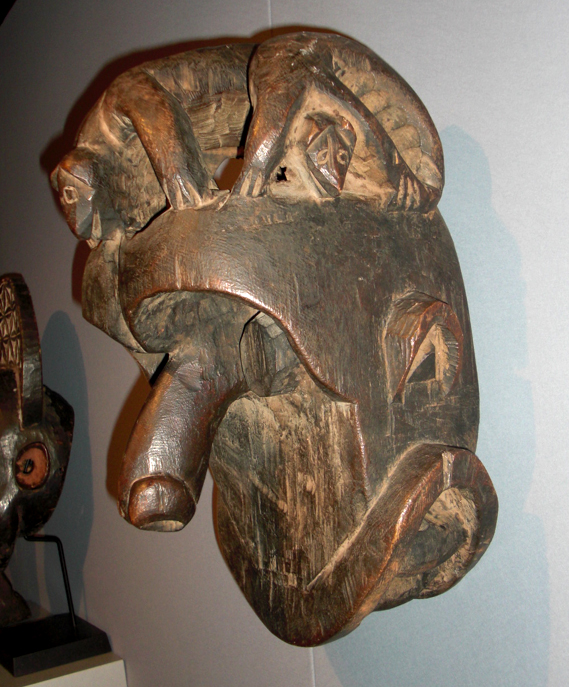 Zemanek, with a unique Cameroon mask (Bamileke) with projecting phallic nose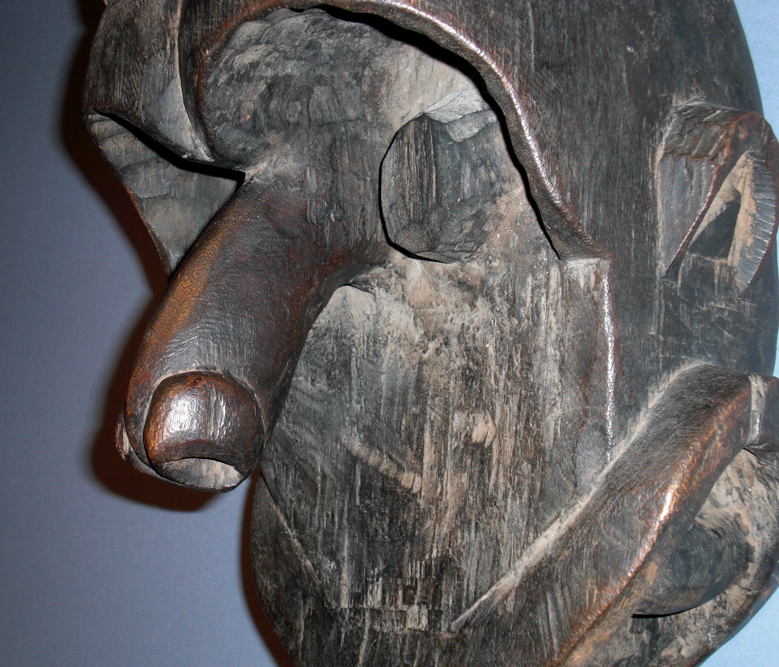 detail of mask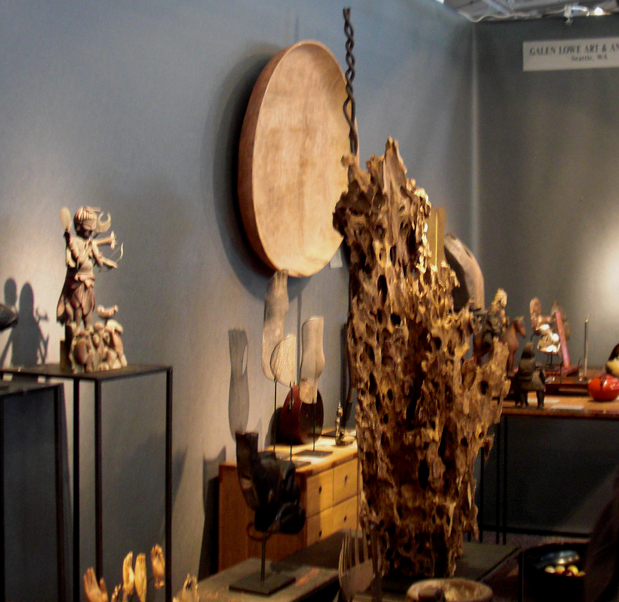 Galen Lowe Art and Antiques Seattle
Thomas Murray, Mill Valley CA
Murray cont. Display case with Indonesian gems
Murray cont. collection of stone Celts from various cultures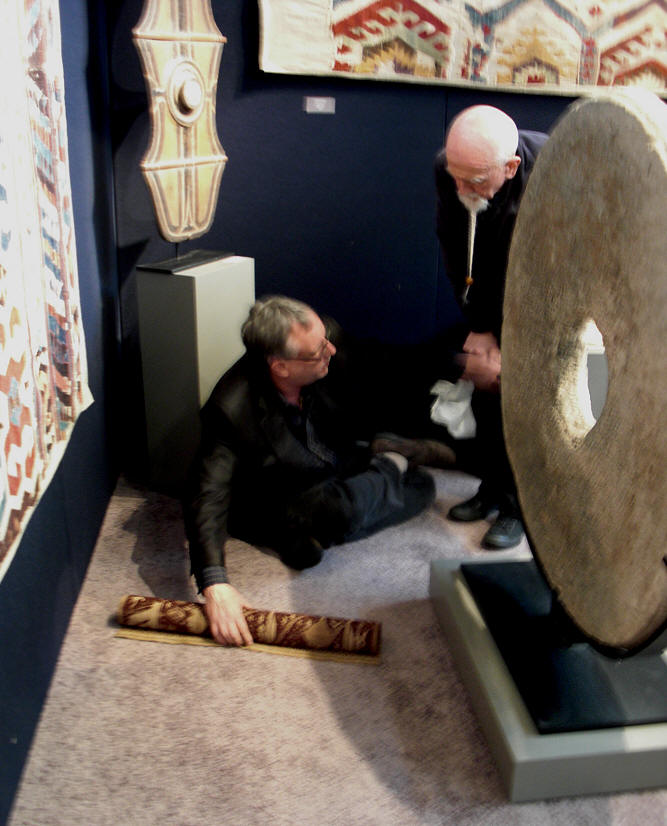 Murray cont. getting ready to unroll a carpet. Look at the size of that Sumba stone disk– forklift.com?!
Joel Cooner next to a signed Paul Jacoulet woodblock print (Title: Femme Tatouee De Falalap Ouest Carolines). Note how Joel selected a wood frame to mimic the tattooing on woman's arms.
Detail of above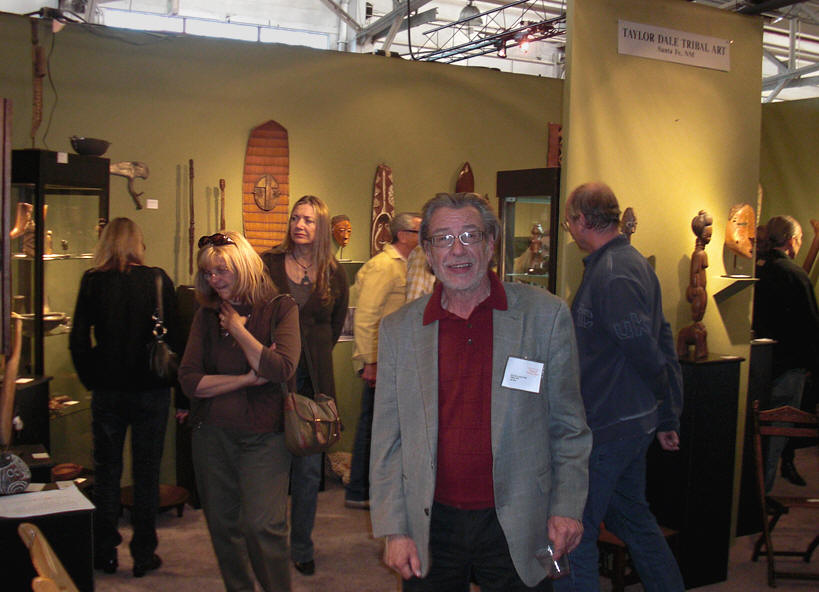 My man Tad Dale (Santa Fe NM) poses for a quick photo as his booth is swarmed.
(Tad Dale Cont.) with a lovely old Luba Stool
(Tad Dale Cont.)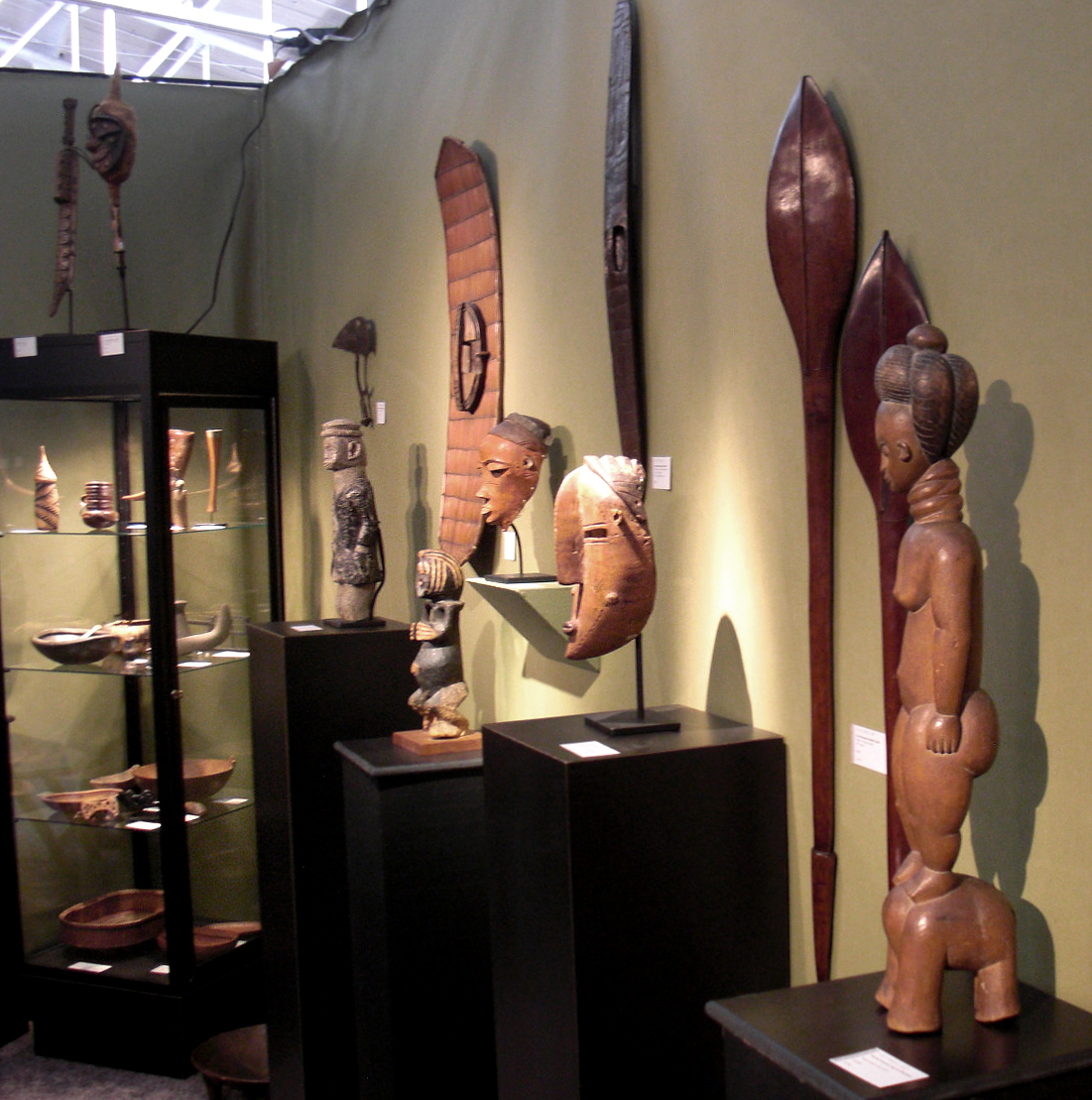 (Tad Dale Cont.)
Vicki Shiba, Mill Valley CA
(Vicki Shiba cont.) In the corner of her booth she had this early Middle Sepik replacement wood head which caught my attention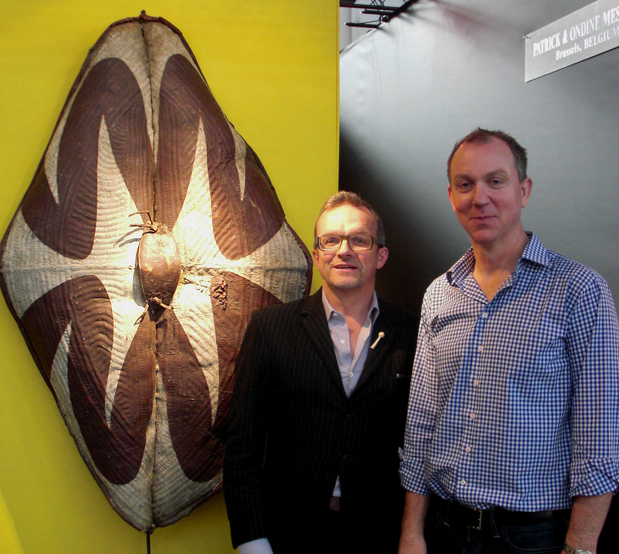 Patrick Mestdagh (Brussels), next to a fabulous Kenyan Luo shield. Bob Dowling, San Francisco (right).
(Mestdagh cont.) These are scarce and in fact I've never owned one of these Nomaic Tuareg War shields yet
Chatting in Michael Hamson's booth, Michael's wife Darcel (right) and Christina Hellmich (De Young Curator of the Jolika Collection)
This year Hamson's booth contained New Guinea pieces from the collections of noted field collectors: Douglas Newton, Harry Beran, Thomas Schultze-Westrum
(Hamson) Papuan Gulf Gope Board with a great nose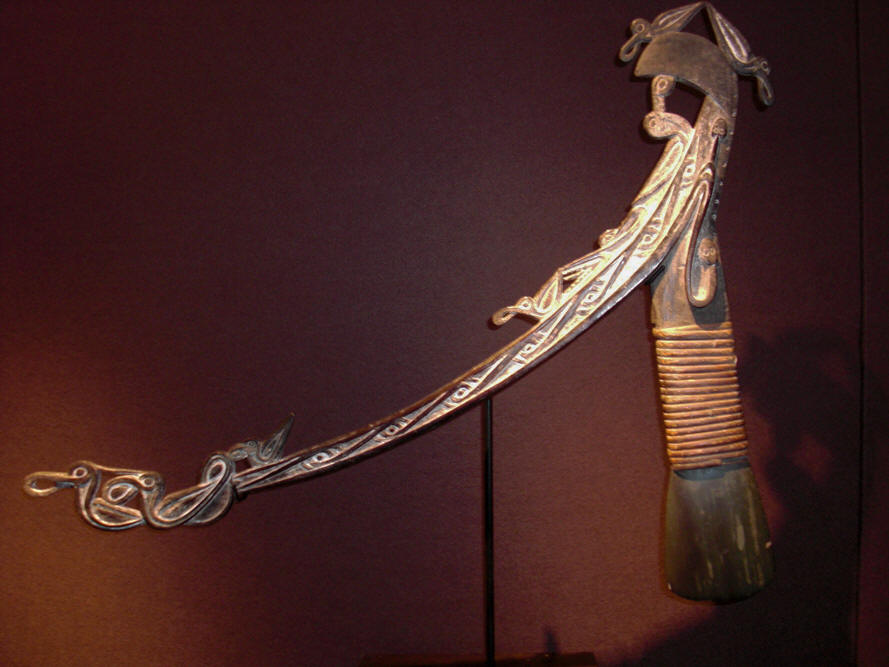 (Hamson) Impressive Massim Trobriand Island Adze
(Hamson) Collection of Massim Lime Spatulas from Harry Beran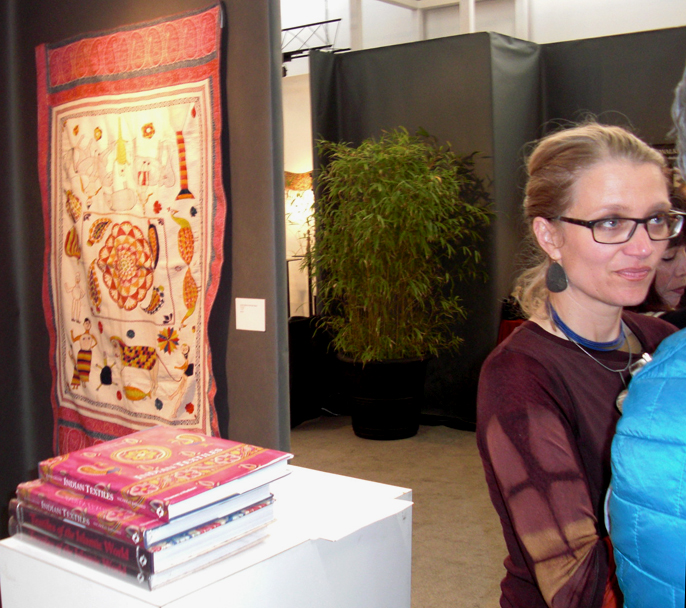 In the foyer of the show inside Festival Pavilion was an exhibit on Indian Textiles which I think were published in the book below. Okay, fine, very nice… but in my opinion a display that reflected tribal rather than ethnographic soft goods would be a nice balance. Gosh, its been 10 years since they've had a shield exhibit (or wood sculpture for that matter) which can be just as graphic and is a more exciting introduction to the show.
Dalton Somare (Milan) A fine Tibetan head of Buddhist sage guru Padmasambava, possibly 18th c.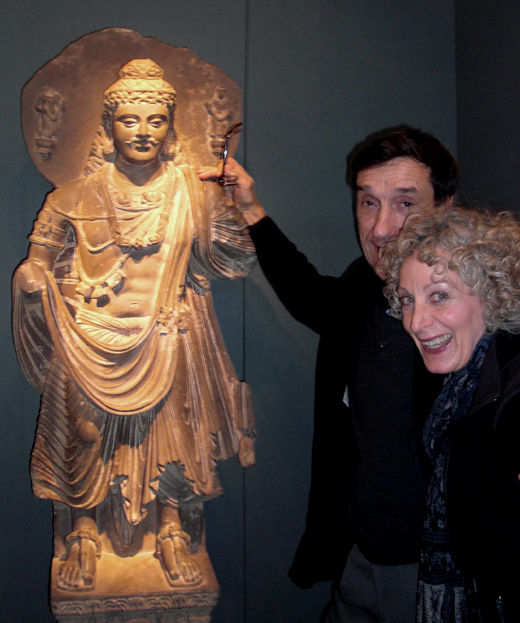 (Dalton Somare cont.) Leonardo Vigorelli and Zena Kruzick standing next to a 5 foot tall sandstone Bodhisattva from Afghanistan 4th-5th century.
(Dalton Somare cont.) Fang Figure
Jerry Bock Splenders of the world with a couple cheerful gals. We'll be meeting up with Jerry again later
James Barker (Santa Fe NM) with a good display of Irian Jaya woven bags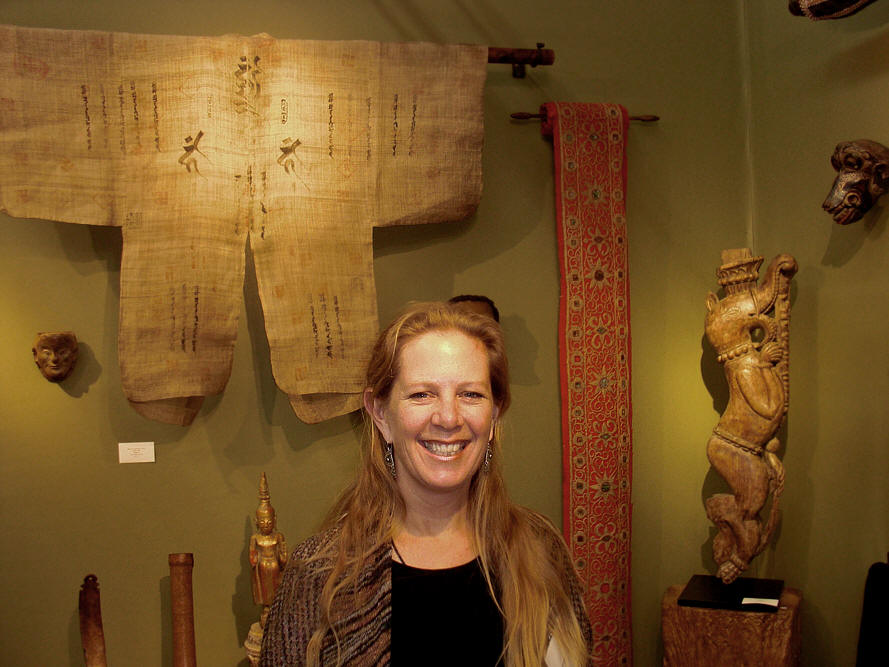 (Barker's booth cont.) That's Carrie Haley who offers Art collection services and management
Chris Selser's Booth (Santa Fe NM). That's Alice Kaufmann in the center who makes ATADA (Antique Tribal Art Dealers Association) and its Newsletter run.
One dealer told me he never saw anyone coming down the aisle who had a "buying spark" in their eye. That might sum it up right there?
Some dealers like Wayne Heathcote and Dave De Roche sold well but other dealers with years invested in the show sold little or nothing. There is a constant rotation of success since not enough dollars are being spent to float all of the exhibiting dealers. In fact, this unpredictably is one of the reason I don't exhibit anymore, plus I have my gallery and truthfully don't have to.
Ultimately its the enthusiasts and active collectors who will decide the level of the show they want to experience going forward. To that end I suggest that people attend the show, make a purchase (even a small one), enjoy the art experience and San Francisco. Increasing "collector attendance" is the quickest way to see the show thrive which will encourage better dealers with exciting material to exhibit again.
Joris Visser (Brussels) A middle Sepik Canoe Cane Mask(?)
This jade, ruby, turquoise and silver Persian Parade shield belonged to Bill Sutterfield (18th-19th c.)
Lin Willis decked out in red for the Chinese New Year Celebrations
Lin and Jim Willis with a large impressive Bamana House post
(Lin and Jim Willis) A sensitive and refined Fang Mask
Among bay area dealers who always have high quality graphic textiles are Kathy Cootner (above)
and Andres Moraga
Andres Moraga- Berkeley CA
Erik Farrow- San Rafael CA, holding a freakishly large South African Wirework club. New Guinea Lumi shield in the background
Erik Farrow (cont.) North African Chair
Ethan Rider- Alameda CA
Ethan Rider with a rare house post from the Yami People of Taiwan
(Ethan Rider cont.) Fine Batak Rice door Sumatra
David Cassera- Washington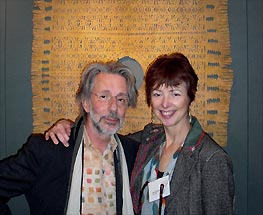 Alan Marcuson and Diane Hall- Brussels. Note the scarce Polynesian Cook Island bark cloth tunic
Neil Becker (New World Antiquities-West Harrison NY), with a large Northwest Coast hand pipe bowl (Haida/ Tlingit)
Neil Becker (cont.) Eskimo Ivory Implement
(Neil Becker cont.) 19th c. Northwest Coast Kwakiutl hamatsa headdress
Jerry Bock- Haiku Hawaii, holding a Marquesas Island Fan. Jerry mostly sells Pre-Columbian art but has a collection of Polynesian art
Jerry Bock (cont.) Detail of fan handle
Jerry Bock (cont.) A very rare 18th century Marquesas island charm made of the beard hair of men from Chiefly rank
Jerry Bock (cont.) 19th C. Samoan Tapa
Wayne Heathcote (Miami) with a selection of Important Aboriginal Churinga
Wayne Heathcote (cont.) with a New Guinea North coast Turubu Barak mask with a cantilevered mosquito-like nose. A pretty cosmic example!
Stendahl Galleries- Los Angeles always with a top quality selection of Pre-Columbian Art
On my third time around the show I spotted this cool New Guinea Bioma figure in the unlikely booth of Omar Keinde (New York)
Peter Boyd- Seattle
Ina Nouel- Insite Antiques & Design San Francisco, Next to a pair of Philippine Bulul figures
(Ina Nouel) A Timor textile as I recall
Detail of above
Mark Eglington- New York City, holding a Lulua figure
Detail of above
END