Written by Michael Auliso and republished here with his permission.
Missing most photographs on page 1 and all photographs on pages 2 and 3
This year I didn't participate in the show since I had an ongoing New Guinea exhibit at my gallery. However, I was at the show everyday observing and talking to everyone which gave me a fairly clear perspective.
The show promoters organized this year with their usual artistic expertise. The show was attractive from entrance to end, and had the appealing foyer display attendees have come to expect. Opening night was as lavish as past years, although attendance seemed down, possibly due to the economy and the fact that the ticket price had not been lowered from past years.
It seems to me that what was once an "international" show has been slowly evolving into a "local" one. It was only a few years ago when you would see "top tier" dealers from the Paris and Brussels galleries exhibiting or visiting the show. They weren't represented at the show for the most part, which also excluded many of their customers. Just a few years ago the show was buzzing with the best dealers and collectors from the East Coast but they were sparse as well. As late as 2007 this popular show was packed with European dealers mostly because the promoters were giving them priority. It was truly an international show back then with some stellar material to draw in visitors. Five years later it has contracted to a kind of regional/ domestic show and today it is drifting toward the label of being called a "local show". I've talked to several dealers who said they had to persuade their out-of-state customers to attending the show this year. The sad truth is that after three quarters of the European dealers left the show, it has been suffering from a deficit of quality. That's undisputable. There are still good pieces there but the "perception" of lesser quality is a dangerous narrative that may be taking hold.
Overall there was a distinct lack of exciting material which seems to be the new Paradigm. Unfortunately more key dealers, known for their fresh material and quality, dropped out of the show. They included, Kevin Conru, Michael Evans, Ben Hunter, Jim Hart & Loretta Carbonaro, Craig De Lora, Galerie Flak, Jackaranda Tribal Art, Tribalmania, Lewis Wara Gallery, and others. For the most part a new mix of jewelry and rug dealers occupied these booths. If the show continues to lose "tribal dealers", honestly there won't be much "tribal" to write about anymore.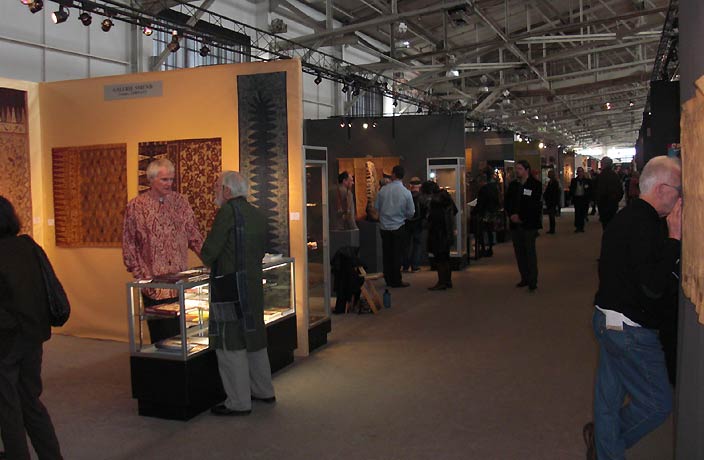 On the flip side, his year sales seemed "slightly" improved over last year. Customers seemed to be a bit more upbeat and ready to wade back in the market. I attribute this to a modest up-tick in consumer confidence. The remaining tribal dealers seemed to benefit from reduced competition created by the many dealers which dropped out. This natural process of attrition and transition seemed to create market equilibrium, a rare first, under the roof of the "Festival Pavilion" building. In past years the large number of dealers and vast supply of Tribal Art have always eclipsed the small pool of buyers. That pretty much changed this year and the dealers that hung in there found less competition for their pieces.
So the "right-sizing" of the show took place this year. The market has basically determined the correct size of the show and the mix of dealers. It was unrealistic to think that its scale and intensity, seen in 2006 and before, could be maintained indefinitely, especially in a climate of economic headwinds.
For every dealer I know of who sold well, exceeding expectations, there were an equal amount who sold poorly and this included established dealers who typically sell well in San Francisco..! The trend of Oceanic material selling better than African continues. To be blunt, the African material was largely uninspiring. Its pretty clear that San Francisco is not the best city to sell high end African art– the customers aren't here. Five years ago it seemed like it was a good African selling venue but that was largely because a few "key buyers" were once active in the market.
The promoters reshuffled the African and Indonesian vetting committees this year adding Pierre Loos from Brussels for African. Bringing in outside experts, like I've advocated, is a step in the right direction but more are needed to replace ALL of the dealers who formerly vetted. Some inside baseball….. Some African dealers told me privately that they resented pieces being removed from their booths during the vetting process by dealers they felt were less qualified. Often pieces that were vetted out wound up back in the show making it frustrating for those doing the vetting. Vetting is like the ugly process of "sausage making" and is best outsourced to objective independent experts to get their hands dirty.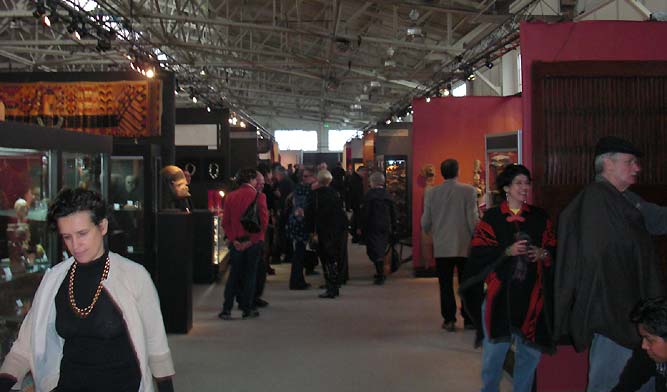 Many dealers were still trying to make sales by showing existing inventory familiar to many of us. This is a very "capital intensive" business often requiring LARGE cash investments for new material. In this economy, capital is what most dealers lack, BUT it is the new, undiscovered, and exciting material that collectors "hope" to see every year. Unless a dealer has very deep pockets or has access to great material on consignment, they may not be able to stay competitive…
I heard there was a new collector from southern California who was a new attendee, and a Museum curator who was lining up pieces to present to their board of directors for purchase. With those two exceptions, it appeared the same contingent of old buyers were active. There are always one or two dealers who take the Lion's share of business. This year a European dealer, sold 18 pieces totaling over $200K. Half of these pieces had been purchased from other dealers prior to the shows opening! Nice going– the Midas touch I guess?
I disagree with some of my colleagues who say sales were better this year because of an improving economy. Maybe? Consumer confidence did seem more upbeat, possibly because of a rising stock market, but we are not out of the woods yet and this is an anemic recovery at best. The U.S. economy is still skimming the bottom. The GDP growth rate in 2011 was just 1.5%. Coming out of a recession historically we've had growth rates of 4-6% GDP. The real unemployment rate "U6" is still very high at 15% and includes people who have stopped looking for work. There has never been an economic recovery without the housing market strongly rebounding and leading the way higher. However, the housing market remains weak with prices nationally back down to 2001 levels despite record low interest rates. The spike in gasoline prices alone can throw a wet blanket on any economy recovery, because for every cent increase in gas prices, a billion dollars is taken out of the economy. So a one dollar increase in the price can take a Trillion out of the economy. In central Europe there is no recovery, just the prospects of a longer recession and an unresolved debt crisis. The geopolitical tensions in the Middle East get more serious by the day and it now seems imminent that Iran's nuclear sites will be struck. Not to be a downer, but a sustained economic recovery seems far from certain.
James Stephenson (Brooklyn) with a rotund and noteworthy Mende female figure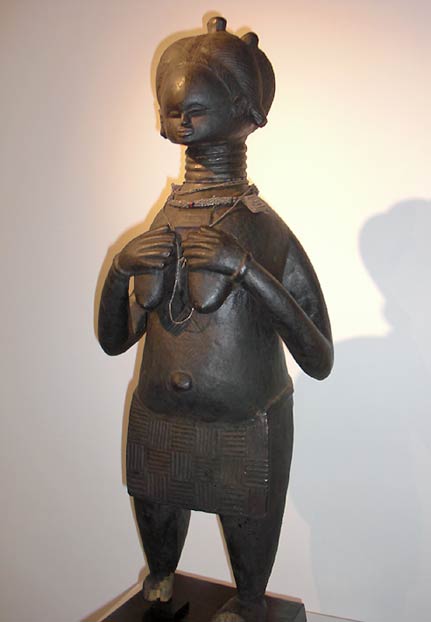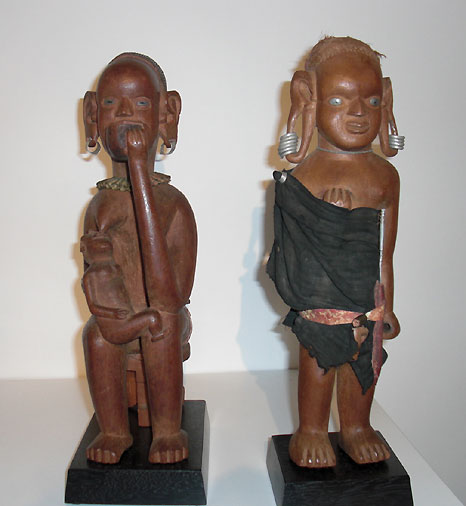 (Stephenson) Pair of Kamba figures from Kenya
James Willis (San Francisco) chatting with customers
Galen Lowe (Seattle) with a fine selection of mostly Japanese art
Galen Lowe (Seattle)
Andres Moraga (Berkley) has been a fixture at the front of the show since it began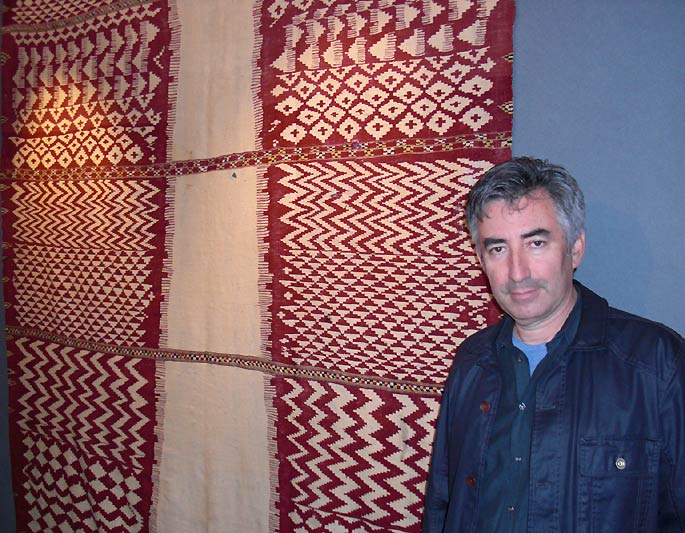 Andres next to a woven Algerian Woman's wrap, Kaba'il People, circa 1880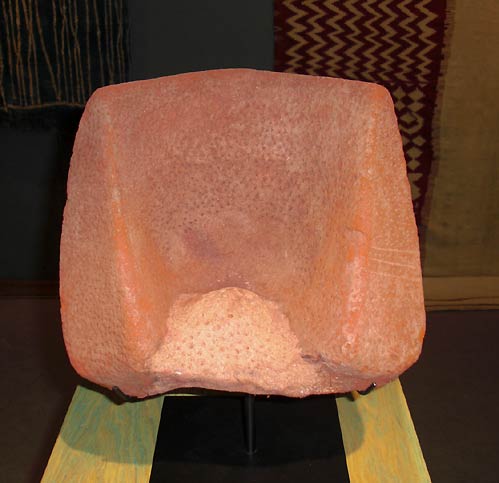 (Moraga) This unusual looking piece is a Kuba hat with applied takula powder, worn by pregnant women for 9 months
Bruce Frank (New York) always has fresh material of interest to connoisseurs
(Frank) Detail of a fine Korwar charm with child
(Frank cont.) An early New Guinea Upper Sepik Pottery bowl and a large Philippine Bulul wearing an "oklop" helmet
Brant Mackley & friend (Hershey Penn.)
(Mackley) Iroquois False face mask
(Mackley) handsome contents in his display case!
Booth of Gary Spratt and Miranda Crimp (Mill Valley)
Detail of a fine Navajo weaving which was woven for the Wetherill family at Mesa Verde, Colorado in the 1880-90, Wool dyed with vegetable and aniline dyes in a classic period Serape pattern.


Miranda Crimp always has a terrific selection of Jewelry. The beaded blouse on the wall is from the Bagobo people of Mindanao (S. Philippines)
(Gary Spratt)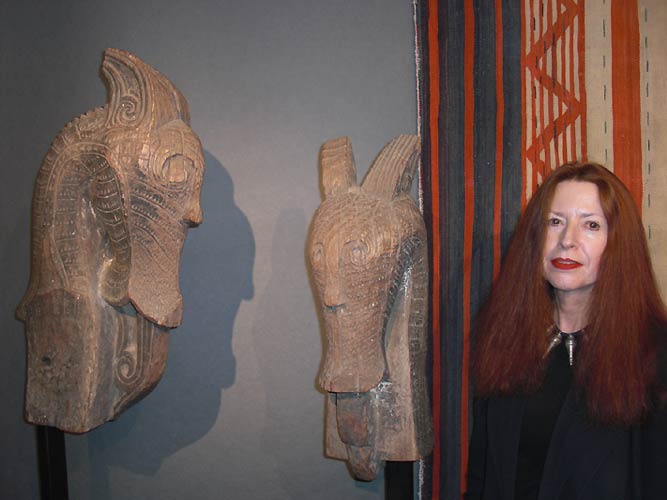 These Batak "Singa" heads from Sumatra came from the ends of a large dowry chest.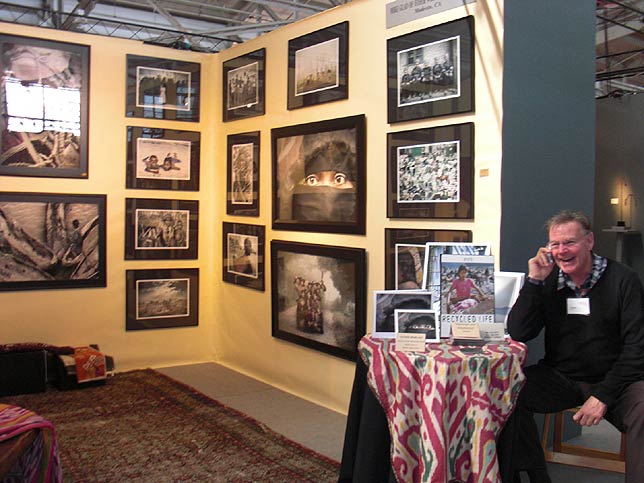 Photographer, traveler and collector Mike Glad's booth. Mike was selling DVD's of a hard-hitting documentary he produced called "Recycled Life". It is about people deriving sustenance from the largest garbage dump/landfill in Central America. It is heart-breaking but worth a look.
Mark Johnson's booth (Los Angeles)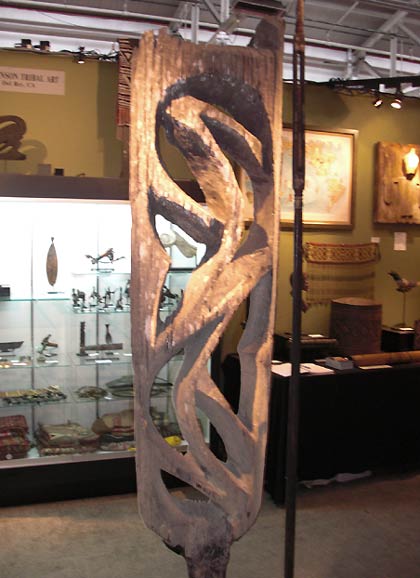 (Mark Johnson) Modang Dayak Sculpture
Leonardo Vigorelli- Dalton Somare (Milan) with a large Maori figure
(Vigorelli) Small Songye Fetish
(Cooner) Wearing a 18th c. or earlier "European" festival mask. Joel loved to quiz people where the mask is from.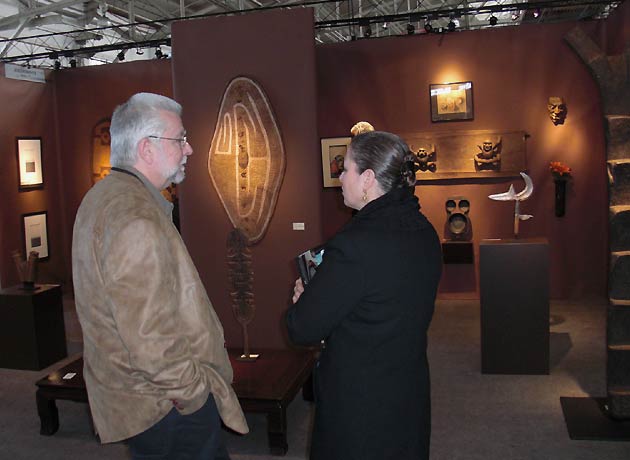 Joel Cooner (Dallas) chatting with Christina Hellmich- Curator of the AOA Department de Young Museum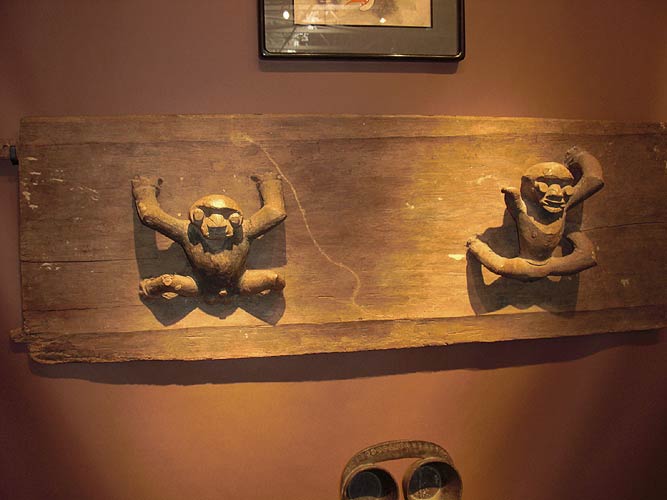 (Cooner) with an important Dayak panel collected in 1898
(Cooner) Expressive Japanese Oni candlestick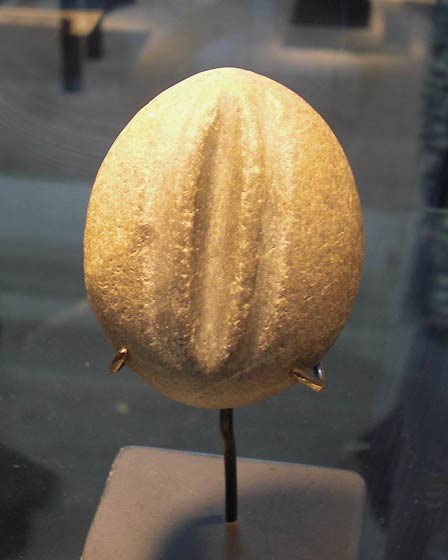 (Cooner) vagina representations! Left: African Bellows, Right: a Columbia River arrow straightening stone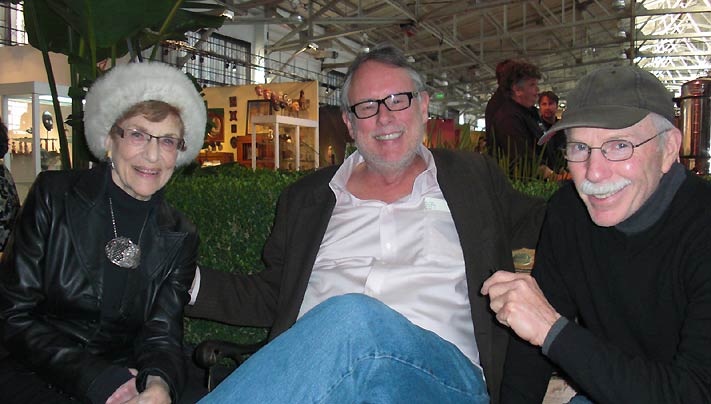 Tom Murray (center) next to Raphael Reichert collector, sculptor and Art Professor. During the show, Tom celebrated his "39th" birthday.
Tom Murray
(Tom Murray) Far right, a pair of Philippine standing Bulul figures made by the noted carver "Tagiling"
Booth of art dealer Ernie Wolf- Los Angeles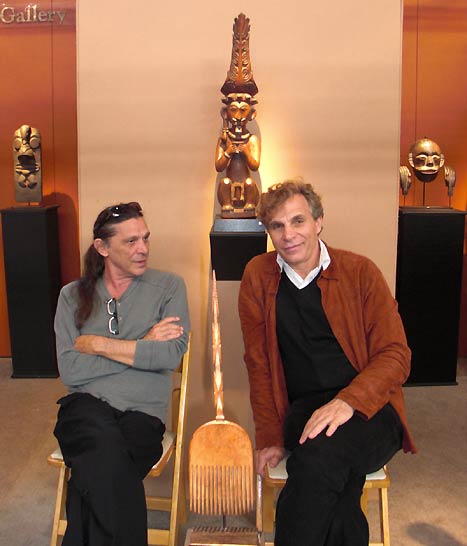 Booth of Wayne Heathcote who was not present at the show. Jack Sadovnic (left) talking with Bruce Carpenter
(Heathcote) with a complete New Guinea Vokeo Island mask
This year the show catalog was revised down to a narrow pocket size format. In prior years it was a larger format containing both the Asian and Tribal show dealers. Combining the shows in one catalog made it thick and less convenient to carrying around. Some dealers were indifferent to the change but others were clearly rankled. Apparently they would have liked to have been told about the change and felt slighted since they were paying the same amount for smaller size ads and photos.
This narrower catalog was more difficult to look through and often made pieces run into each other
Arte Primitivo, New York
An impressive group of Incan gold chalices
This Large Cocle Gold Eagle from Panama (c. 800-1200 A.D.) was 354 grams of Gold! Think about the "melt value" alone on this piece.
Detail of Gold Eagle
Robert Brundage, Petaluma CA, Nepalese figures
Insulinde Indonesian Arts (Frank Wiggers) with some fresh Indonesian material. I liked most everything in his booth including the Bahau Dayak support posts (center) from the collection of Anthony Granucci.
(Frank Wiggers) Pair of Batak figures Sumatra
David Zemanek representing his family's auction company "Zemanek-Munster", Wurzburg Germany
(Zemanek) I loved this Javanese Kris handle
Clive Loveless- London, talking about a Chinese painted wicker shield (pre- 1880, Tiger or Demon shield, pre- Boxer Revolution, ex. Fred North collection)
(Clive Loveless cont.) Clive who always has one of the most tasteful booths in the fair tells me it was his last show in San Francisco. "This was my 14th visit and 10th anniversary showing at the Fair… but I think I have decided to hang up my rock n roll shoes and discreetly leave the floor!" All of us will miss his harmonious displays and astute eye for design and quality.
Michael Hamson
I was really "feeling" this pair of New Guinea Schouten Islands Masks from John Friede's collection
(Hamson) This Admiralty Island Bowl with carrying handle was a great find
Detail showing a stylized Pig and Crocodile with bowtie repair
Joe Loux- San Francisco. Joe told be that he sold his piece in the show catalog. It was a grave marker made of Coral from the Sulu archipelago, Philippines. It can be partially seen on the far right.
Alan Naoum (Brussels) with collectors Bob and Margaret Wall
Fily Keita (Los Angeles) possibly the most active dealer in our field, constantly traveling, turning deals and racking up "air miles".
Vicki Shiba- Mill Valley
(Shiba) Nepalese Durga 17th C.
(Shiba) Detail of a Flores ancestral post
(Shiba) Detail of an Iban Dayak textile "Pua Sunkit" from Borneo. An early example (late 18th- mid 19th c.) from when headhunting was a fundamental part of the culture.
At lunch time at the food court. A nice area with natural light ideal for relaxing, recharging before taking in more of the show.
Mark Eglinton (New York) next to a pair of Ituri masks from the rainforest region of the Eastern Congo
John Molloy (New York) with a wonderful Greenland Eskimo Kayak
Amayas Naegele (New York)
Naegele
H. Killim Brown (Brussels/ USA) had this really amazing basketry rattle with a multiplicity of cone chambers! I even thought about buying it. It is from somewhere in the Congo, its craftsmanship is terrific, and looks like a contemporary art sculpture. Only two other ones are known with one example being in the UCLA Fowler Museum. With one shake of the hand an orchestra of rattles begins sounding. I'm thus naming it "The Force Multiplier Rattle".
Erik Farrow (San Rafael, CA) next to a New Guinea Telefomin Shield
Farrow posing for a quick photo with Linda Pastorino's lovely daughters.
Insite Antiques & Design (San Francisco) with a large Solomon Islands feast bowl
"Marcuson and Hall" Alan Marcuson (Brussels) standing next to an Eskimo child's parka.
"Marcuson and Hall" has an affinity for fiber objects especially Tutsi from Rwanda
"Marcuson and Hall" I didn't have time to ask where this silk embroidered tunic was from but is likely West African. Gorgeous!
(Marcuson and Hall) This wood object with copper decoration is actually an archers wrist guard from the Tutsi people
detail of above
The woven mat Alan is standing next to is a plaited Palm fiber "mkeka" from the Swahili of Tanzania
(Marcuson and Hall) Alan tells me this is the finest prestige double cup he has seen and is attributed to either the Tutsi people or the Burundi
Tad and Sandy Dale (Santa Fe, NM) I liked his Aboriginal bark painting with the "mimi spirits" on the white background
Tad and Sandy Dale (cont.)
While having lunch in the food court I quietly snapped a photo of Jack Nicholson. Wait a minute… that is Michael Palmieri, aka "Michael Borneo" using the convenience of an ipad to show images.
Josh Dimondstein (left) talking with the semi-retired collector Joel Green
Booth of Louis Nierijnck (Maastricht) Netherlands. Louis is especially interesting to me since his booth is always full and he sells well. I think he has mastered the fickle San Francisco market and knows exactly what mix to bring and at what price point it will sell.
Booth of Joris Visser (Brussels). He was not going to exhibit this year but the show promoters tempted him with this large desirable booth adjacent to the food court. I understand Joris had a very successful show.
(Visser) Sold this Vanuatu human effigy "rambaramp" figure
(detail)
booth of Ignacio Villarreal (Santa Fe, NM)
booth of Bryan Reeves "Tribal Gatherings London"
Christopher Selser (Santa Fe, NM). Chris' lips were still puckered up from the extra HOT Cajun Jambalaya they were serving for lunch. Chris never shows that many pieces but what he has is always high quality. Sitting next to Chris is Alice Kaufman the executive director of ATADA- Antique Tribal Art Dealers Association.
Fernandez Leventhal (New York) with a collection of Dan Passport masks
Fernandez Leventhal (New York). This cool figure with alien-like head is from the Sakalava people of Madagascar.
Howard Rose "Art of Eternity" New York with a Northwest Coast Tlingit Bear Clan figure
Bill Sutterfield (Alameda CA) with a rare early Indonesian shield from Mentawai
Booth of Kip McKesson (Tanzania) and Neil Becker. I meant to take individual photos but there were always people in their booth. I hope you sold well guys.
"One World Tribal Art" (San Francisco). That pot in the center is a MASSIVE Beer Pot from the Shipibo of Peru.
Mr. Chris Boylan Australia
Boylan- Detail of a New Guinea Mendi Shield
This interesting faceless sculpture belongs to James Willis. It is a New Guinea Lower Sepik River, Pora Pora River skull shrine effigy. Not all of the piece is there and its face would have been overmodeled with clay and applied painted. Most importantly, Jim mentioned, it once had a wooden spike raising from the back of the head upon which a human skull was displayed. I'm highlighting it because of its raw powerful presence and to underscore just how rare it is to see one.
Disclaimer: While my opinions are accurate, they are not intended to disparage anyone. My goal is always about making this business better and the only way to do that is to raise awareness and not ignore problems. What I've wrote is no secret to anyone, and by refusing to face facts, we are setting ourselves up for failure. However, if we take an honest hard look at the whole picture, we may be able to survive this global economy, until some major change takes place and the economy is moving decisively to the upside. Hopefully that will be sooner than later.