Written by Michael Auliso and republished here with his permission.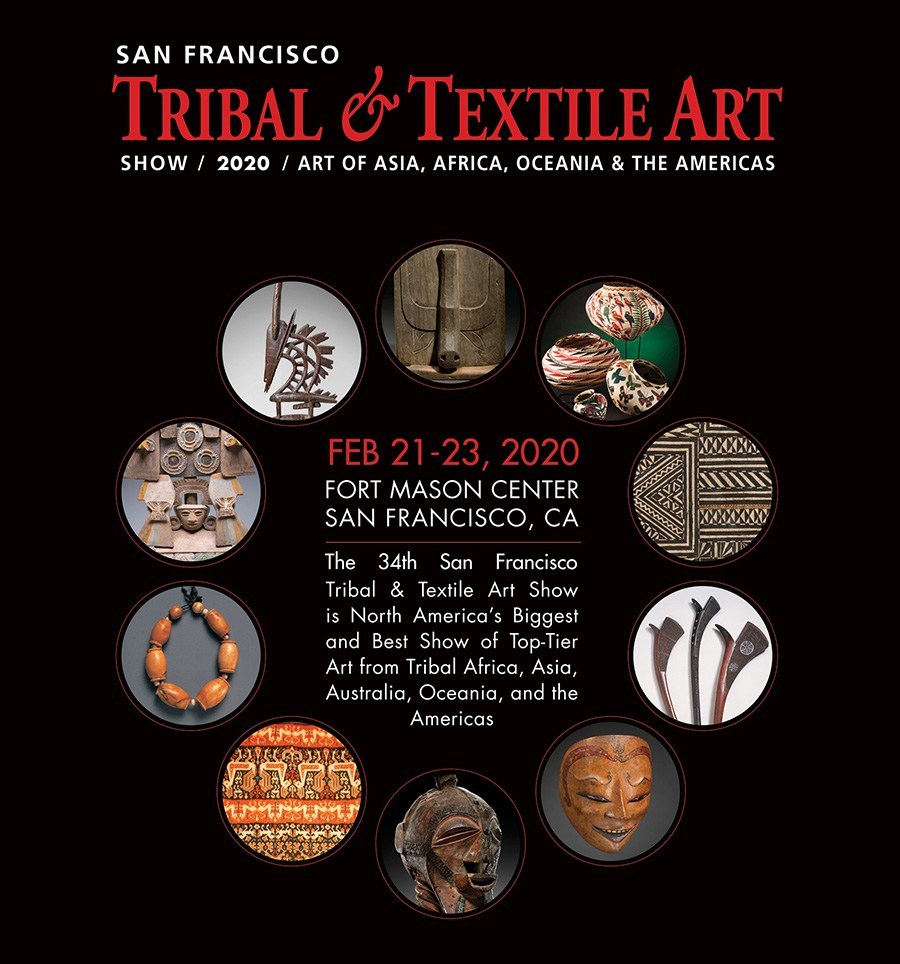 This is the first review of the San Francisco Tribal Art Show after its significant transformation.   We're fortunate the show happened "before" the Wuhan Virus could shut it down.  The new show promoters made several BIG changes.  They made the show one day shorter with the opening happening on Friday at 2pm instead of Thursday evening.  Most importantly, they made the bold decision to combine TWO shows into one!  Their Native American Art show, which normally occurred a week after the Tribal show in Marin, was combined WITH the tribal show this year.   This meant that many Tribal Art dealers were purged from the show both voluntarily and involuntarily.  Dealers not returning this year include, Chris Boylan, Wayne Heathcote, Michael Auliso, Zena Kruzick, Tad Dale, Morgan Oaks Gallery, and Laurent Dodier.   Dodier was the last of the French dealers to try to capitalize on the show but ultimately gave up on the American market too.  Back in 2006 the show was just the opposite.  It was at its zenith with over half of the exhibitors at Fort Mason coming from Europe.   Those were the days when the there were mega American Collectors driving the market though.  

Regarding dealer sales at the show, nobody told me they sold great but Vicki Shiba said she was surprised and pleased with sales.   Saturday was the most crowded day and there was some buzz and energy.   People were not only drawn by the art and exhibitors but also by the two special exhibits, "The Casper Project" in the foyer and the Native American blanket exhibit "Variations on a Loom".   For most people it is enough for them to have an art experience without the need to buy or collect.   Some dealers told me if they had not sold to other dealers, that they wouldn't have had any sales.  So there is a kind of alchemy that takes places from all the dealers assembling in one place which is certainly positive.  But it is not so for everyone.  A  New York exhibitor told me the high booth rent, plus travel and hotel expenses, make it difficult to break even.   So we may even see fewer East Coast exhibitors in the future?
​  
From my observations the number of visitors under age 40 years is less than 10 percent.  It is a testimony how this market has been drastically reshaped by a devastating generational shift.  Over the last 12 years the entire marketplace has contracted largely due to changes in attitudes and behaviors of the "Millennial generation" (born between 1981-1996).  They don't care about having an old fashioned "Art Experience" or about the art their parents or grandparents collected.  Unlike past generations, what they value is electronic devices, social media likes, climate change,  and "woke culture"… 
From my perch the transition has been sad to watch. But the great news is there is always fresh old material coming to market and the timing and buying opportunity is amazing. I analyzed a raft of old receipts from over the years and my data shows that prices from 2008 have come down 40-70 percent for the "middle market"! I know since I swim there. This is not true for the very high end though and will remain so. My point is that I'm screaming from the roof top saying "There has NEVER been a better time to buy or begin collecting with such historically low prices. Mega Investor Warren Buffet keeps making billions on the contrarian philosophy: "Be Fearful When Others Are Greedy and Greedy When Others Are Fearful".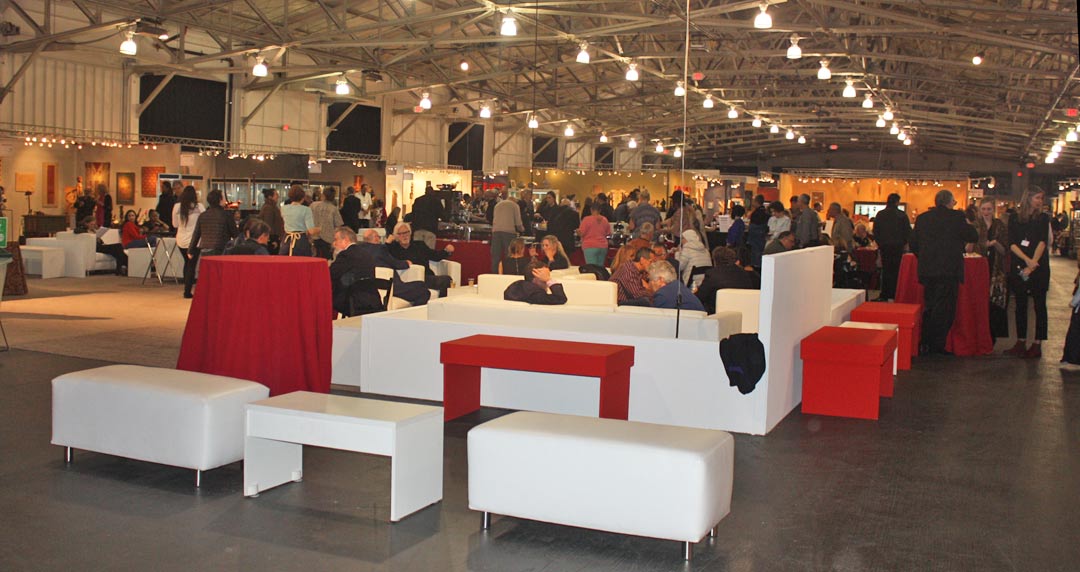 Opening night around the food court.
​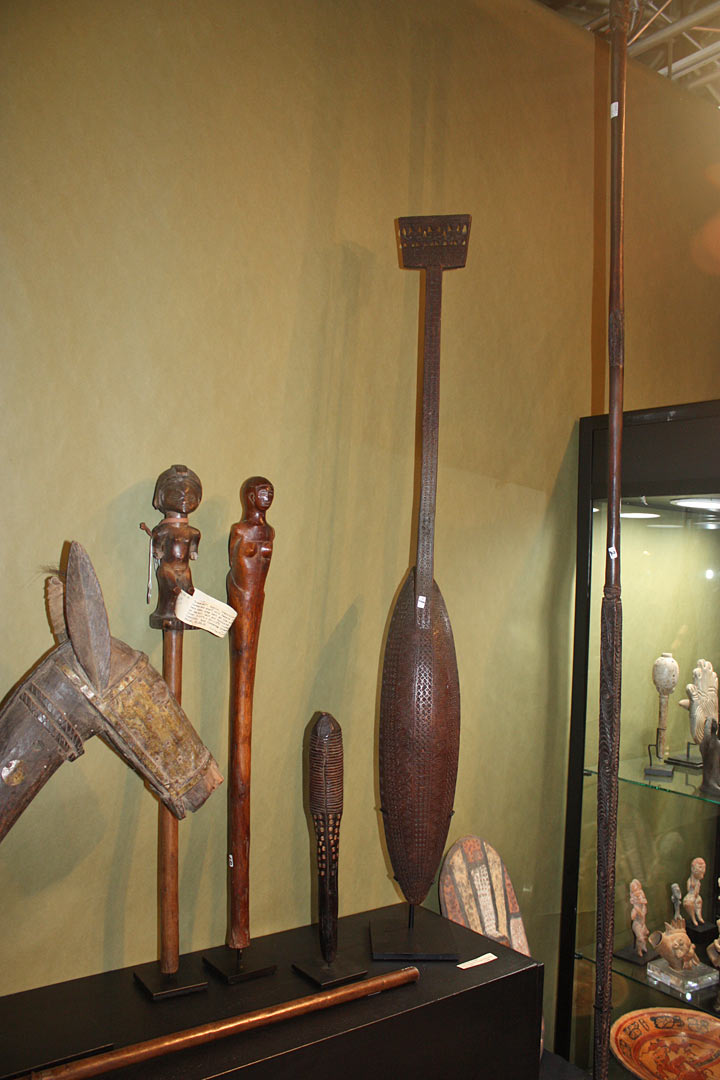 Dave Deroche (Piedmont CA) with an Austral Island Ceremonial scoop.
​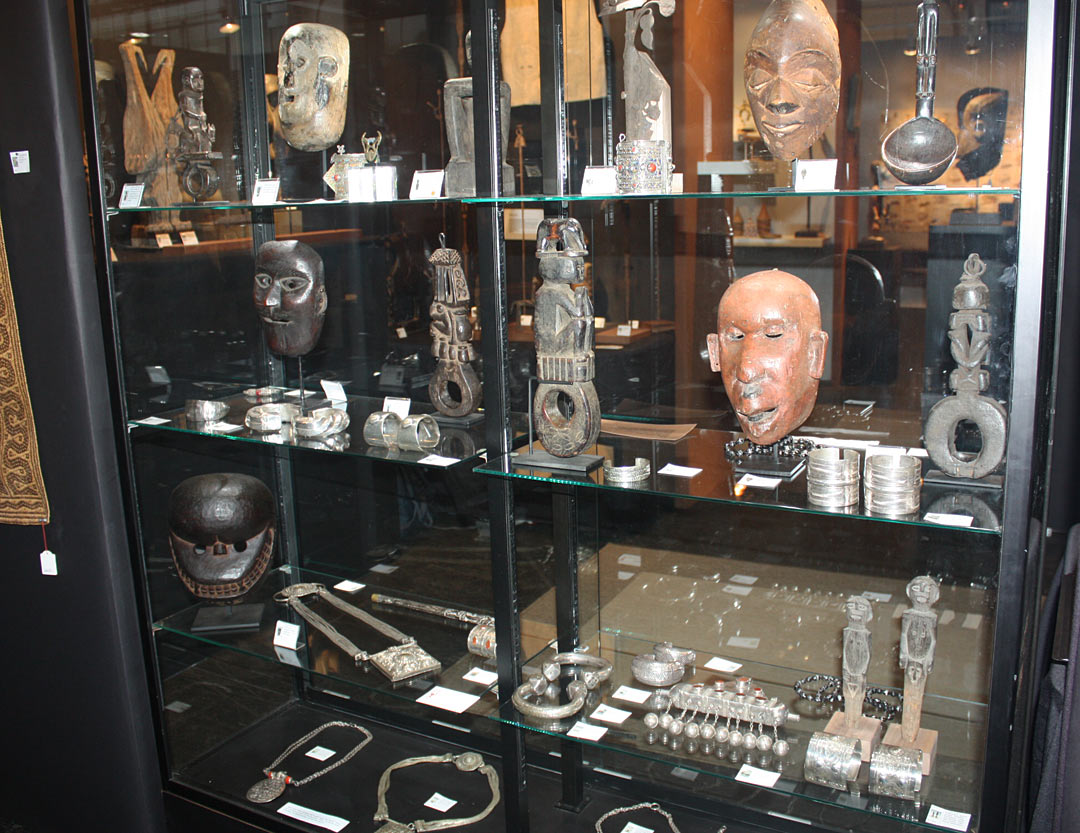 Louis Nierjing (Maastricht Netherlands) Always great Himalayan Material.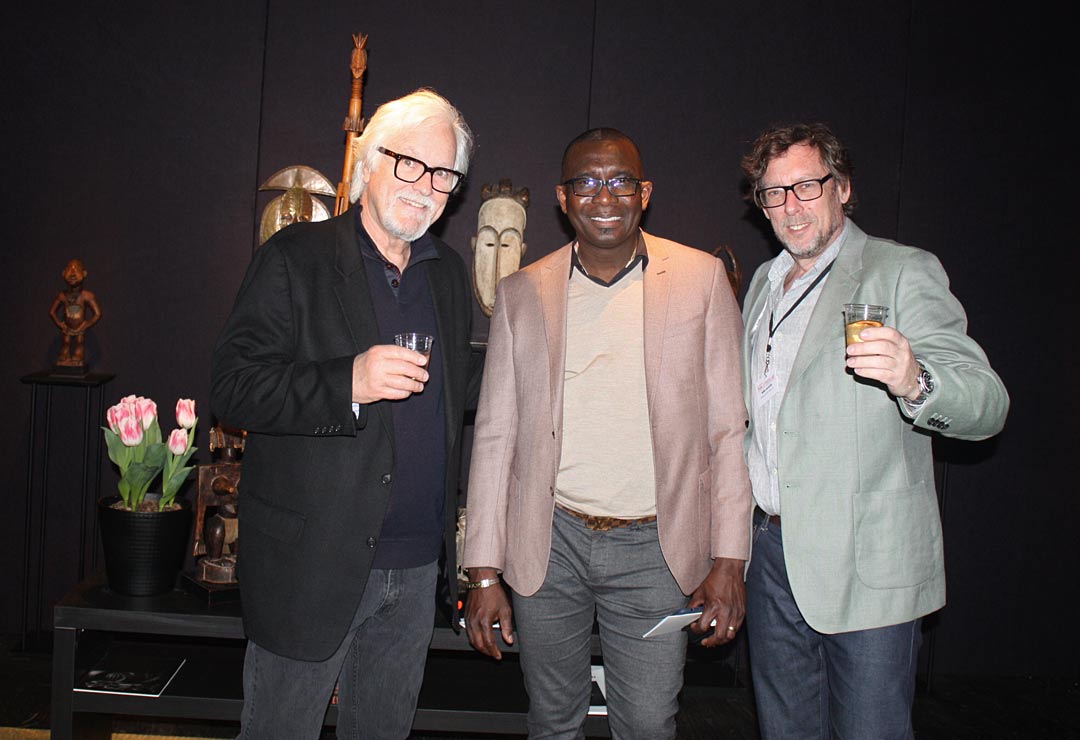 Opening Night. Photo was taken in Mark Eglinton's impressive booth at the front of the show (Left to right: Woods Davy, Fily Keita, Mark Eglinton)
​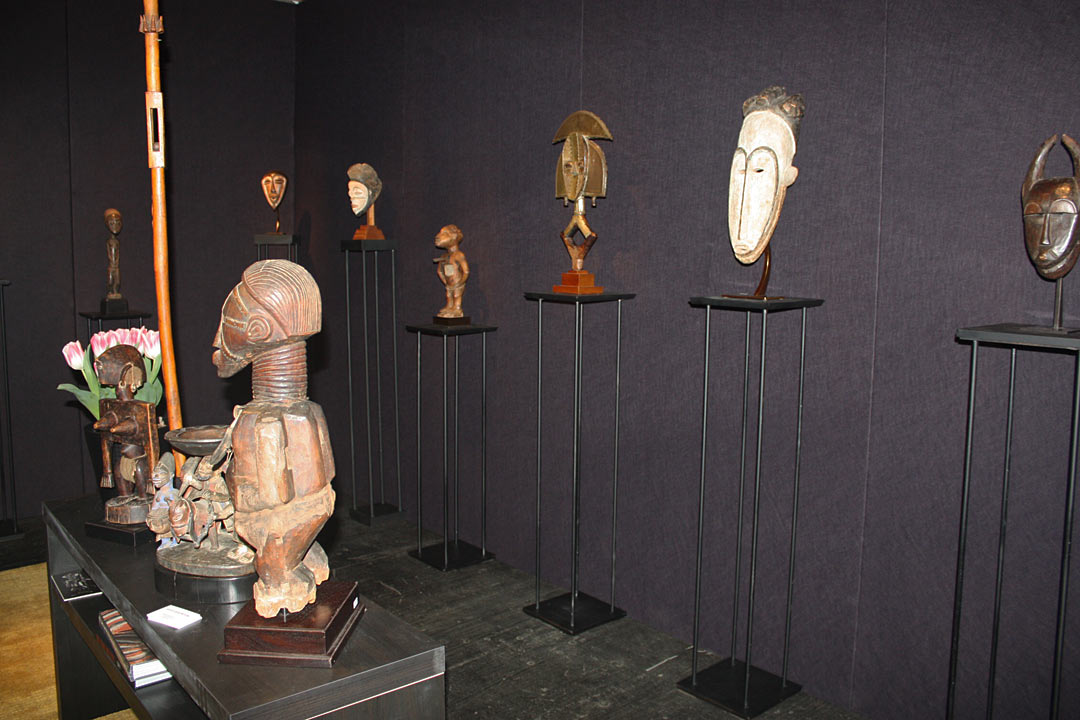 ​Mark Eglinton (NY)
​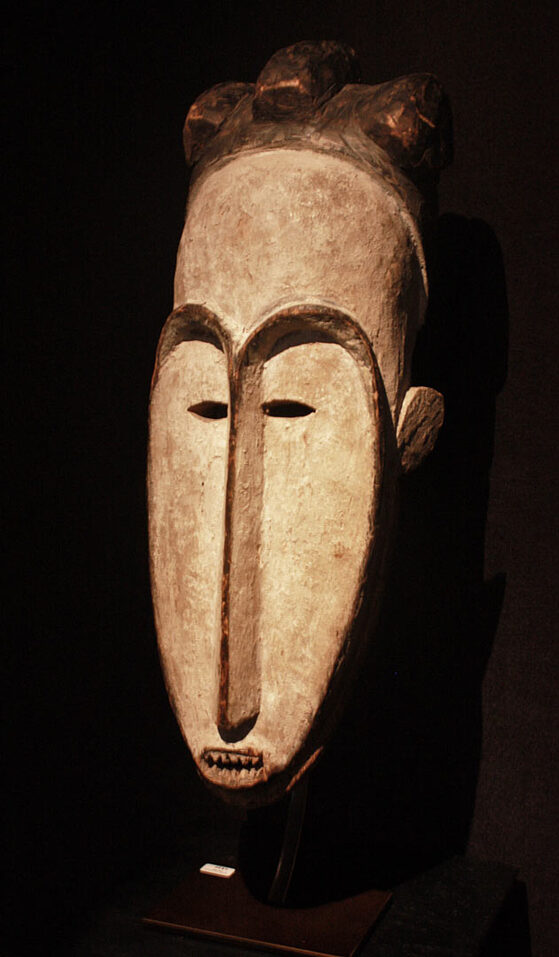 (Mark Eglinton) Fang Mask
​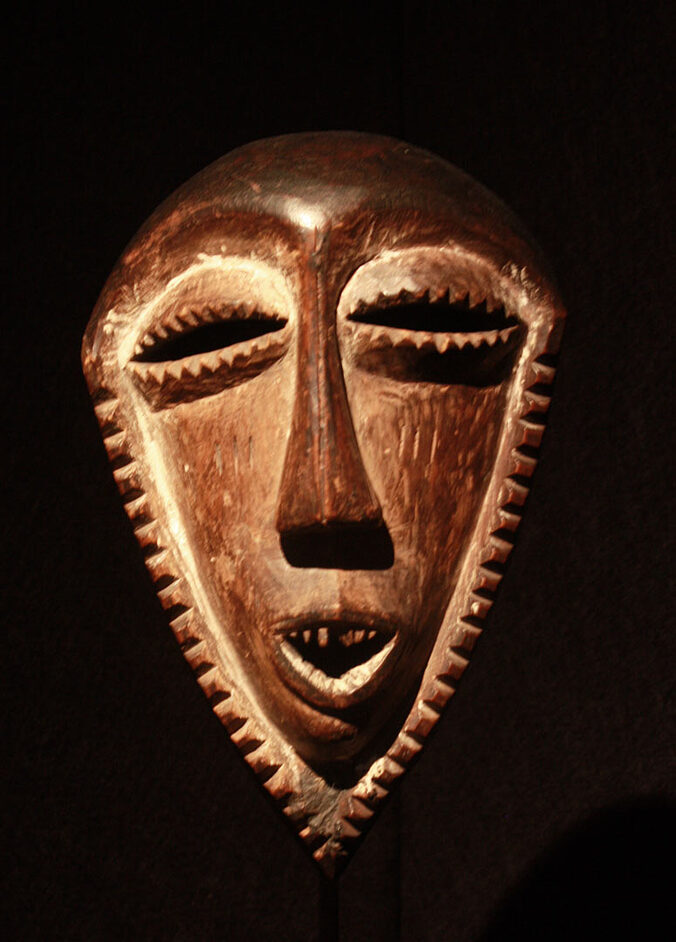 (Marc Eglinton) Rare Bassikassingo Mask
​
Galen Lowe Art & Antiques-  Seattle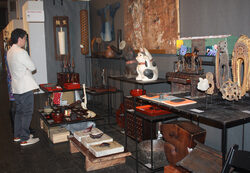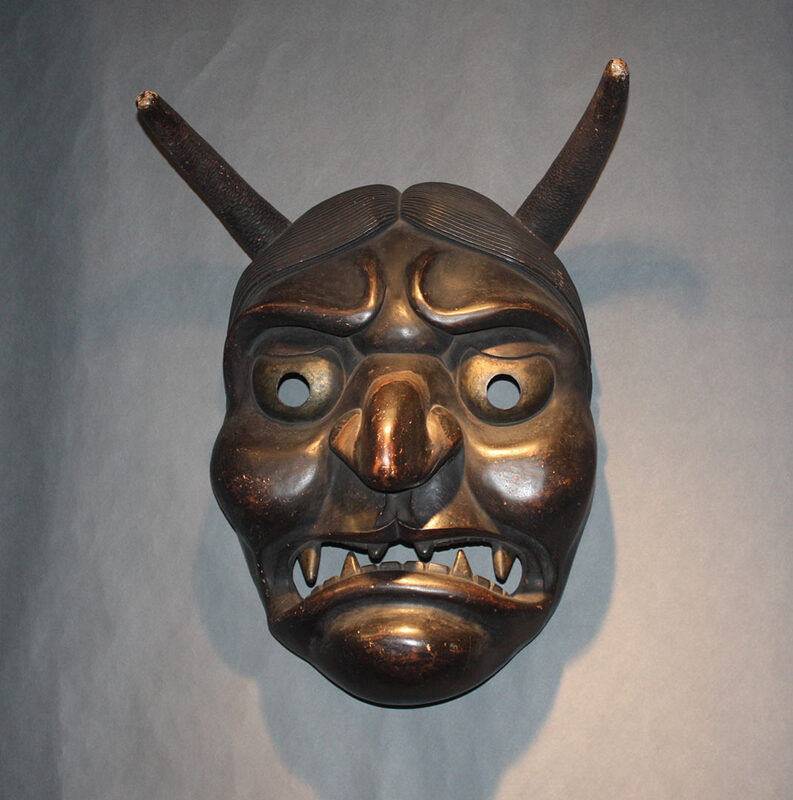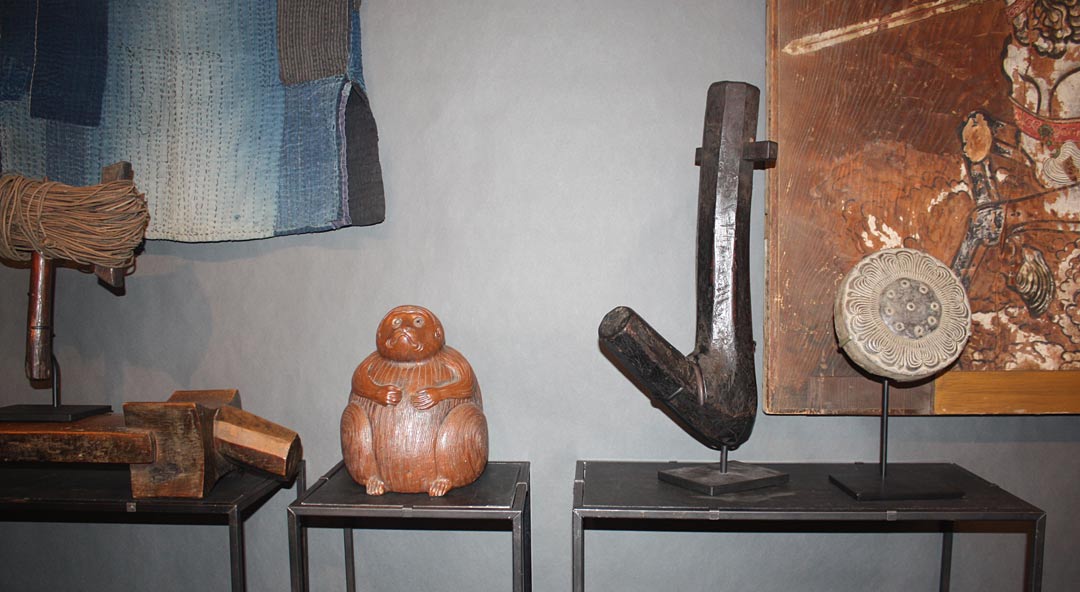 Galen Lowe Continued
​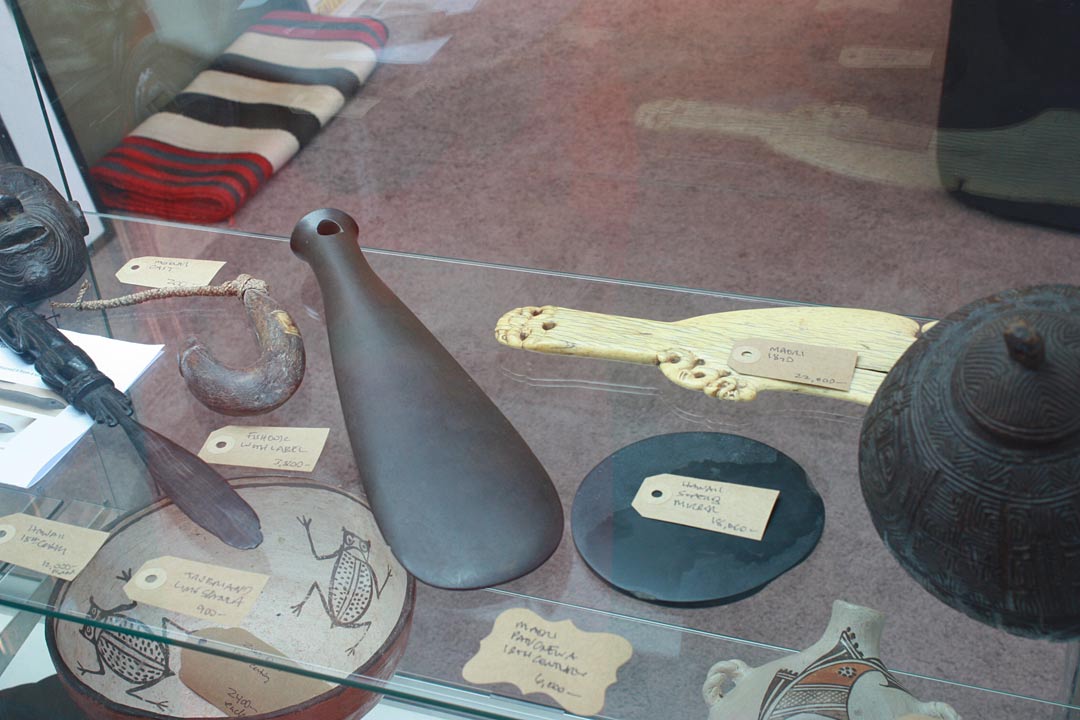 (showcase view) Mark & Carolyn Blackburn's booth just off the food court. It was their first time as dealers in San Francisco. Great material. Note the Hawaiian Mirror!
​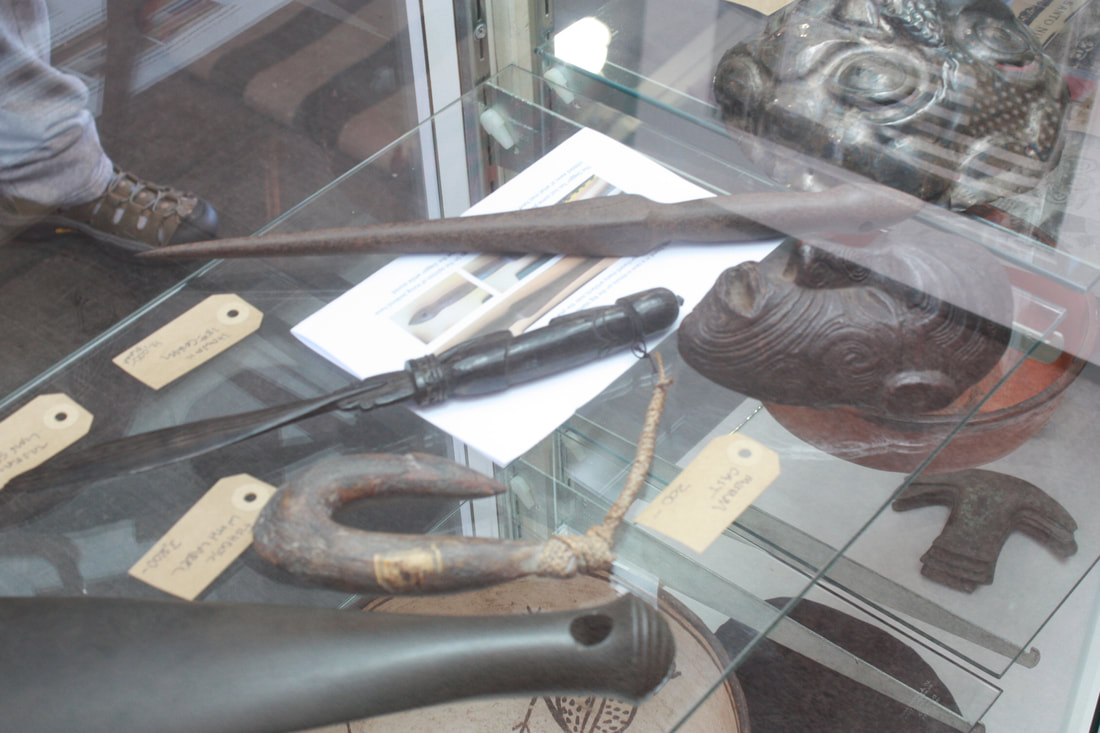 Mark & Carolyn Blackburn
Last year we were blessed to have their special Fijian exhibit in the Foyer of the show. It was a preview exhibit of the Los Angeles County Museum of Art (LACMA) "Fiji, Art and Life in the Pacific". In the 20+ years I've been attending this show, this Fijian exhibit I mention was the best special exhibit EVER at fort Mason.
​
The Casper Project Exhibit in the Foyer
My first impressions of the everything beaded "Casper Project Exhibit" was tacky, audacious, but ambitious. The exhibit was heavy in Ak 47 rifles represented in AK beaded tapestries and wire beaded AK rifle sculptures galore. Since San Francisco is so fervently anti-gun, I thought politically it could go over like a lead balloon in the community? The exhibit wasn't just militaria themed objects, there were beaded animal skulls and bones to round things out. You can read more about the artist "Ralph Ziman" and the exhibit Here which was presented by the Rendon Gallery in Los Angeles.The project embodies the contrast of a legacy of oppression in South Africa with the rainbow of culture within this artistry. By the end of the show I had changed my opinion 180 degrees. The armored 11 ton military vehicle with 95% beadwork covering, was quite amazing, especially since it contained 70 million glass beads!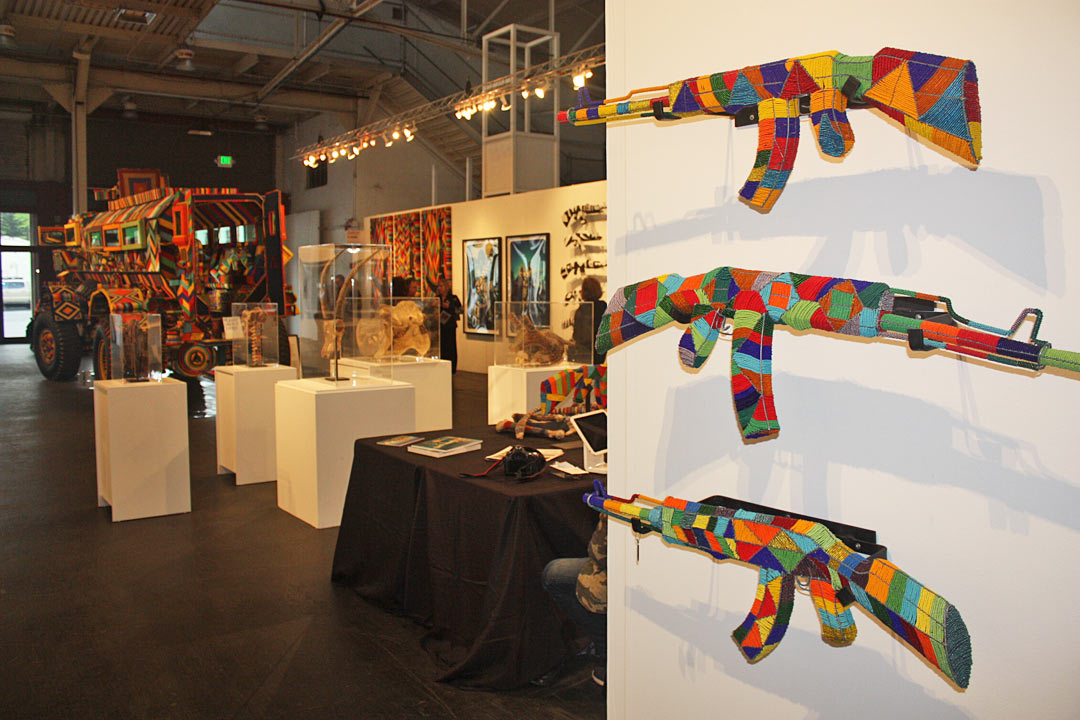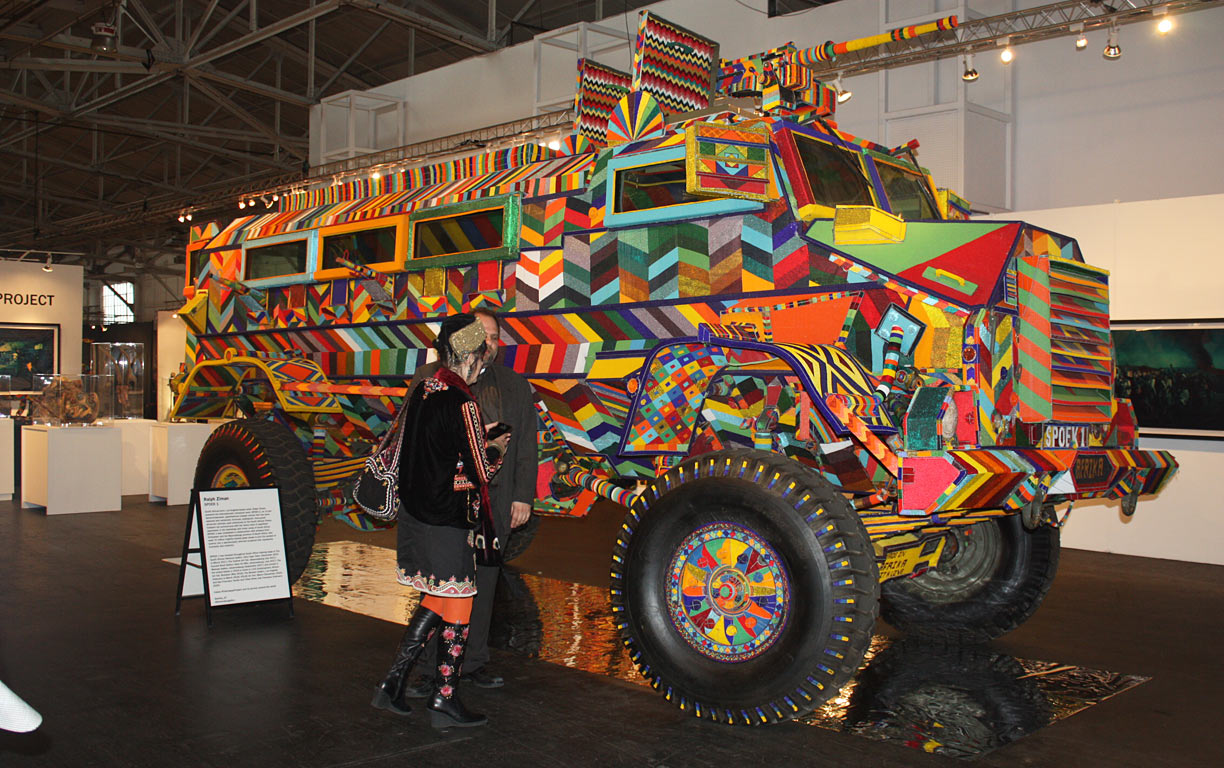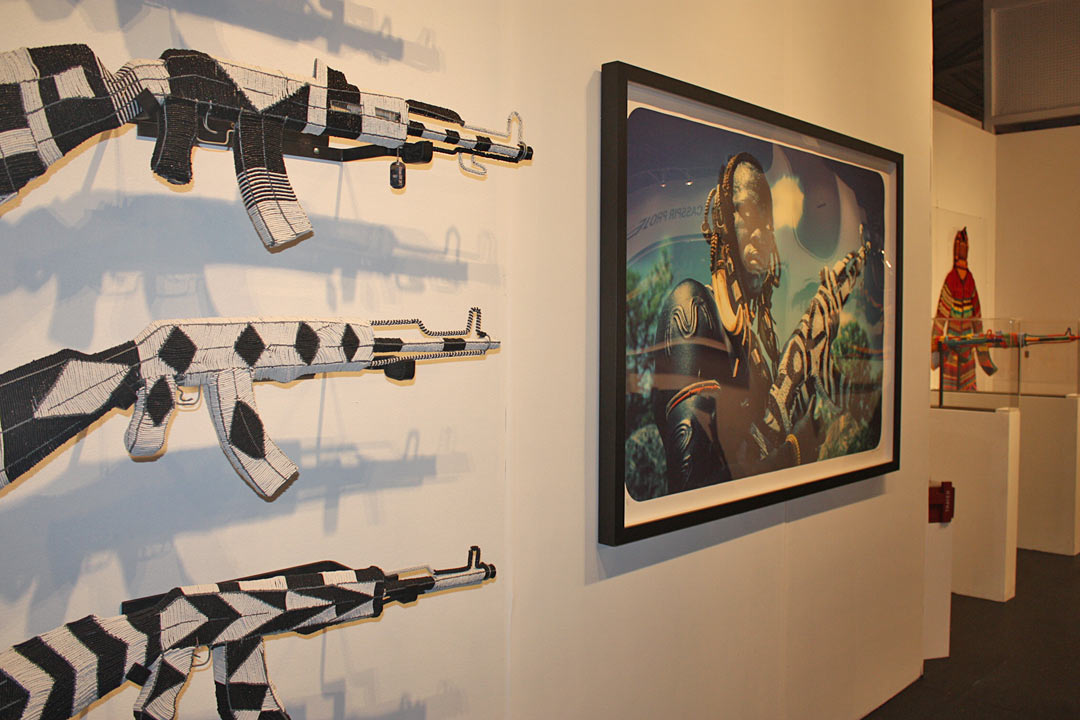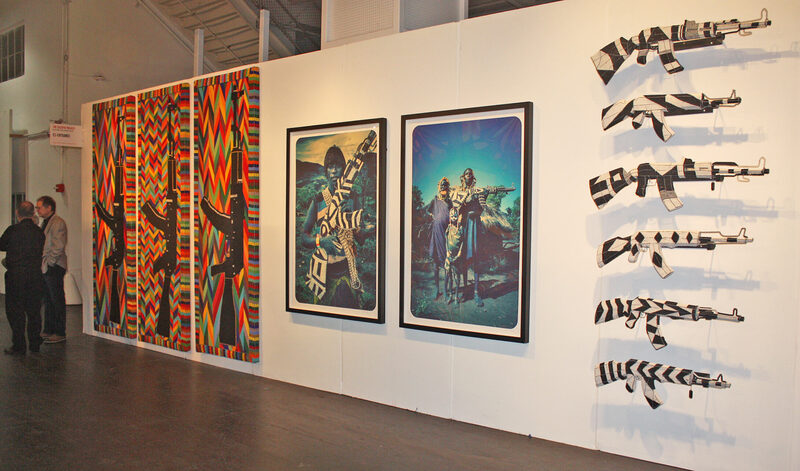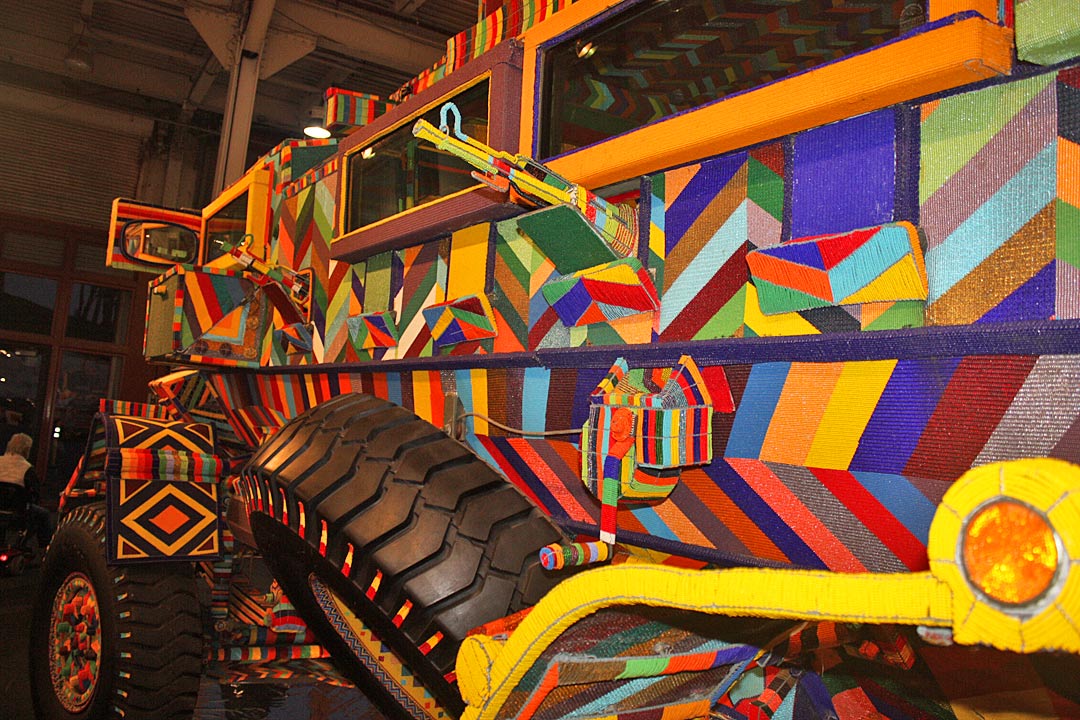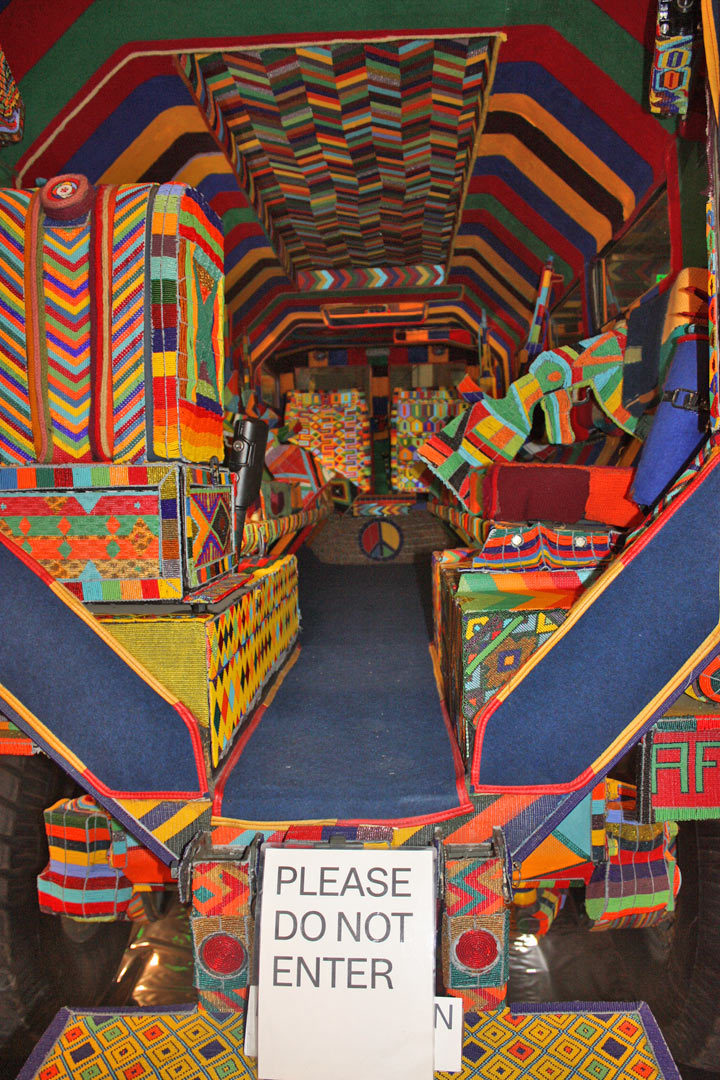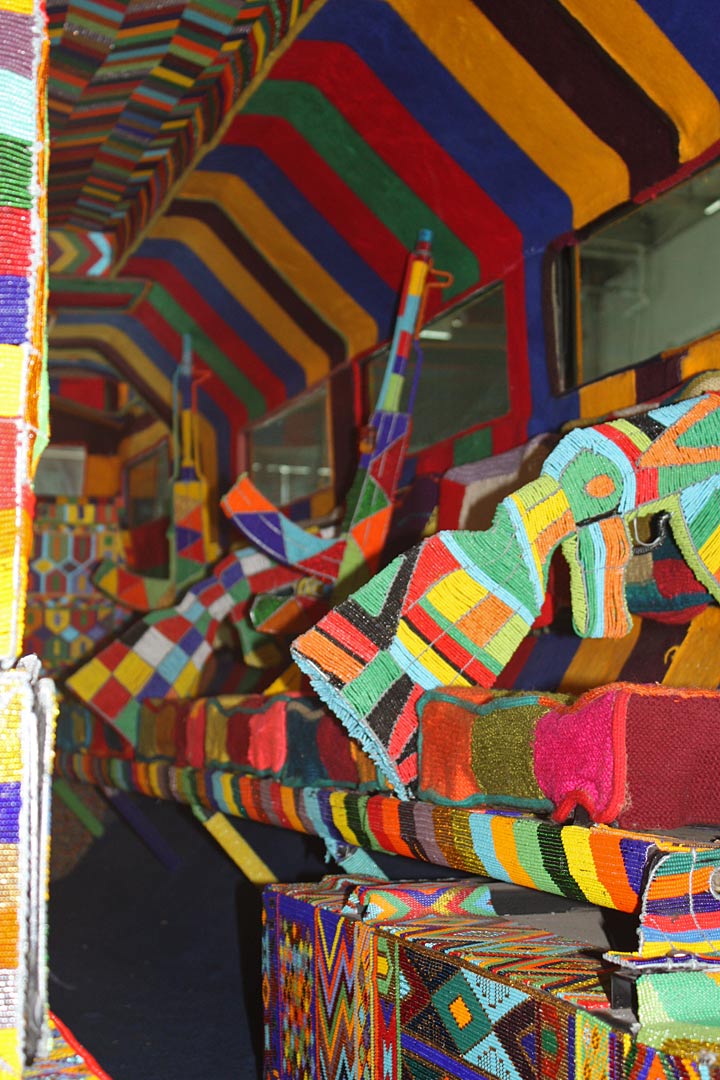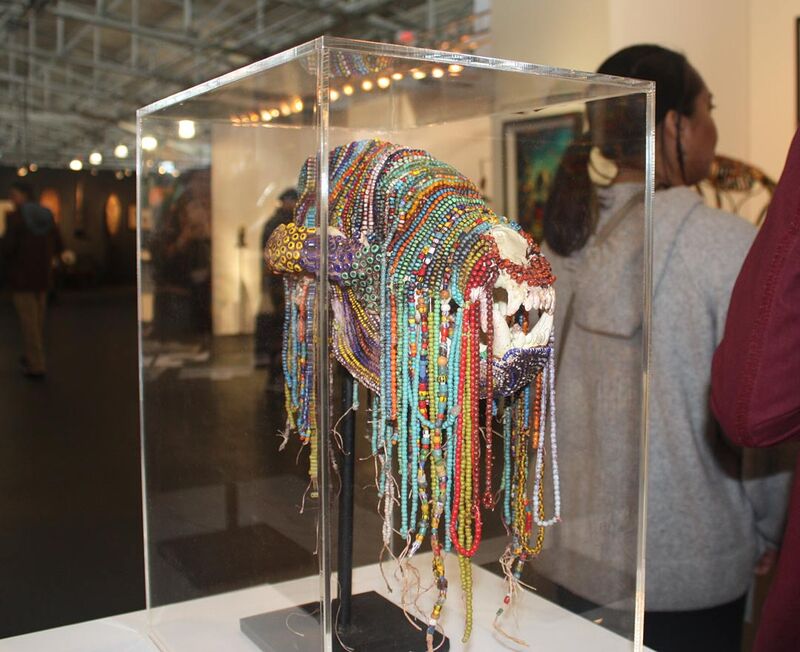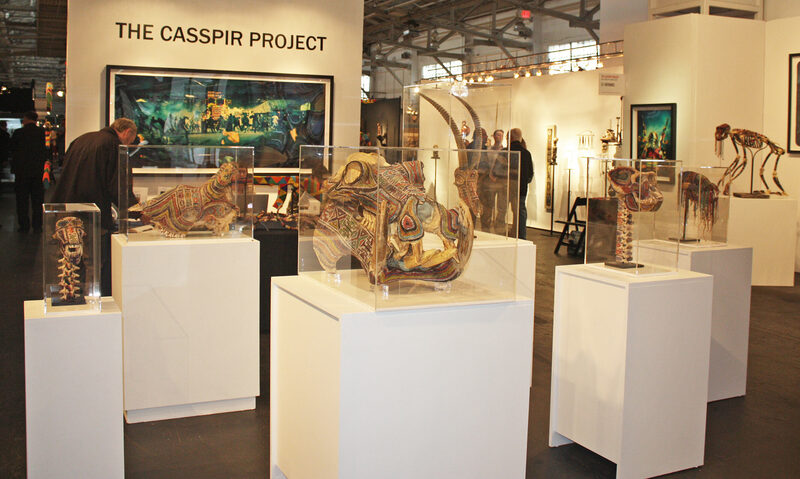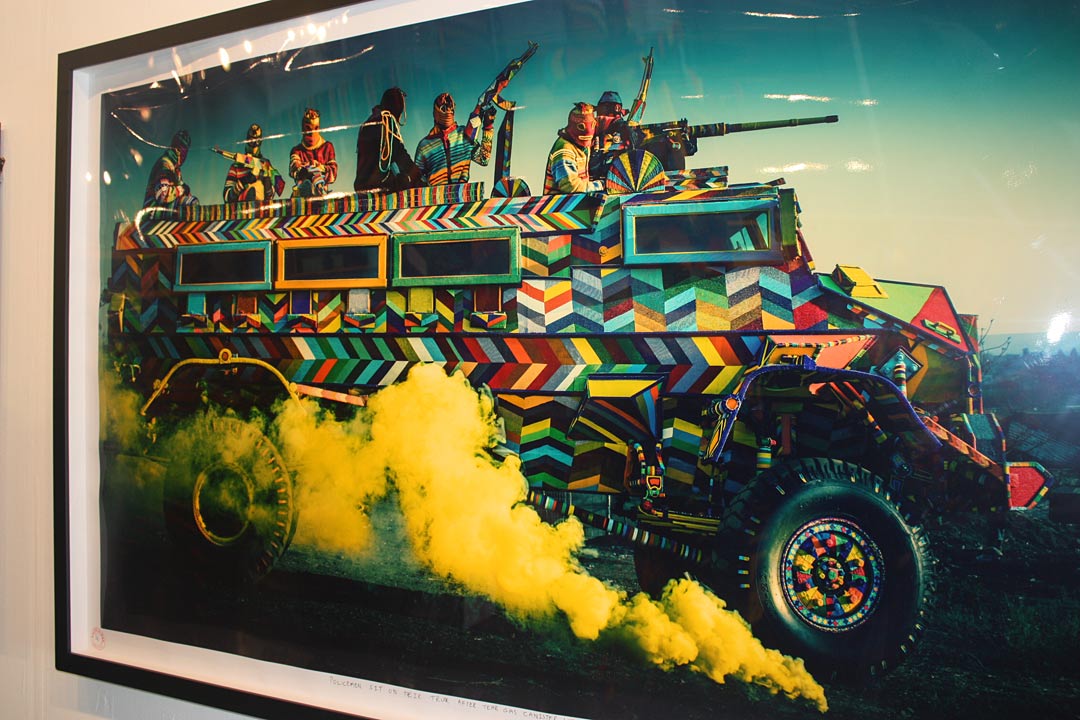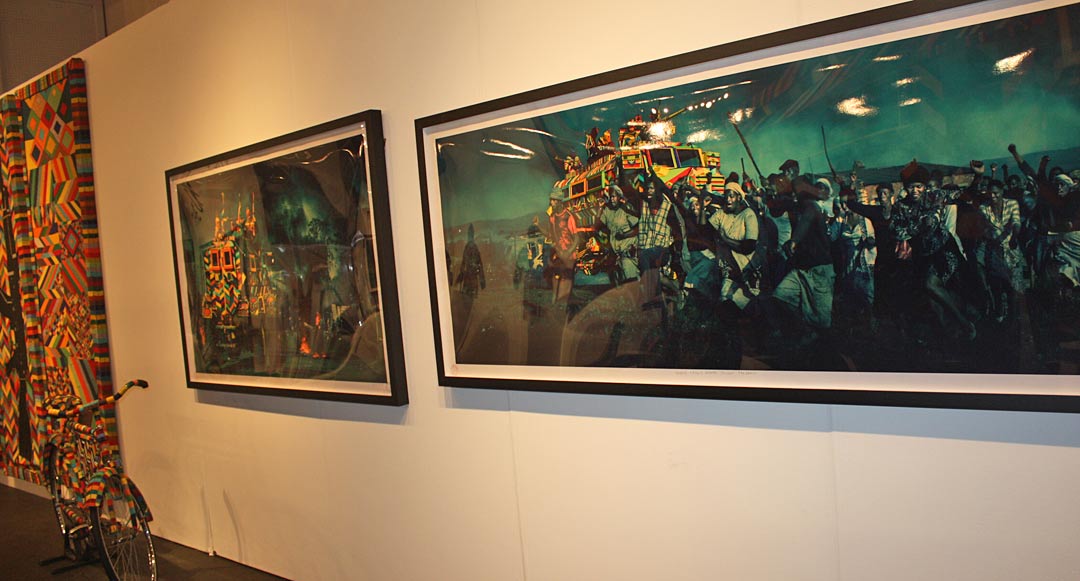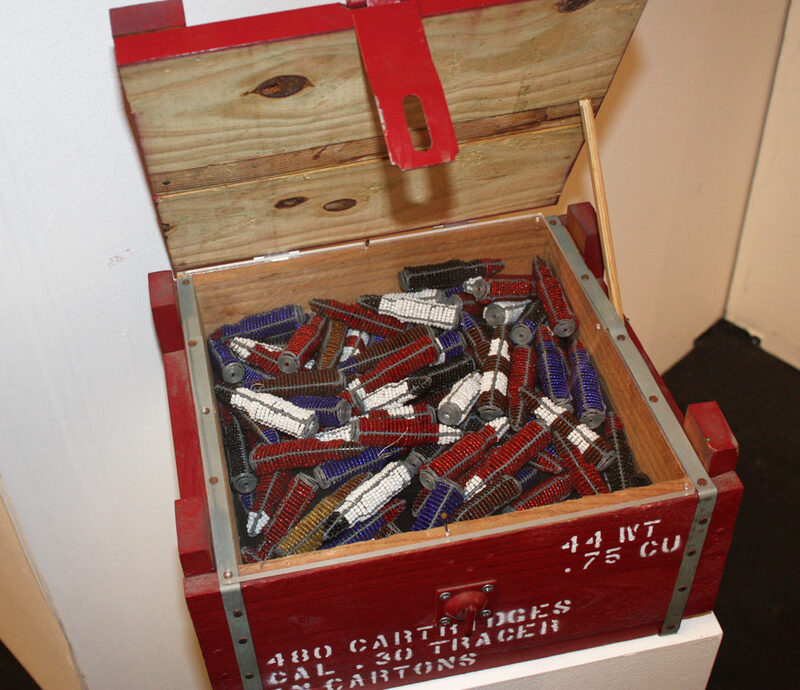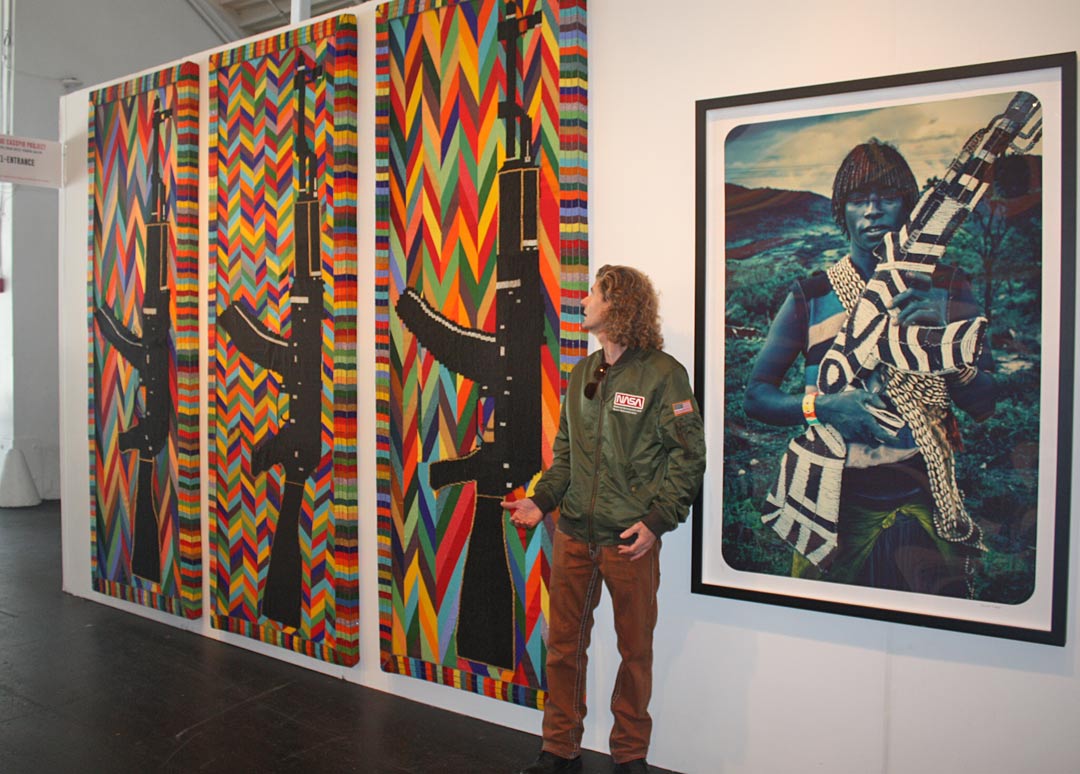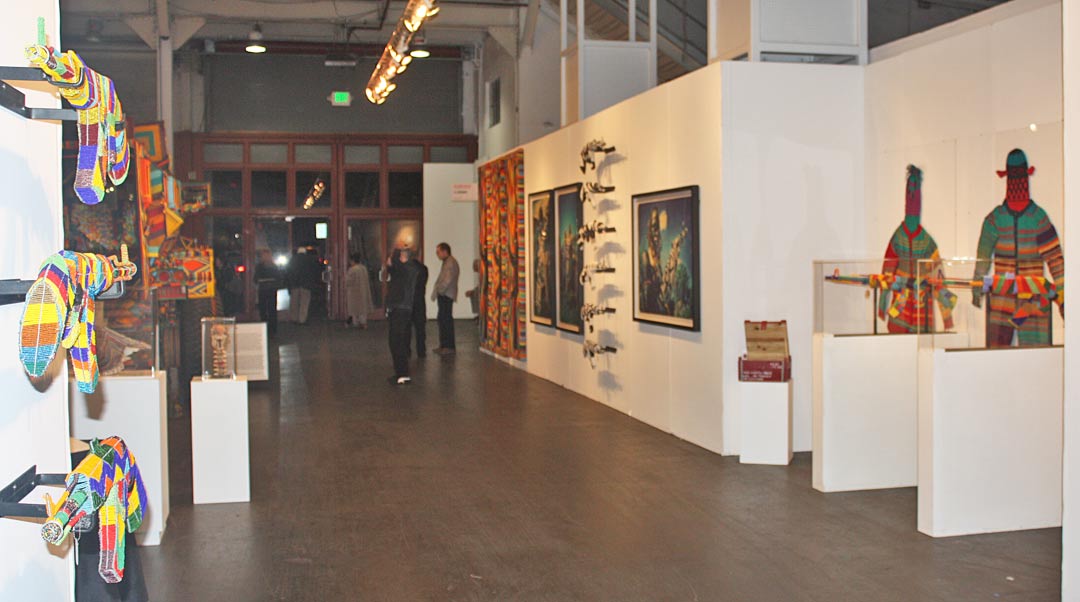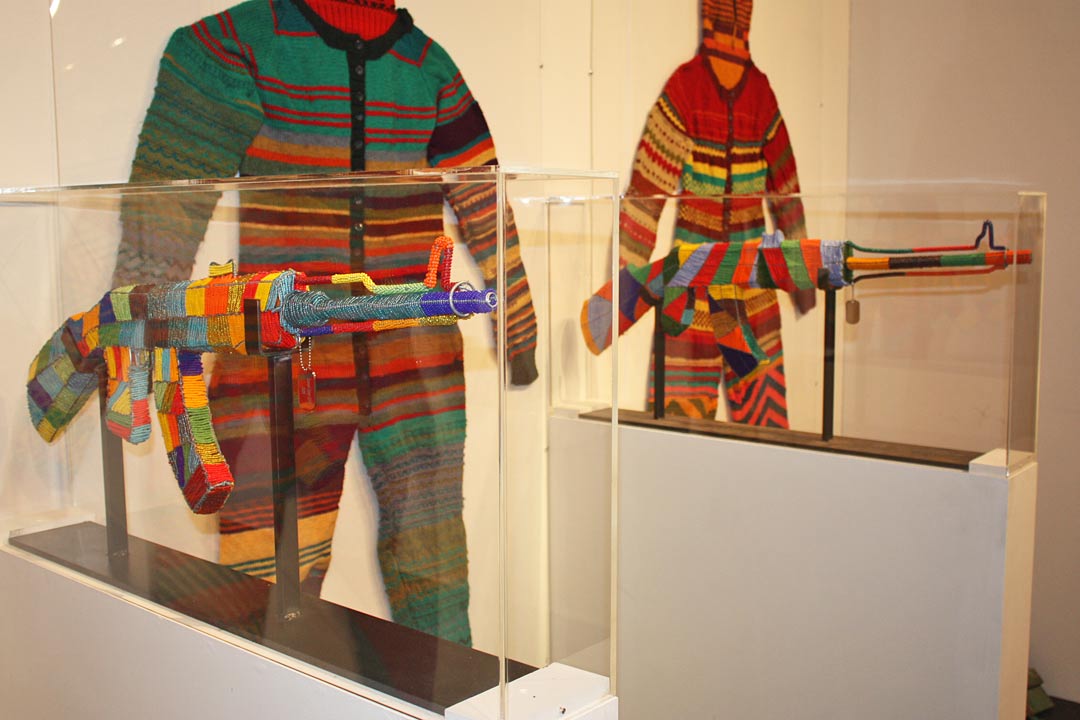 The Casper Exhibit Cont.
​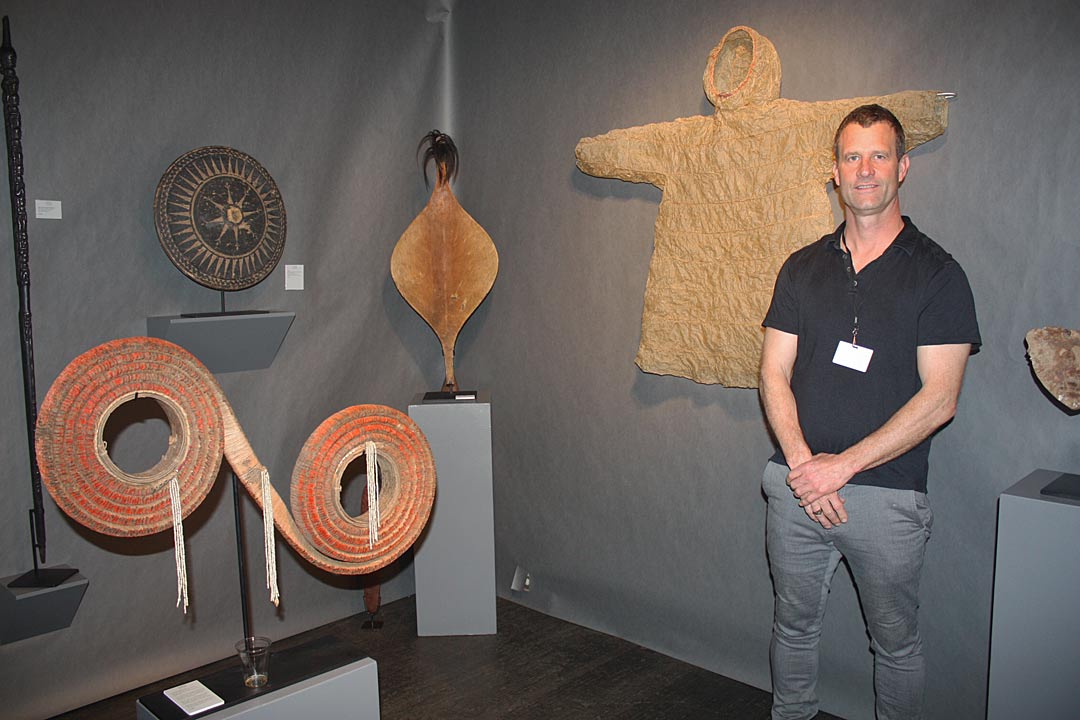 Joe Loux- San Francisco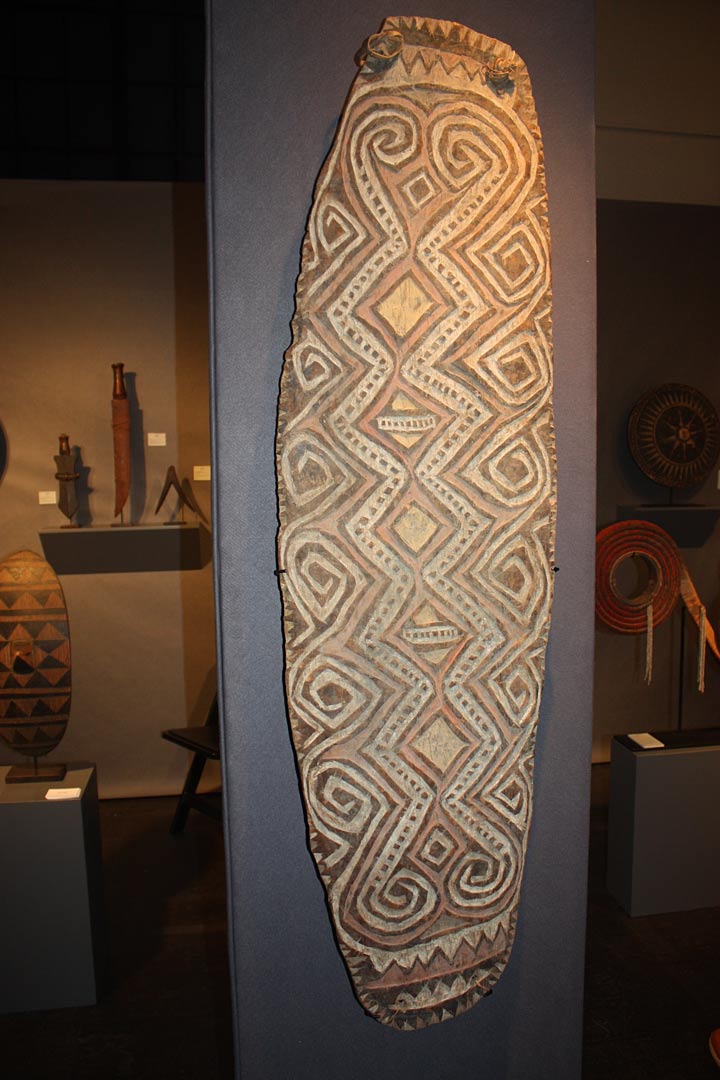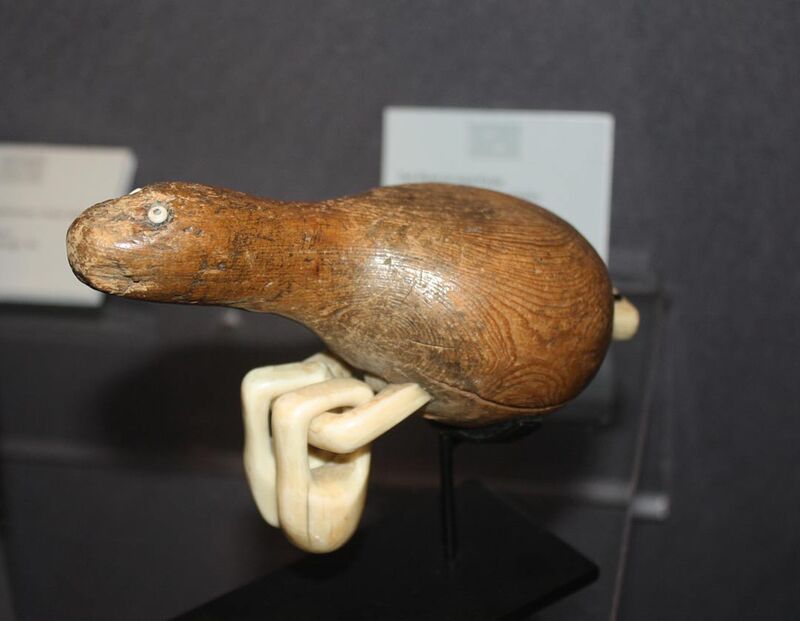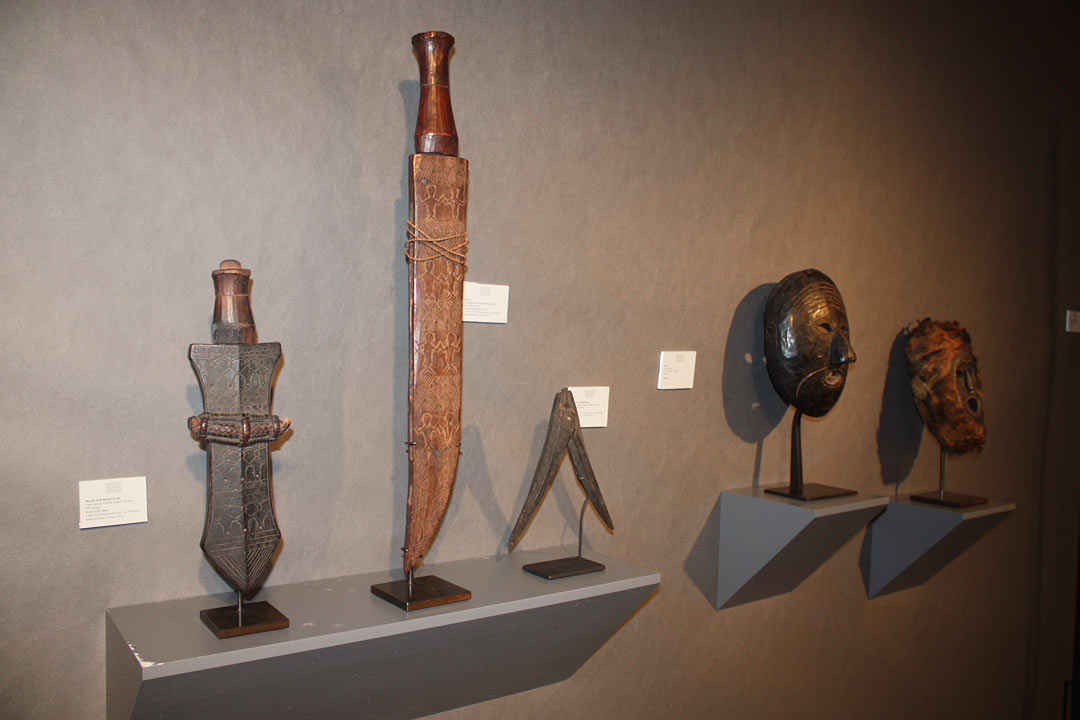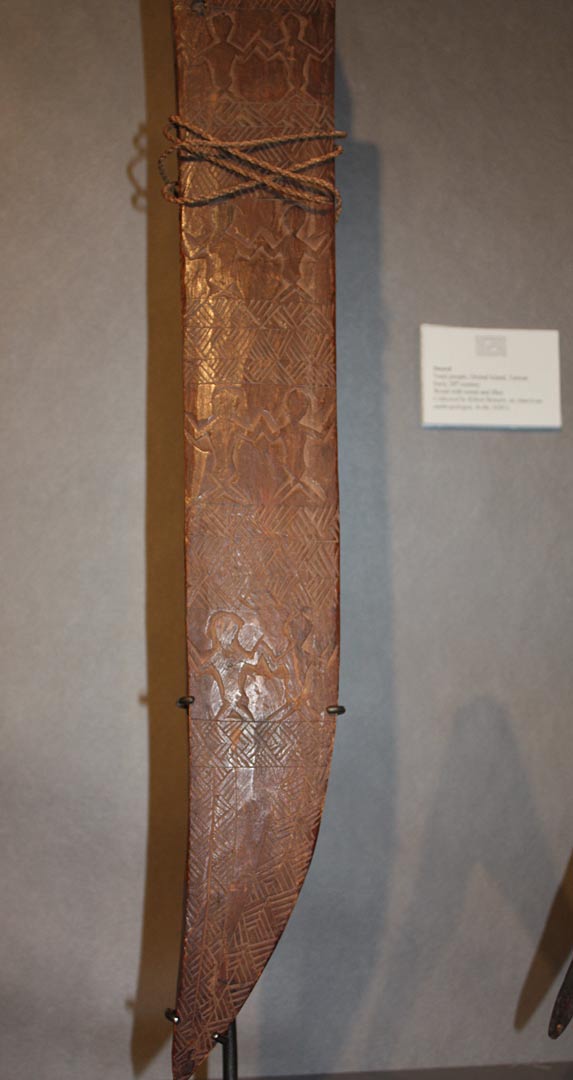 Joe Loux- San Francisco continued
​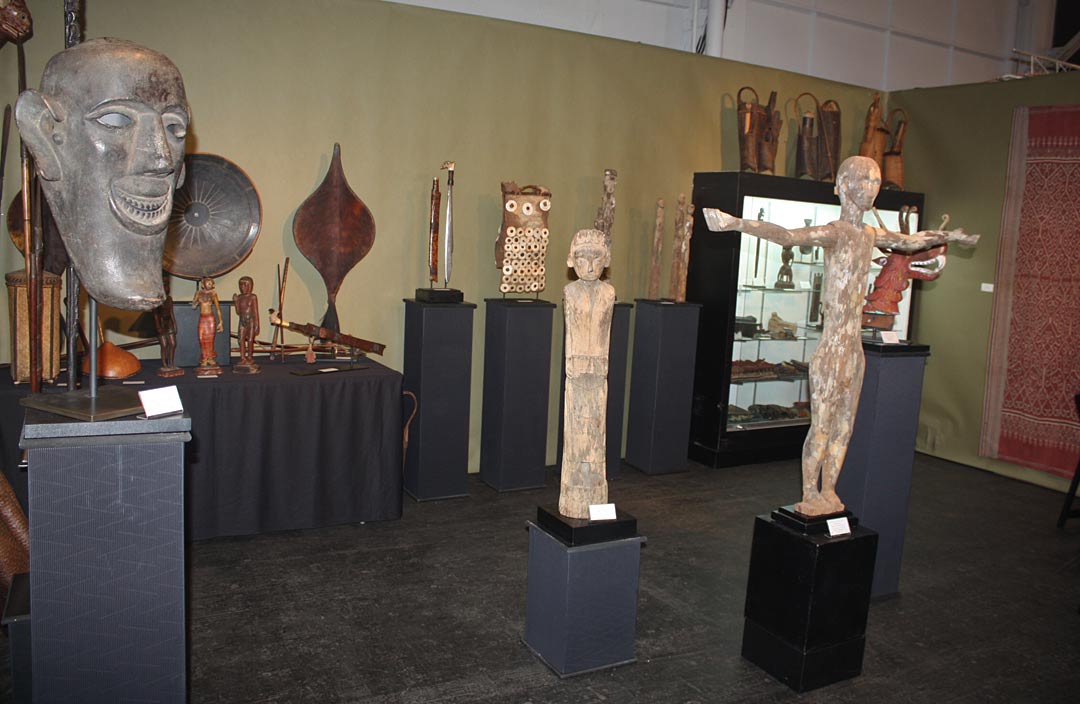 Mark Johnson Asian Art- Los Angeles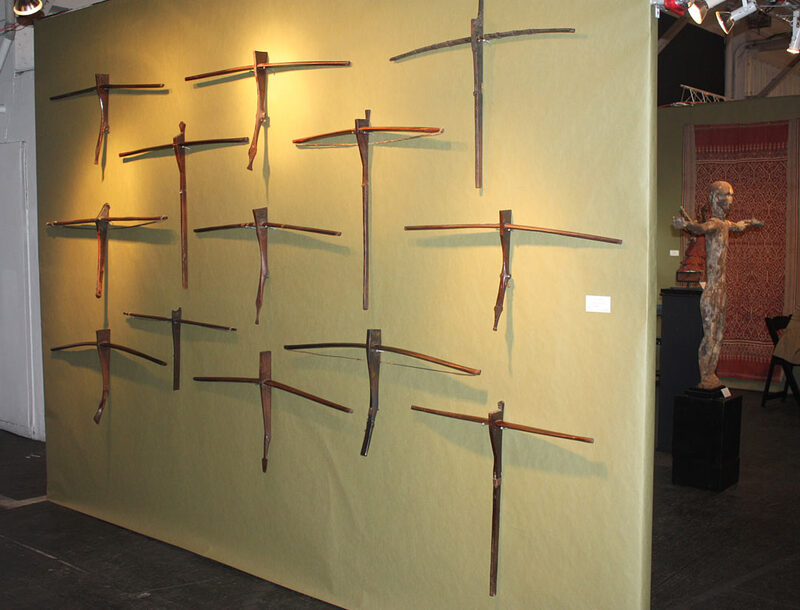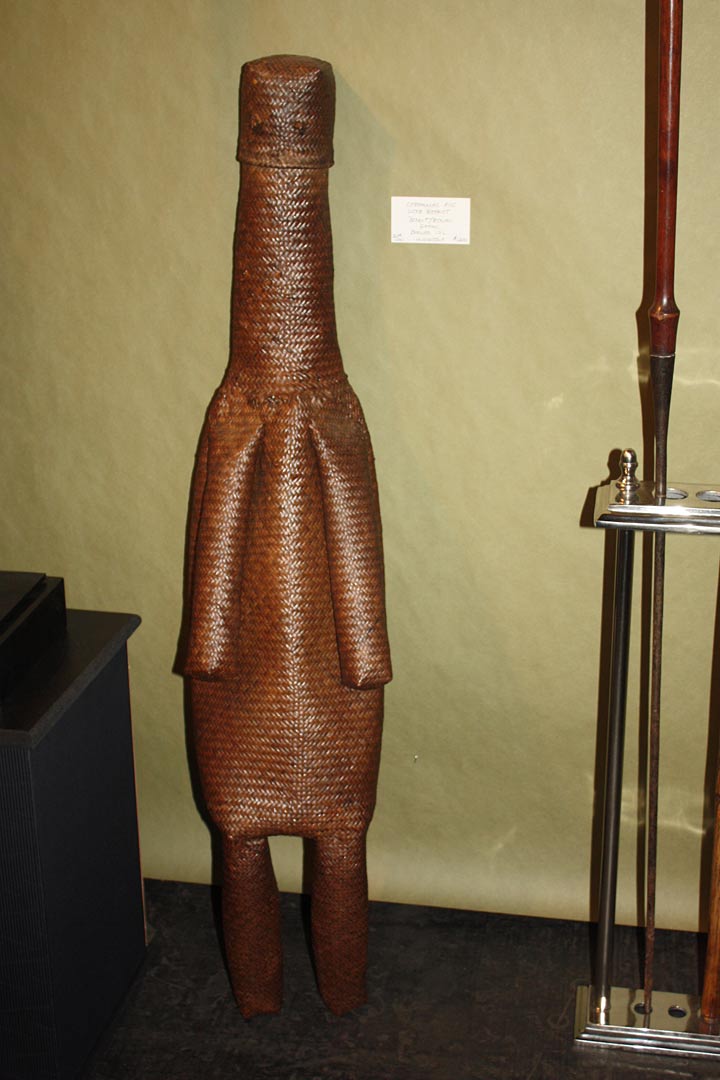 Mark Johnson Asian. Mark's figural rice container was very cool!
​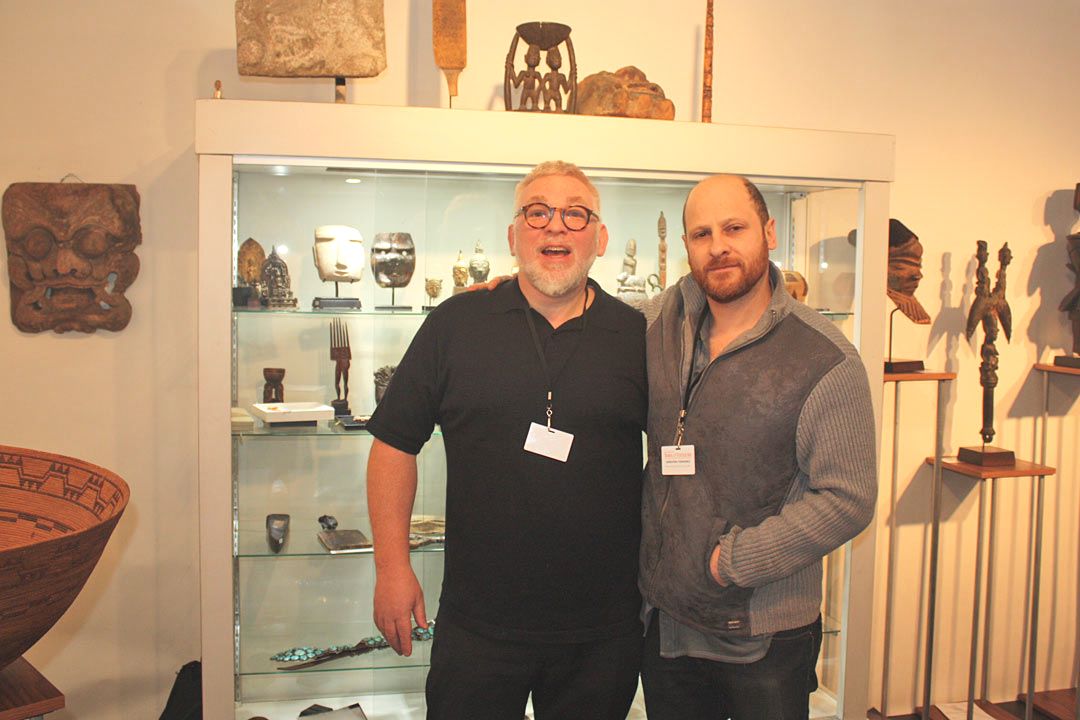 Difficult lighting conditions. Howard Nowes (Art for Eternity) and Sebastian Fernandez (Fernandez Leventhal Gallery).
​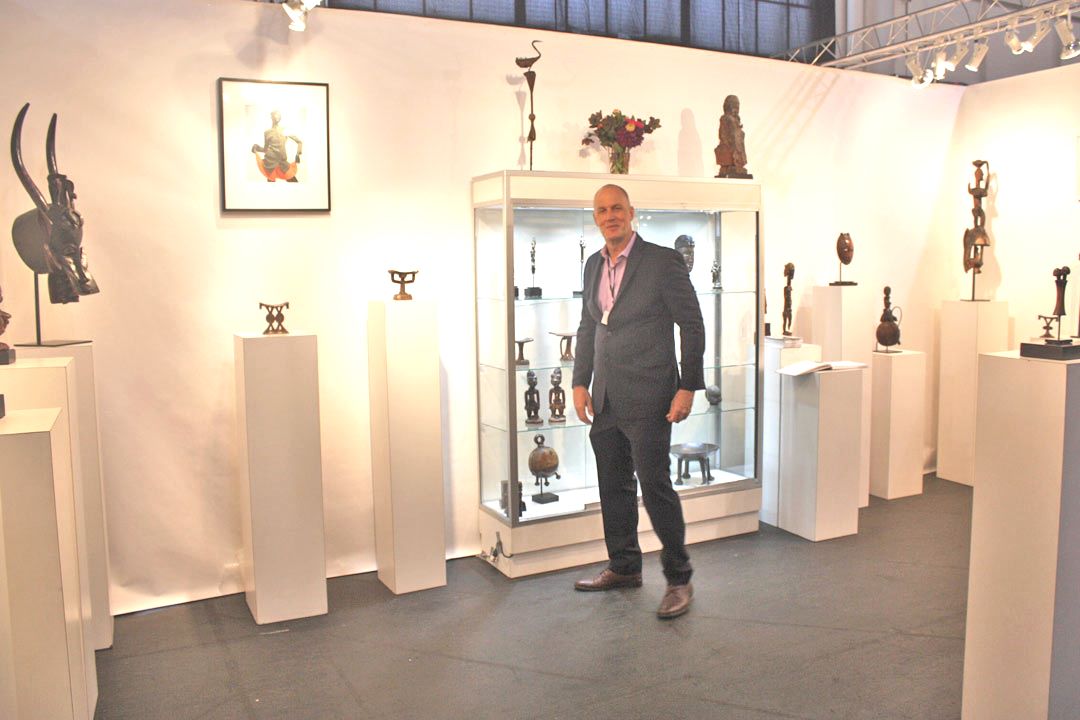 Difficult lighting conditions and a poor photographer. James Stephenson African Art- New York. One of my favorite dealers and a true connoisseur.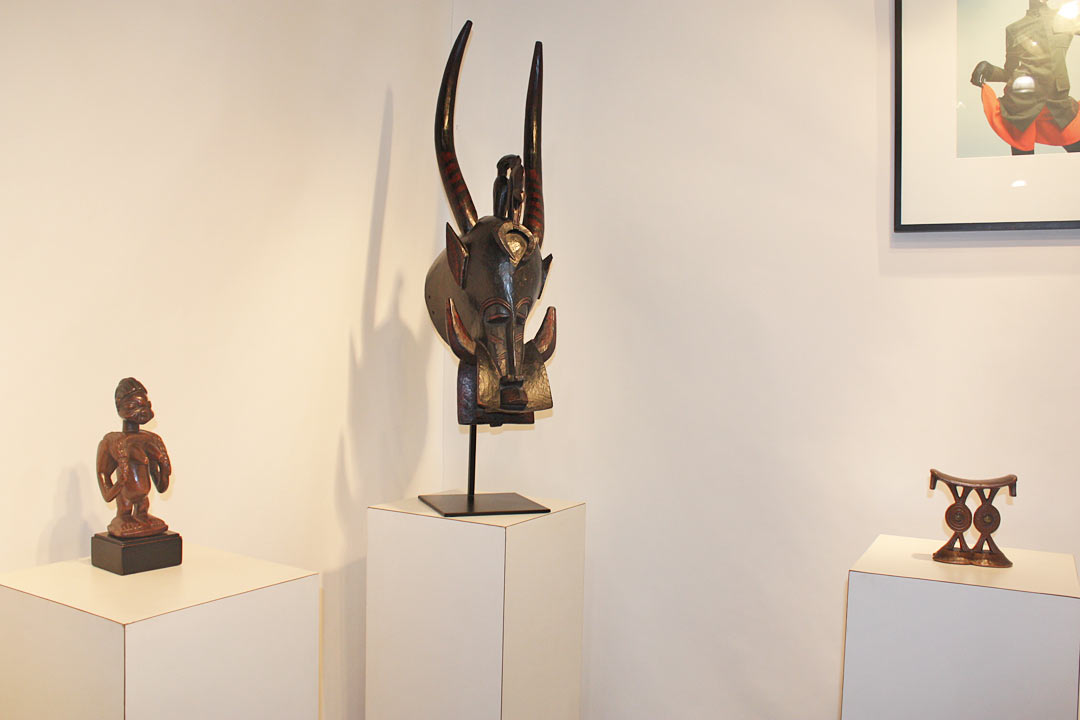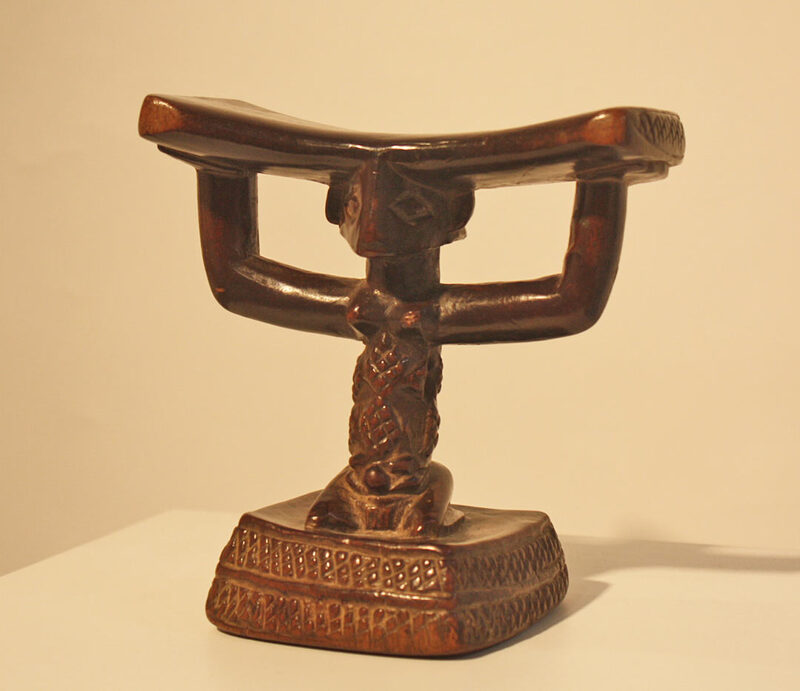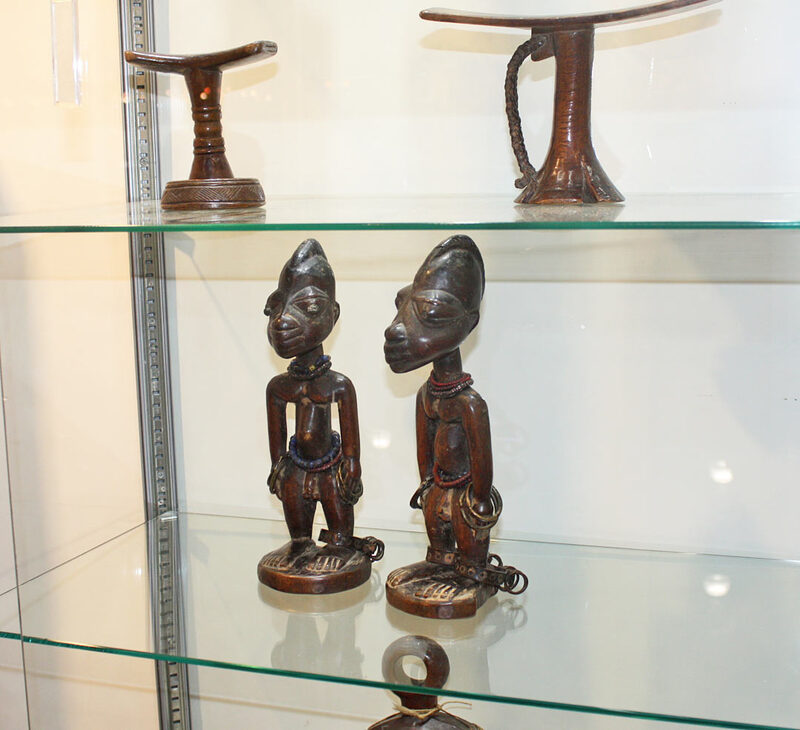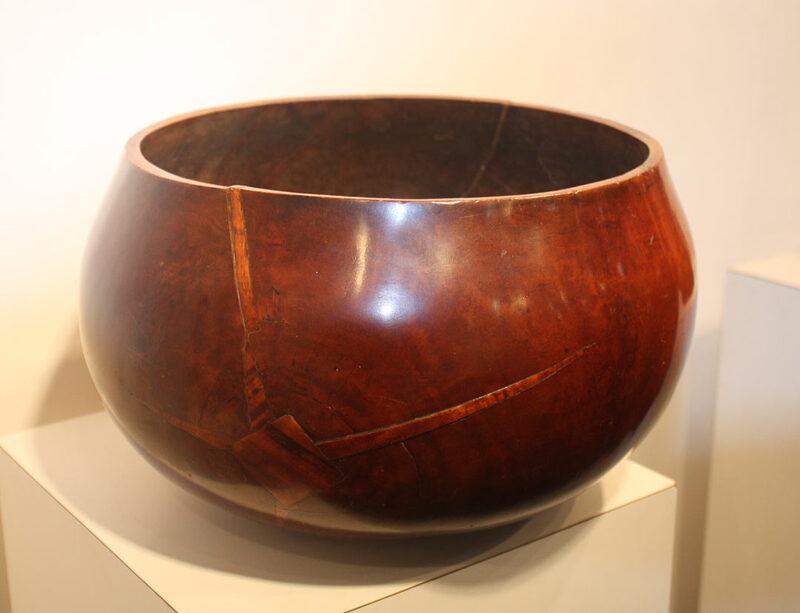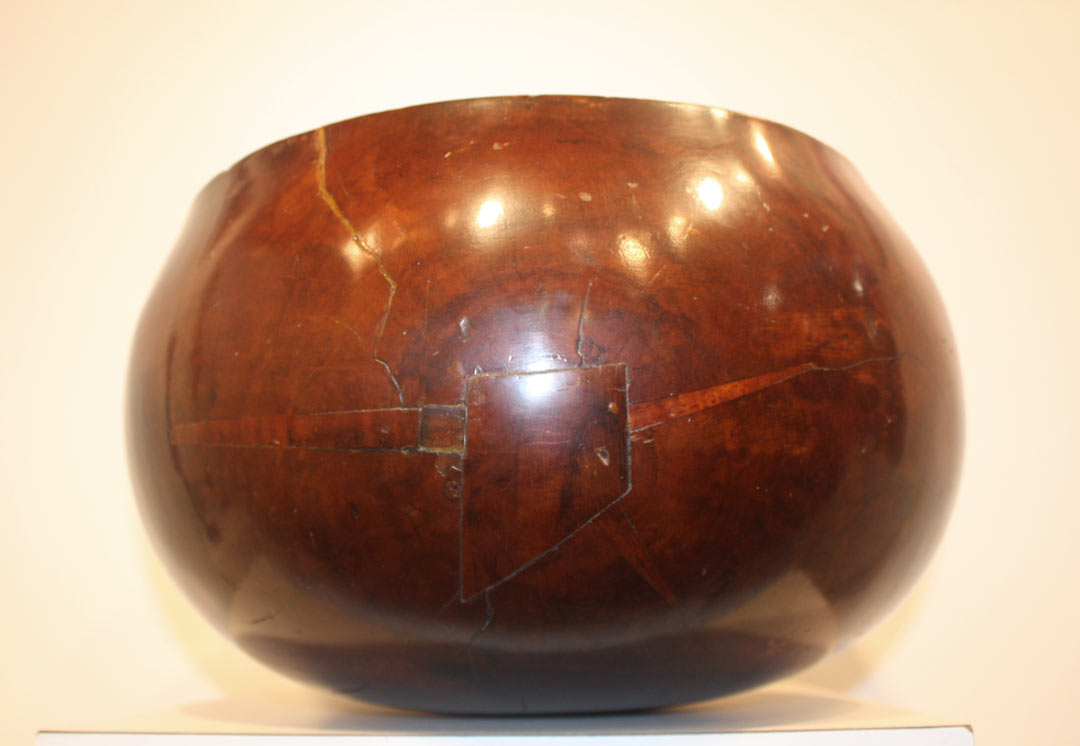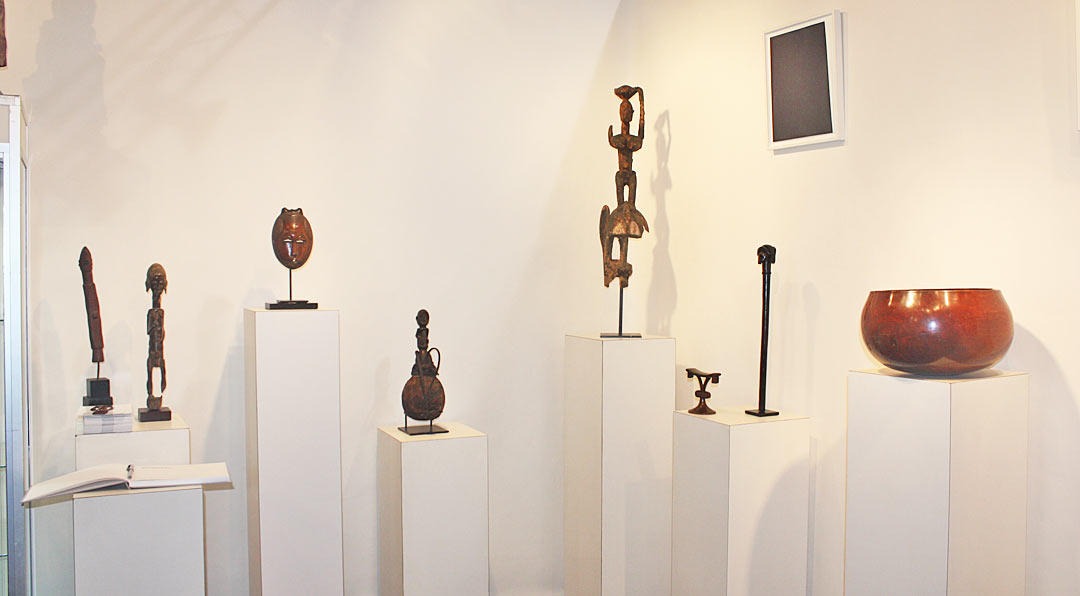 James Stephenson African Art (photos above)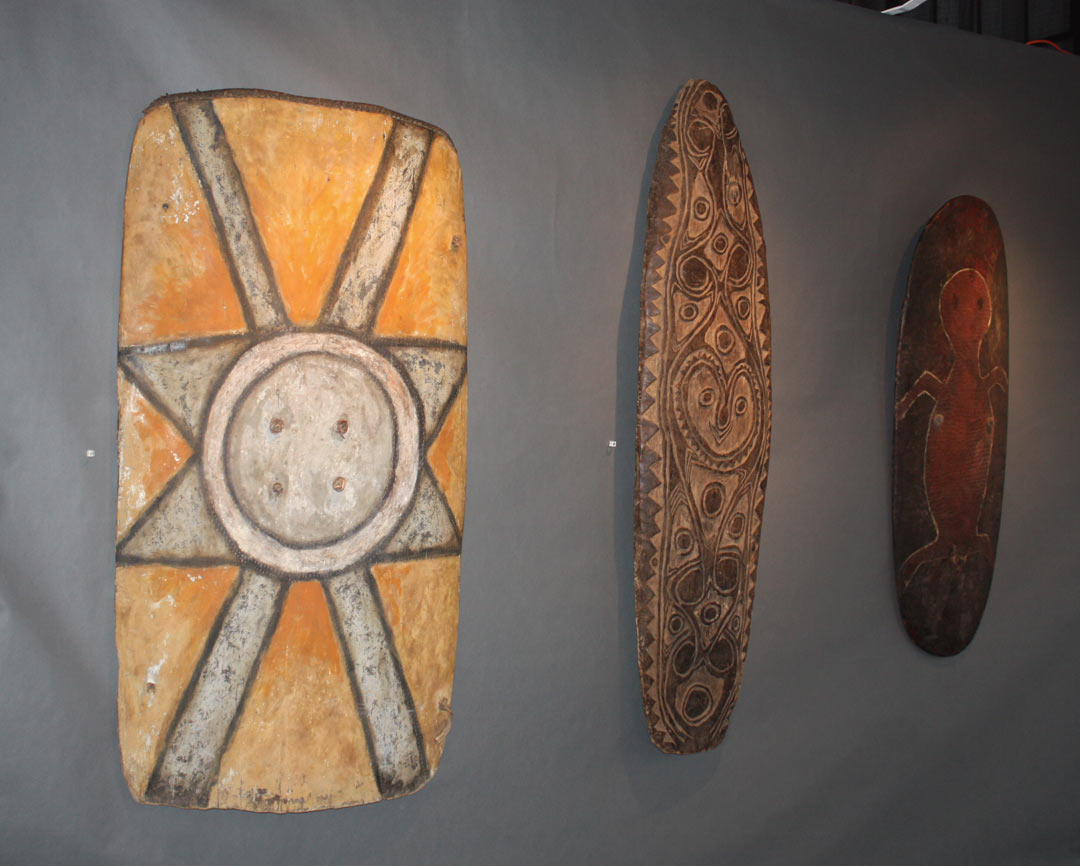 Erik Farrow Fine Art Gallery- A nice shield wall
​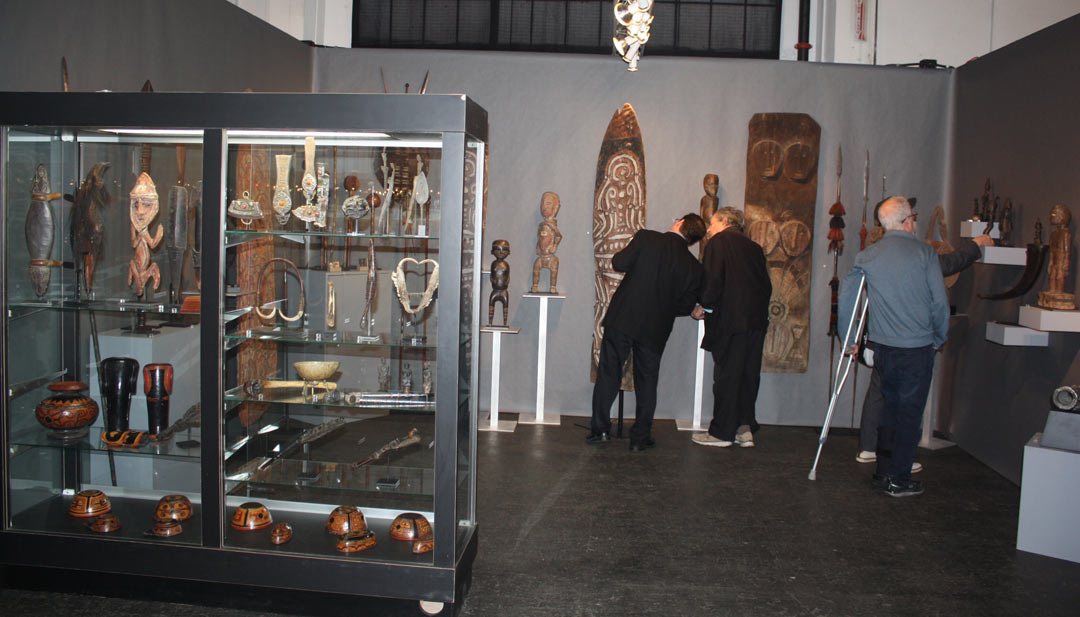 Erik Farrow Fine Art Gallery
​
Erik Farrow and Joshua Dimondstein (right). Not the most flattering photo but surely a keeper.
​
Splendors of the World- Hawaii. I like the way Jerry Bock mounted his Fijian Totokia Clubs!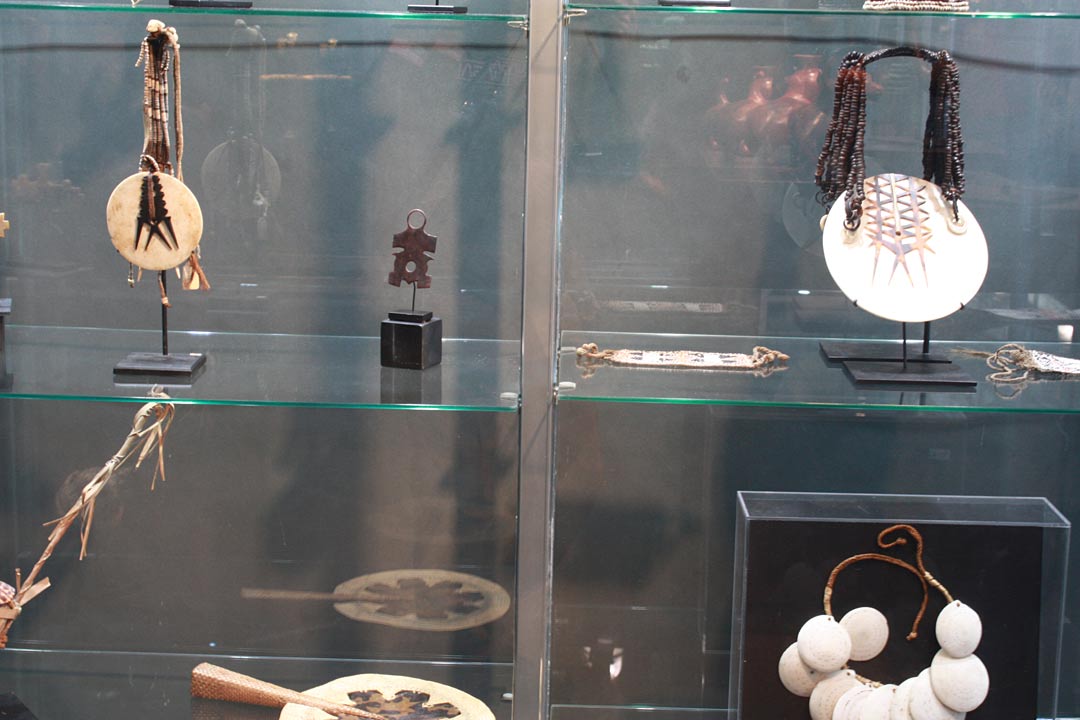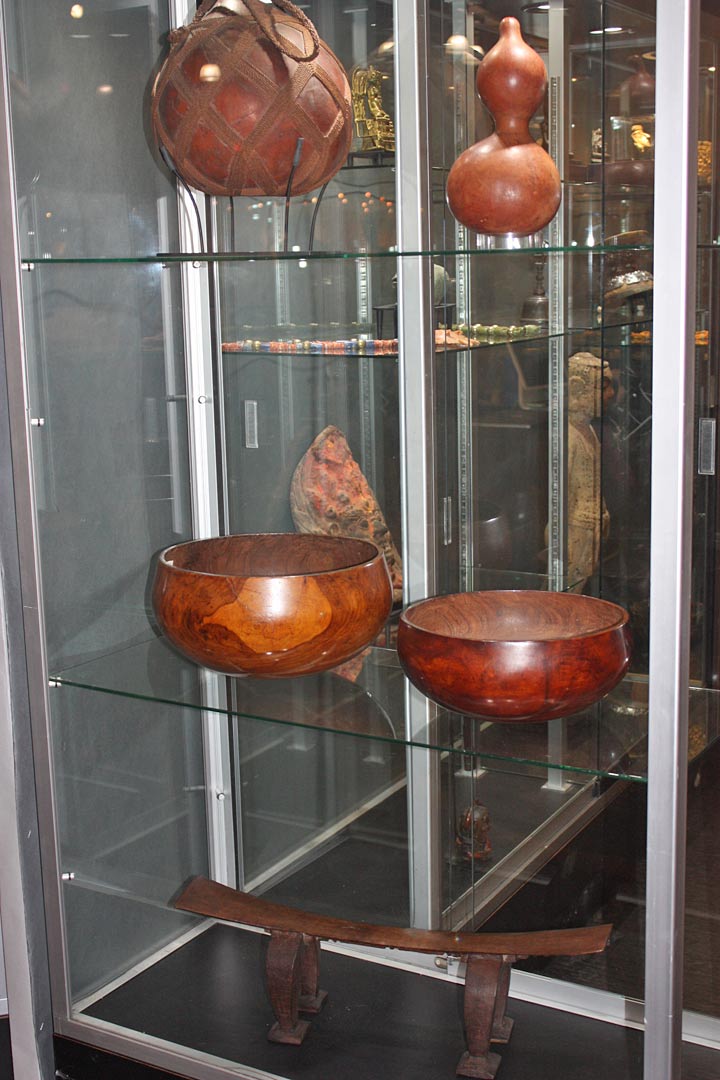 Splendors of the World- Hawaii.
​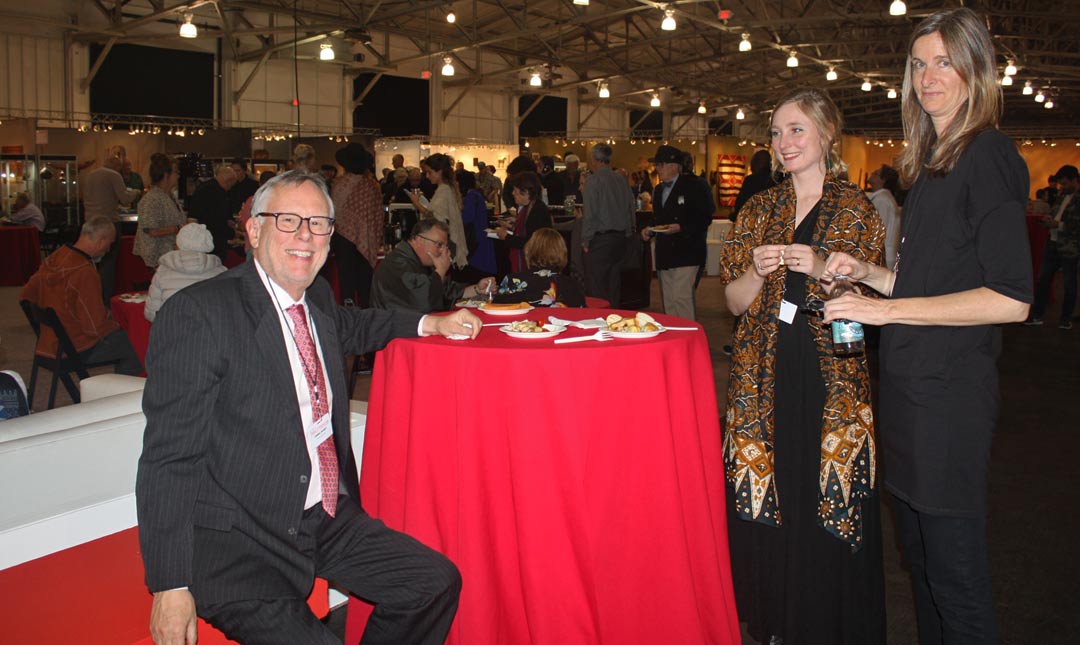 Opening Night. Thomas Murray, Crystal and a staffer (far right)
​​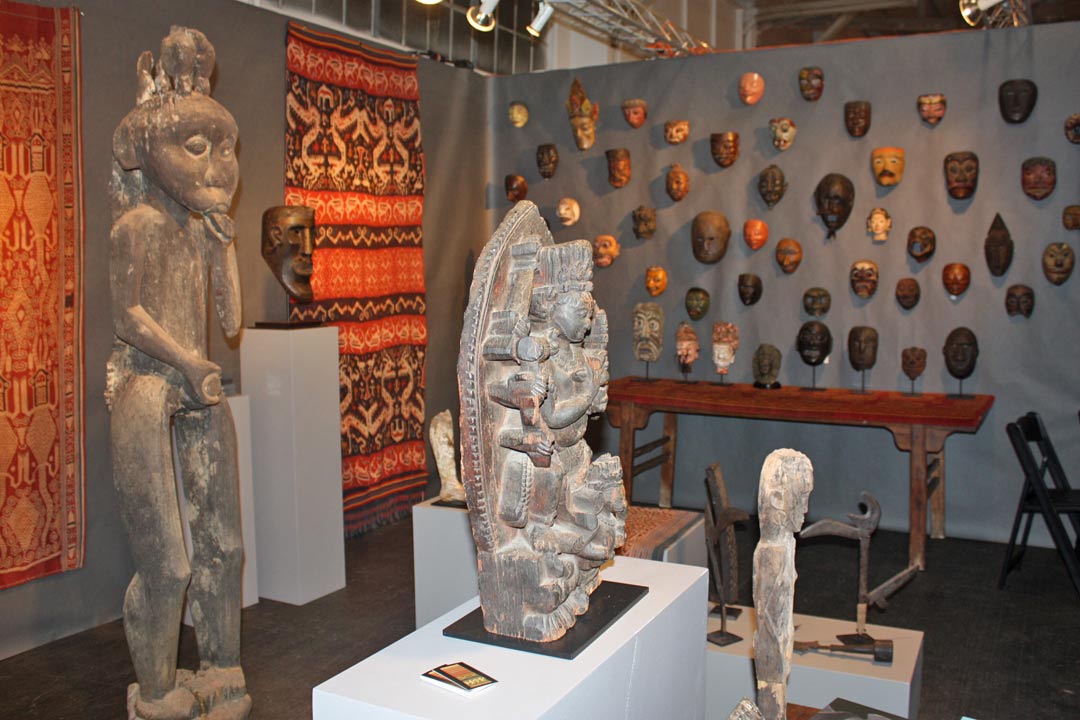 Thomas Murray Asiatica Ethnographica
​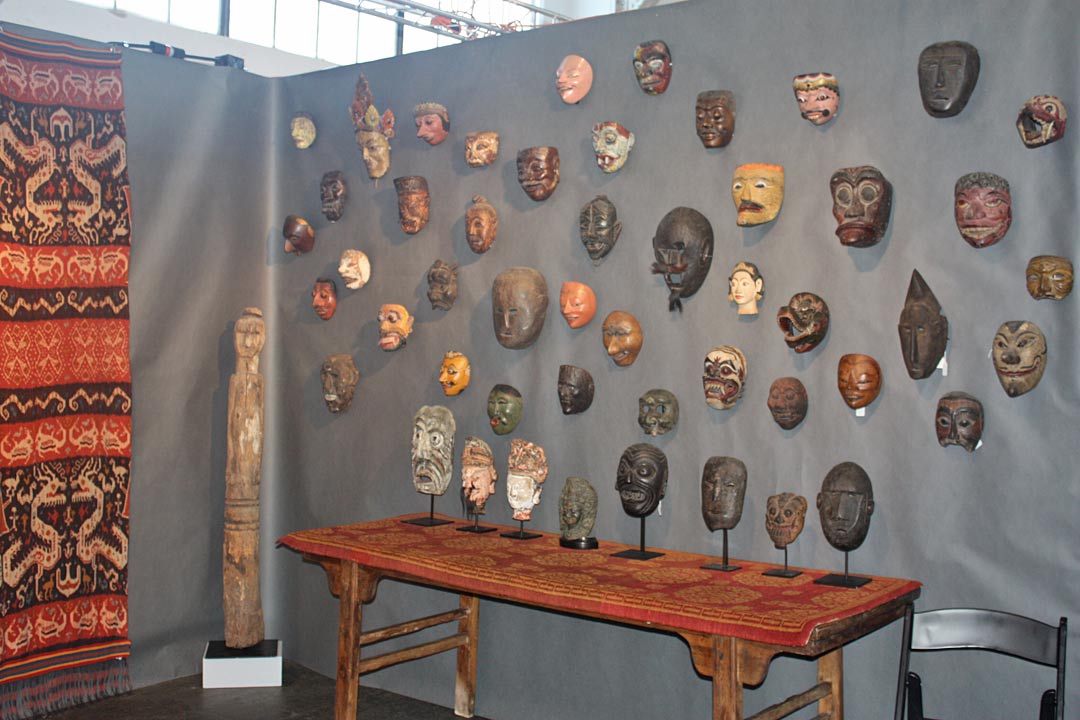 Thomas Murray
​​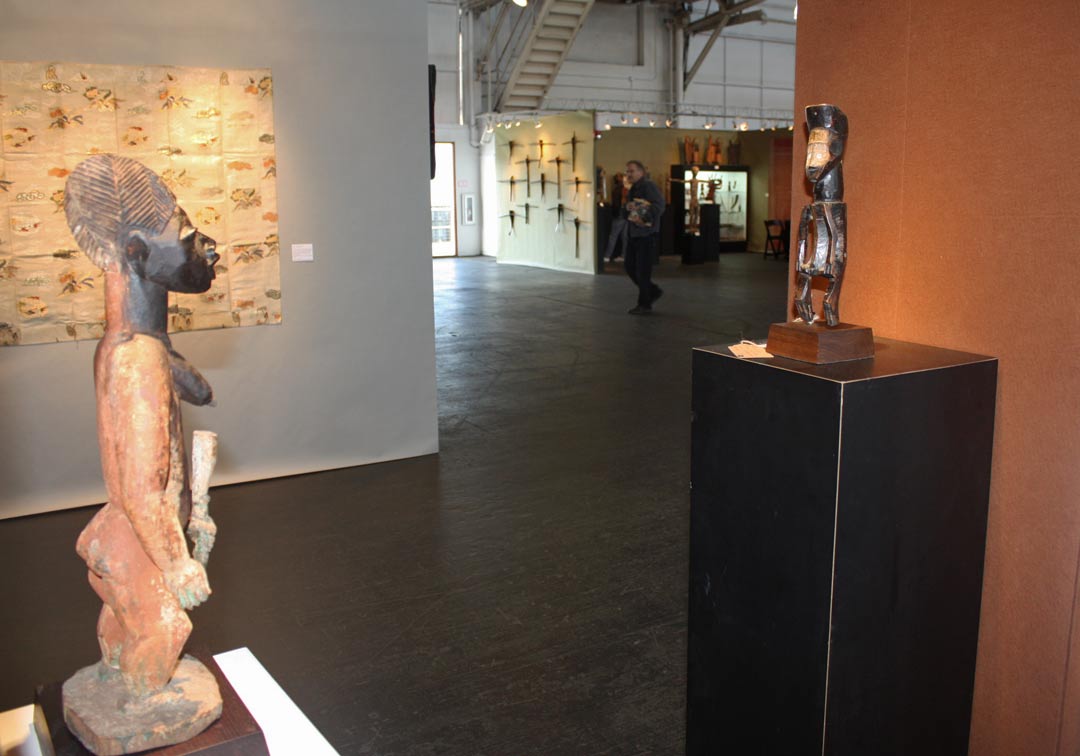 Bryan Reeves Tribal Gathering London
​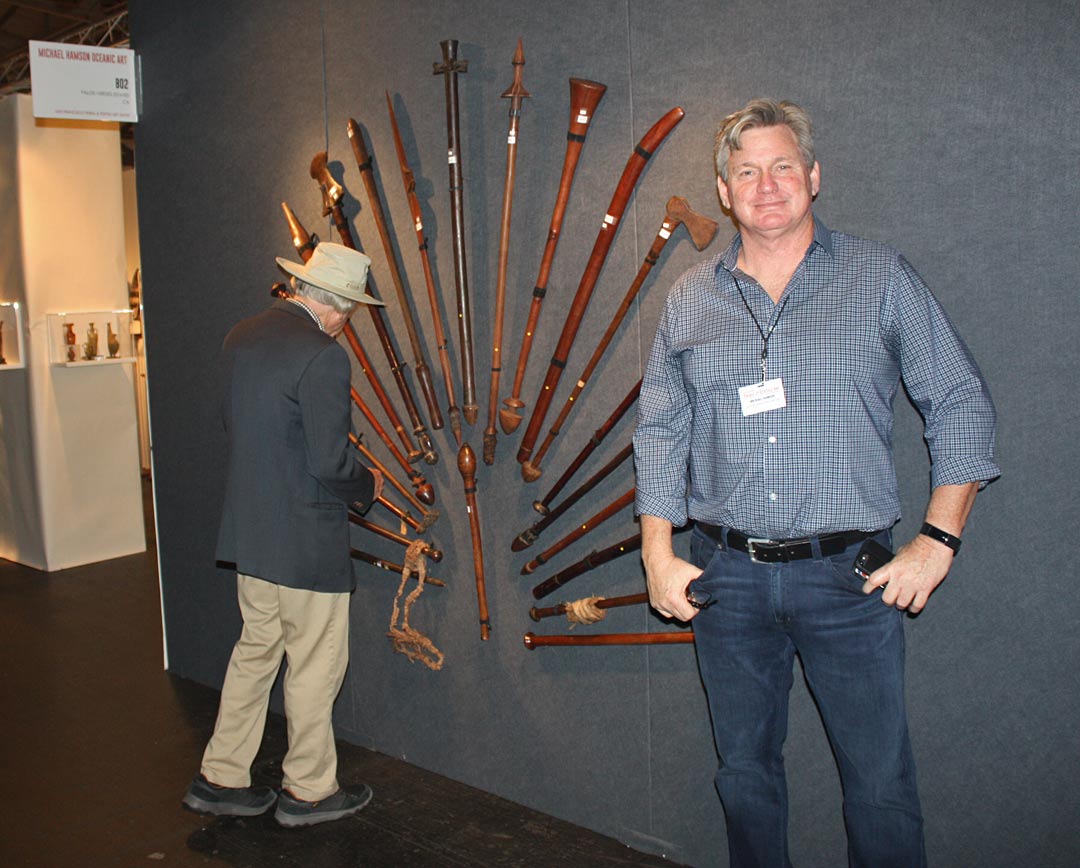 Michael Hamson with wall display of Vanuatu War Clubs
​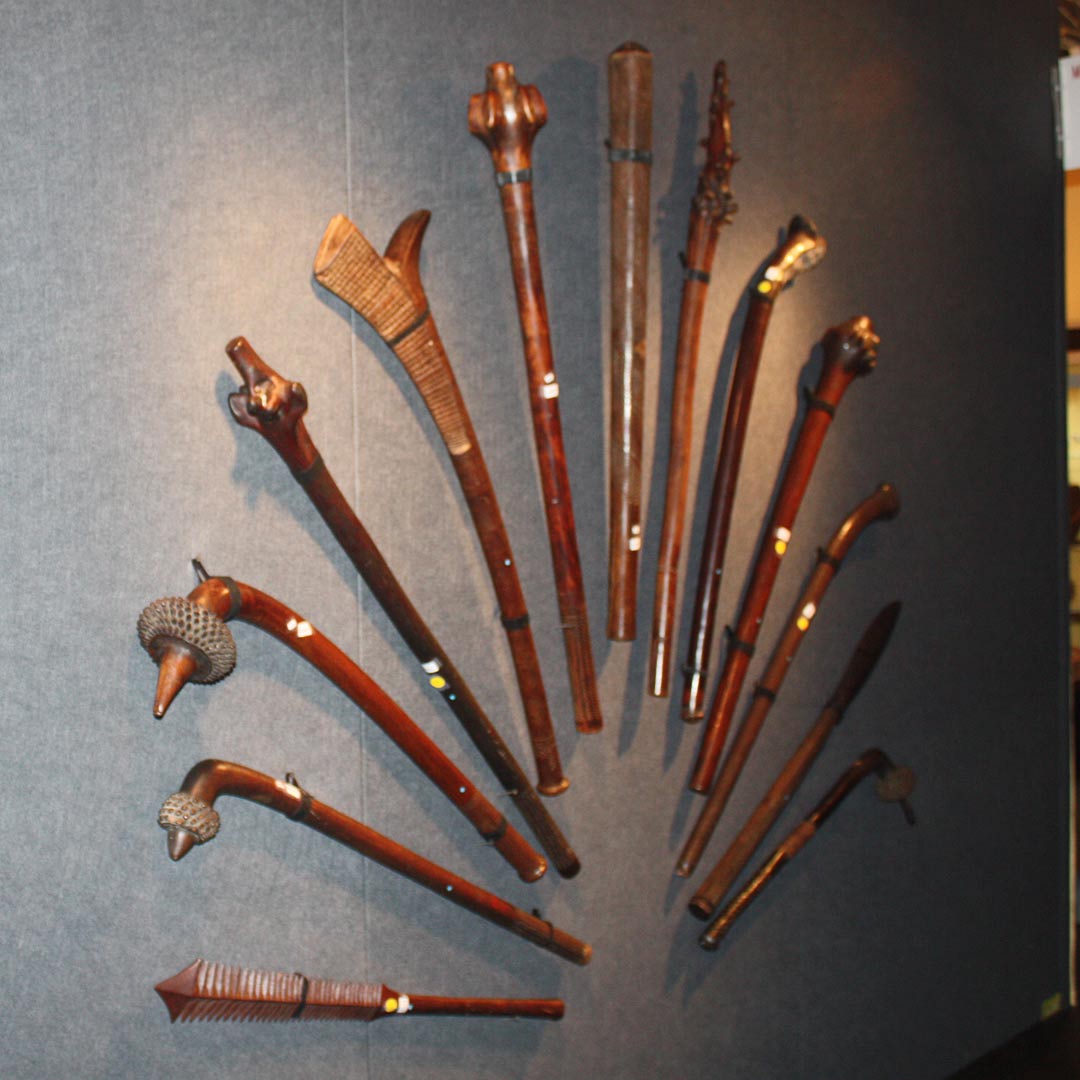 Michael Hamson wall display of Polynesian Fijian Clubs
​
Meanwhile back at Tribalmania Gallery in Half Moon Bay
Interior Tribalmania Gallery. Michael Auliso with Carlo Bella (Rt) from Pace Primitive Gallery in New York
Interior Tribalmania Gallery. Amused by my license plate, Carlo grabbed it off the wall for this photo.
​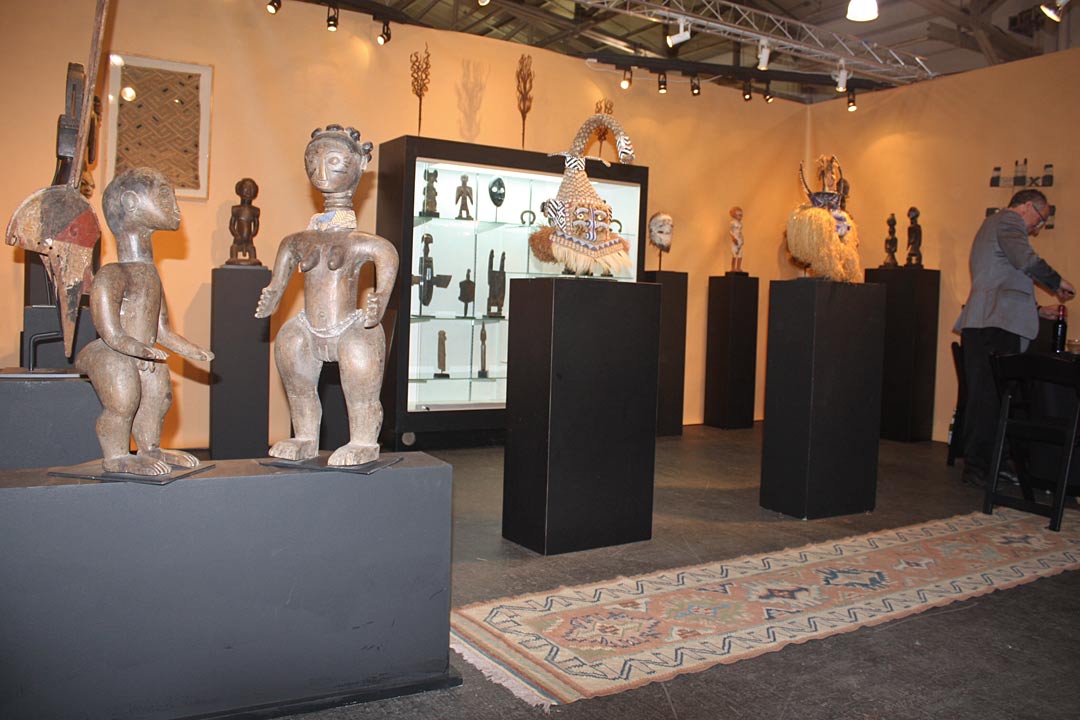 Joshua Dimondstein
​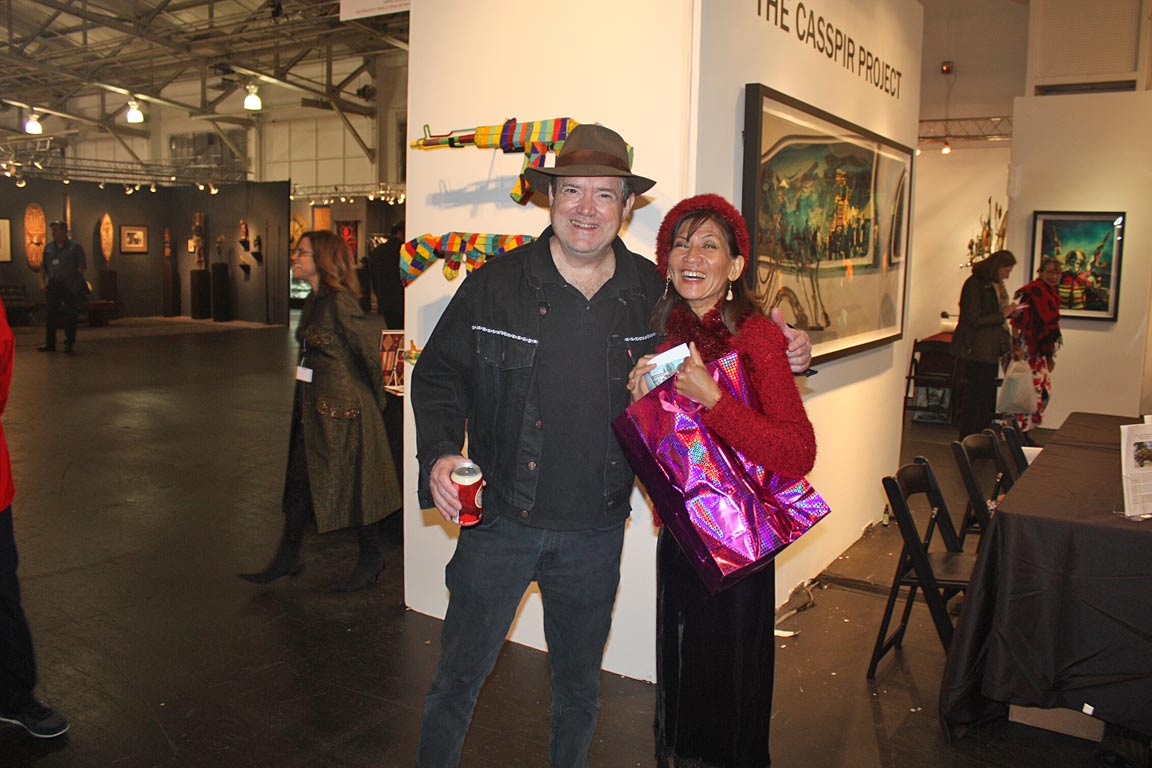 Propably the greatest thing about the show is running into fabulous old friends. That's Morris Abram (MB Abram Galleries) and his lady doing some shopping.
​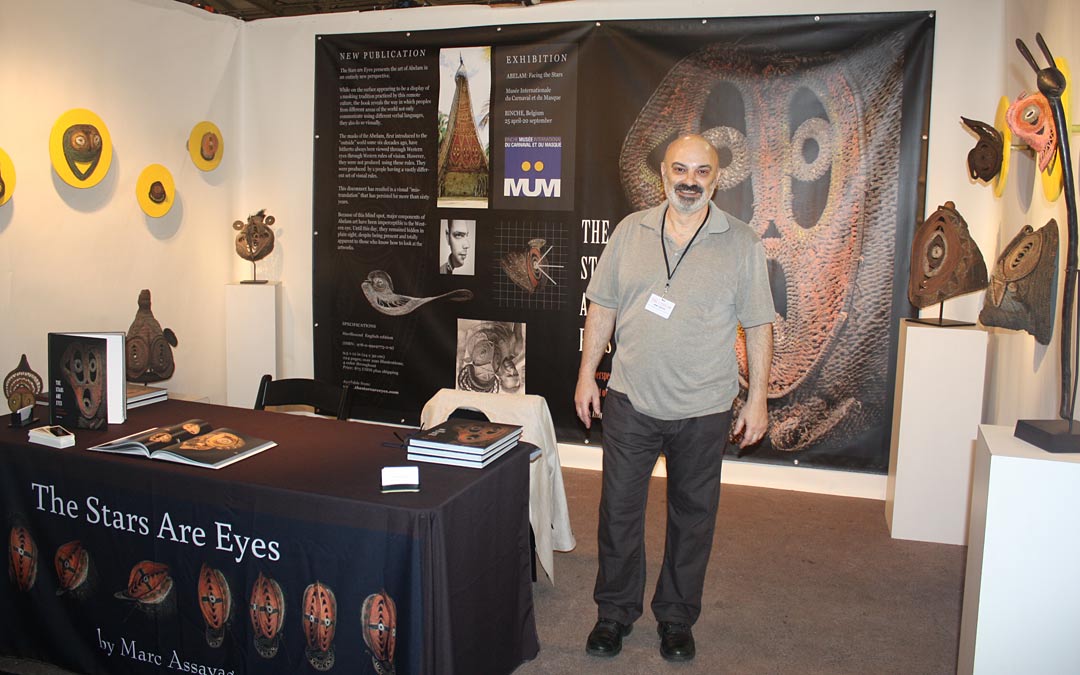 Marc Assayag Tribal Art (Tookalook) debuting his new book on Yam masks "The Stars Are Eyes"
​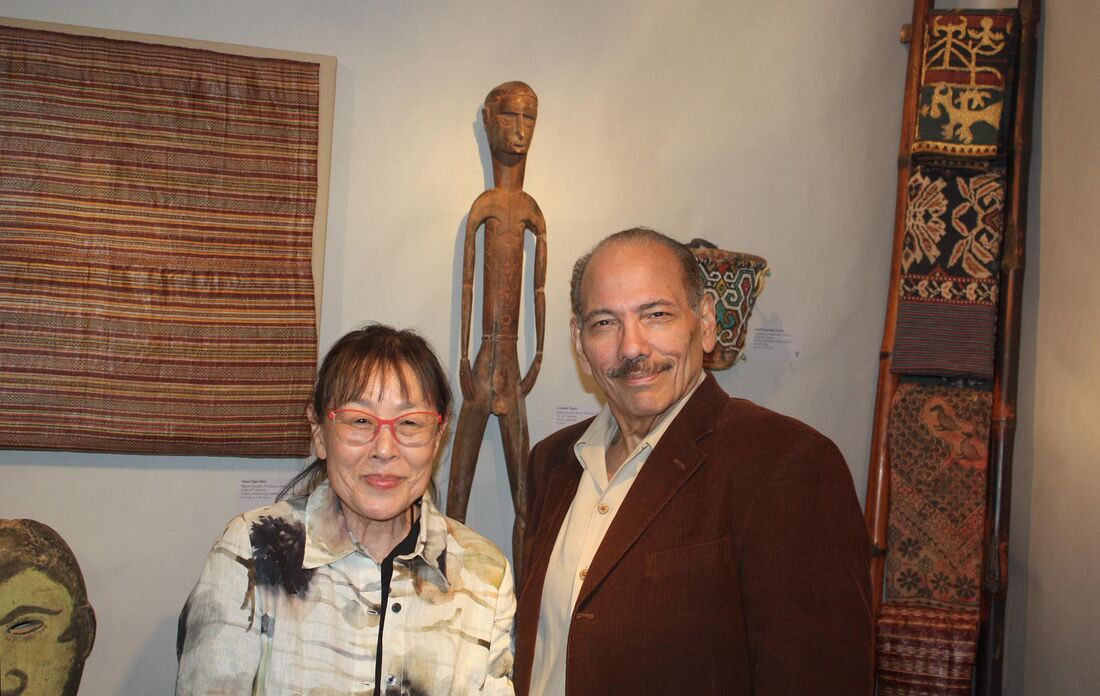 Vicki Shiba's booth. She is posing with collector/ dealer Michael Campbell as I recall.
​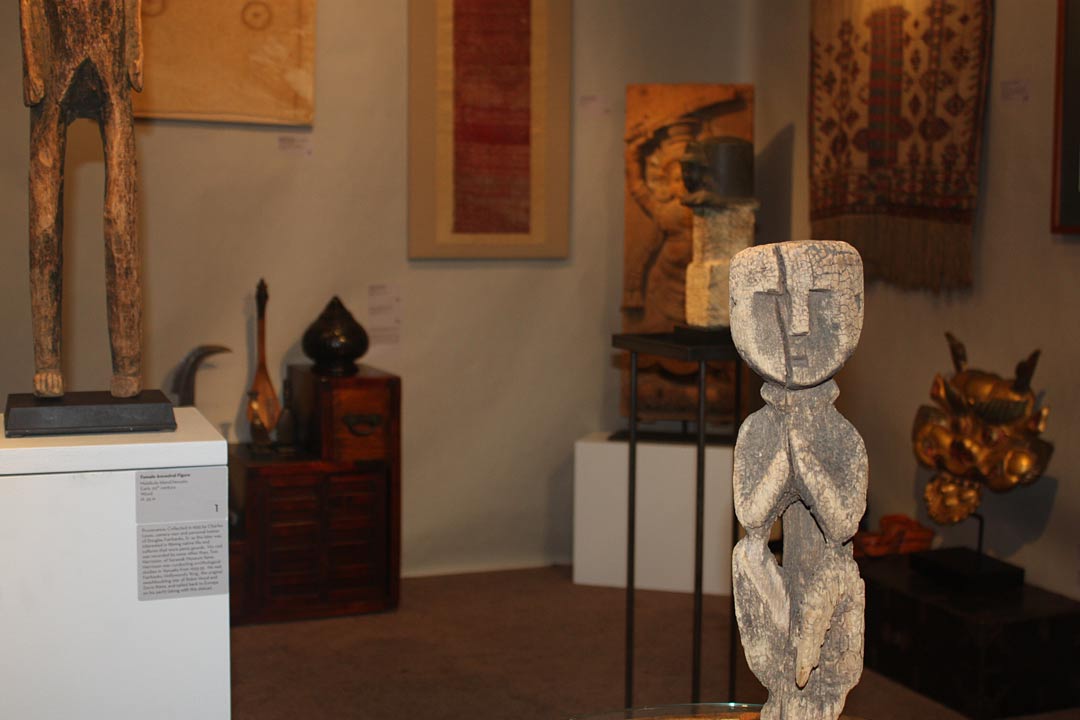 Vicki Shiba Asian & Tribal Art. Vicki told me she was pleasantly surprised with sales, however, she was the only exhibitor I heard such positive feedback from.
​
The show has morphed dramatically from years ago and is constantly changing. I would say the current composition of art roughly breaks down to 30% tribal, 30% Native American with the balance divided between, Asian Art, Pre-Columbian, Textiles, Jewelry and Contemporary Native crafts. Well, I might be being "generous" saying a third of the show is now Tribal Art?
---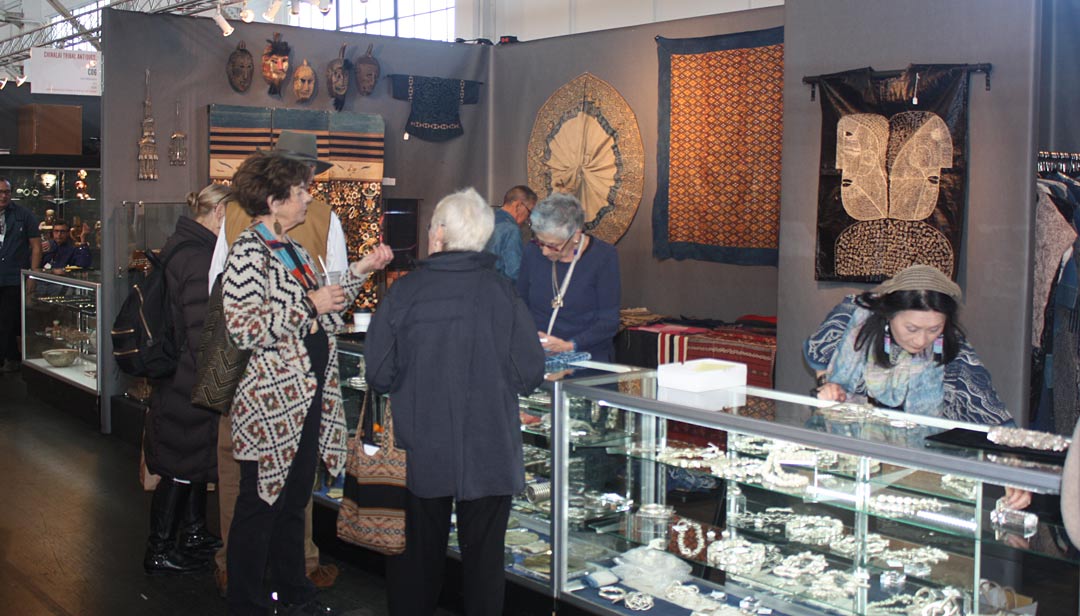 Chinalai Tribal Antiques. They have been exhibiting at the show for a long time.
​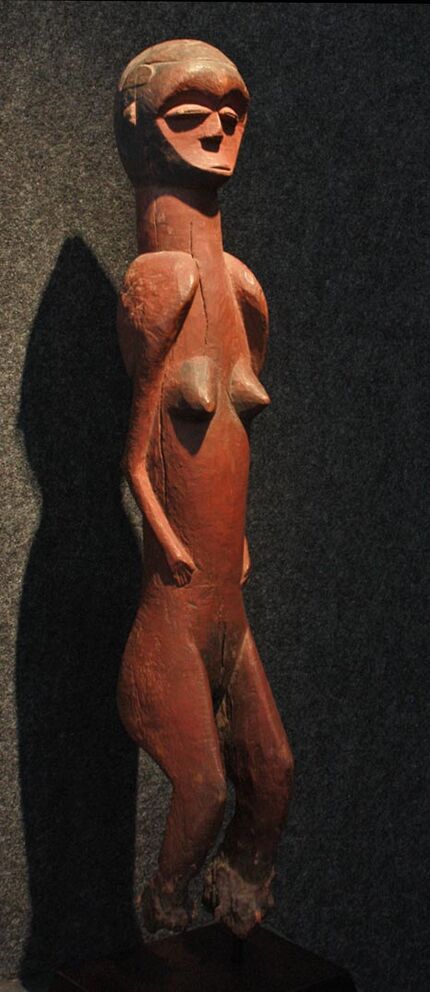 Brian Nault Tribal Art- Oklahoma. Pende Figure with good movement and scale. Everyone should know that Brian is a skilled craftsman and an excellent stand/ base maker.
​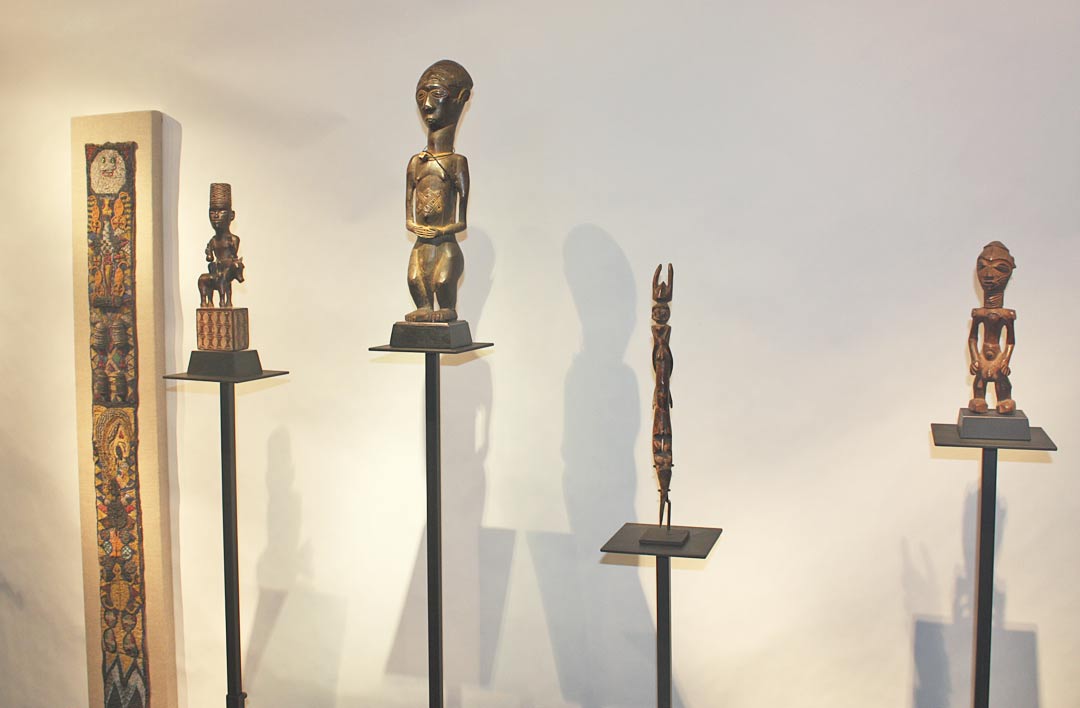 Peter Boyd- Seattle. Always high quality select African Art.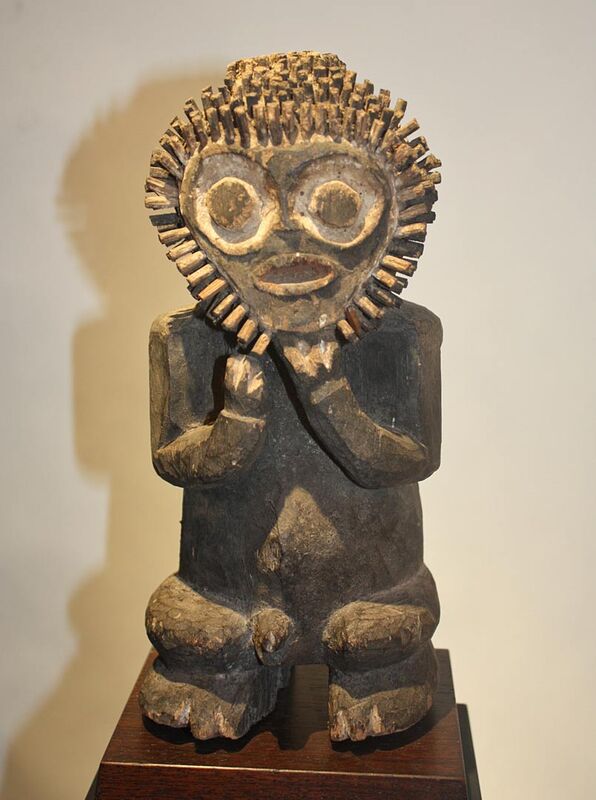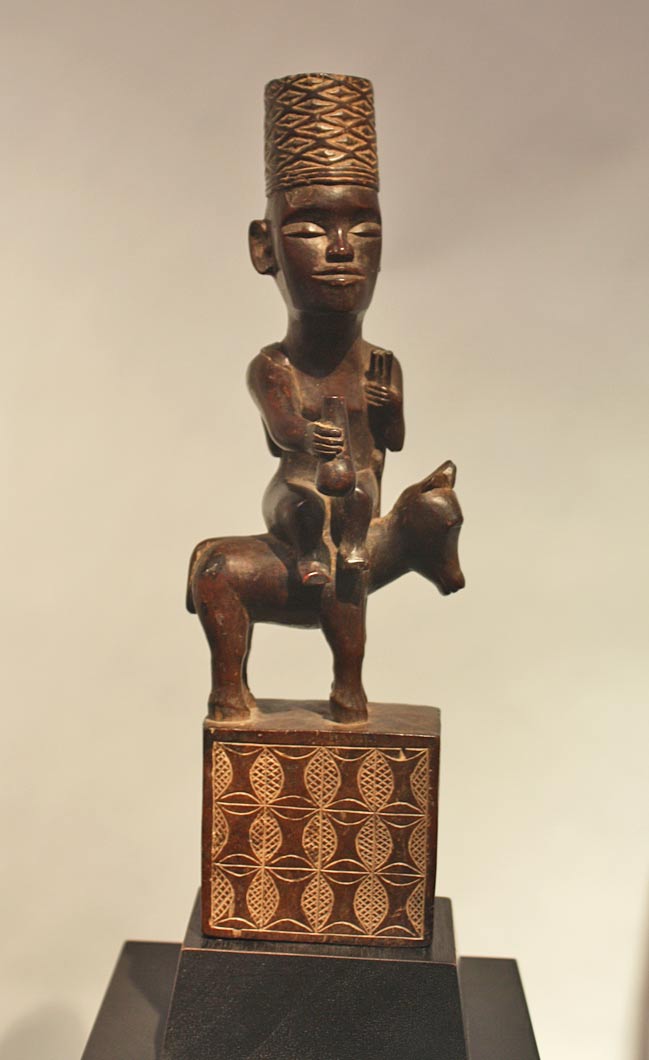 Peter Boyd- Seattle. Yombe or Kongo figure.
​
Lecture Series
This year the series kicked off with expert Anthony Meyer from Paris speaking. His lecture was titled "Tribal Art: Past Present & Future".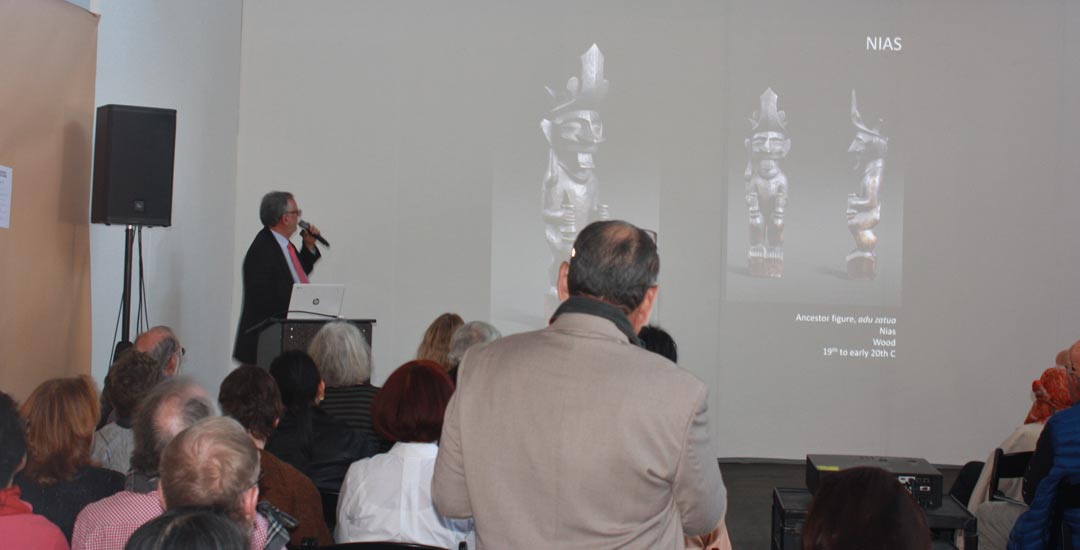 Lecture series in the back of the show. Thomas Murry discussing his new book "Rarities Himalayas to Hawaii".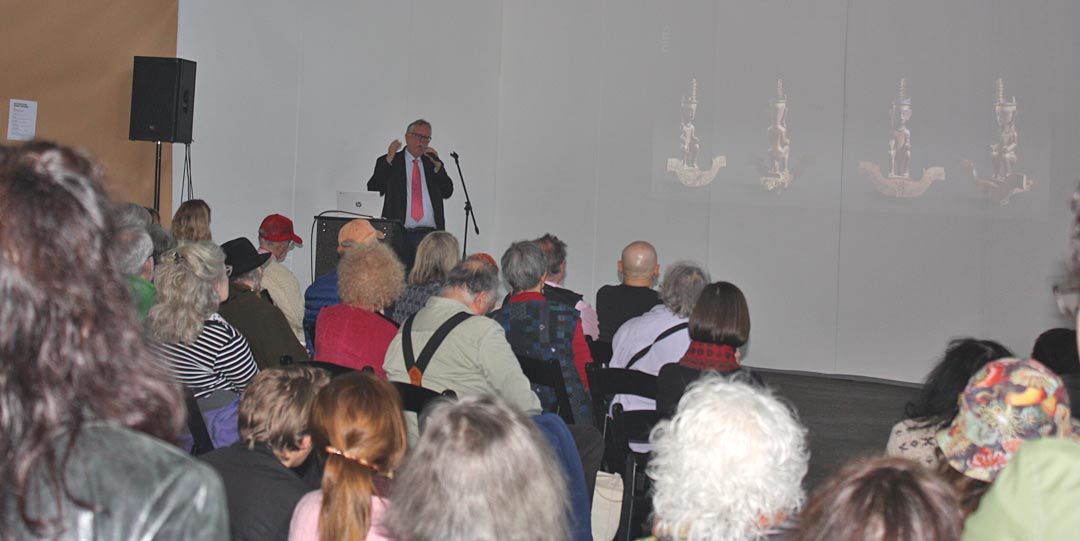 Thomas Murray at the podium with a packed house.
​
By the way….. A special shout out to Marcus Raccanello Tribal Art. Sorry I didn't get to say hi and swing by your booth, but here is a website plug: https://www.raccanellotribalart.com/
​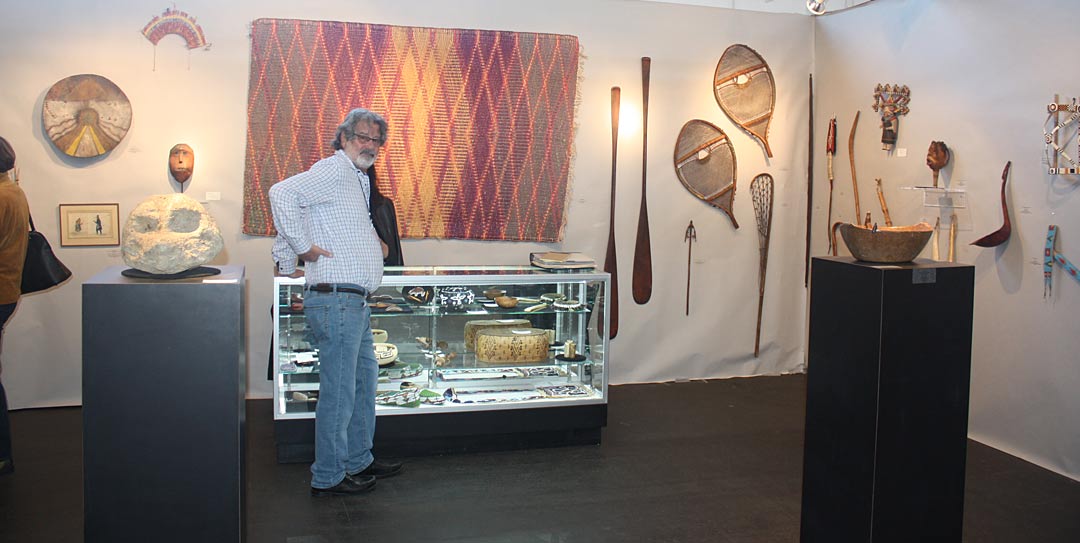 Trotta-Bono. When I spoke to Ted he had a smile on his face and told me he and Ana had moved to Santa Fe Ne Mexico. I was thrilled for them. I bet they won't miss the high taxes in New York?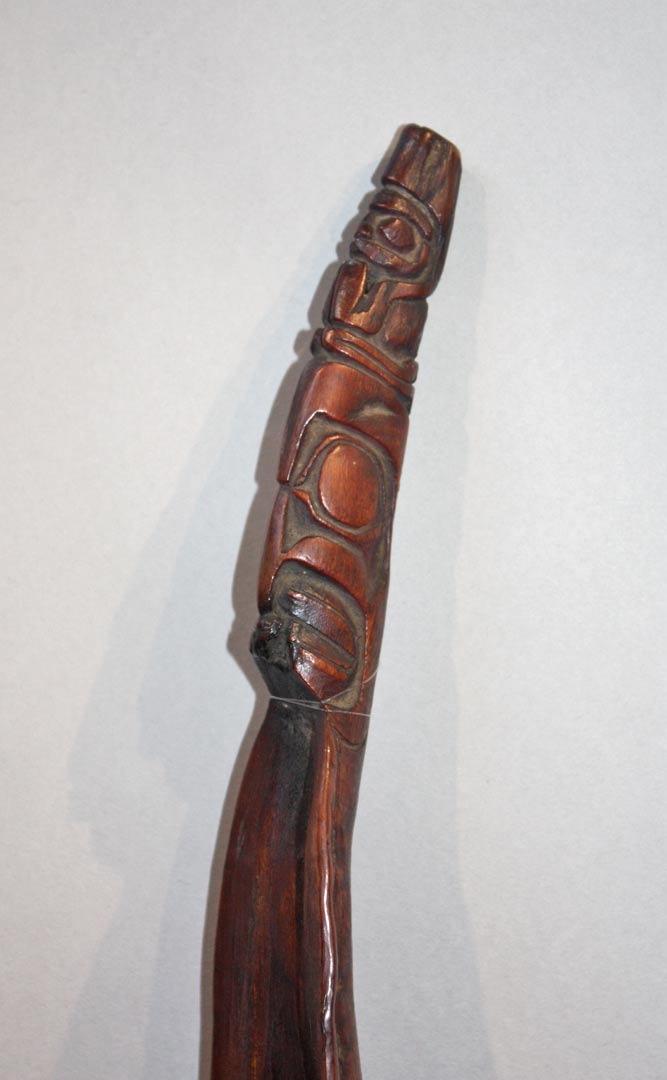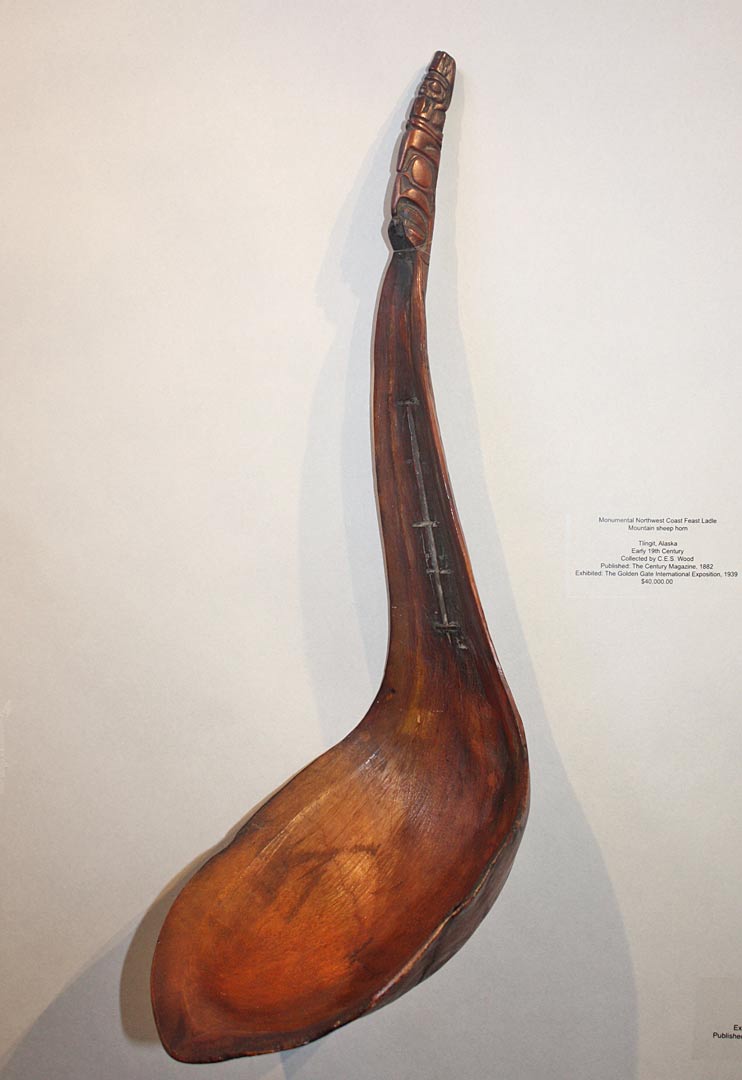 This massive Northwest Coast Feast Ladle was amazing! Trotta Bono Continued
​
Native American Art
The first time this show has been "combined" w/ Tribal Art at Fort Mason
This show has a long rich history and was held the week After the Tribal Art Show in Marin County (about 30 Miles North of San Francisco). I'm going to reserve judgement if it was a good idea to combine the two shows. I'm nostalgic for the old days at the show when it was crammed with the best American and European dealers in the world.
​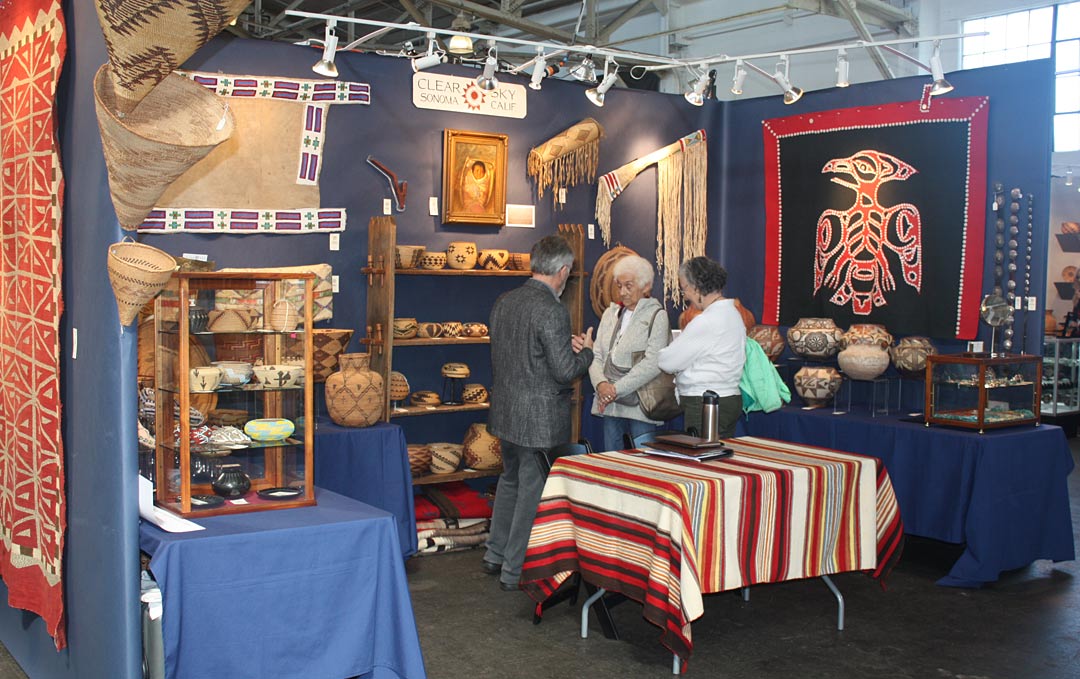 Clear Sky Gallery- Sonoma CA
​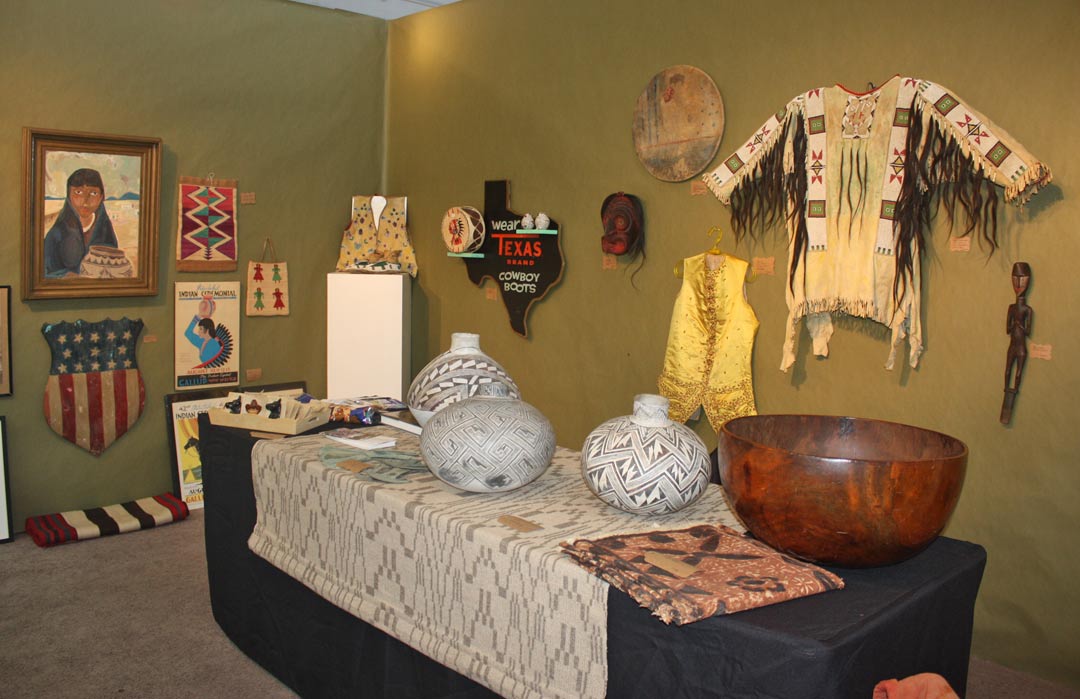 Unknown Exhibitor. Nice pieces but I took photos without noting who it is?
​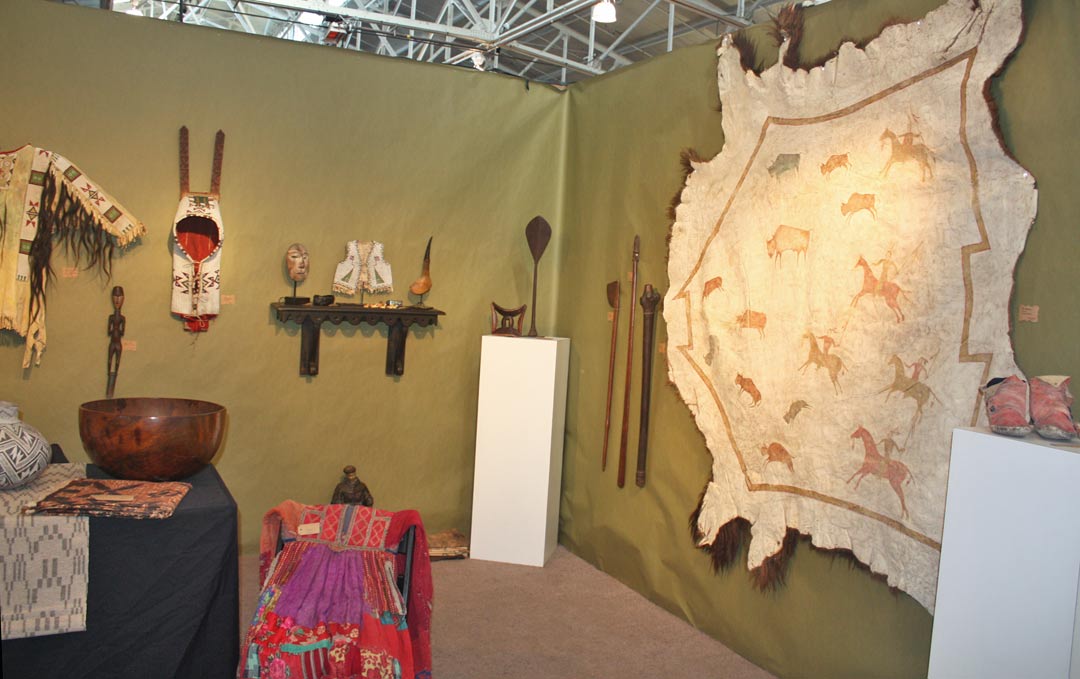 Exhibitor to be identified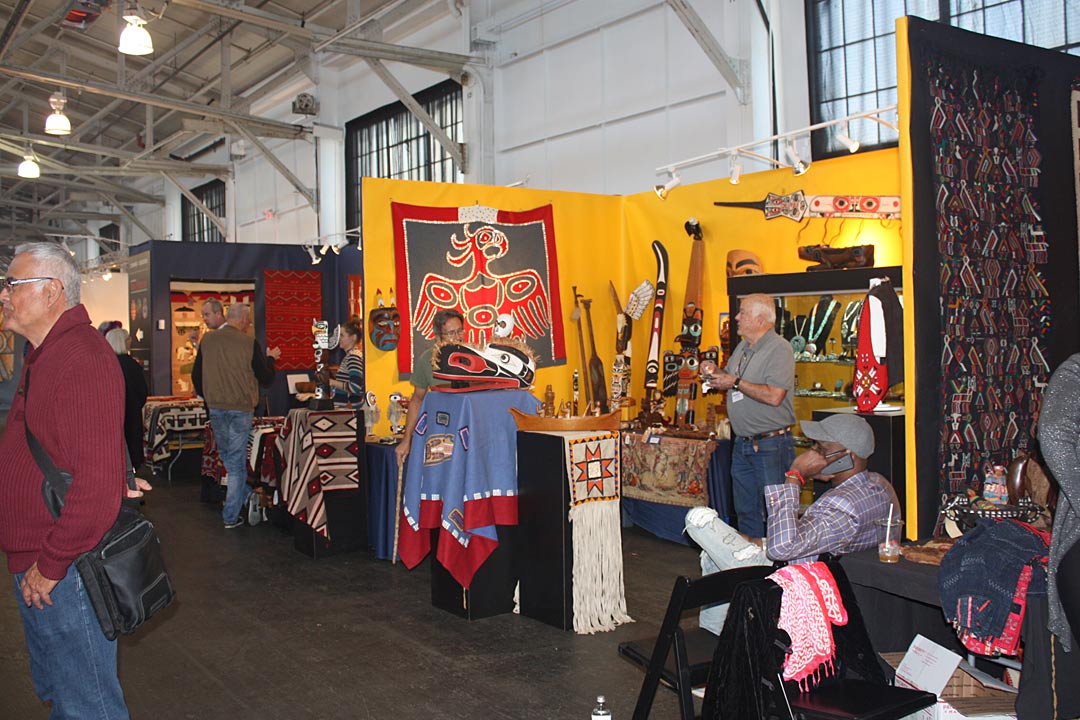 Some dealers booths were set up trading post style.
​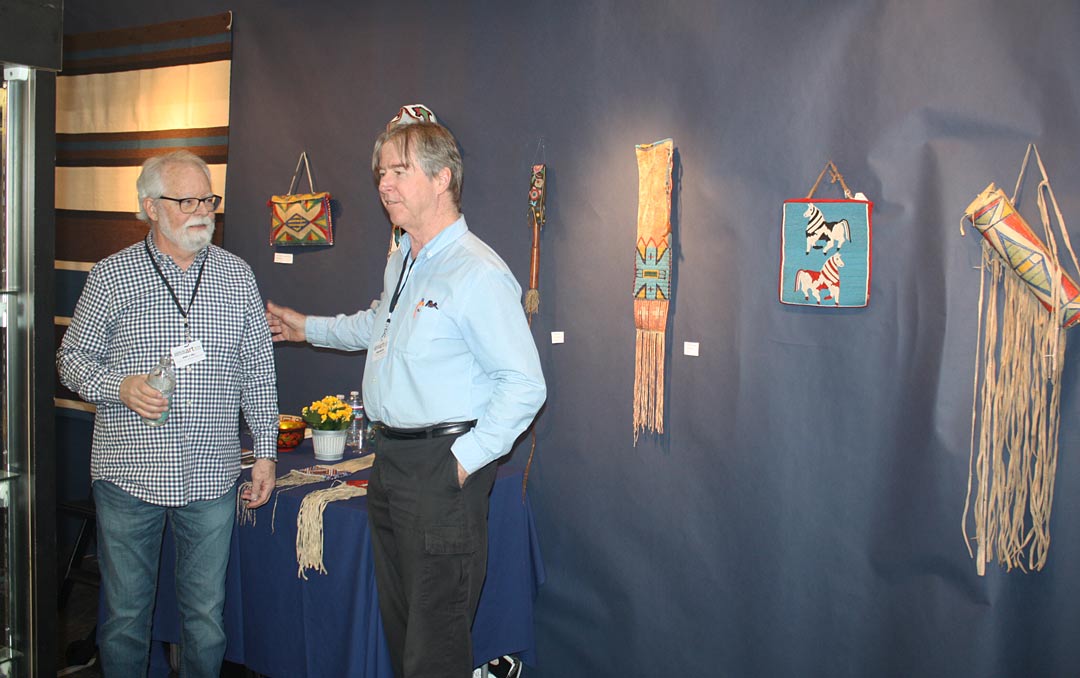 .John Molloy Gallery. John is on the right visiting with another exhibitor.
​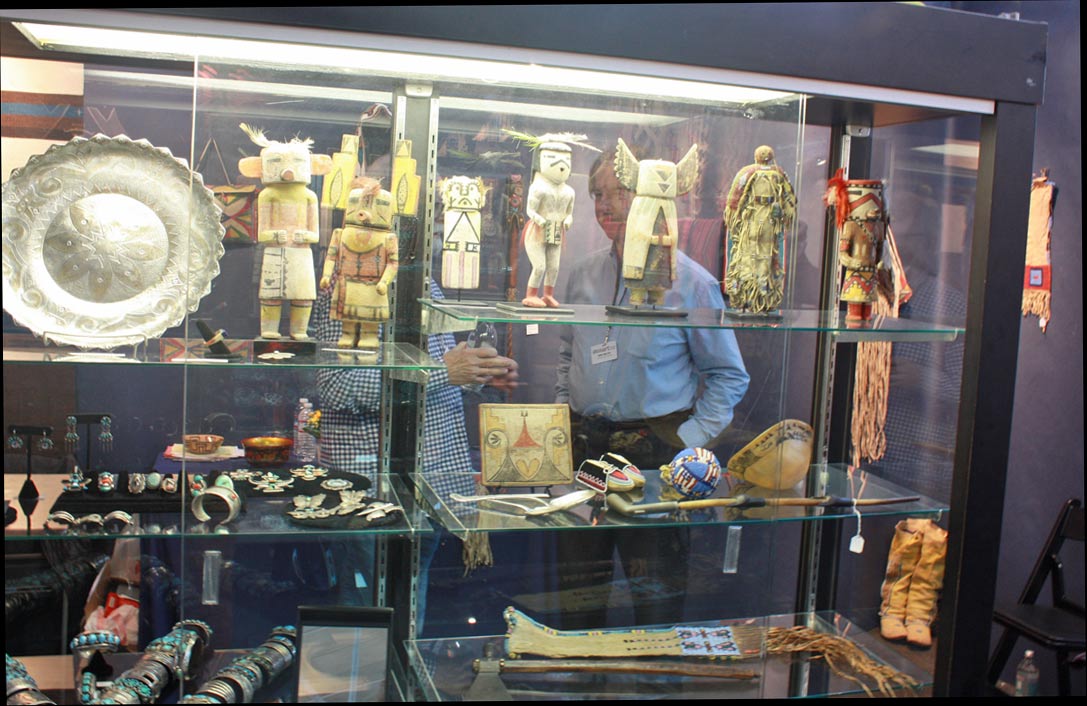 John Molloy Gallery
​
Variations on a Loom
The JB Moore Collection (Robert & Anne Smith)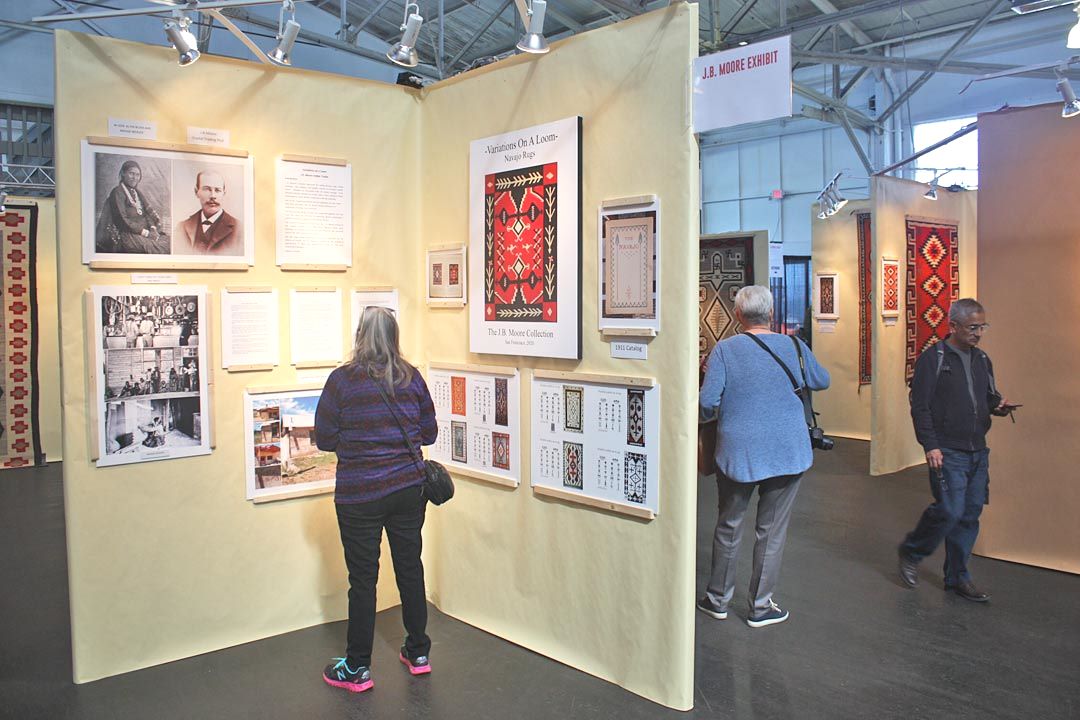 Exhibit of Southwest Native American weavings featuring the collection of JB Moore. In addition to the Casper Project exhibit, this was another high traffic draw for the show. I'm told that Saturday was pretty crowded and buzzing with bodies. ​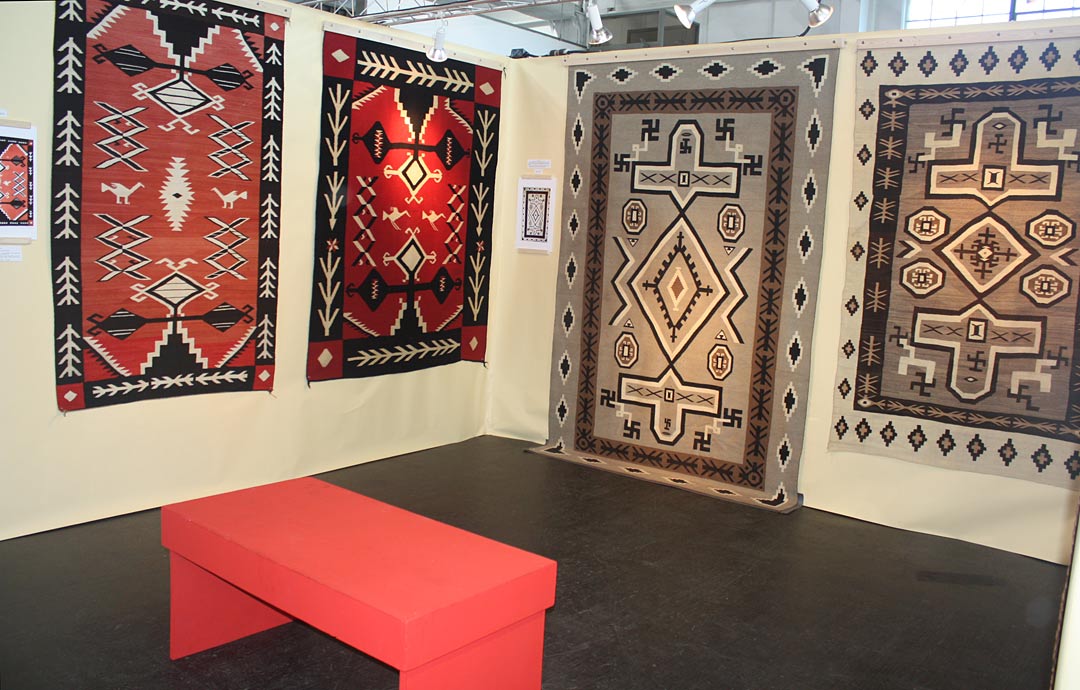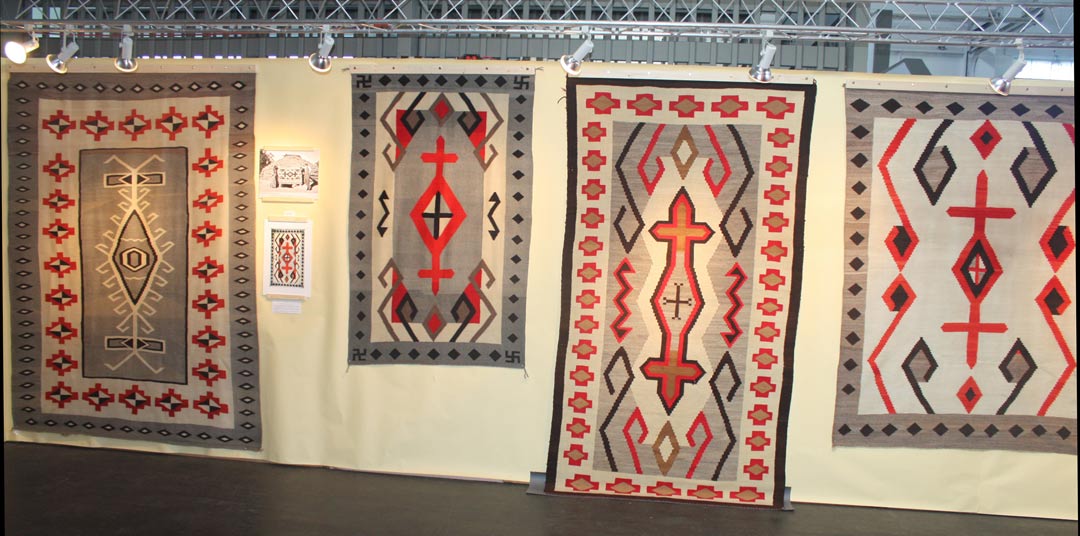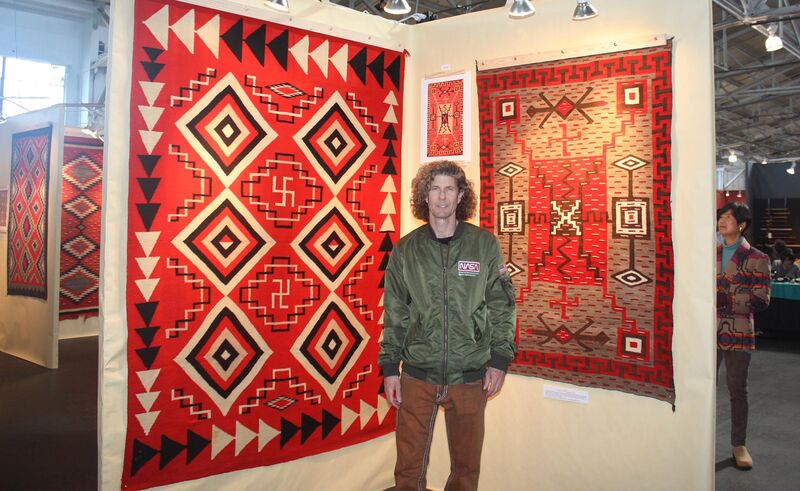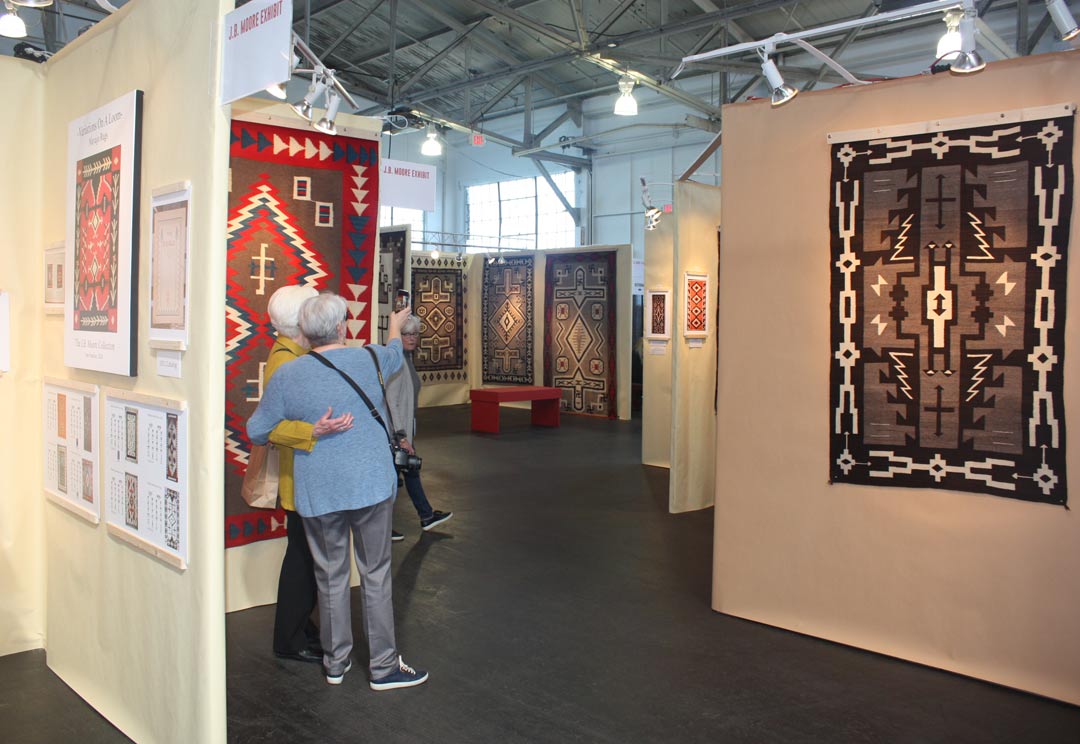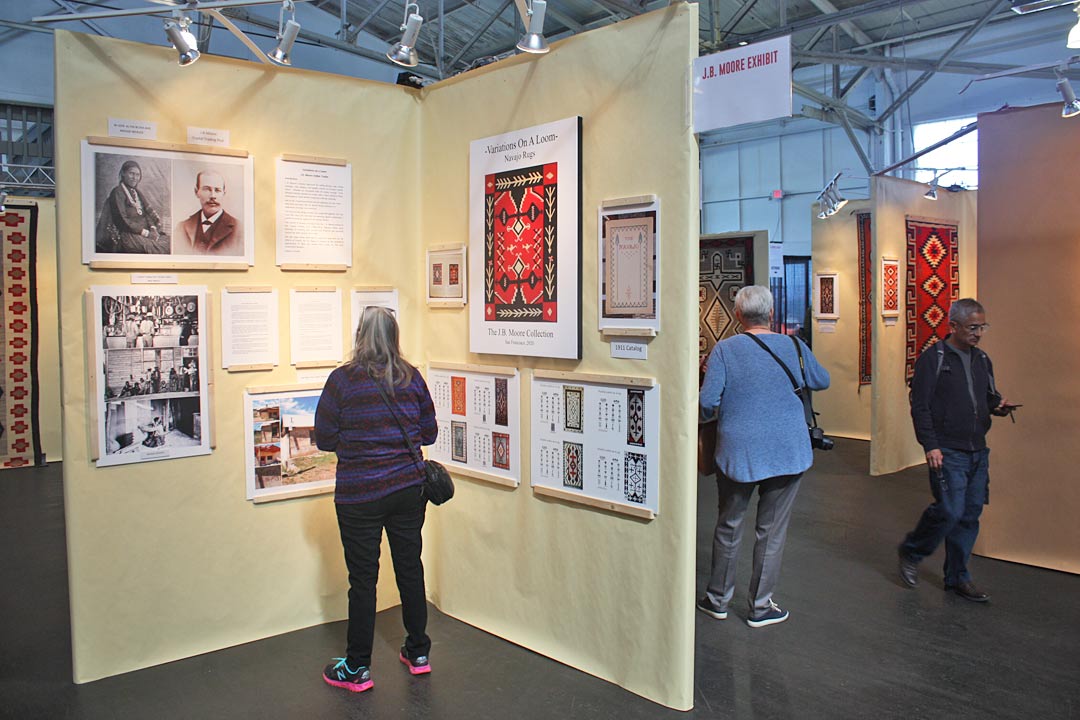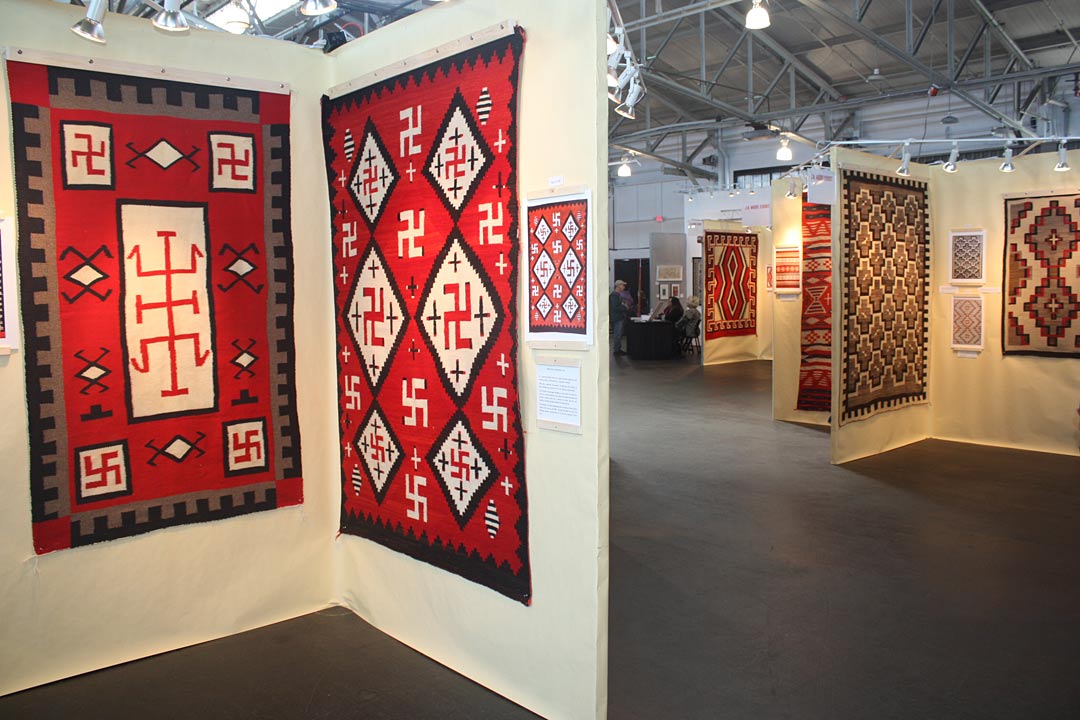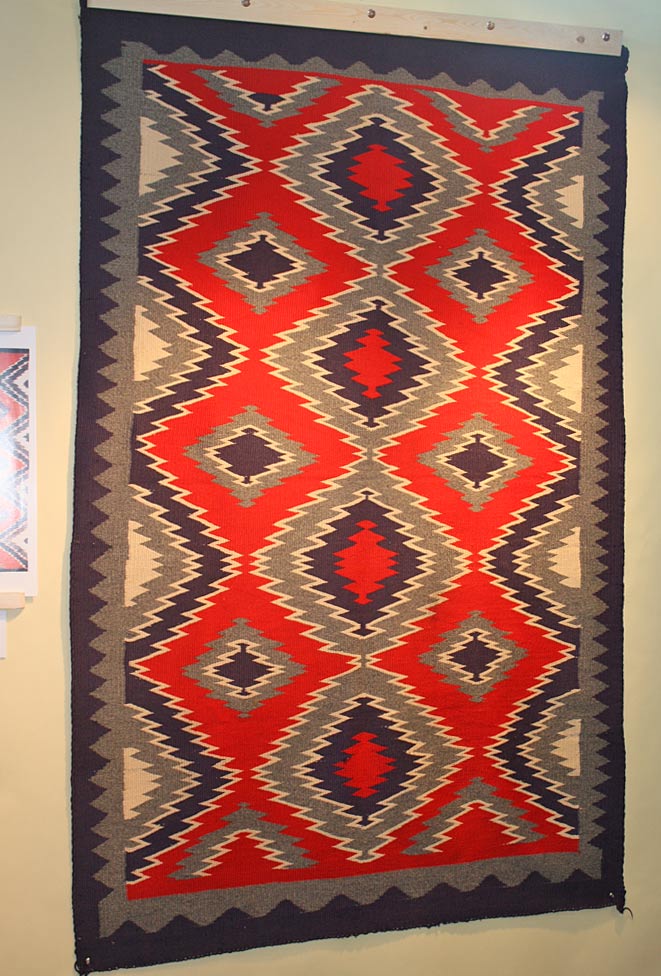 ​By the way…. A special shout out to Marcus Raccanello Tribal Art. Sorry I didn't get to say hi and swing by your booth, but here is a website plug: https://www.raccanellotribalart.com/
​
The End