Written by Michael Auliso and republished here with his permission.
Missing some images on page 1 and pages 2,3+ missing completely


Statute of Liberty in Luxembourg Gardens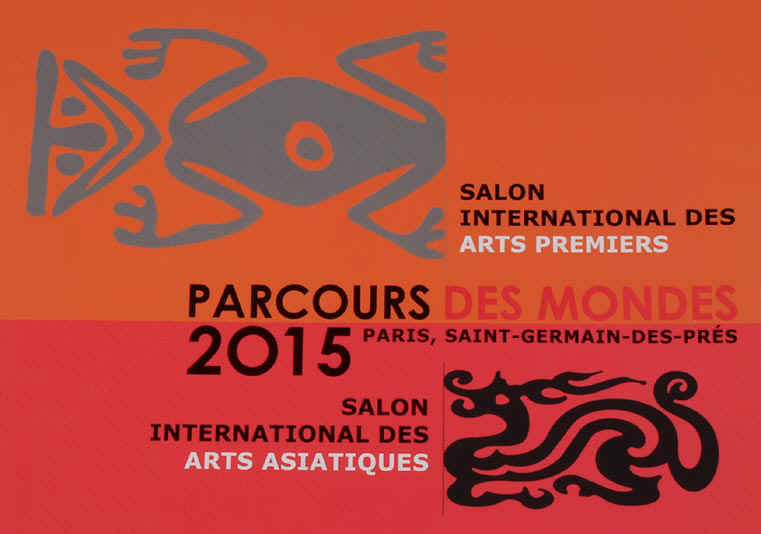 Given all the turmoil going on in the planet, the Parcours felt especially timely and positive, providing a needed break and potent art experience to rearrange our neurons. This year they added 16 additional Asian art dealers to the fair. They seamlessly merged the expanded format and added the coolest stylized dragon logo. The entire production and execution of the fair is impressive and noteworthy. They also made specialized flags and carpets with the dragon logo for the Asian exhibitors, further carrying the theme and making them instantly identifiable.
The most crowded day of the fair was on Tuesday which you might find strange since the official catalog opening states Wednesday. The day before the fair begins you'll find about one third to half of the galleries are open, many with paper still covering their windows to look like they are complying. That's when the enthusiastic and aggressive buyers descend. I suspect this is also the time when GREAT pieces are sold, reserved and removed to never see the light of day again. Incidentally, when you start to focus on the "sold" art pieces with red dots, you'll see a nearly perfect correlation between quality and expressiveness. The takeaway is that the active collectors truly have refined taste. With few exceptions, you'll seldom see a piece that was marked "sold" that was awkward or unworthy. Unlike American collectors, the Europeans are more comfortable and confident buying very small miniatures and fragments.
How were sales? Really hard to say, and a question getting harder to answer since dealers are deliberately vague on that topic. Lots of things sold and lots did not. However, I can tell you some dealers had a distinctive look on their face like it wasn't much fun anymore, and some said as much. Some are again feeling like there are too many dealers coupled with too much competition and too few buyers. That usually means: "sales could have been better". More competition in a soft market equals increased tension among dealers. It is quite competitive as well. with vast differences among exhibitors; some having as little as 200,000 euros to 20 million in inventory.
Unlike the amazing Martin Doustar skull exhibition of last year, there was not a distinctive buzz about which gallery was a "must see" for an intense art experience. That said, the names most discussed by collectors were probably Donald Ellis Gallery, and definitely Bernard Dulon- who had the record-setting Sotheby's cover Fang Mabea figure. Also Didier Claes and again Doustar were frequent conversations. Dealers were more guarded about their sales results, likely meaning the sales tempo was modest at best. Either that or they want things on the down-low for the taxman. That said, I would be surprised if anyone sold more than a third of their pieces as I've seen in prior years.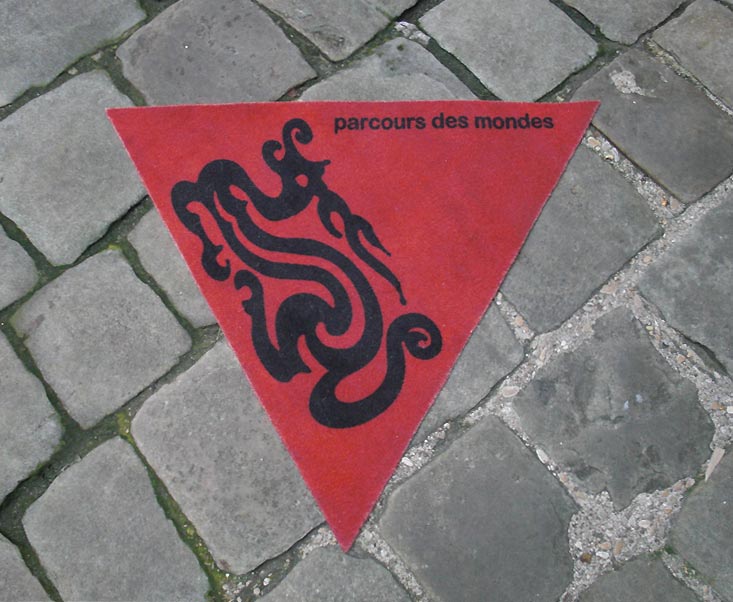 It's difficult to "stand out" and be relevant at the Parcours any given year, but it is virtually impossible to create a stellar quality exhibit "consistently". We see this again with a rotation among dealers (some major ones) who choose to sit out this time. There is one French dealer I've seen exhibit the same piece for at least 8 years in a row now. Its a good piece and there's nothing wrong with it. The reason I mention him is that his approach is kind of lets see what sticks. Its not a formula for success, however, in a forum where collectors have HIGH expectations and anticipate seeing new, unexposed exciting pieces every time. I'm more easily pleased with the overall quality shown in Paris but collector-critics judge things more harshly. I ran into a few of them with established collections who said the quality was lacking. That might be true for them, but this is where to buy art to elevate a collection and it always has been. Often, you'll see objects out of collections you wouldn't have dreamed of.
The psychology and overall dynamic are so different in Paris, as "good" pieces can wither, and be lost among everything else, and great pieces can be killed in heartbeat. This has some paranoid associations, and brings me to something new I began to see more of; the selling tactic of not automatically " displaying" a top piece. Very high-end art was kept in a backroom and only available for view if you specifically asked and then there was no guarantee of a look. This year I saw the fewest number of advertised catalog pieces on display in memory, so this could be a factor. Yes, some pieces were pre-sold, as always, but I found dealers to be noticeably cautious about expensive material this time. Photography of pieces is not getting easier either. One dealer told me that if your best piece is on display for more than a few days without being sold (red dot) that's a "negative", as collectors begin to question and even get nervous if there might a problem with it. Most of the time someone is whispering into their ear to cause them alarm. So, in this atmosphere I can fully understand the shifting behavior.
Entwistle
(Entwistle) Wow! A handsome display of highly selected war clubs.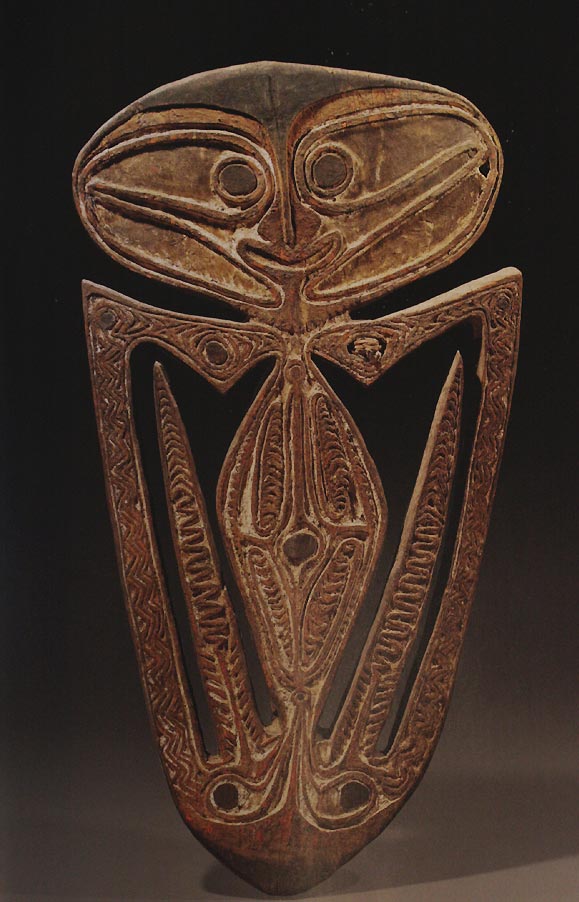 (Entwistle)- Main catalog photo, PNG Papuan Gulf Agiba skull rack from the Kerewa people. Look at the width and shape of the head!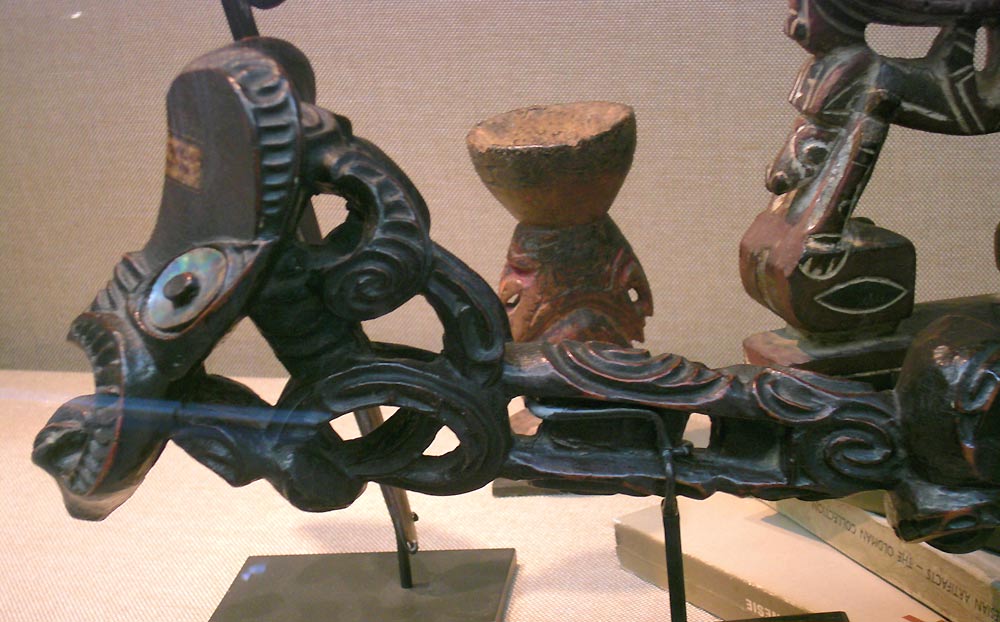 (Entwistle) Exterior showcase display- New Zealand Maori "Paepae" handle.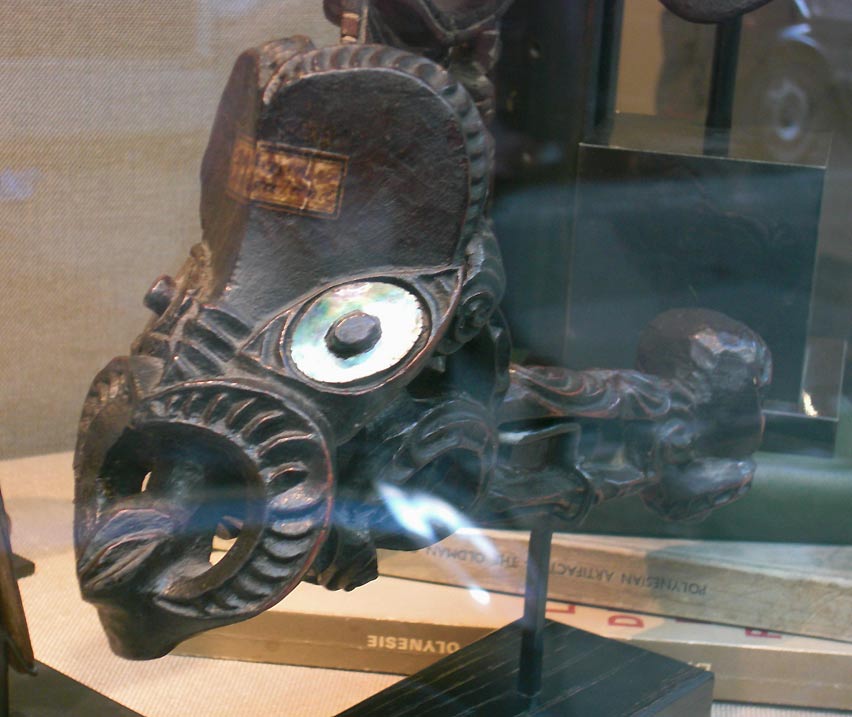 (Entwistle) This is worth one more view. Often these are quite early, dating to the 18th century. With few exceptions, it felt like Polynesian art was sparsely represented this year. There were, of course, clubs but little sculpture and only one Polynesian object in the catalog.
(Entwistle) Left showcase display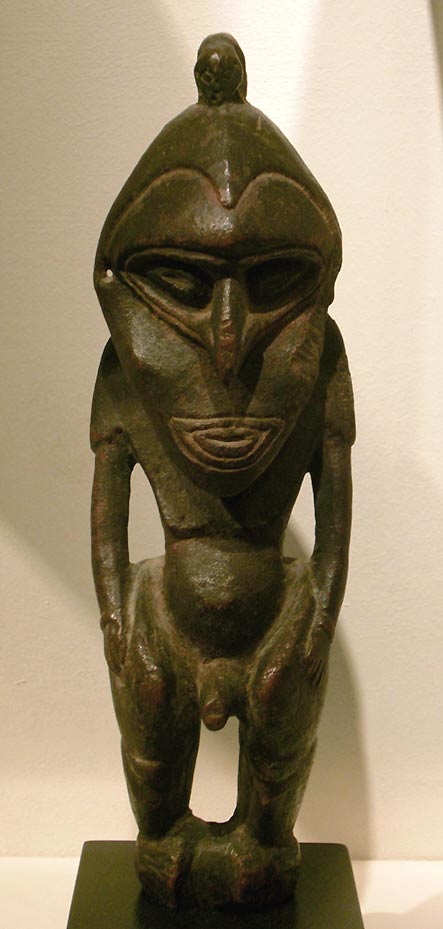 (Entwistle) PNG Sepik ancestor figure.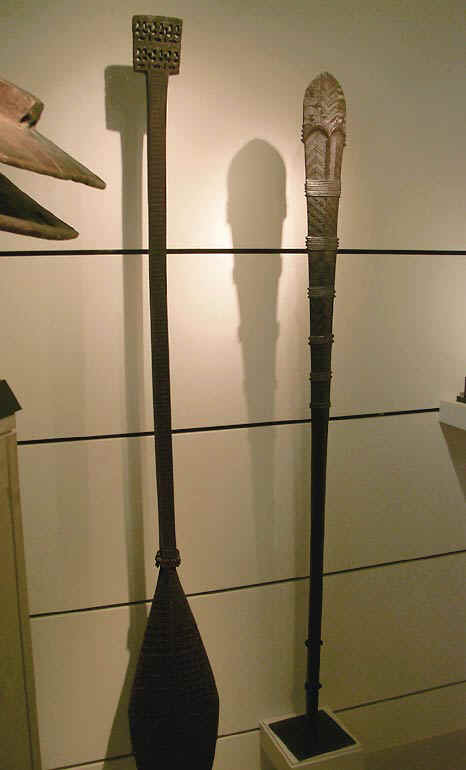 (Entwistle) The grand scale and quality of this Tongan "apa api" club was a jaw-dropper! A memorable piece discussed among dealers and collectors alike. Not to be overlooked, an incredible Austral Island carved paddle (left).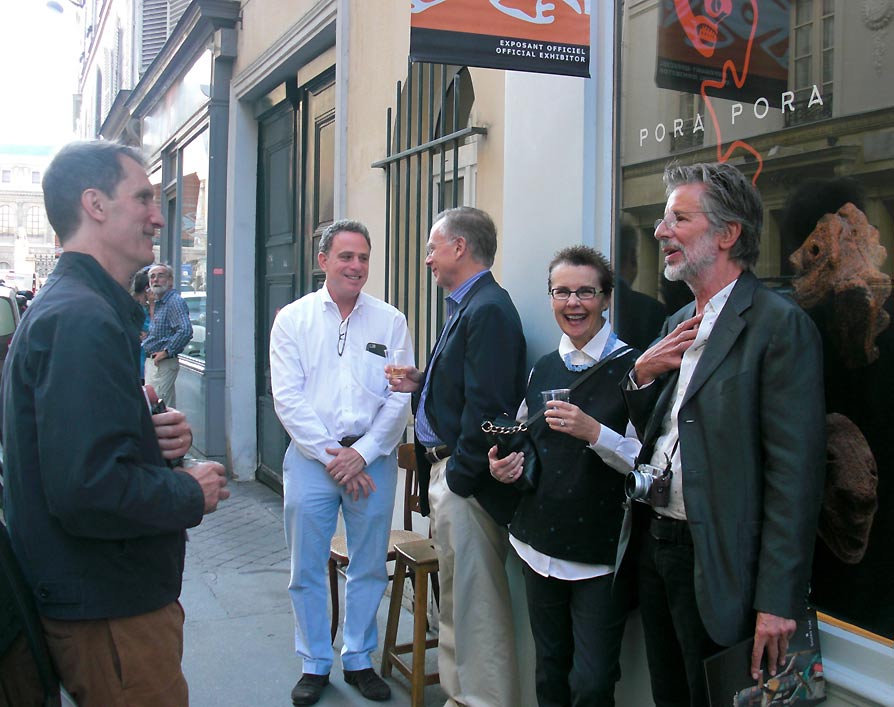 (10 rue des Beaux-Arts) Exterior- Bruce Frank Primitive Art. The fair is just kicking off. Left to right: Amyas Naegele, Bruce Frank, Fred and Kathleen Taylor and Alan Marcuson (far right).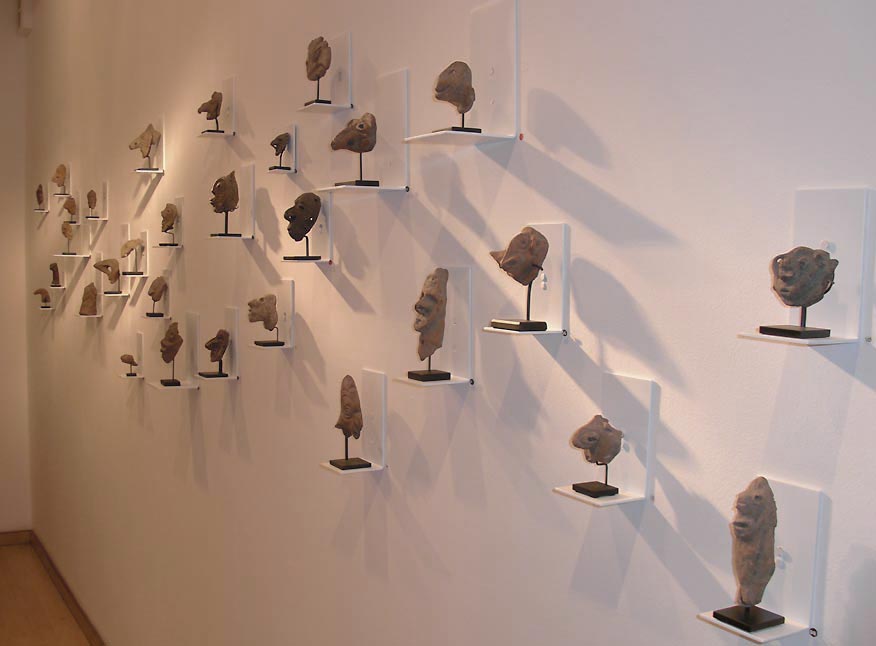 (Bruce Frank Primitive Art) exhibiting archaic New Guinea terracottas from the Jolika collection.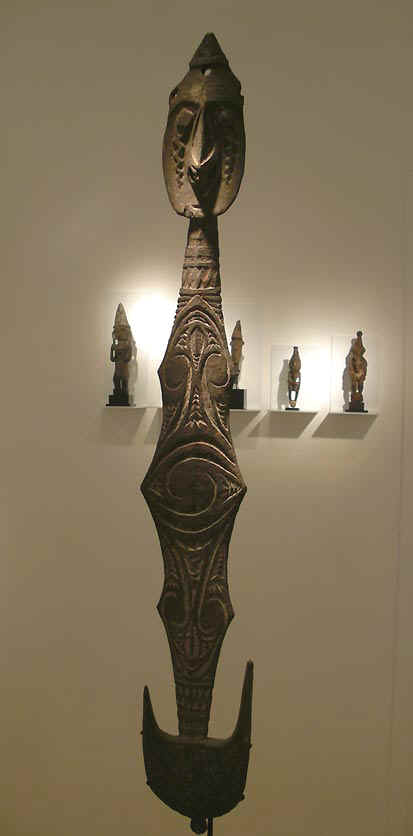 (Bruce Frank Primitive Art) New Guinea Blackwater Hook figure.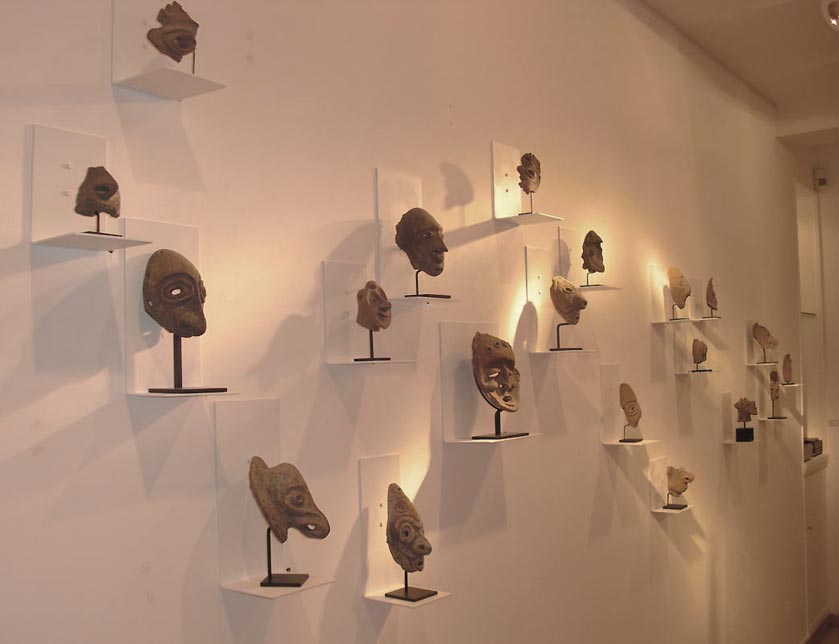 (Bruce Frank Primitive Art) cont.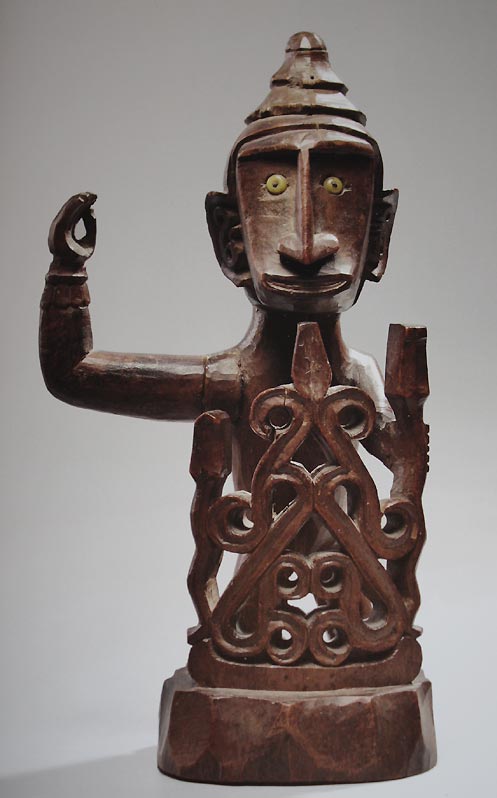 Michel Thieme- Amsterdam. Catalog photo of a superb Korwar figure.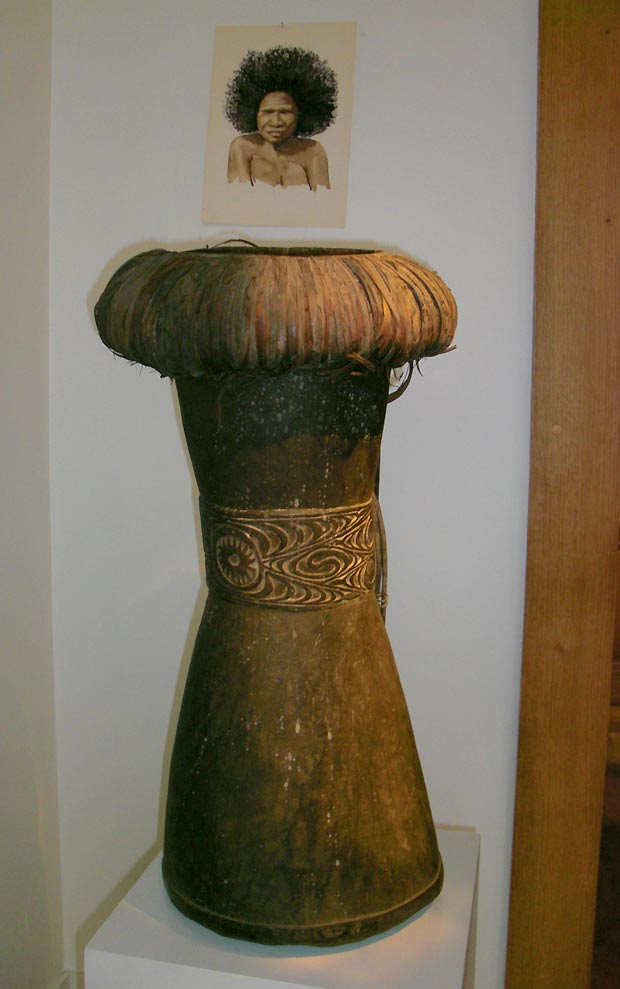 (rue des Beaux-Arts) Michel Thieme with a classic PNG Lake Sentani Drum. The Lake Sentani people wore especially huge afros as depicted in his photo.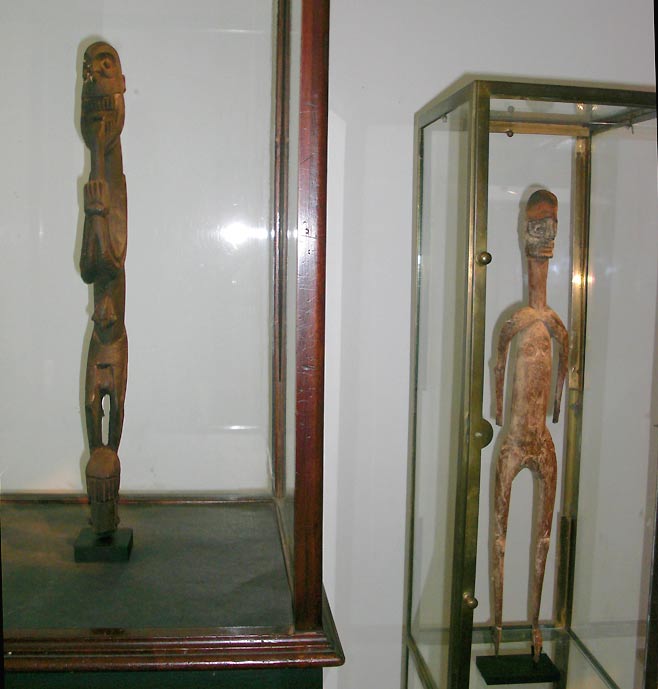 (Michel Thieme) Had a number of early and edgy Asmat figures from the old days of headhunting when the practice was woven into the fabric of the culture. Later figures, lack the uncanny brute and powerful qualities so desirable but not these obviously.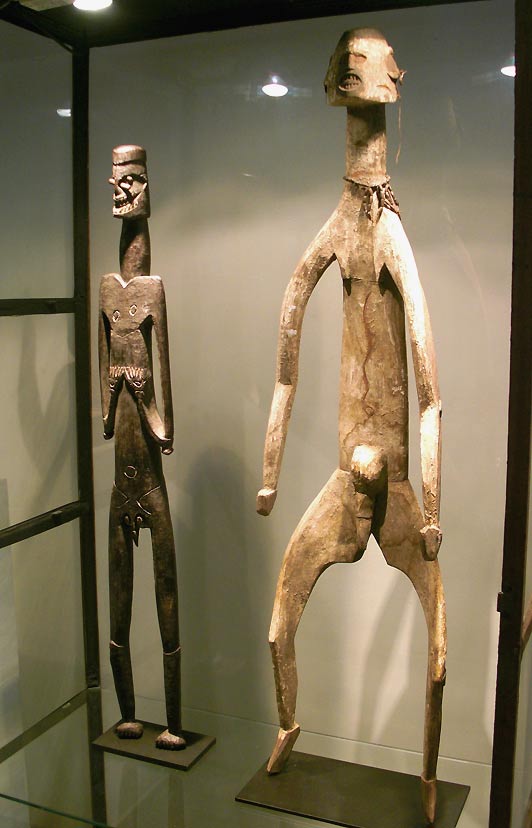 (Michel Thieme) The large Asmat figure on the right was sold. Being an accommodating gentlemen, he brought it from the back room for this photo.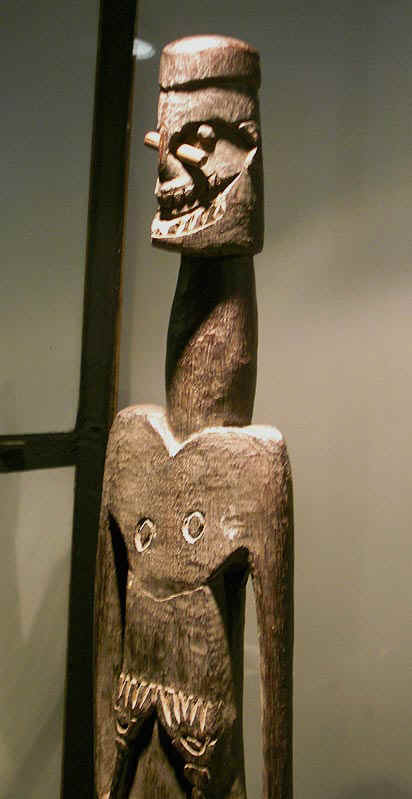 (Michel Thieme) I really liked him, reminding me of the same hand as a figural Sago dish once owned.
Donald Ellis Exposition:
"Le Temps Qui Passe: Dessins des Indiens des Plaines 1865-1900"
(12 rue des Beaux-Arts)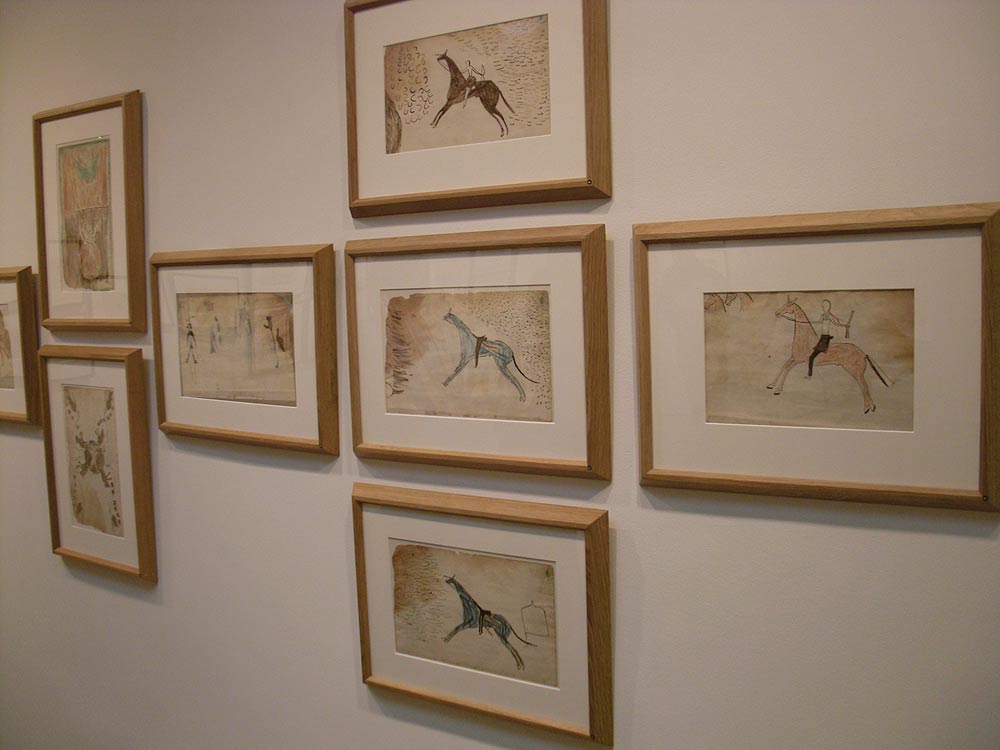 (Donald Ellis) I've never been very impressed or inspired by ledger drawings until now! These were fabulous ones (some from the historical Macnider Ledger Book) largely showing Plains Indian life just before the onset of the reservation period. They were truly touching and radiated soul and purpose. Many people were affected by them and you often heard enthusiastic discussions.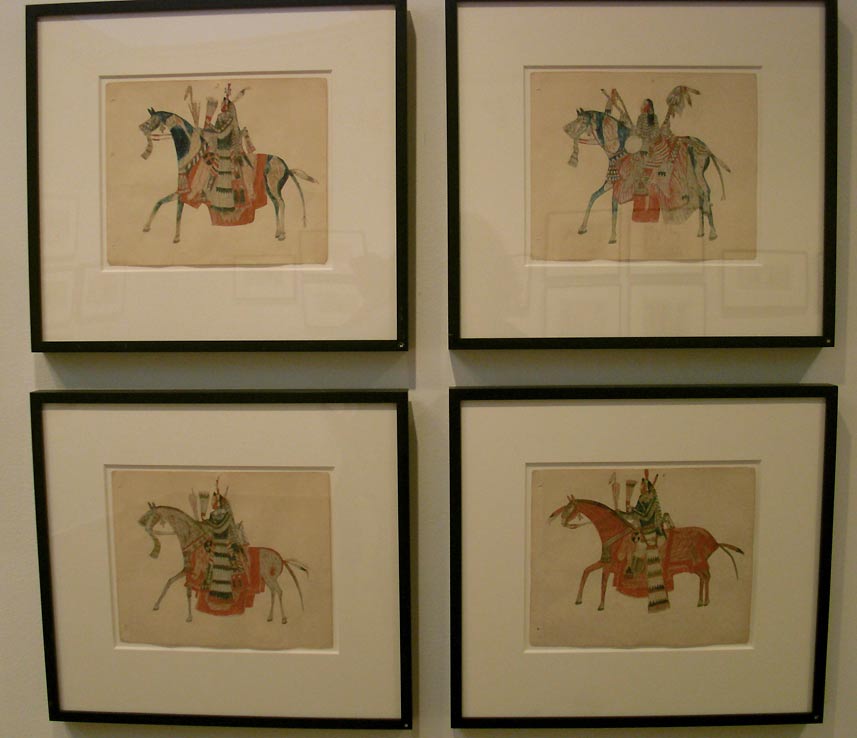 (Donald Ellis) These were amazing, I assume Sioux warriors in full regalia.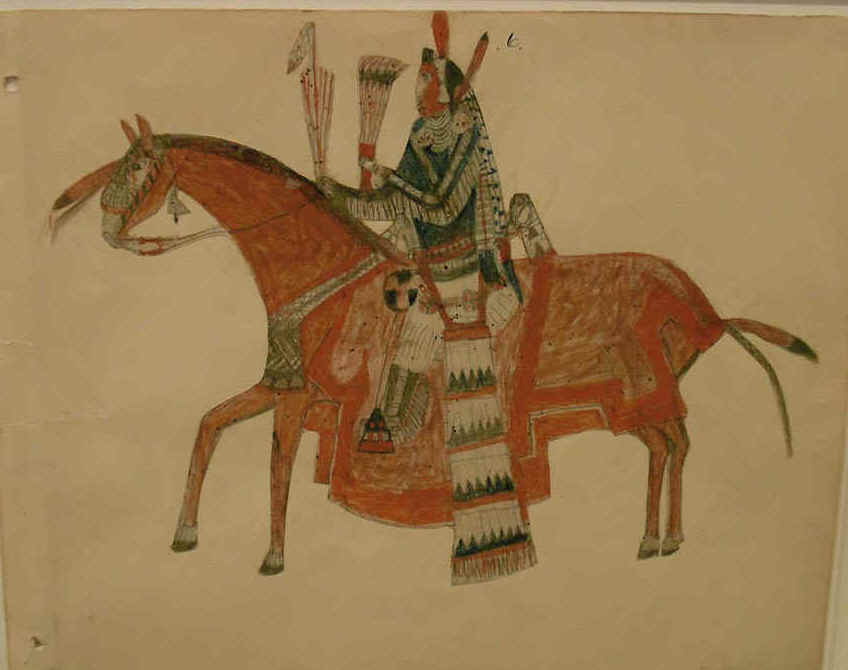 (Donald Ellis)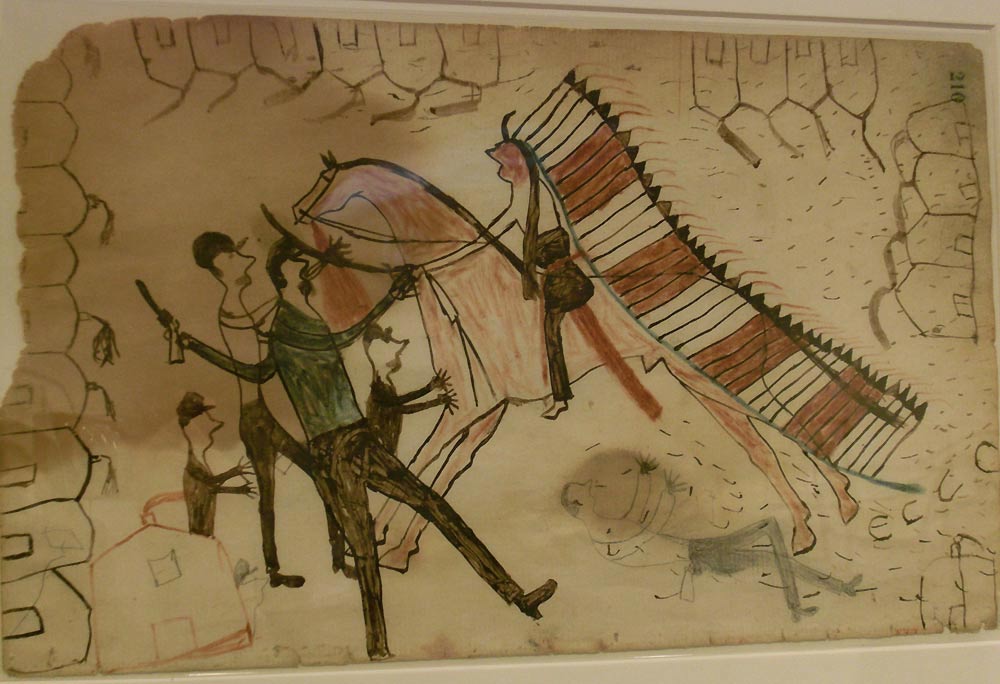 (Donald Ellis)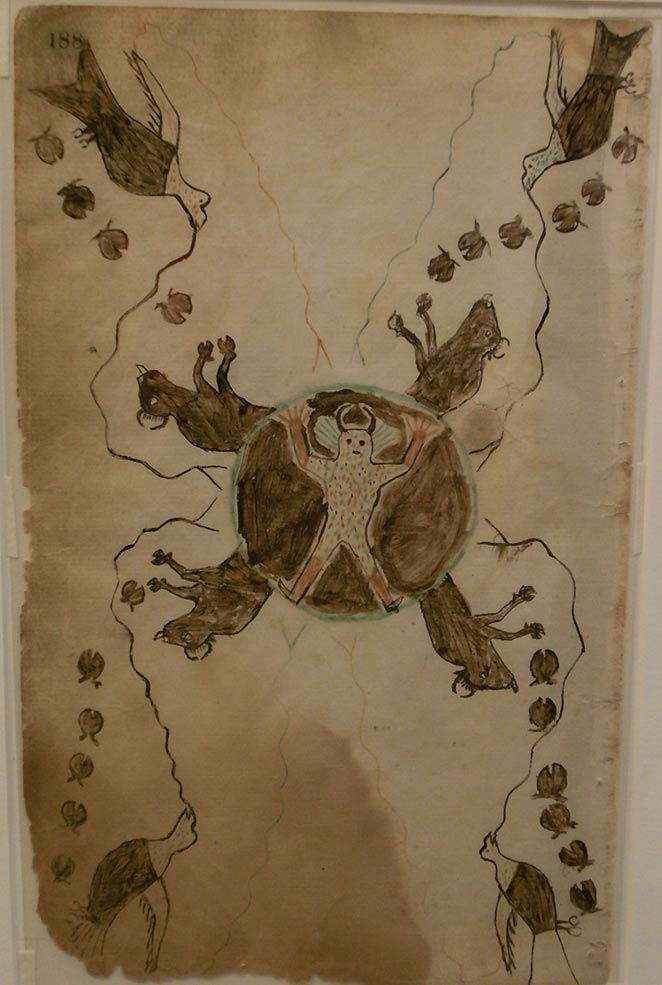 (Donald Ellis) A very power image that stuck with me.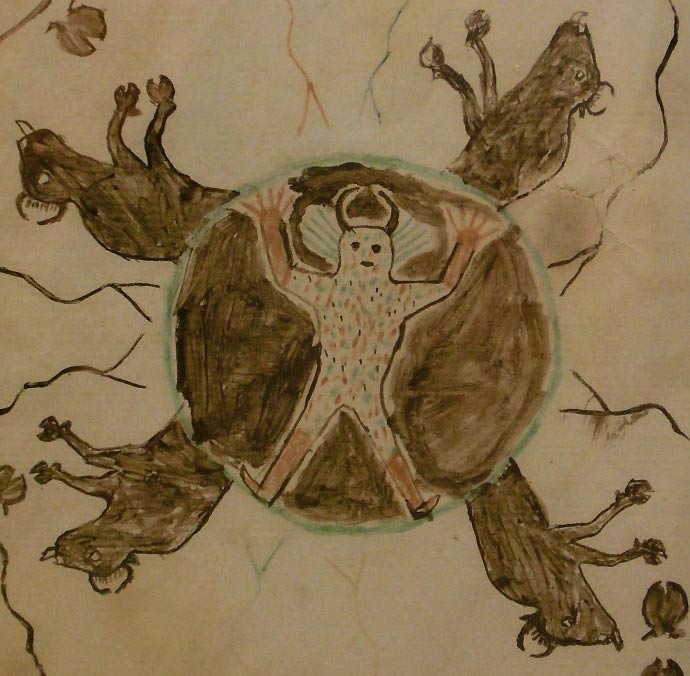 (Donald Ellis) Detail of above. Hear the rhythmic drumming… A Lakota Sioux Buffalo dancer with shamanic imagery? Lightening bolts coming out of Eagle's mouths and raining fish. Simple, connected and dramatic.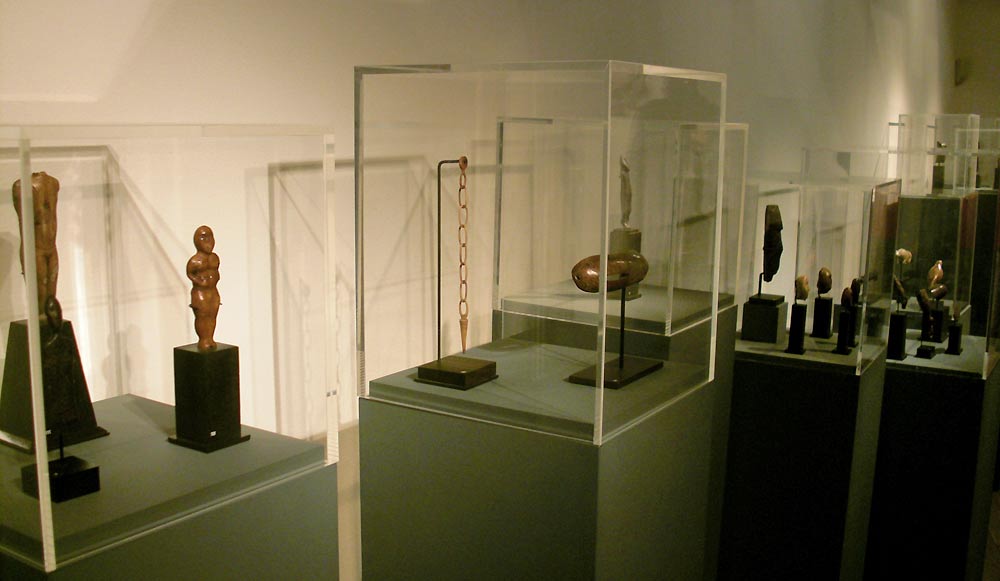 (Donald Ellis)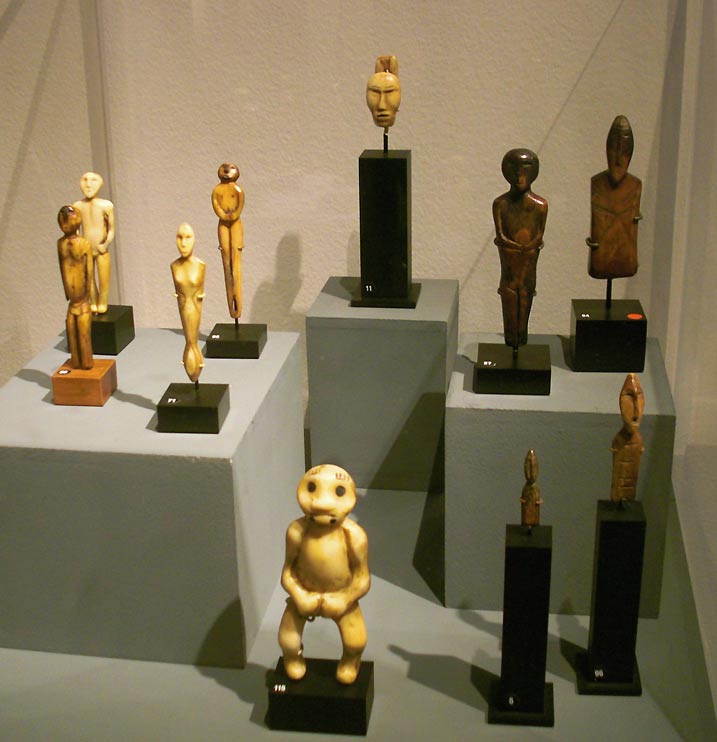 (Donald Ellis) wow, various group of ancient ivory Okvik figures.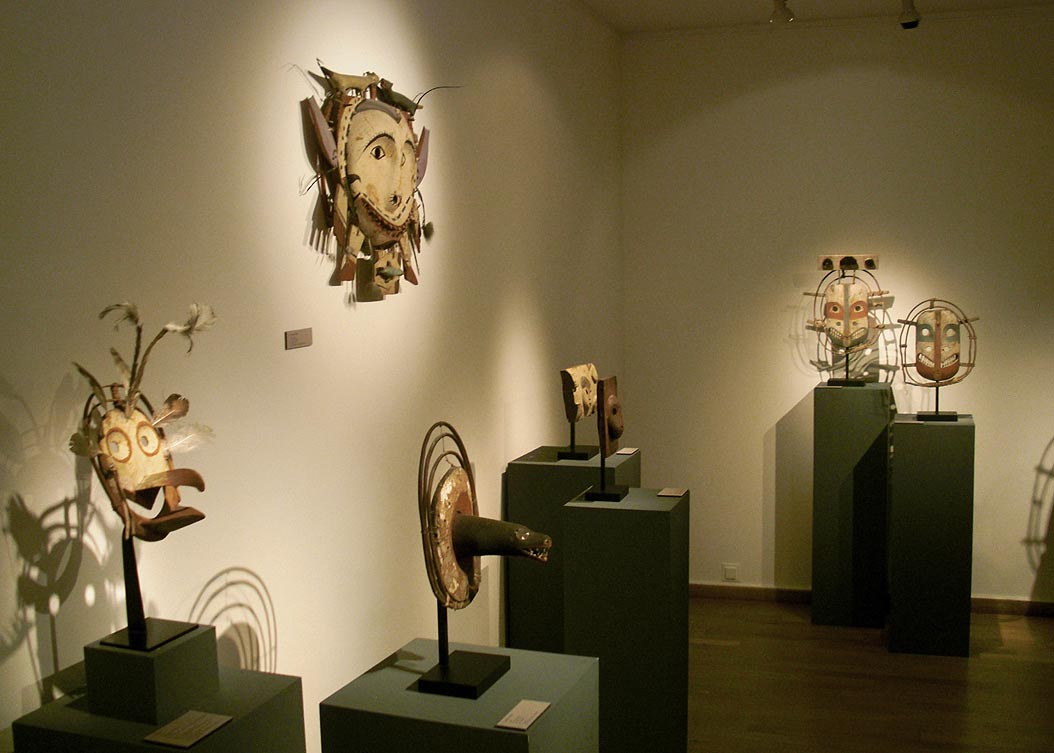 Ellis: Various Arctic masks.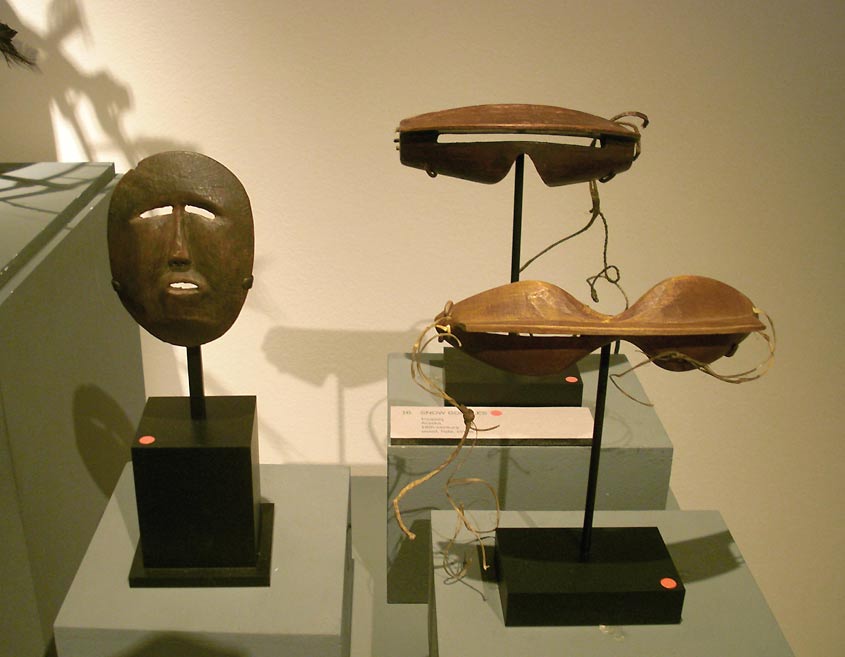 Ellis: Eskimo group, all sold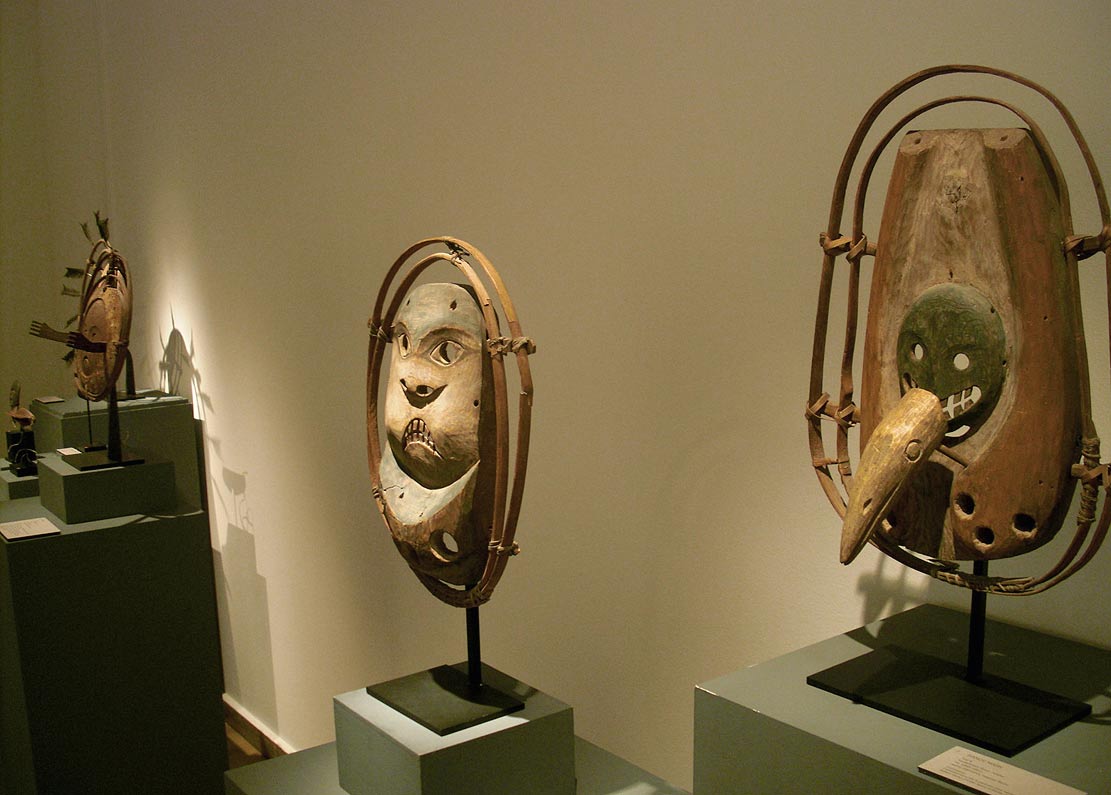 Ellis: Various Yupik masks.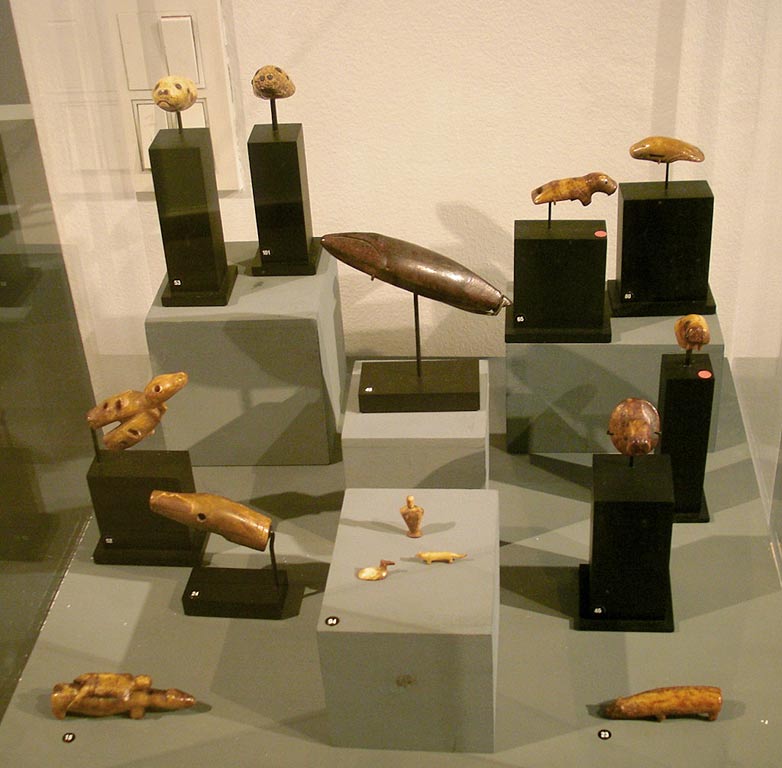 Ellis: fine ancient ivories. Old Bering Sea cultures.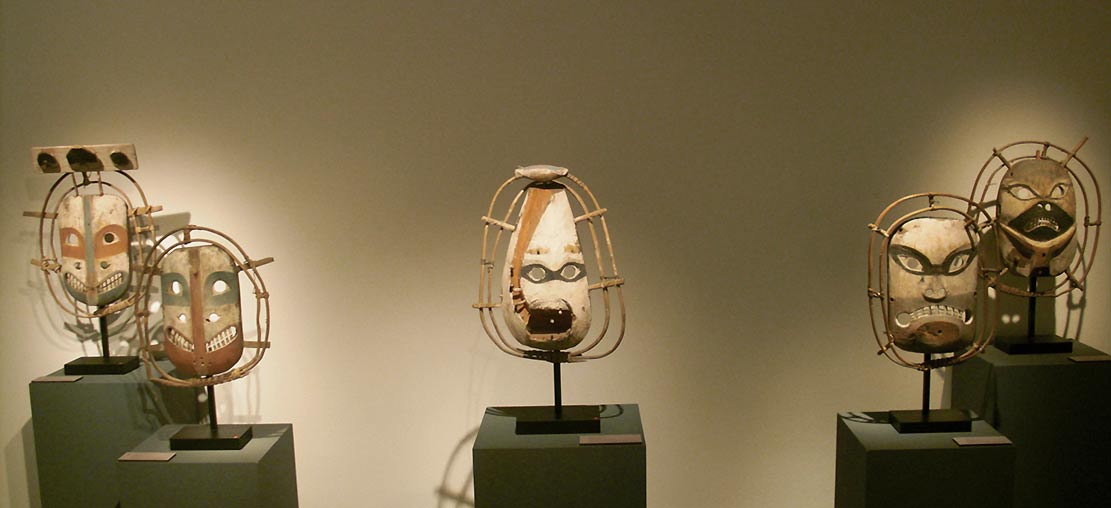 Ellis: various Yupik masks.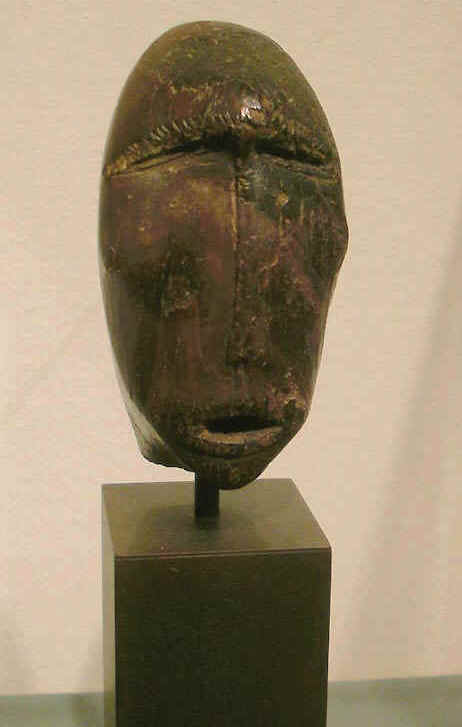 (Donald Ellis) ancient Ivory Okvik figure and head fragment.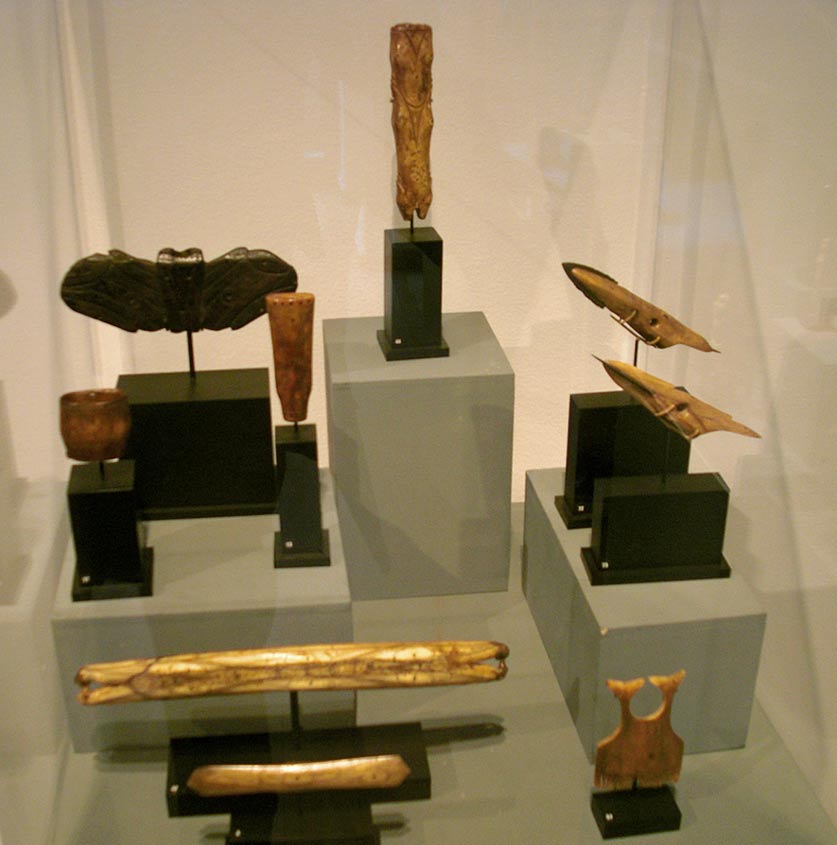 (Donald Ellis) fine ancient ivory harpoon components and comb.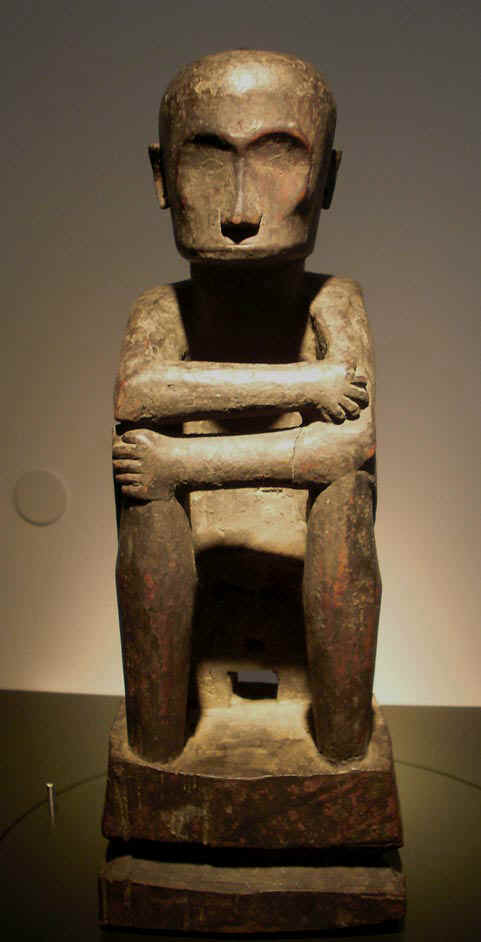 (Yann Ferrandin) Philippine seated Bulul figure with especially sensitive face and bone structure. We'll see more of Yann's pieces later too.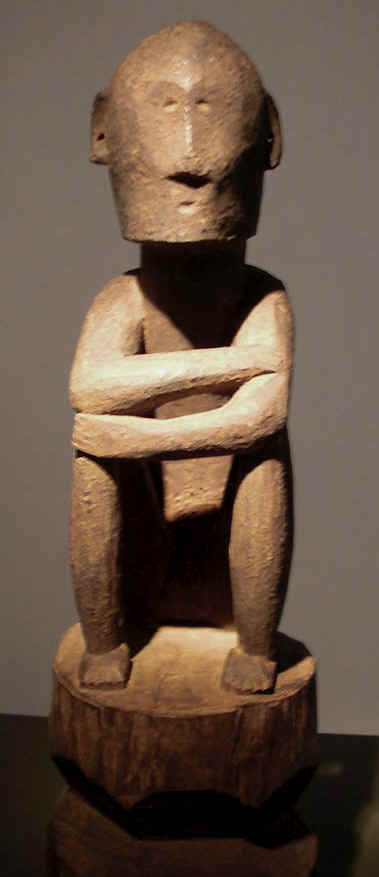 (Yann Ferrandin) Philippine Ifugao Bulul figure (poor photo). An early one with great use patina.
Incidentally, a Whale of a buyer emerged in the last couple years, purchasing every collection in sight of Philippine sculpture and material culture. The large-scale buying activity was unlike anything the market had seen before. Apparently whomever it was had not found these pieces though…
Martin Doustar's Exhibition: "Masken, Expression of the Spirits"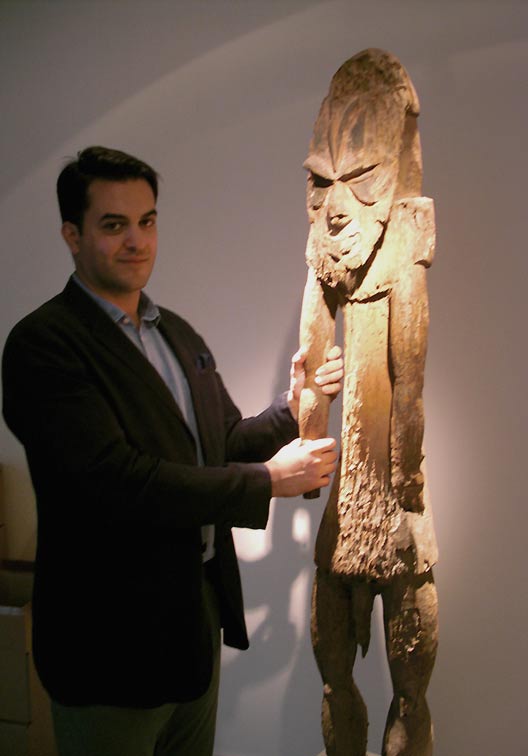 Martin Doustar standing next to a New Guinea Yuat River ancestor figure.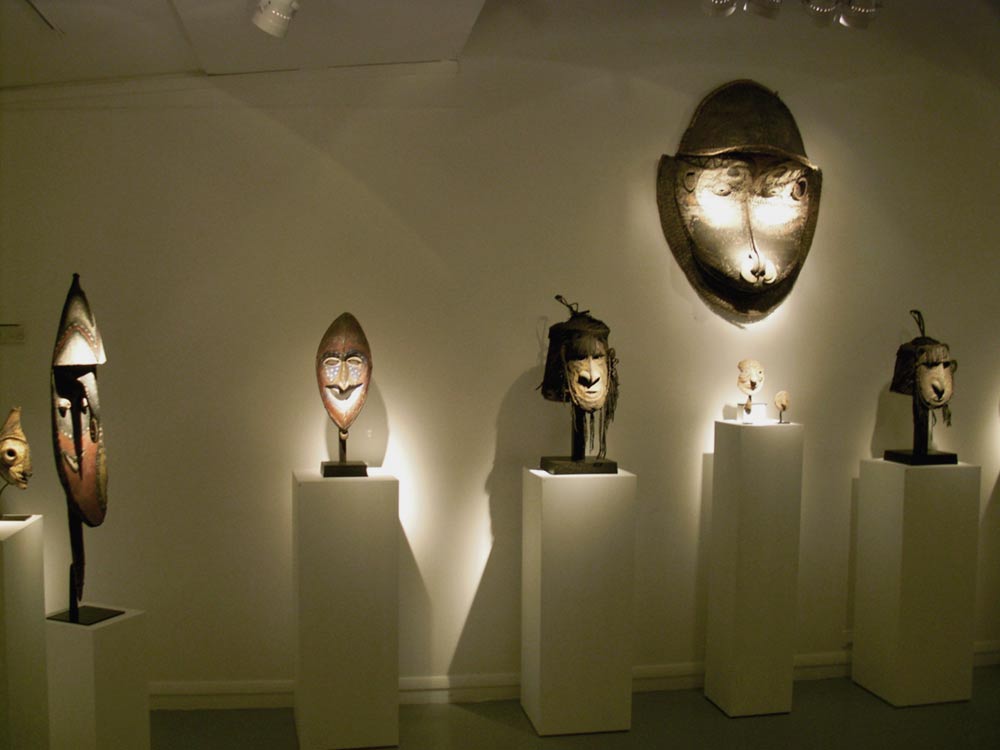 (Martin Doustar) 11 rue des Beaux-Arts. This large gallery is typically occupied by Antonio Casanovas. Martin produced an accompanying 167 page catalog for his "Masken" exhibition. One of his Parcours catalog photos was of a rare New Guinea Astrolable Bay mask.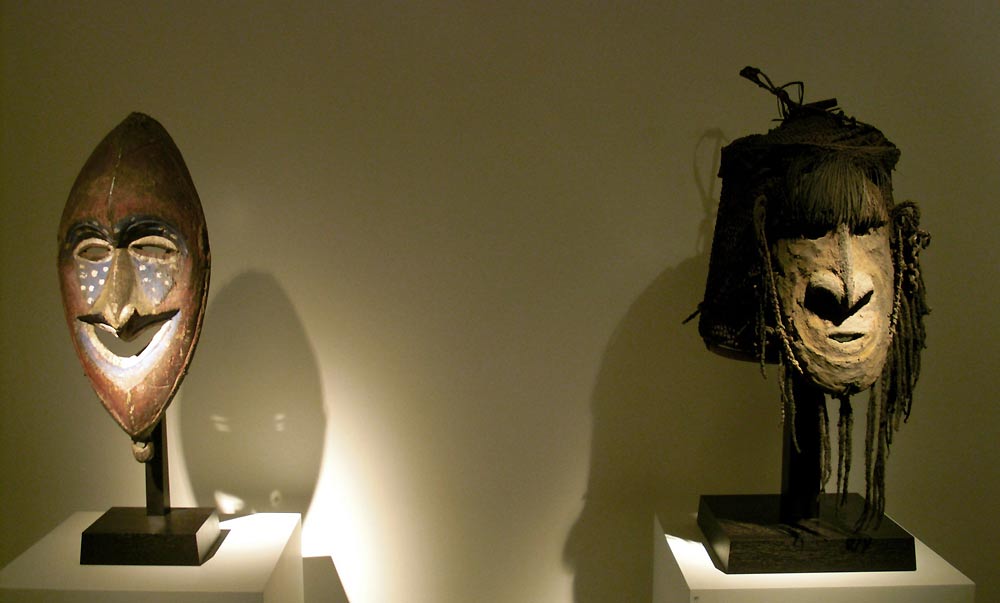 (Martin Doustar) (left) A superb PNG mask from the Bogia region of Madang Province. (right) A PNG Sawos Helmet Mask (published: The Jolika Collection)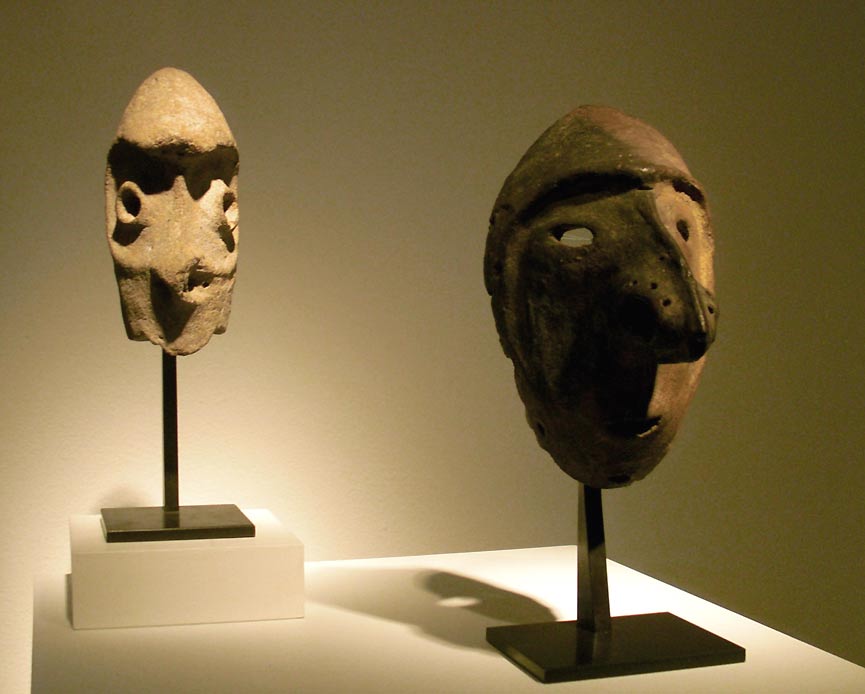 (Martin Doustar) PNG Yuat River Terracotta mask, next to a large 19th century terracotta Ramu River mask (right).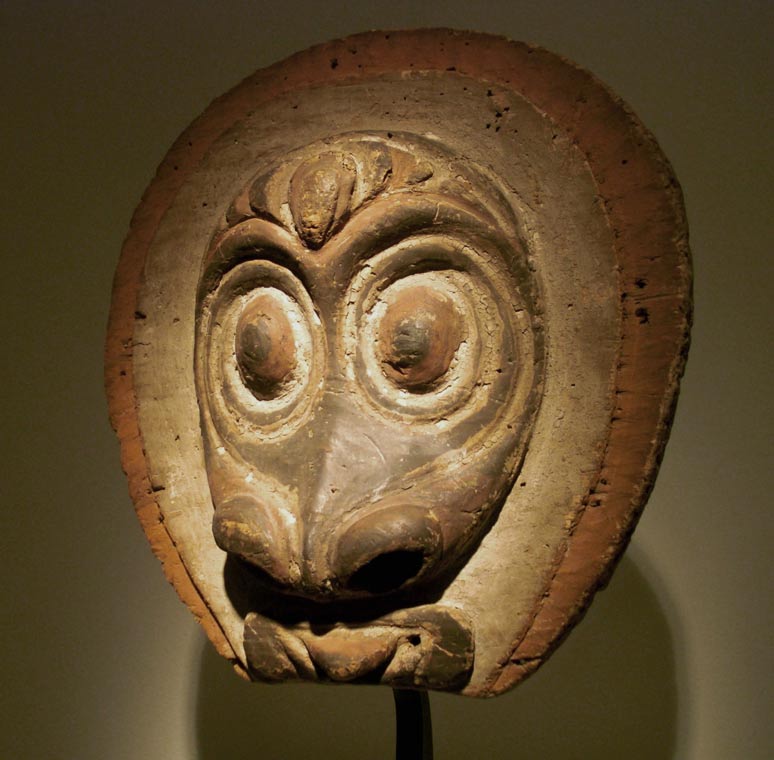 (Martin Doustar) A rare PNG Sawos dance mask, provenance galore.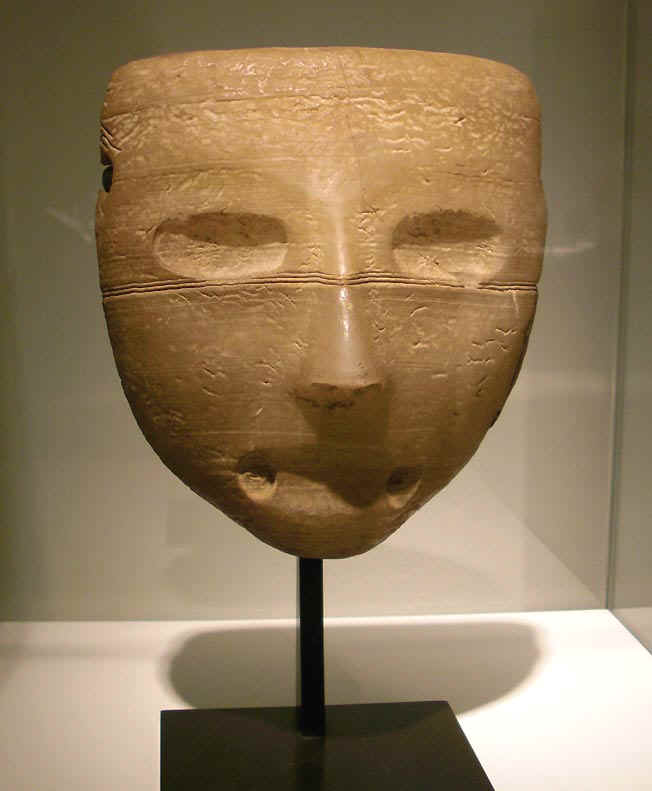 (Martin Doustar) Carved stone Teotihuacan Mexican "Tecali" Mask, 200 BC-200 AD. The countenance was profoundly serene and sensitive in person.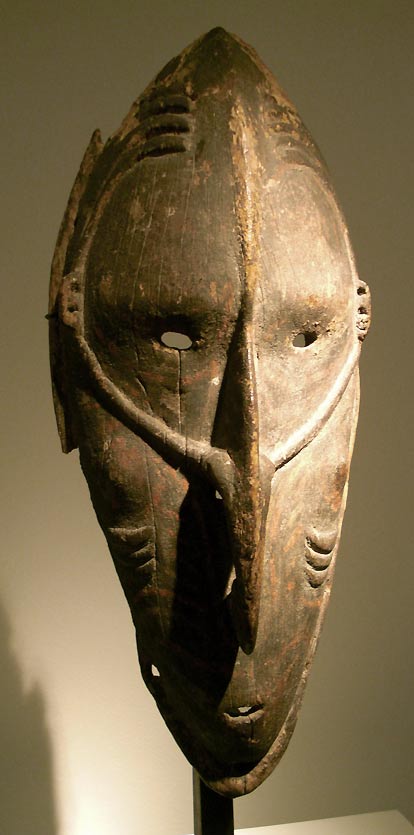 (Martin Doustar) This early lower Sepik mask was also amazing in person. The kind of age and quality you can read as authentic from 100 feet away. At only 36 years old, Martin is a "phenom" in this business. He's accomplishing so much so quickly and greatly enhancing the art experience for us all while doing it. I think there are a handful of dealers who could never be fooled by a fake, no matter how GOOD. I consider Martin is one of them. The selection and vetting of his pieces is ironclad from what I know and have seen.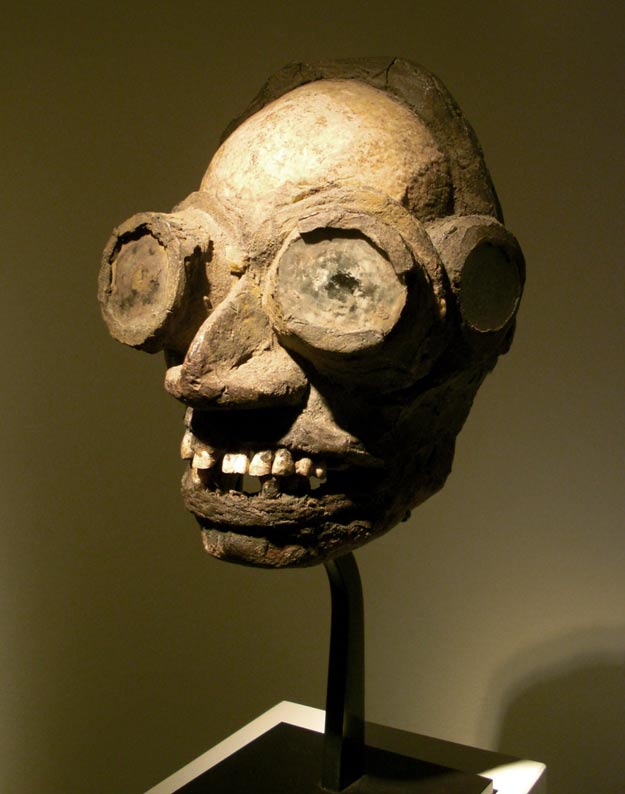 (Martin Doustar) An edgy looking skull mask with goggle-like eyes from the Villi of Southern Gabon. Martin told me that regarding African Art, he completely follows his own taste and ignores any and all influences.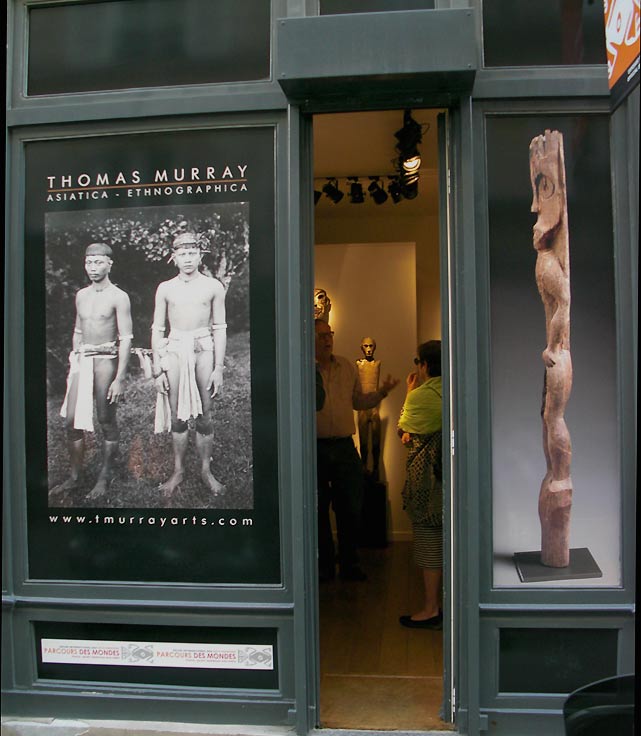 (3 rue des Beaux-Arts) Thomas Murray with an exhibition of Indonesian Dayak sculpture "Art Classique Dayak de Borneo". He also produced an ambitious catalog to accompany the exhibit. The Modang Dayak Hampatong guardian figure was his catalog piece.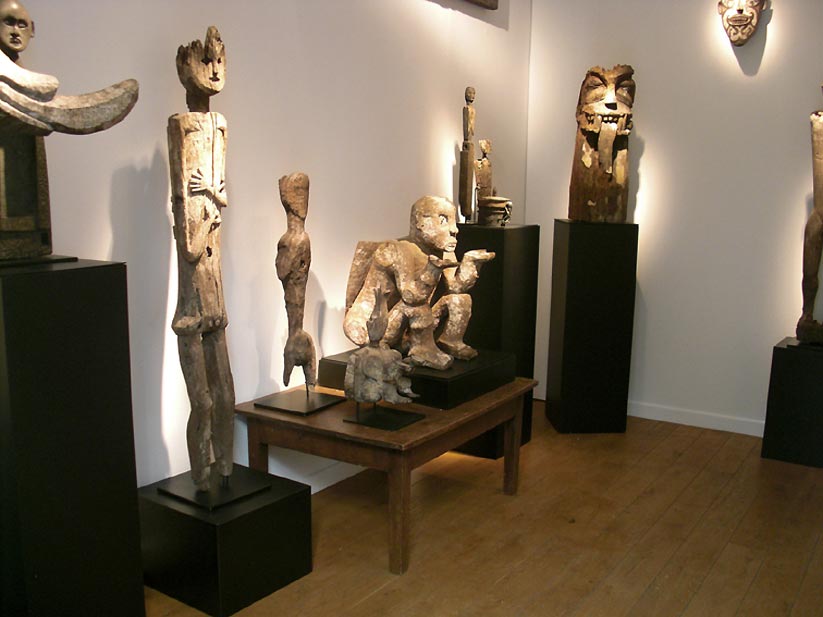 (Thomas Murray) The highest sales per square foot come out of this compact gallery. The broad title was once held by Bloomingdale's department store, then Apple, now maybe Murray? I noticed his intimate gallery lends itself well for rich dialog and interaction with the visitors.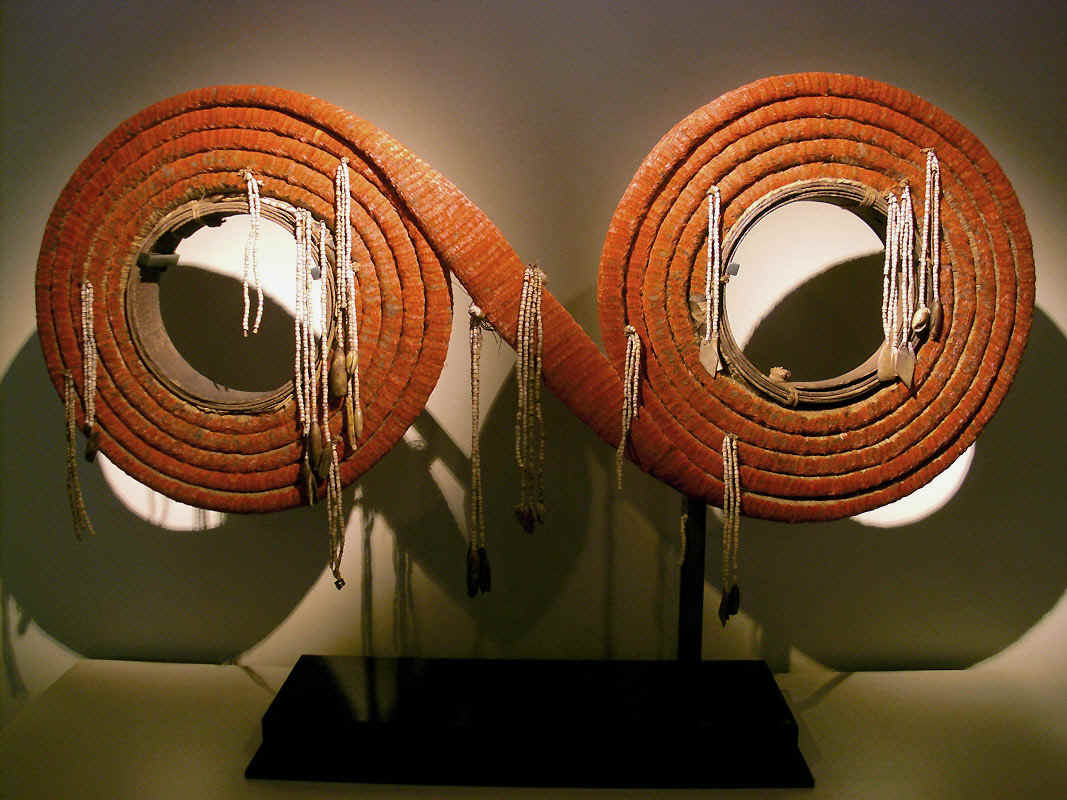 (Galerie Meyer- Oceanic & Eskimo Art) A Melanesian Santa Cruz Island feather currency/ money roll "tevau". Their value is largely determined by color, completeness and condition. This one being quite lavish with shell wealth and bold color.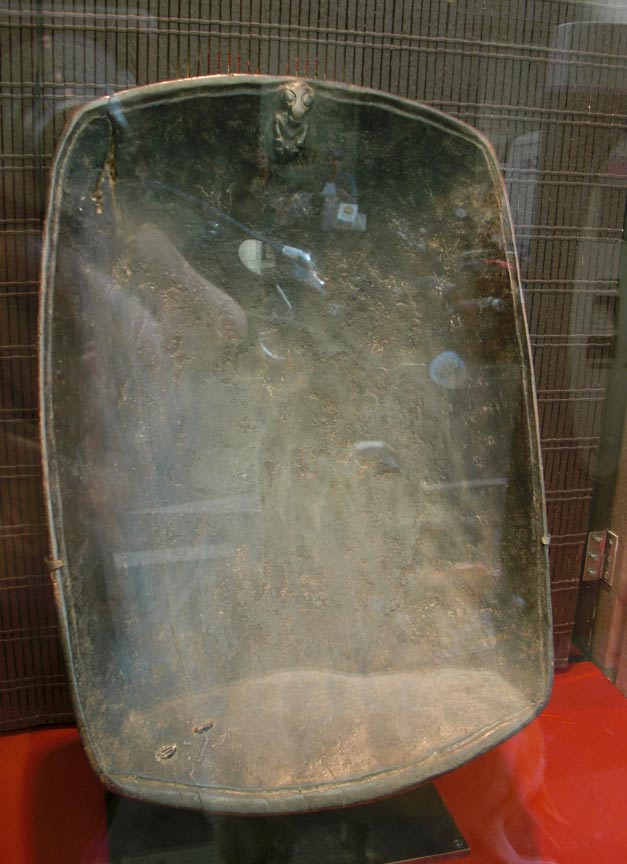 (rue des Beaux-Arts) Exterior showcase display Galerie Meyer Oceanic & Eskimo Art.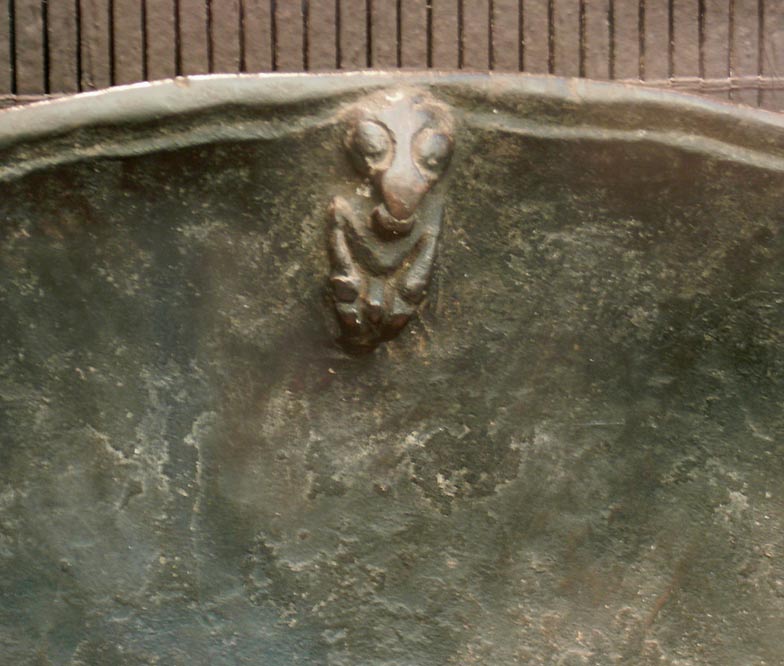 (Galerie Meyer- Oceanic & Eskimo Art) detail of a New Guinea Lower Sepik pre-contact food dish with native repair, encrusted surface and small relief-carved male ancestor figure.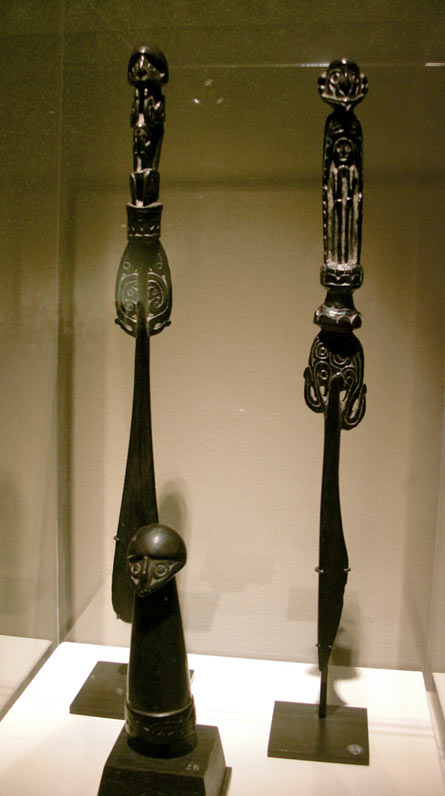 (Galerie Meyer) Exceptional Trobriand Island Massim ebony lime spatulas, together with an early beetle nut pestle.

Unfortunately, except for the below images the rest of the review is missing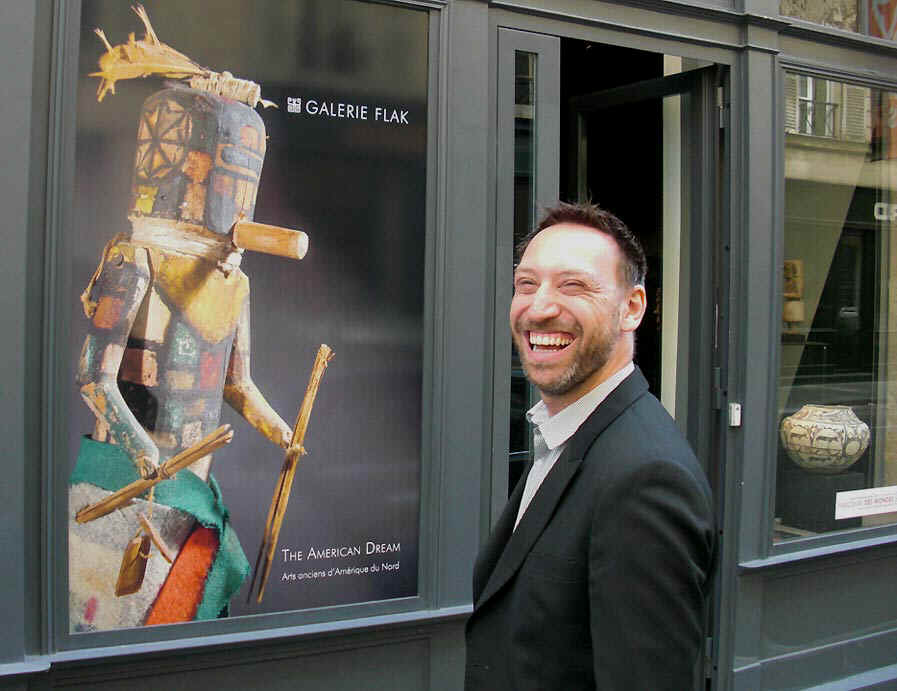 (Parcours des Mondes 2015) Julian Flak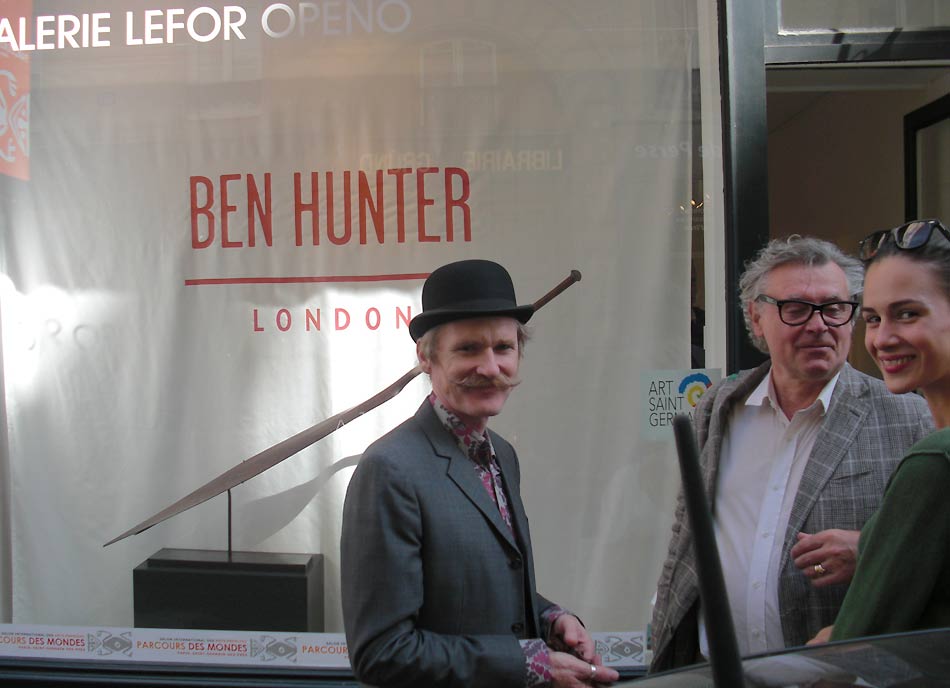 (Parcours des Mondes 2015?) Exterior Ben Hunter's gallery. Ben with classic the bowler hat and handlebar mustache. Deiter and his beautiful daughter smiling back.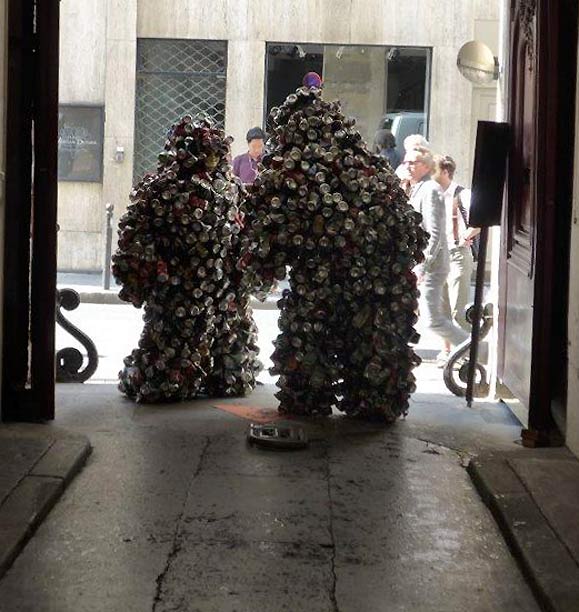 (Parcours des Mondes 2015) The tin can zombie aliens just landed. Clank.. clank– bang… bang. Part of a mobile art exhibit by Galerie Vallois that I never quite understood.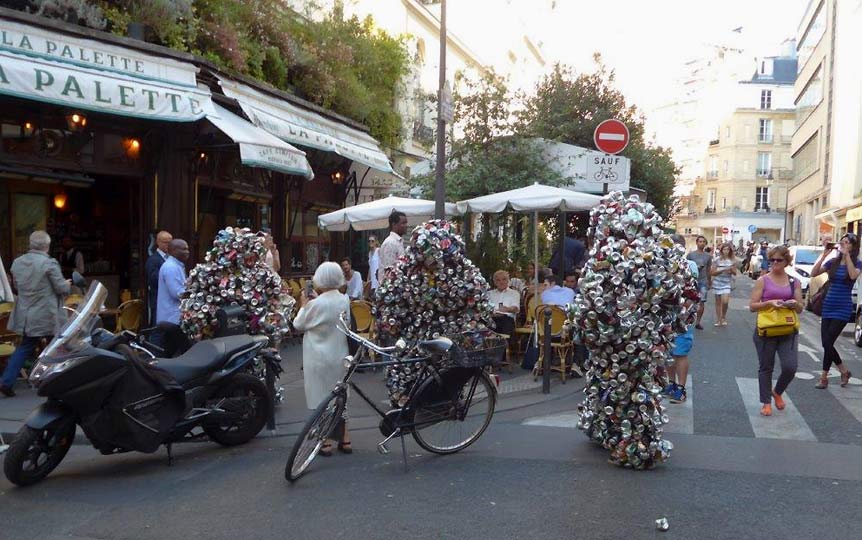 (Parcours des Mondes 2015) The tin can zombies coming out to dance again in front of La Palette. A creation of Galerie Vallois.