Written by Michael Auliso and republished here with his permission.
Missing all images on page 2,3 and 4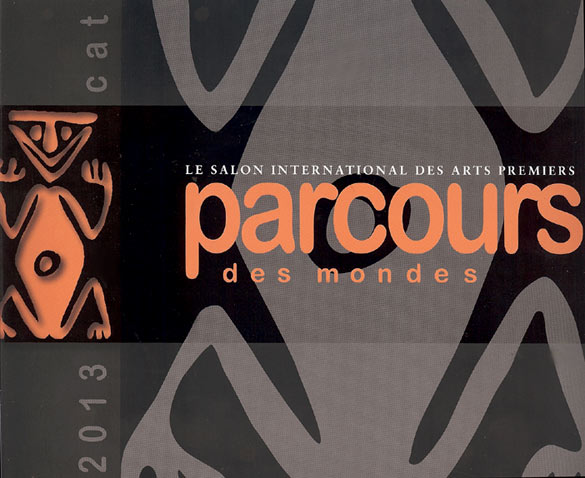 Note: being impossible to cover every gallery or noteworthy object, this review is "limited" by time & permission to photograph. If you don't have a sense of humor or are easily offended, please click your back button now.
It was another exciting year at the Parcours des Mondes "The Greatest Show on Earth".
From what I've learned so far, it appears that most dealers sold well and some "fantastic". This is very positive on the surface but does it mean the European economy is robust and great again? Unfortunately not. This kind of buying activity is not happening consistently throughout the year. The Parcours is like a vivid theatrical performance where once a year the curtains are drawn open and the audience rushes the stage to buy exciting artifacts. I think many collectors keep their powder dry and curtail purchases throughout the year until they see what the dealers at Parcours are offering. Buyers always respond to quality and this is when it is revealed to them.
Returning to the discussion of "dealer sales", those who have mastered the "Parcorus formula" (discussed last year) were selling 70-80% of the pieces in their gallery and that is no exaggeration! Read on to see who they were…
From a dealer stand point, Parcours is a great opportunity for us to talk, compare notes and discuss what is working and what is not. I discovered that many of my colleagues are assuming more financial risk and going into debt to acquire pieces that have the best chance of selling. Many dealers no longer have enough cash on hand for key purchases unless they borrow or obtain consignments. I associate this cash deficient with the attrition of a slow grinding market from too few pieces and a smaller pool of buyers.
These days the market loudly dictates what pieces are desirable and what is not. The problem is that the kinds of pieces the market decides ARE desirable is contracting into a narrowing spectrum of sellable material. I find this new reality troubling. A thriving market includes a healthy vibrant "middle market" too. Gone are the days when a dealer can buy a cool piece on impulse and trust it will sell and be appreciated. Many of those pieces that have worked before are "money traps" today, meaning that only a portion of a dealer's inventory is potentially sellable. Entire categories of art objects are out-of-favor, resulting in those pieces taking a long time to sell. Therefore, there is literally zero margin of error for dealers making new purchases. There are fewer opportunities for dealers to buy and deliver the quality, age, and provenance in demand.
One topic discussed A LOT is how HARD it is to find undervalued pieces at auction now. There is perfect information with the internet and those days of finding a "sleeper" in a small country sale are gone… Material is scare enough that everyone is fishing in the same small pond, making it significantly harder to acquire good art for resale. On this same topic one dealer told me the only way he is surviving (getting new pieces) is going back through his customer invoices from years ago, asking if clients might consider selling/ consigning an object they previously bought.
I sense there is inequity in the market right now with too many dealers and too few fresh pieces to go around. I'm sure market forces will eventually make adjustments to balance that equation.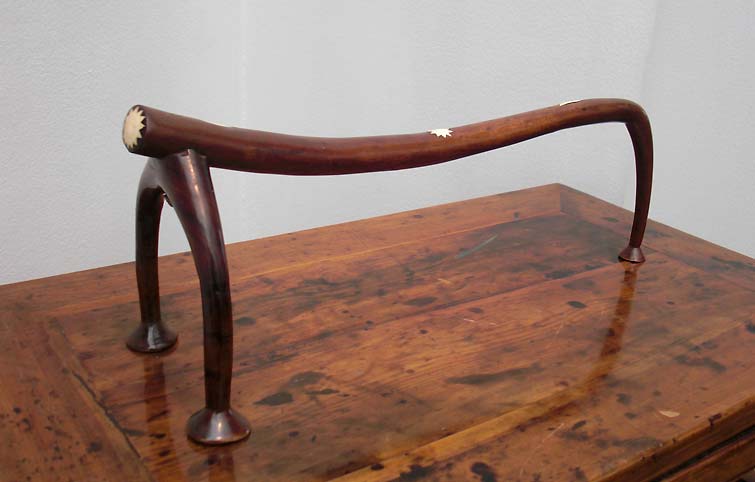 (Wayne Heathcote) Elegant Fijian Neckrest with ivory inlays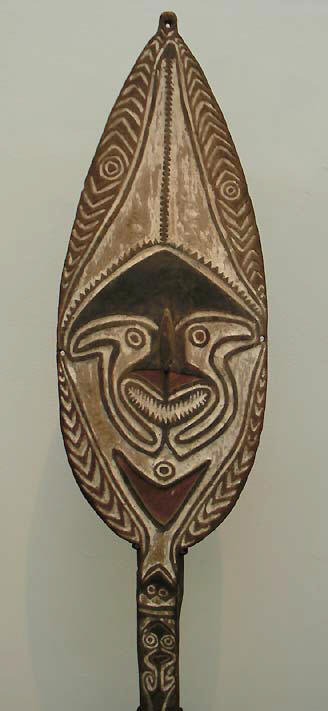 (Wayne Heathcote) New Guinea Papuan Gulf Elema gope board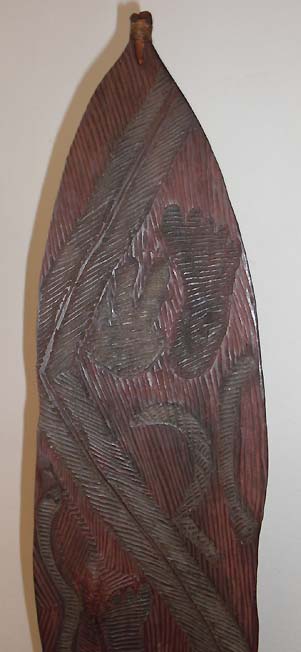 (Wayne Heathcote) Aboriginal woomera spear thrower with "footprints" in the design motif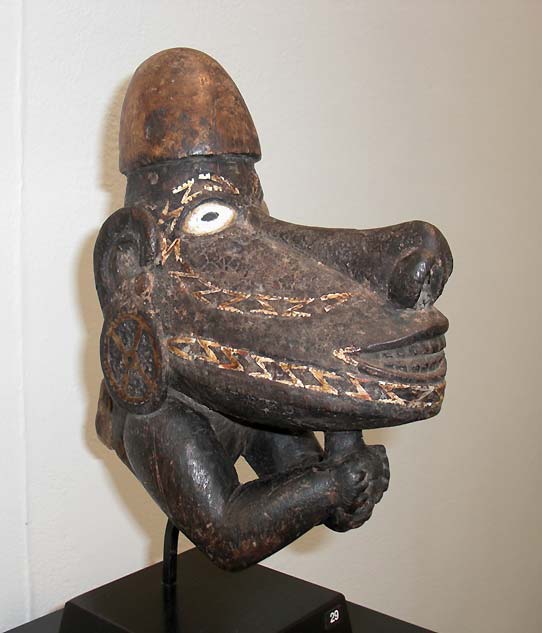 (Wayne Heathcote) Solomon Island canoe prow figurehead carving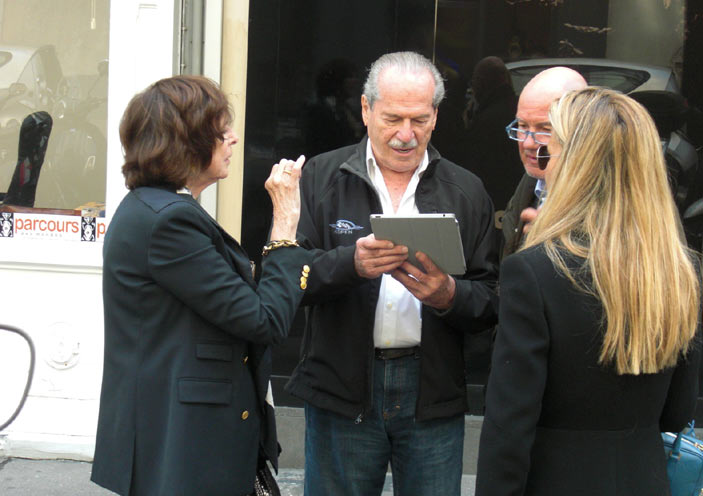 Left: Maureen & Harold Zarember (Tambaran Gallery NY) and friends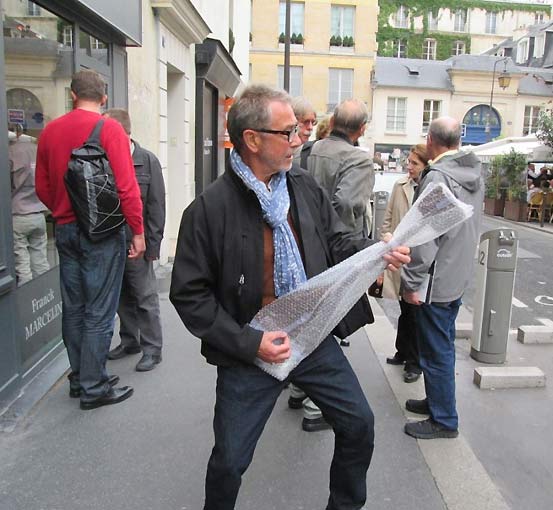 Clive Loveless (London) performing some "Air" guitar moves on a bubbled wrapped new acquisition (photo: courtesy of Clive Loveless)
eless)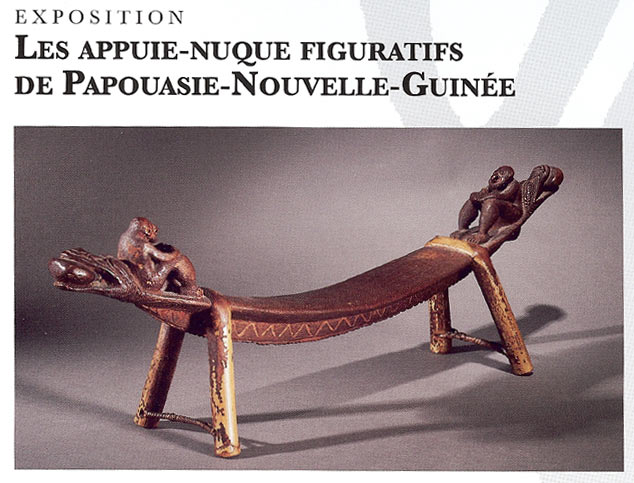 Arte y Ritual, Ana & Antonio Casanovas Galerie. Antonio was not allowing photos this year but I still love him anyway. This New Guinea Iatmul neckrest was a Parcours catalog submission photo which I took liberty to share with you. Quite a great example.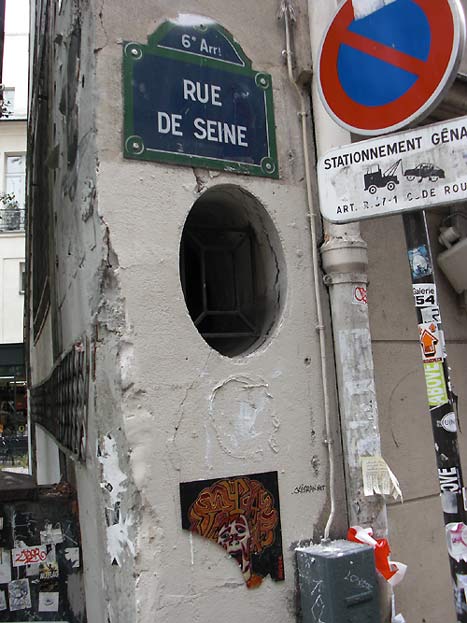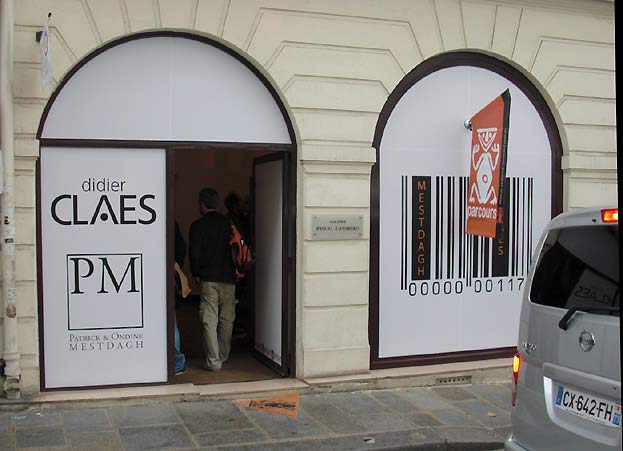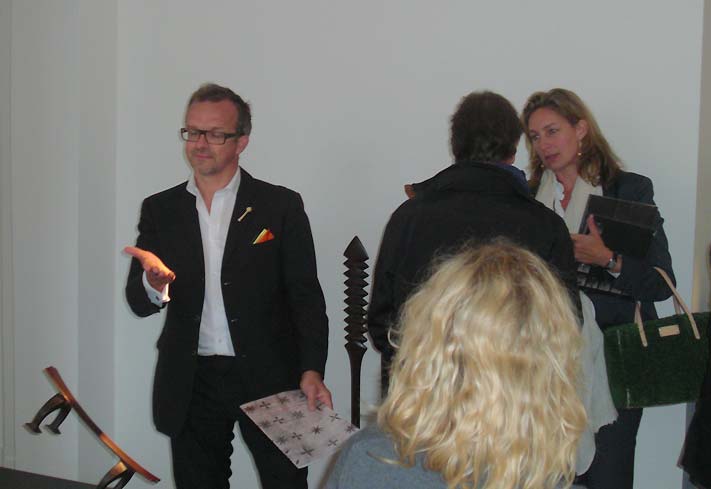 Patrick Mestdagh, caught checking the price list written on the palm of his hand. Jean Fritz on the background from Sotheby's.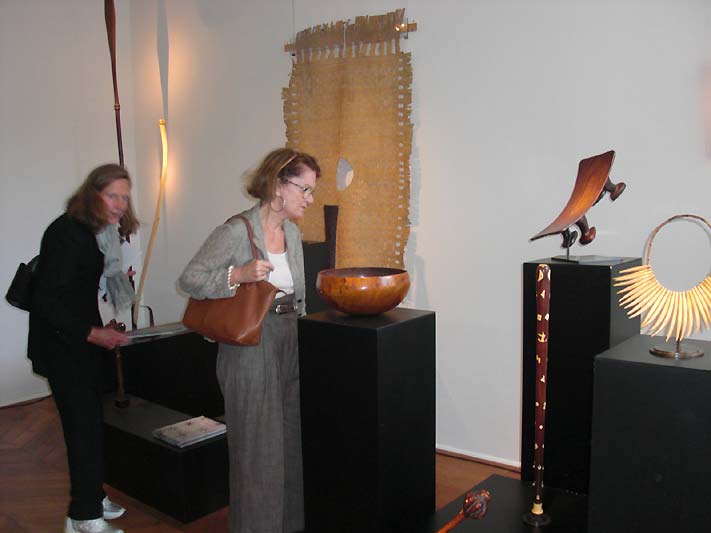 Patrick & Ondine Mestdagh. Note the Polynesian Austral Island Spear in the rear left. Look at the dynamic fashion he has mounted that Cook Island stool too.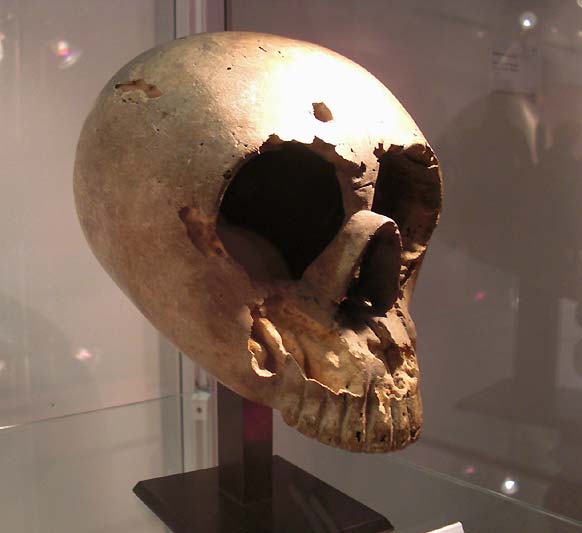 (Galerie Sigui- rue de Seine) As I recall this African ancestor skull was from the Ibibio people in Nigeria. You'll see many more human skulls throughout this review…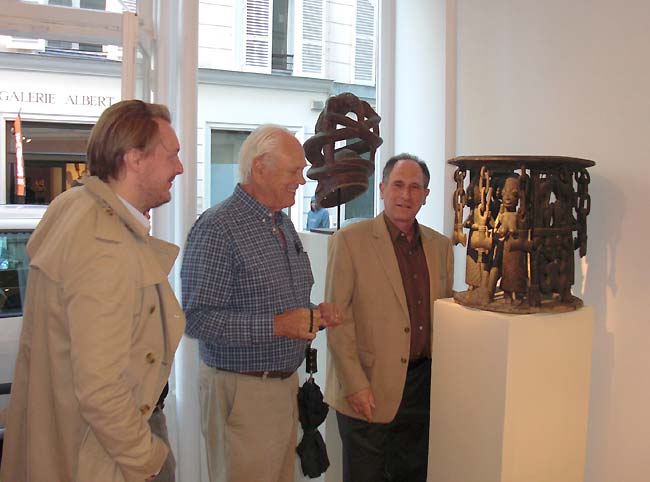 Joshua Dimondstein at this rue des Beaux-Arts gallery standing next to an important Yoruba prestige stool. Next to him Skip Cole (Professor Emeritus of African Art History from UCSB). Josh tells me he sold extremely well and was pleased with results.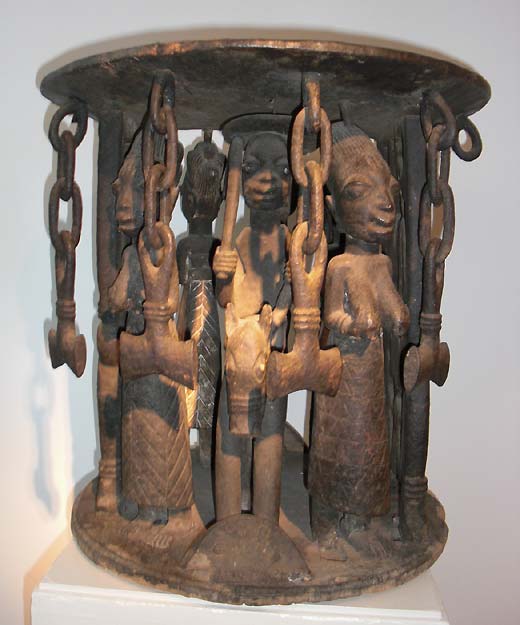 (Joshua Dimondstein) detail of above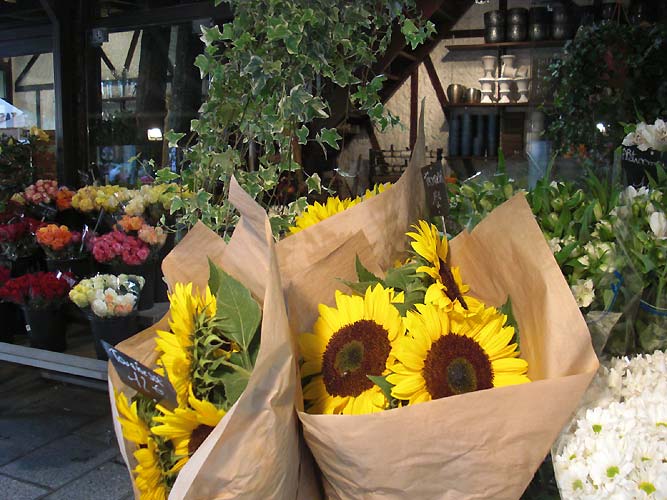 There is always a bright spot in Paris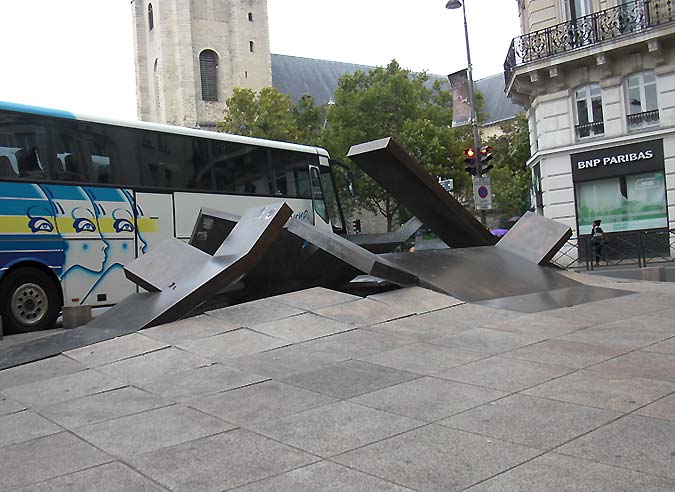 An art sculpture on Boulevard appearing to erupt from underneath the sidewalk. Paris is a place where art of all kinds is celebrated. Back in The States, this probably wouldn't be permitted because of lawyers, lawsuits and safety concerns.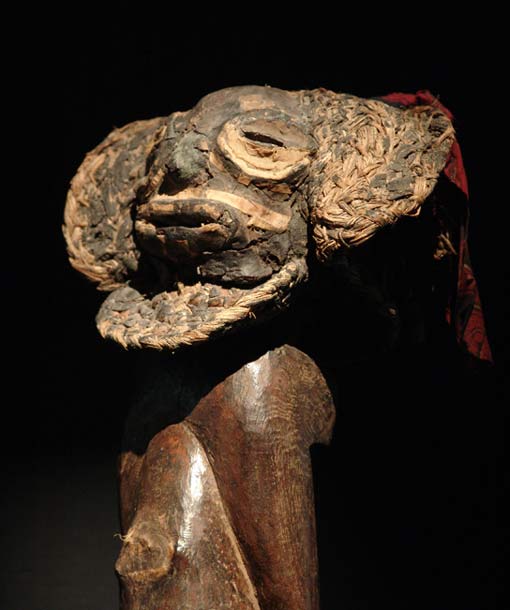 (Galerie Philippe Ratton) A large dramatic Chokwe dancing figure with removable head.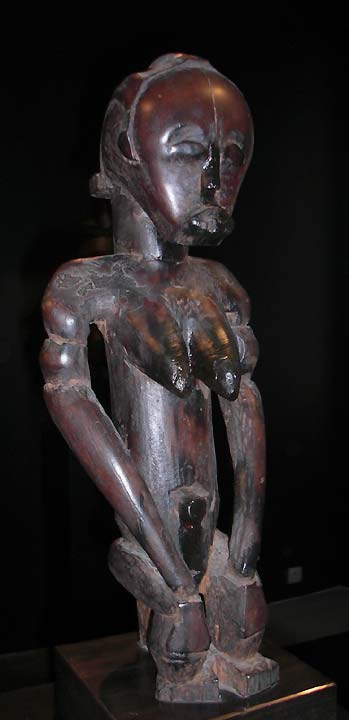 (Galerie Philippe Ratton) Fang figure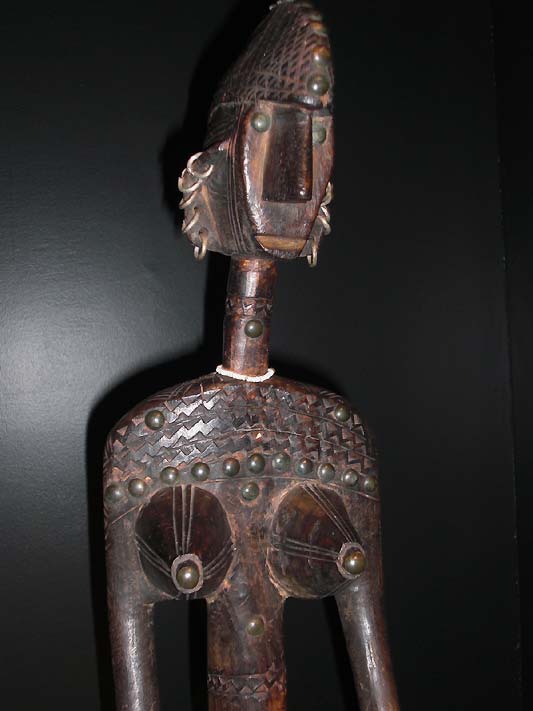 (Galerie Philippe Ratton) Large Bamana female
(Galerie Philippe Ratton) female figure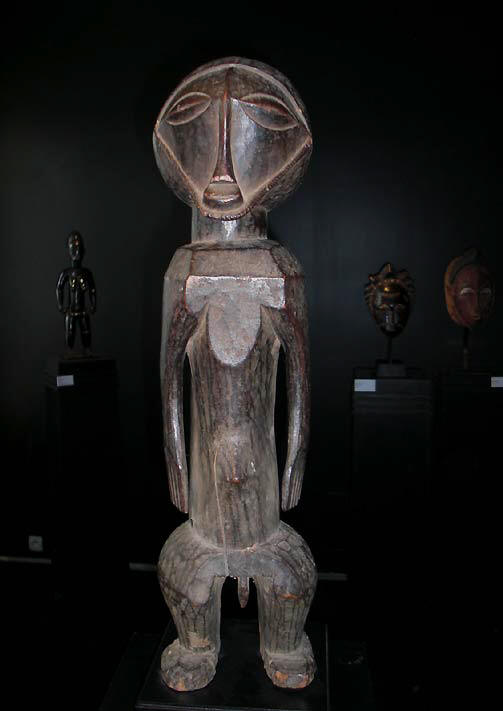 (Galerie Philippe Ratton) A Basikasingo male figure from the Congo (Parcours catalog submission)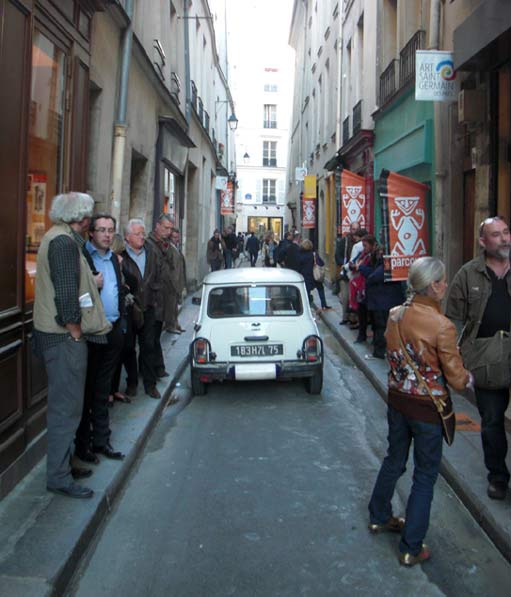 Always a tight squeeze but not if you have the right perspective. Rue Visconti with the highest concentration of dealers.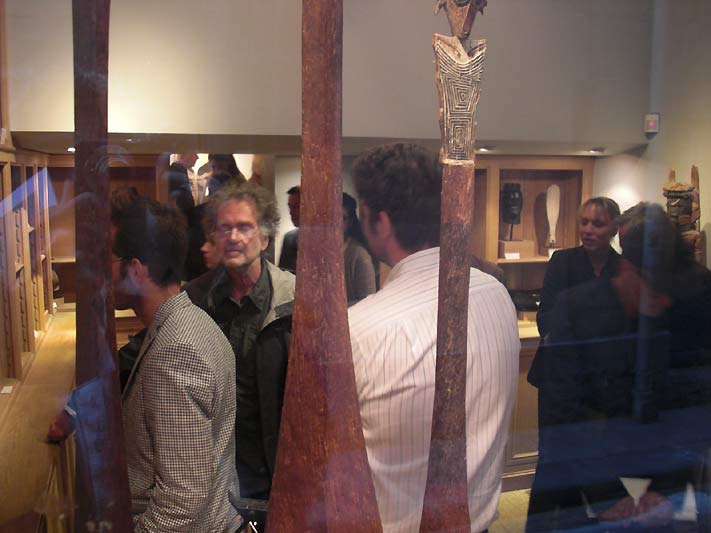 (Voyageurs & Curieux) Jean-Edouard Carlier's gallery was always crowded with interested collectors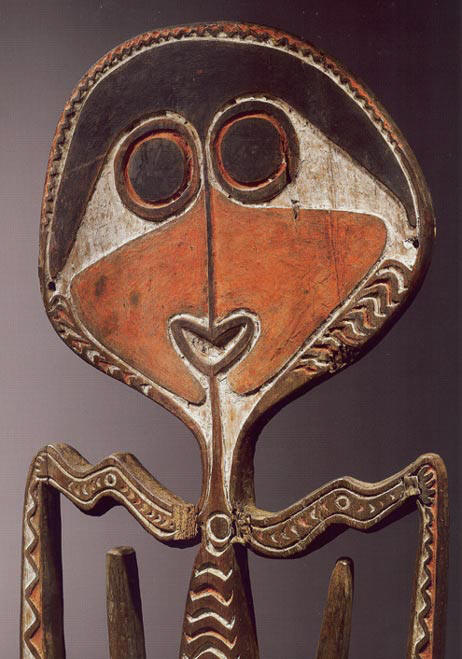 (Voyageurs & Curieux) His Parcours catalog submission piece was this appealing Papuan Gulf "agiba" skull rack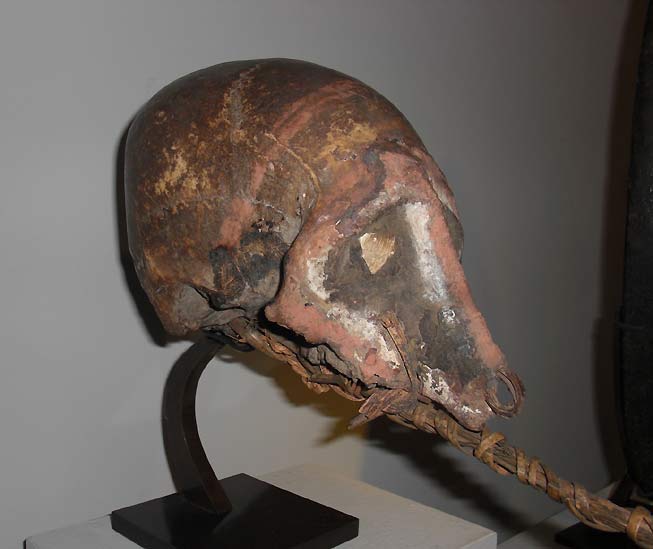 (Voyageurs & Curieux) A PNG Papuan Gulf overmodeled skull with inset cut shell eyes.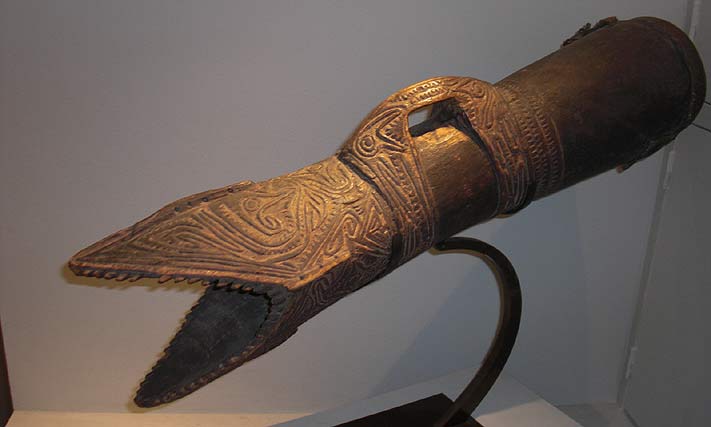 (Voyageurs & Curieux) A pretty great PNG Papuan Gulf drum with impressively carved handle with bird(?) images incorporated into the design. Very unusual to see one of these with a "carved" handle.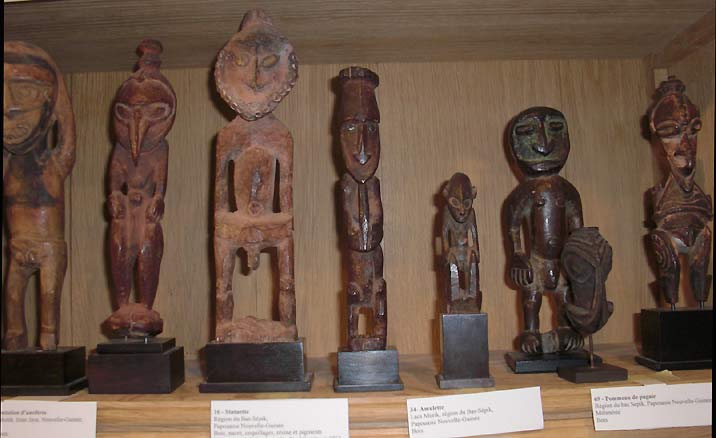 (Voyageurs & Curieux) An altar shrine of spirit figures– collection of Sepik ancestor figures and charms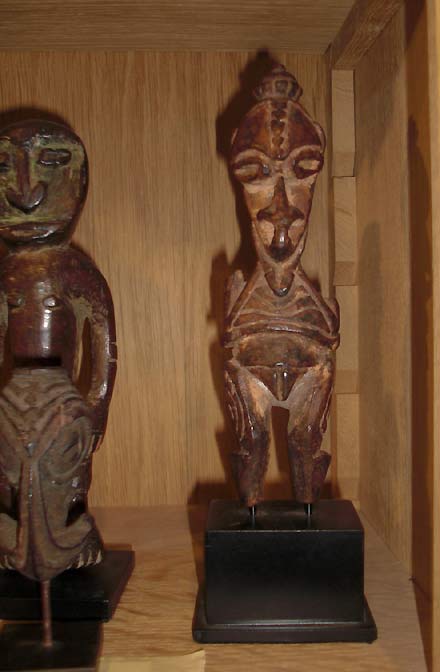 (Voyageurs & Curieux) close up of above
Incidentally have you ever asked yourself how many other dealers out there post photos of "other dealer's" material on their own site? Who would even consider it?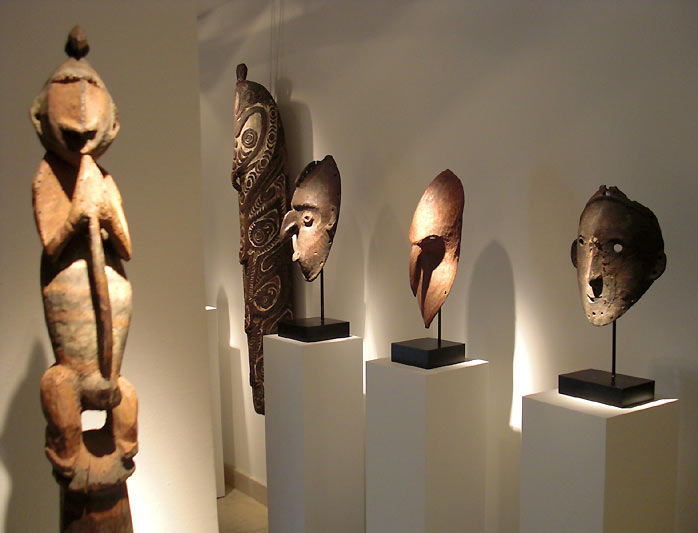 (Michael Hamson) Regarding Mike's results he told me:"The Parcours des Mondes continues to be the best tribal art event in the world attracting the best dealers with the highest quality material. Oceanic was particularly strong this year with both established and new collectors active in the market at all levels. While my loyal long-term clients continued to account for most of the sales, my most expensive piece went to a new collector and a couple of other significant objects sold to unexpected or walk-in buyers. Overall it was my best show ever."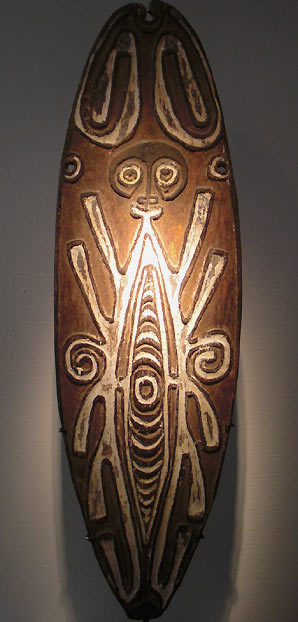 (Michael Hamson) An expressive PNG Papuan Gulf Era River Gope board "Hahoa" with surrealistic spirit figure. As I recall collected by Thomas Schultze-Westrum.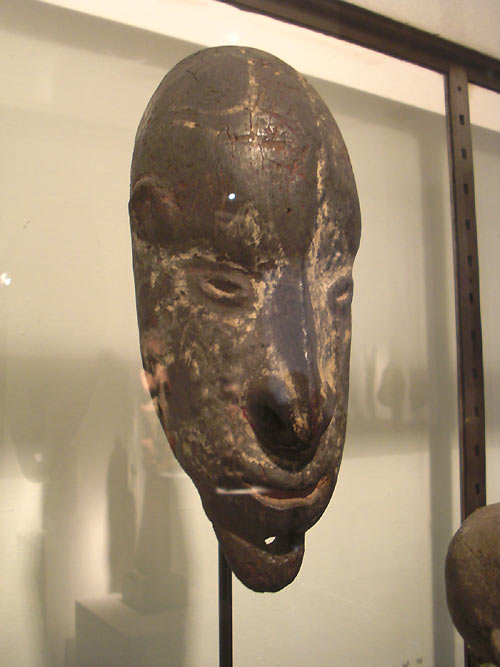 (Michael Hamson) A stone-carved Sepik River mask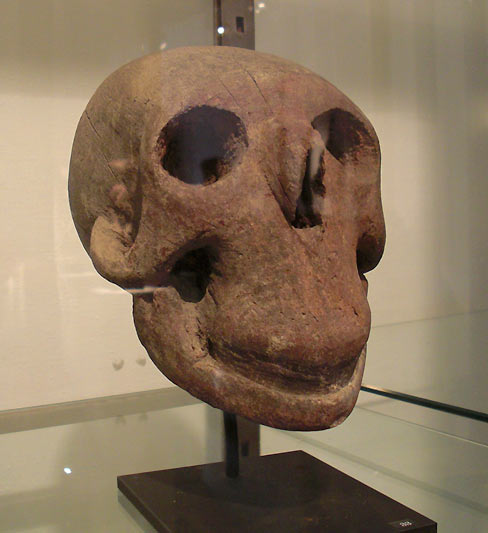 (Michael Hamson) A Papuan Gulf wood replacement skull, pre-contact, stone-carved, ex. John Friede, collected by Thomas Schultze-Westrum in 1966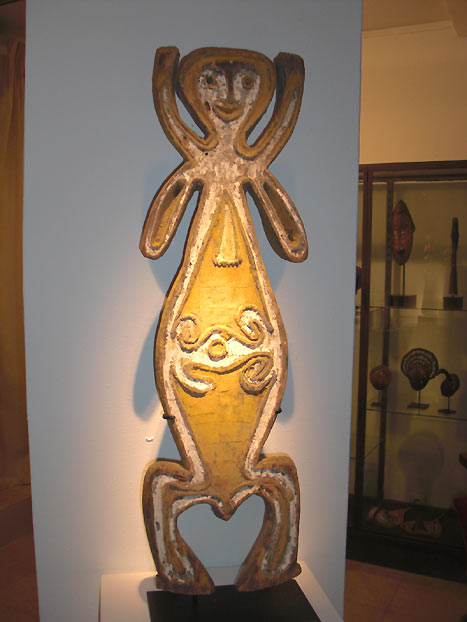 (Michael Hamson continued) A New Guinea Ramu figure and a Bioma figure (right)
(Galerie Meyer) Impressing Parcours visitors with a display of THREE Marquesas Island U'U clubs!
(Galerie Meyer) Yes, together in person these made quite a strong statement.
(Galerie Meyer) displaying more high level Polynesian with a Marquesas Island crown "pa'e kaha" and two Hawaiian "lei niho palaoa" necklaces. Altogether, a presentation hard to match!
(Tribal Art Classics, Adrian Schlag) with an early Batak Magic horn from Sumatra
(Tribal Art Classics, Adrian Schlag) Detail of a New Guinea stone-carved Papuan Gulf figure. An archaic example combining attributes of a bioma, imunu and iriwake figure.
(Entwistle Galerie) always has highly selected meticulously vetted objects.
(Entwistle Galerie) with a lovely Admiralty Island bird bowl holding African Ivory bangle bracelets.
Interior Entwistle Galerie: with a large important early Hawaiian Koa wood bowl.
A popular cafe with the art crowd, always thriving even with slow service, overpriced drinks, no music, and inadequate bathrooms. That's meaningless if you like being "seen".
Rue de Seine, running into Heinrich Schweizer- Sotheby's specialist (right). From left to right: Mark Schapiro, Pieter Lunshof and friend.
Exterior, a crowded Galerie Flak has side-by-side galleries on rue des Beaux-Arts.
(Galerie Flak) with a pair of phenomenal quality, prehistoric eskimo ivory snow goggles with face. They also had a Kachina exposition called "Katisnam". Sorry I didn't take more images.
Galerie Joaquin Pecci had a grouping of Nomoli stone carvings from Sierre Leone, this one standing out the the basis of expressiveness
(Galerie Dodier) Laurent standing next to a unique Marquesas Island Stilt Step he sold earlier, together with a ceremonial Cook Island stone adze.
(Galerie Dodier) Detail of above
(Galerie Dodier cont.) with a group of New Guinea amulet figures.
It would appear these men are old pals. Parcours visitors Erik Farrow (California) and Joel Cooner (Texas).
(Don Ellis Gallery- New York) Exhibiting from the first time at the Parcours des Mondes. Window display, an important Hopi case mask.
(Don Ellis Gallery) displaying a dazzling group of Yup'ik Eskimo masks, many from the noted Robert Lebel collection. He also had an incredible collection of Eskimo Ivories from the same collection.
(Don Ellis Gallery)
(Don Ellis Gallery)
Renaud's gallery was always crowded with enthusiastic collectors. His presentation and material would be hard to improve upon.
(Galerie Renaud Vanuxem) New Guinea Papuan Gulf skull with rattan nose projection
(Galerie Renaud Vanuxem)
(Galerie Renaud Vanuxem)
(Galerie Renaud Vanuxem) A solomon Island (?) Skull
(Galerie Renaud Vanuxem) New Guinea Over-modeled Iatmul skull
(Galerie Renaud Vanuxem)
(Galerie Renaud Vanuxem) A scarce Philippine Bontoc skull wearing a rattan bachelor's hat!
(Galerie Renaud Vanuxem) Another view– Quite an amazing artifact I never expected to see. I've sold Philippine material culture since I began and have never seen a Bontoc skull of such an old pure style.
Speaking of Philippine material, I saw much more than usual this year– like three times more. It was clear more dealers were showing select pieces thanks to the landmark exhibit at the Quai Branly "Philippines, archipel des echanges". Being a fan of this material I was pleased to see it finally breaking through. It took years but it appears to be part of the mainstream now? It is certainly being seen and appreciated more.
(Thomas Murray Asiatica- Ethnographica) Tom likely had the highest sales per square meter in the whole fair. He was returning this year and had one of the "smallest" galleries among the "best streets (rue des Beaux-Arts). Tom was among the dealers who did very well (All of the American dealers did great actually) Tom reported the following feedback to us: "I sold many good things mainly to dealers as they know what they are looking at and could recognize the value in what I was offering. My masterpiece Yombe-Kongo figure was an example. Many collectors were swimming around it but it was a dealer who jumped! So too with my Himalayan mask offerings the most of which went to a single dealer, another to a private curator acting on behalf of his collector who recalled my simple-archaic mask was priced at $50K when it was part San Francisco's first fully dedicated Himalayan mask show 20 years ago in a now historic exhibition. A matched pair of Atauro ancestor figures were the first thing to go, benefiting by their freshness to the market, excellent provenance and fine cubistic style. My exceptional Dayak door with a giant Naga went back to SE Asia, as did both my Batak shaman's staffs, again quality and provenance and my attractive prices relative to the Parcours market swung the sale. I was aided greatly by my charming and very bright gallery assistant, Ms Asmara Rabier, who was a pleasure to work with and I hope she will join me again next year!"
"I met many new people and feel good about how my pieces were received. This show had tremendous energy and although costly to "play the game" in terms of gallery expense, shipping, membership fees ,etc ,this was all off set by having a surge of informed and motivated buyers descend with a passion that is palpable! The Parcours was for me a great success for which I am very grateful!"
(Thomas Murray Asiatica- Ethnographica) A standing Philippine "Bulul" figure
(Thomas Murray Asiatica- Ethnographica)
(Thomas Murray Asiatica- Ethnographica)
(Thomas Murray Asiatica- Ethnographica) A Madagascar Sakalava maternity figure (left), and Modang/ Bahau Dayak guardian figure from Borneo (right) was Tom's Parcours catalog submission object
Some bizarre street art on rue de Seine
Heading back to my hotel for more comfortable shoes…..
A "wardrobe malfunction"! (Emporio Armani Caffe, Blvd Saint German)
(Disclaimer: by viewing this page the NSA (National Security Agency) may be secretly collecting your browsing history and may associate you with visiting sites related to "voyeurism".)
Serge Schoffel- Arts Primitifs
(Serge Schoffel- Arts Primitifs) Detail of a Dayak Borneo roof top ridge final from a long house. As I recall I think he said the wood dated to the 16th century.
(Serge Schoffel- Arts Primitifs) Another great Philippine object– An Ifugao ceremonial bowl with incorporated seated figure
(Serge Schoffel- Arts Primitifs) One of the things I like about Serge is his broad taste and scope in objects. He has genuine passion for the art and I usually learn something from him too. This particular pre-historic stone sculpture is of a styled Coyote or Dog and is from one of the Indian tribes in New Mexico.
(Bruce Frank Primitive Art) and his exhibition: "Powerful Magic. Miniature Sculptures from the Sepik River Region"
A statement from Bruce: "The show was very successful. I sold just over 70% of my exhibition. Received many very positive comments, many collectors thought I had one of the best exhibitions. I've noticed that galleries that mount thematic shows tend to have successful sales. Having a theme to your shows helps to get collectors focused on what you have. Also with so many galleries exhibiting, a theme helps to set you apart from other exhibitors. That said, its not easy to mount a thematic show with very high quality objects. My Powerful Magic show took 15 years to materialize."
(Bruce Frank Primitive Art) There's many great ones in here!
(Bruce Frank Primitive Art) Second from the left, the bundle of three Murik Lakes Bilum amulets was was his Parcours catalog submission.
(Bruce Frank Primitive Art) My camera had a rough time with the lighting but I recommend his 80 page catalog "Powerful Magic" for purchase.
On the inside– I'm hearing more accounts of dealers actively "killing" each others pieces and backstabbing each other. Yes, that is always part of this business but I've never noticed it at this tempo before. Less material, fewer sales and higher prices have resulted in increased competition, creating "frosty relations", and a lack of camaraderie among some dealers. A senior dealer reminded me that the same thing happened among dealers in America during a serious recession in 1980-82. That said, I suppose it just "what is" at least for now. One needs a "thick skin" for this business.
Galerie Olivier Castellano on rue Mazarine
(Galerie Olivier Castellano) This fine Baule was his Parcours catalog submission piece.
(Galerie Olivier Castellano) A couple views of a Punu mask. It is easy for me to appreciate Olivier's aesthetic.
A staff of gals at Tribal Art, selling catalogs and generally being helpful with information. (photo: courtesy of Clive Loveless)
Now this was John Kenny's booth "Capital Culture Gallery" (London) who was next to "Tribal". That's not Kenny but a colleague….. I met up with Kenny later that evening by accident in a cafe and we chatted for awhile. I really dig his photography which had a powerful effect on me. It was a great art experience without expecting it which is one of the best kinds. He is as serious and skilled as they get and often risked great physical danger entering and exiting remote African villages in search of the right individuals and circumstances to get that ideal shot. The photos were each taken inside of the subjects huts only using limited natural light.
John Kenny "Capital Culture Gallery"
(Jacaranda- Dori and Daniel Rootenberg) with a refined Makonde mask. These are not my taste generally but his one was noteworthy…
(Jacaranda- Dori and Daniel Rootenberg) Darn poor photos, but check out their website– (Left) A rare Zombo Fetish from the James Hooper Collection, (right) a Congolese Nkisi figure which was Ex. Mert Simpson.
Establishing shot Galerie J. Visser. Some cool looking 1940's(?) motorcycle but practically that could be torture to ride?
Galerie J. Visser
(Galerie J. Visser) Joris Visser (right) dialoging with a customer. To me he has a certain commanding presence when he is taking about art, but is professorial at the same time. Plus he always has interesting material.
By the way as a side note, speaking about "interesting material", a dealer's pieces can become less interesting after being "overexposed". In a my opinion a piece should never be shown 3 years in a row at this fair, no matter how great it is. Although it may seem noble that dealers think highly of their material, this is a competitive environment where visitors have high expectations of seeing new things.
(Galerie J. Visser) A PNG male Bioma figure
(Galerie J. Visser) I love this style and vintage of stone-carved Sepik mask.
(Galerie J. Visser) with a flamboyant and expressive Upper Sepik board I think "Nggala" people?
(Ben Hunter) A vivid New Guinea Huon Gulf Tami Island dance hat with face.
(Ben Hunter) Detail of a 19th century Fijian four-barb spear with pristine sennit binding.
(Ben Hunter) A very rare form of 19th C. sword club from Niue Island (Savage Island) with relief-carved disks and incised pommel.
(Ben Hunter) Detail of above
My pal Michael Evans making his debut at Parcours. He's standing next to a group of Fijian portraits which was his Parcours catalog submission. Mike has exhibited at other European tribal fairs but I understand this was his most successful one yet in terms of sales!
(Michael Evans Tribal Art)
(Michael Evans Tribal Art) New Guinea Middle Sepik Iatmul over-modeled skull
(Michael Evans Tribal Art) A specimen of a Kiwi bird
(Michael Evans Tribal Art) An 18th century Fijian cannibal fork from the James Hooper Collection
(Philippe Laeremans Tribal) A refined female Songye Kifwebe mask. Thanks for always being accommodating about photos!
(Philippe Laeremans Tribal)
(Philippe Laeremans Tribal) A Luba bowl bearer
(Philippe Laeremans Tribal) (Left) a large Songye female figure and a New Guinea Sepik suspension hook with inverted ancestor faces
(Moreau & Montagut) Charles Moreau making his debut at Parcours. He told me most of his pieces got held up in customs, so did not make it into the fair! You would never know it though; and he made the best of disappointing circumstances.
(Moreau & Montagut) Left: A New Caledonian Kanak figure, Right: A New Guinea Chambri Lakes Hook
Yann Ferrandin standing next to an early Luba/ Hemba figure
(Yann Ferrandin) A elegant display from his exhibition "Selection".
(Yann Ferrandin) One of the best examples of a Vanuatu Malekula over-modeled skull
(Yann Ferrandin) A very sweet Bamana Chi wara
Chris Boylan's bustling gallery on rue visconti. A "Phantom" shield from the New Guinea Highlands is seen hanging in the background.
Mrs. Vigorelli sharing some wild high fashion of Milan. (photo: courtesy of Clive Loveless)
Galerie Coue', rue de Seine, mostly showing African Art this year
I laughed hard when I saw this sign! Your "roving reporter" getting preferential treatment.
Galerie Coue'
(Galerie Coue') A classic Luba mask
(Galerie Coue') with an old New Britain Mengen War shield
(Galerie Coue') Detail of above. Interesting how they've mended various battle wounds in the shield by inserting shells into the puncture marks
(Galerie 1492) Yannich Durand (left) with customer
(Galerie 1492) selection of Pre-Columbian mace heads
(Galerie 1492)
A news crew covering the fair also?
(Michel Thieme Tribal Art) A New Britain Mengen shield with intact fiber
(Michel Thieme Tribal Art) A rare Korwar shield
(Kevin Conru)
(Kevin Conru)
(Kevin Conru) A pair of scarce New Guinea Karkar Island shields with near perfect binding
(Kevin Conru) South African Tsonga Spoon
The weather was lousy on Friday and nasty by Saturday with a steady rain emptying the streets. I'm used to sunny California (photo: courtesy of Clive Loveless)
A rainy Saturday morning side trip to the Paris Flea Market
(Paris Flea Market) I found some of the botany more interesting than most things for sale.
(Paris Flea Market) A Modern Art robot for 12.500 euros
Back to the fair and heading in to see Yo De Buck's exhibit of masks on Gue'riosn (Healing)
Jo showing photos to clients. He has maintained this spacious gallery on rue de Seine for many years now.
(De Buck) Makonde mask, Tanzania
(De Buck)
(De Buck) Ibo mask, Nigeria
(De Buck) Makonde mask, Tanzania
(De Buck) A Greenland Eskimo upper right… and me clumsily catching myself in the frame. But this is actually useful in showing how I only use a "pocket camera". I'm sacrificing quality but I refuse to tote around a full size SLR camera in Paris.
An interesting Salampasu house panel in a vitrine of a some gallery but I don't recall who?
Alain Lecomte put together a terrific collection of Congo Whistles and published a catalog. Alain has also applied the "Parcours Formula". The exhibit was called "Bakongo, Les Sifflets Sculptes"
(Alain Lecomte)
(Alain Lecomte)
(Alain Lecomte)
Alain Lecomte
(Alain Lecomte) A Kongo figure
Vitrine display Dandrieu-Giovagnoni
Joel Cooner again in front of Librarie Fishbacker (sp) Visible in the display is Steven Alpert's new book on Indonesian Art in the Dallas Museum which debuted during the Parcours.
Galerie Bernard Dulon
Dulon's gallery always seemed to be bustling, often exhibiting Cameroon material. That small figure on the pedestal had a turned head and torso and was quite memorable. The atmosphere was not ideal for photography however.
Welcome to Parcours Franck (Marcelin from Aix en Provence)– his debut at the prestigious fair, although he was not a formally participating member in the catalog. He is one of several dealers independently exhibiting.
(Marcelin) Eskimo mask
Alain de Monbrison, Fang Figure (Parcours catalog submission photo)
(Schoffel Valluet)
Difficult to photograph but this monumental Dayak Hempatong figure was also advertised in the Autumn issue of "Tribal" on page 23. You may have heard about the controversy surrounding this seven-figure piece? I'm not going to comment here since there is no upside, only pitfalls… That said, Mark Johnson feels he has it figured out and wrote extensively about it on his blog weeks beforehand: http://thetribalbeat.blogspot.com/
If you think this review is rubbish don't give me any "____"!
(Text and photos by Michael Auliso)