Written by Michael Auliso and republished here with his permission.
Missing about half the photographs on page 1 and all the photographs on page 2 and 3.
After the close of the Caskey Lees Tribal Show in 2009, I had not returned to New York until May of this year to cover the Tribal Week of Shows and Auctions. I visited New York a few weeks prior to the tribal week and it was clear that already momentum had been building.
This year the New York Tribal scene fully ignited into a blazing star after building energy for several years. If you too have taken a break from following the New York tribal scene surrounding the major auctions, it is definitely time to return. The scene has grown and evolved thanks to the hard work and perseverance by a handful of dealers. There were many exciting pieces to be enjoyed, discussed and purchased, making for an overall rich art experience. To expand upon that, I was more inspired with quality of art that I saw in New York, than the art in Brussels during the Bruneaf fair in June. There was SO MUCH happening; keeping on top of it all was a real challenge. Sharing information with others was vital in case you missed an email invite for a particular exhibition or event. A visitor had to navigate, coordinate and physically get to all of the venues, which seemed like a fulltime job. It was a sea of invitations, previews, etc. That said, everything happening was within a 30 block radius mainly on the upper east side. Being a California native I "drive" everywhere, so the continuous walking and walking took a toll on my poor feet. Needless to say they didn't take me everywhere I wanted to go.
There was also a show called "Tribal Togetherness" hosted by Howard Nowes in his gallery on 303 East 81st street that included material from Jo De Buck, Dave Deroche, Fernandez and Zemanek.
I noted there was no shortage of people in attendance. Lots of European dealers came to check out the scene. All of the opening night venues were crowded especially the AOA Tribal Art New York show organized by Maureen Zarember at the Fletcheer-Sinclair Mansion.
I didn't get much feedback on what success individual dealers had. A few dealers told me they would do the event gain but didn't sell anything expensive. That said, I'm hearing a unconfirmed report that an African piece was sold for close to $700K! It appeared the hometown NYC dealers sold better than the visiting dealers; a home court advantage I guess.
I must give strong praise to all of the dealers, there were many, that stepped up to display their heavy artillery (good art). This made for a much richer and stimulating art experience. They all deserve great appreciation. I want to acknowledge all the hard work, planning, and capital the dealers contributed to promote and produce these professional venues.
Based on what I know about the European debt crisis and from talking to collectors and dealers on the continent, I'm predicting within a year we'll begin to see an economic shift. As the EU continues to be mired in a debt crisis, increased buying demand will come from collectors in the U.S.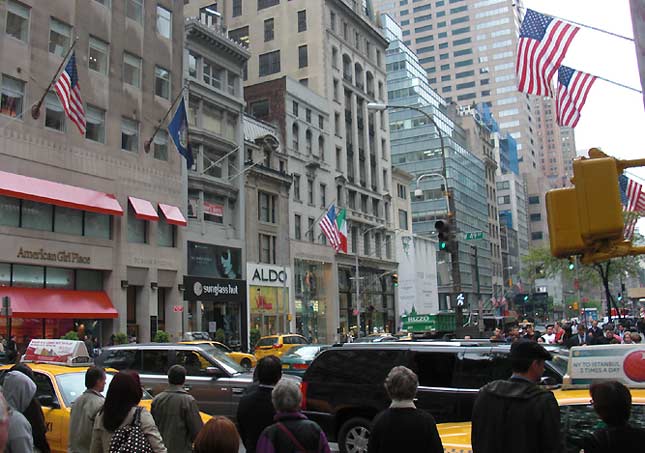 OPENING NIGHT- MADISON ANCIENT & TRIBAL ART SHOW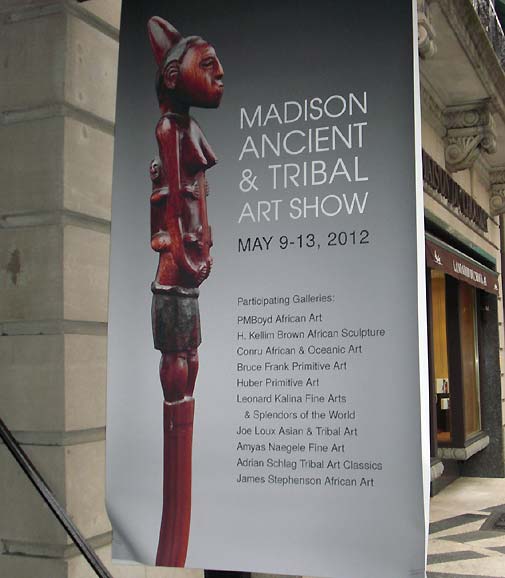 Acting on a tip, James Stephen secured this impressive upscale gallery space at 1016 Madison Ave. He and Peter Boyd helped organize and promote their classy show.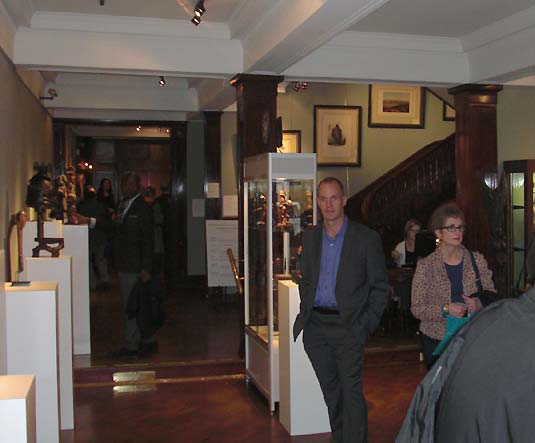 Show entrance with Stevenson's display in front
(Stevenson) Northern Tanzanian figure from the Pare people
(Stevenson)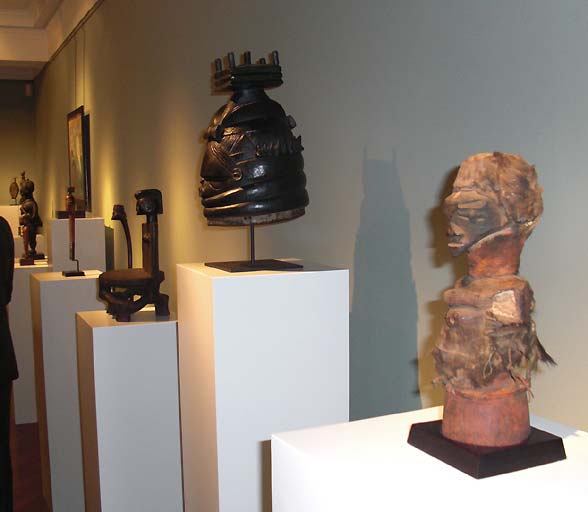 (Stevenson)
(Stevenson) with a Kamba figure and a Lobi Bateba figure (right)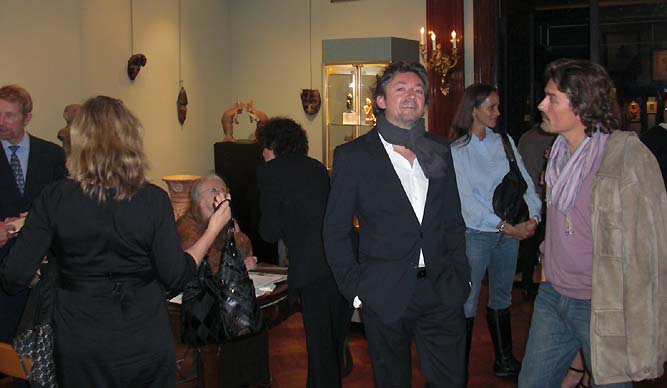 Renaud Vanuxem visiting from Paris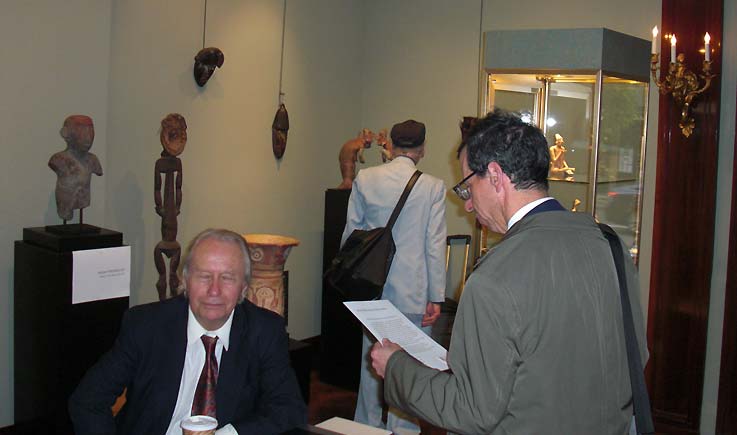 Huber primitive art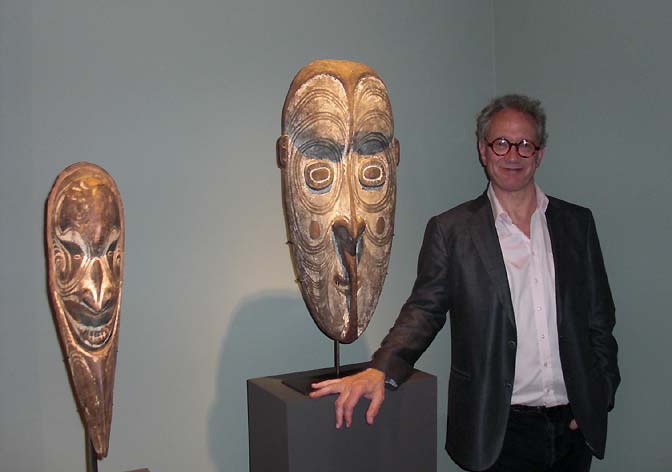 Kevin Conru next to a Middle Sepik House mask, probably Sawos? There were 3 or 4 floors of dealers and as I recall Kevin had the largest space on the first floor.
Conru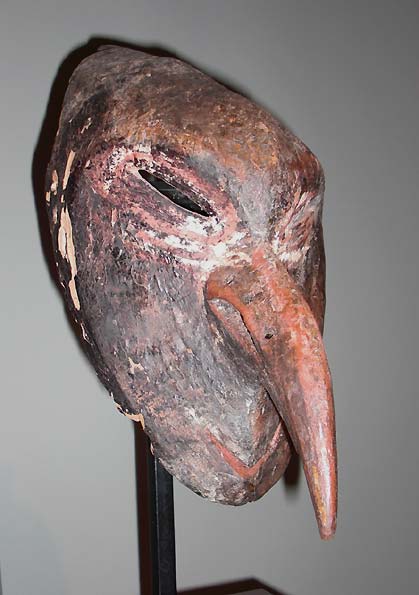 Conru with an early PNG Boiken mask
Conru's New Guinea Yuat River Mundugumor flute figure got a lot of attention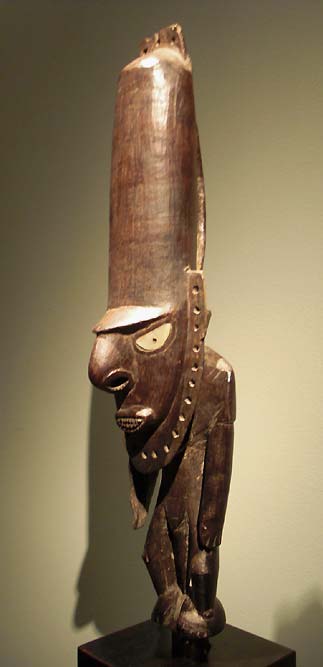 detail of above
Conru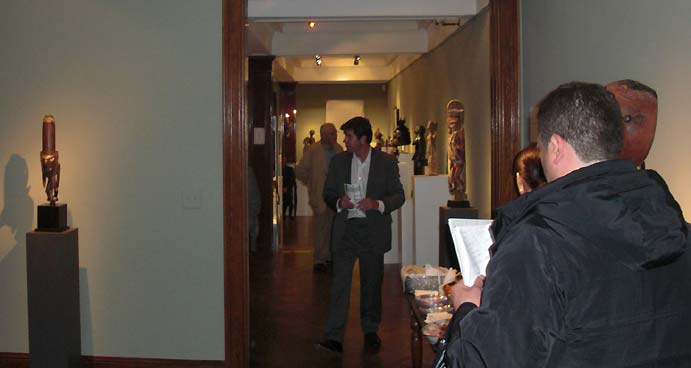 Mark Assyag and his wife from Montreal
Peter Boyd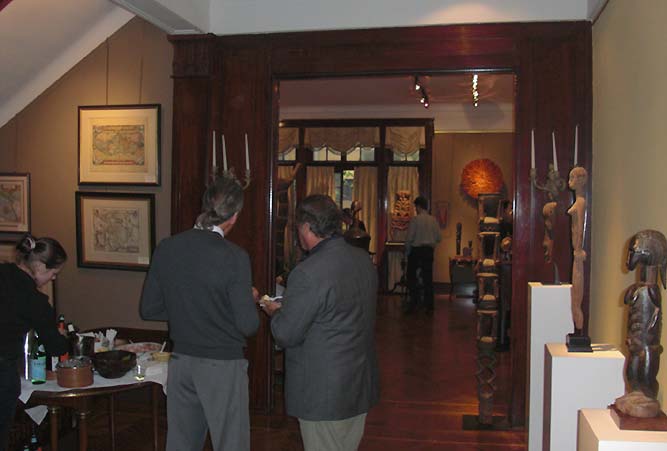 Adrian Schlag was keeping it minimal with just 6 pieces displayed on the landing of the second floor. Having the magic "European touch" he probably sold out too. We can all learn something from Adrian.
Schlag with a unique old Tiv figure having long arms and fingers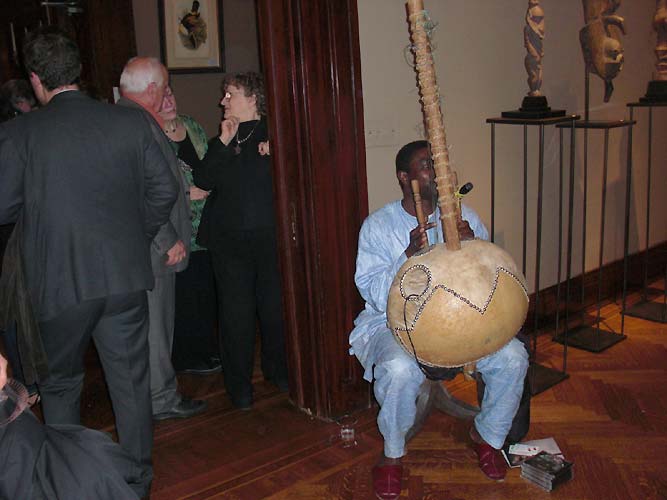 This musician on the 2nd with an enormous "thing"
Amyas Naegele had a handsome display and ingeniously conquered the space limitations by maximizing his display area using mounted hanging panels for his collection of spoons, heddle pulleys, whistles, combs and throwing knives.
Amyas Naegele
Amyas Naegele
As you can see it got crowded in there making it challenging to buzz around and shoot photos.
Bruce Frank next to Fred Taylor from San Francisco (left)
(Bruce Frank) Some stone-carved treasures from New Guinea. A Sepik Betel nut mortar with 4 figures and a small deeply carved charm. (Not to be confused for a "bottle opener")
(Bruce Frank)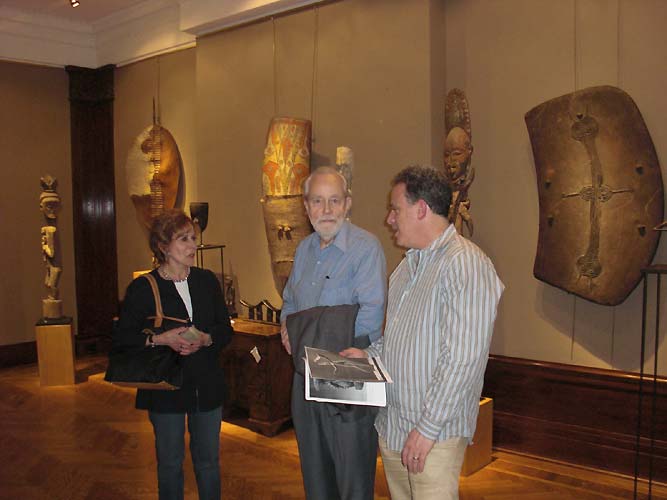 (Bruce Frank) with African collector Noble Endicott and his wife
I think I'm on the "third floor" now? Joe Loux (San Francisco). Joe's wife Katie is expecting a stork visit soon.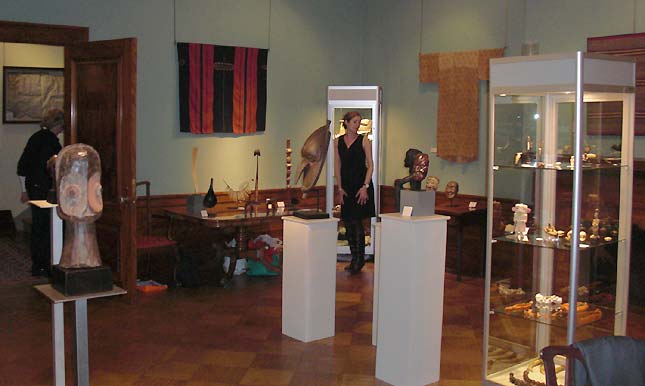 Joe Loux cont. In addition to tribal art, he displayed a fine selection of Asian jewelry, masks and textiles
I took a photo of this Maori canoe bailer but forget which dealer had it (maybe Amyas Naegele)?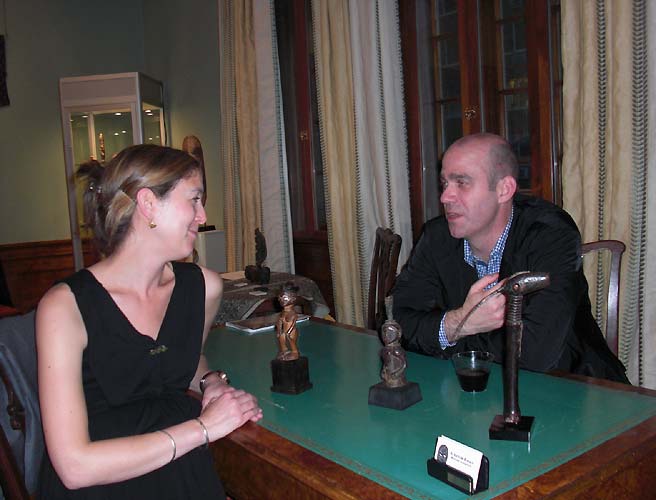 Kellim Brown exhibiting from Florida, discussing baby names with Katie
AOA (African, Oceanic, Americas) TRIBAL ART NEW YORK
A short walk around the corner was this upscale venue in its second year at the Fletcher-Sinclair Mansion . Maureen Zarember (Tambaran Gallery) and one employee, took the bull by the horns and produced the entire show by themselves. Knowing how much work that is, their efforts were commensurate. They left no stone unturned and even produced a terrific catalog featuring all the exhibiting dealers, including advertising with auction houses and museums! The map on the back was most helpful too.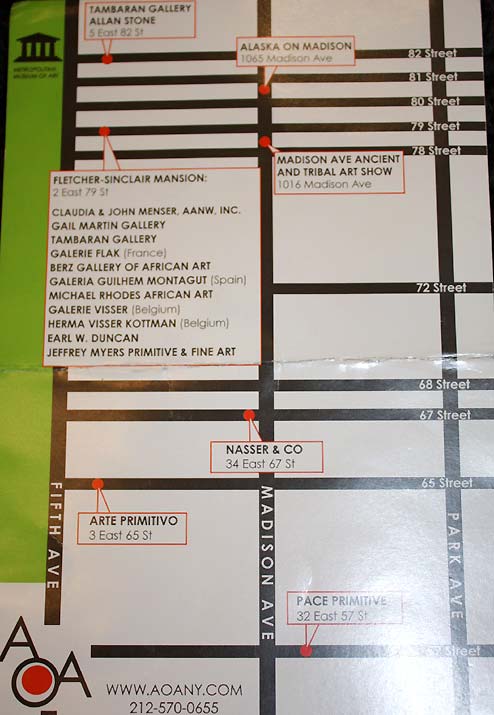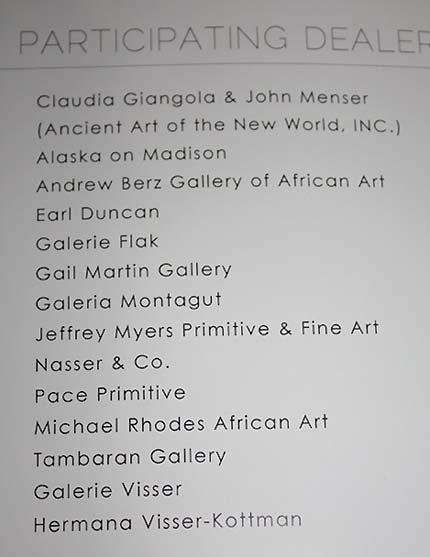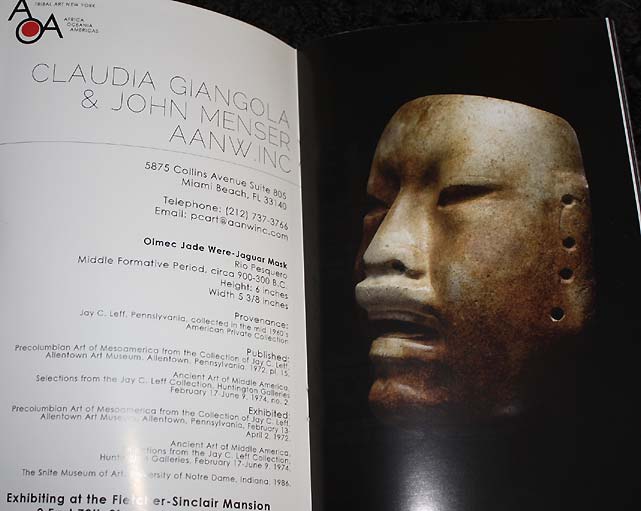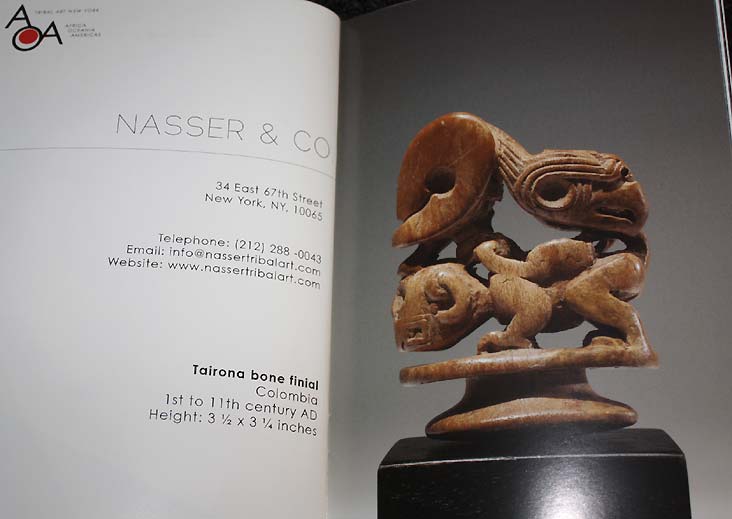 Entrance, Fletcher-Sinclair Mansion
I arrived at this show a couple hours after the opening and it turned out my timing was perfect. I missed the huge crowds that made it hot and stuffy inside and impossible to photograph anything. I heard Maureen mention that 500 people came opening night! That's probably not far off and I doubt anyone anticipated that kind of turn out.
(foyer) Fletcher-Sinclair Mansion. A display of shields I believe from various dealers
Adrian Schlag left his venue temporarily to "sample" the food being served here
Michael Rhodes had a prime spot right in the lobby
Joris Visser- Brussels. Joris is one of the most active dealers that participates at shows.
(Joris Visser) Songye figure with impressive scale
Visser
Harold and Maureen Zarember
Tambaran Gallery
Tambaran
(Tambaran) Mumuye Figure Nigeria
(Tambaran) Early Haida Shaman's rattle
(Tambaran)
(Tambaran)
(Tambaran) With a "ripper" of a New Caledonian adze
(Tambaran)
(Tambaran) Detail
(Tambaran) Detail
Julian Flak with an early New Guinea Karawari Aripa figure
(Galerie Flak) Fang "Bieri" Figure
Galerie Guilhem Montagut- Barcelona Spain. Wow two fang figures under one roof! Guilhem had his figure labeled more precisely: "Sango Reliquary Figure, Gabon"
A shared and complimentary space of Northwest Coast and Eskimo Art. Earl Duncan (far left) discussing a piece in the showcase. Jeffery Myers and Neil Becker on the right.
Earl Duncan looking at a piece with Harold Zarember. A Northwest Coast Mountain Sheep Horn spoon facing out on the top shelf.
John Malloy with the Saint Patrick's Day jacket with Earl Duncan showing him the money 🙂
Hey there Jeffery Myers! He loves to show off his "loud" tie along with great Bering Sea Eskimo material. By the way, I'm open to taking any of this on consignment.
Myers
Myers
Myers
(Myers) Sorry for the quality here but I think you get it.
Several cool old Kachina dolls
Gail Martin Gallery (Pre-Columbian Art)
Gail Martin
Gail Martin
(Gail Martin) had on display several fine weavings from the Nazca culture of Peru.
Gail Martin
(Gail Martin) with a pair of important Nayarit and Jalisco figures
The following 8 images of Opening night are provided by David Cassera
David Cassera (w/ hat)
David Norden visiting from Antwerp
Carl Peter Koefoed
Throckmorton
Collectors talking with Brian Gaisford from Hemingway Gallery
Spencer Throckmorton
Omar Kiende
Chiwara, Oumar Kiende
PREVIEWING THE CHRISTIE'S AUCTION
Rockefeller Center
Many of us were hot on that Aboriginal Murray River "broad shield" having a low estimate of $3000-5000, but it set a record selling for $116,500. It had an asymmetrical design element in the upper left side making it special.
Christies exhibit room
Maori feather box
This fine Cruz Island platter (cover piece) ,collected during the Korrigane expedition, sold for $314,500 against an estimate of 80-120K. I was surprised it went quite that high but then again in today's market there really isn't a price ceiling for great art.
On display for the Christies Paris auction, this Yoruba horse and rider later sold for 493,000 Euros
BONHAM'S AUCTION
Specialist Fred Bachlar with a Hawaiian Spear collected by Cook (sold for $56,250)
A cleverly displayed group of South African Knobkerries from the late Norman Hurst's collection
19th c. Marquesas Dolphin tooth necklace
Maori Greenstone Hei Tiki
This rare large stone currency from Yap Island in Micronesia drew spirited bidding, selling for $32,500
A VISIT TO PACE PRIMITIVE GALLERY
Pace Primitive, Carol Bella next to a fine New Guinea Upper Sepik Washkuk Yena head
Pace Primitive Mende Bundu helmet mask, Sierra Leone
A late 18th-early 19th century Maori Lintel, New Zealand
(Pace Primitive) An ancient and refined Mendi "Budu" helmet mask from Sierra Leone
Jenne Terracotta snake devouring a human
(Pace Primitive) Nigerian "Ishan" figure, 18 inches. A poor photo but an incredible piece in person
(Pace Primitive) Nok terracotta
PREVIEWING THE SOTHEBY'S AUCTION
While previewing the auction I politely ambushed Sotheby's Jean Fritz (Senior worldwide director, African and Oceanic Art) and Patrick Caput (Senior International Consultant) for this photo op. In the center is an ancient Luluwa Helmet mask from the collection of Werner Muensterberger who bought it from Mert Simpson in 1959. It hammered for 2,546,500 against an estimate of 1.5-2.5 million.
(Sotheby's) A lovely day on the rooftop cafe. A couple of "power broker" colleagues taking a bidding intermission break. (Left) Jack Sadovnick and Jean-Edouard Carlier.
SOTHEBY'S PREVIEW ROOM
(Sotheby's) The preview was all the more stumulating with the Tribal Art juxtaposed by Photography
(Sotheby's) One of my favorite display cases with New Guinea pieces. (Left) a Pre-contact female and male amulet charm from Irian Jaya. Lot 216 a small Ramu River mask from a sacred flute sold for 110,500 against an estimate of 7-10K. Lot 215 a Yuat River Biwat crouching amulet figure sold for $34,375 against and estimate of 6-9K. Two dealers (American and French) locked horns in the bidding competition.
(Sotheby's) Lot I28, a beautiful Yoruba-Owo Ivory Ram Ornament brought $254,500 against an estimate of $100-150K
(Sotheby's) Lot 49 Detail of a Mayan Plate with intoxicated deity holding tobacco leaf
(Sotheby's) I was struck by this Teotiuacan stone mask
(Sotheby's) It was a powerful experience seeing this large New Guinea ancestor figure in person (lot 205 Lower Sepik Male Figure). I call this a "terminal" piece meaning that if you owned it, you could basically "stop" looking for something better. It was not only a fine sculpture with good scale but was very early and stone-carved. Everything you want. Selling price was $254,500 against and estimate of $70-100K.
(Sotheby's)
(Sotheby's)
(Sotheby's) This was an amazing mask to see in person. Lot 200, A Lega mask made from Elephant hide. Over many years, ritual scrapings taken from the mouth, eyes and forehead gave it a surrealist quality. It brought $242,500 against and estimate of $200-300K.
(Sotheby's)
(Sotheby's) Lot 3 an Incan Gold female figure.
(Sotheby's) Cover piece (lot 131) a Kota reliquary brought 1,082,500. The zig-zag ciwara next to it (lot 69) from William Rubin's collection, published in "Primitivism in 20th Century Art" brought $2,658,500.
Sotheby's opening reception Thursday May 10th 7 pm.
Prior to the reception there were two great lectures. The first by April Dammann on noted Pre-Columbian dealer Early Stendahl titled "Art Dealer as Impresario". Following that, scholar David King gave a wonderful presentation for his new book "Food for the Flames: Idols and Missionaries in Central Polynesia. Oh, you should have been there…!
Funny how alcohol and art go so well together. That was the best five mixed drinks I've ever had.
Frank Wiggers talking with Jessica Phillips from Toronto.
An upbeat crowd of some familiar collectors and dealers
Oddly, Craig DeLora & I were both very attracted to this figure.
END
(Text and photos by Michael Auliso)