Written by Michael Auliso and republished here with his permission.
Missing most of the images on page 1 and all images on pages 2 and 3
This years Bruneaf had 55 dealers compared to 59 the previous year. The event was somewhat hampered by rain showers several days. Despite the slow European economy, the fair carried on in grand fashion, now in its 22nd year.
Continuing the trend from last year, there was a lack of important pieces with "wow factor". We're seeing this more often for reasons I've explained in previous reviews. Many dealers known for consistent quality failed to surprise us. This fair being so close to the Parcours des Mondes in Paris in September, may explain why some dealers were likely holding back their best objects.
There seemed to be a deficit of enthusiasm. It just didn't feel like the exciting summer event it had in past years. Local dealers told me they felt attendance was off 30 percent! This seems accurate as I ran into very few Americans and other friends I was accustomed to seeing. I couldn't help but notice that many galleries on the last day of the fair even had extra Bruneaf catalogs laying around. I don't know if they printed extra ones but in the past, unless you picked up a catalog early, you were out of luck. Local gallery owners were hoping to stir up some business during the fair since they tell me that walk-in-traffic has dried up for them during the rest of the year.
"Early buying" is baked into the Bruneaf culture. The most serious collectors, braving the heavy rain, made purchases the days prior to the Wednesday night vernissage. One Italian dealer told me that for him, after Thursday it was "useless" being there. So, it seemed that sales momentum dropped off quickly. Making my final rounds the last day on Sunday, the dealers faces spoke volumes looking tortured and bored. I can confirm this lack of enthusiasm. The last 9 times I've been there I've brought a handful of pieces and have always made some private sales. This year virtually nobody even wanted to see anything.
Anticipating the lower turn out and slower sales, a dealer from Spain not only dropped his prices but posted the prices on his description tags! This was a first for him. The actions of this particular dealer spoke volumes about where the European market is and what was "required" to sell in this environment. Here, I'm tempted to explain how the market for "Tribal Art" has permanently changed but, you'll have to wait for my upcoming interview with Heinrich Schweizer from Sotheby's where he delves "deeply" into this very topic.
Brussels has always been strong for African Art, especially Congo, and still is. However, Oceanic art used to be more strongly represented but is now quite sparse. Going back five years, there was some exciting Oceanic Art to see. This was when Wayne Heathcote still had a gallery, Michael Hamson was showing New Guinea Art up to 2009, Bruce Frank began showing about the same time but was not present this year. With few exceptions there was little noteworthy oceanic material for sale.
I heard of some dealers that bucked the trend and sold well this year. I understand that Bert Garrebeek sold 50 pieces… Ahem, yes 50 pieces, and his pricing structure apparently allows for rapid turnover. Brant Mackely is in this third year and he told me it was his best Bruneaf yet. I didn't speak to Kevin Conru but the word is that he sold well.
So with that out of the way, lets look at some art and visit the people that made it all happen.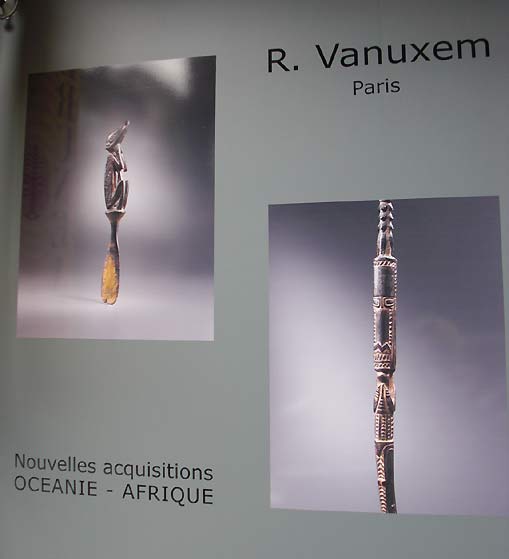 Renaud Vanuxem had one of the most attractive art layouts for his window
Renaud Vanuxem next to an early Simbu shield from the New Guinea Highlands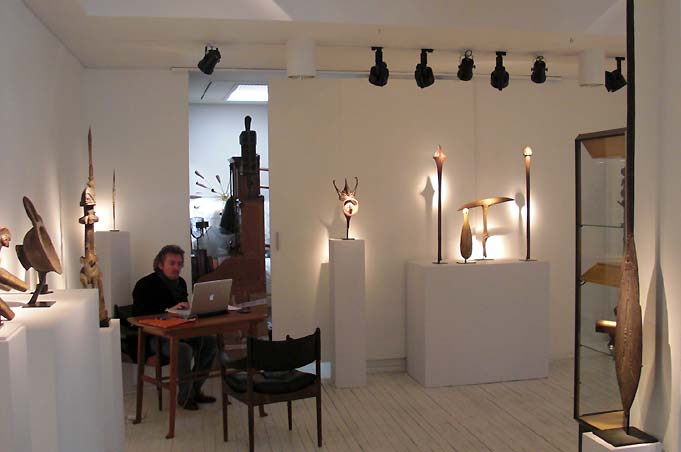 Vanuxem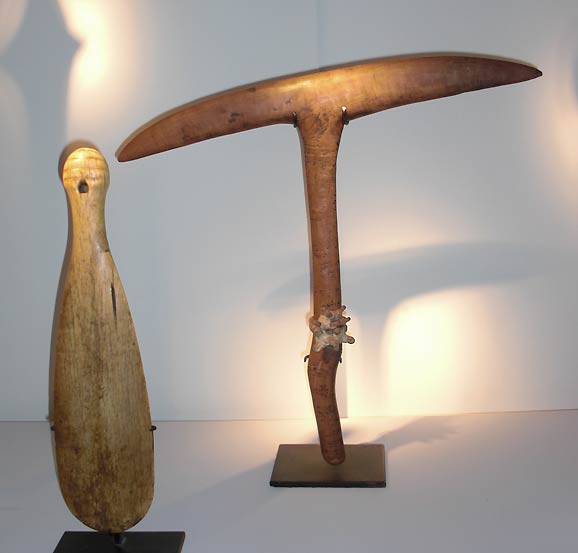 Vanuxem with a rare form New Caledonian Kanak club implement (right)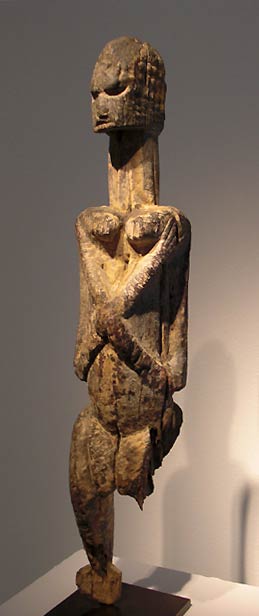 (Vanuxem) Dogon figure
(Vanuxem) I was struck by the rarity of this 5 foot New Guinea Sepik Iatmul sacred flute with bird stopper. It was from a 19th century missionary collection and was amazingly complete and intact.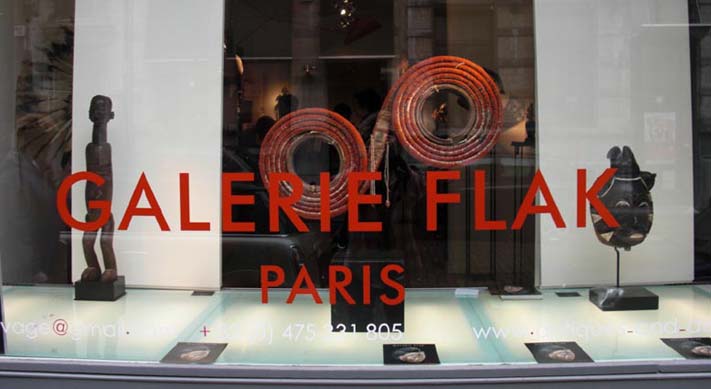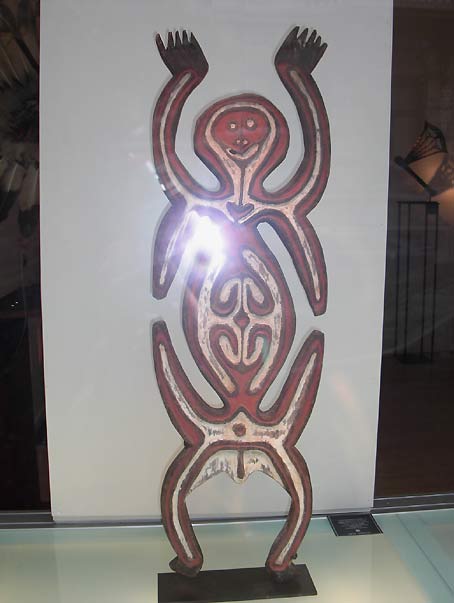 (Galerie Flak) A New Guinea Bioma figure displayed in the window
Galerie Flak, Julian and Edith
(Gallery Flak) Asmat trophy skull. I didn't ask what price it was, but another dealer had one for 35,000 euros which seemed very optimistic.
(Gallery Flak) Songye Prestige Stool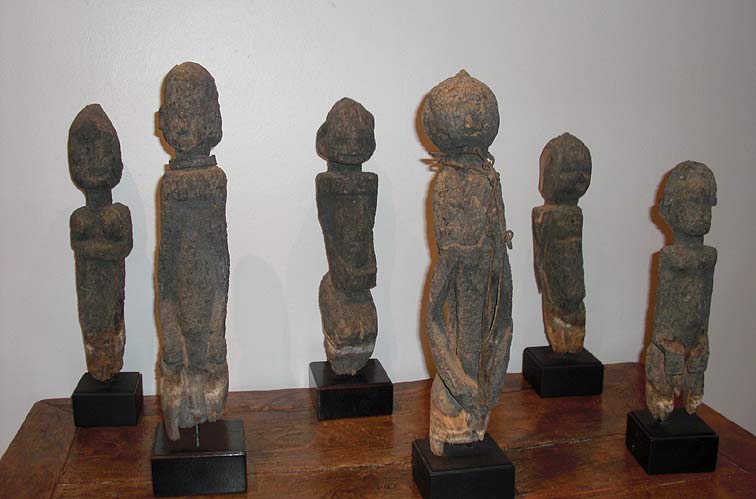 (Gallery Flak) Group of Dogon figures
(Gallery Flak) Selection of prehistoric Eskimo Ivories
(Gallery Flak) A New Guinea Massim Lime spatula from the Beasley collection
(Gallery Flak)
Didier Clase
(Clase) His Lega pieces appeared to all be pre-sold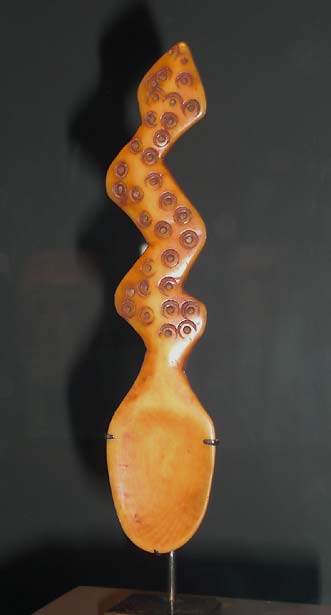 (Clase)
(Clase), Bembe Helmet mask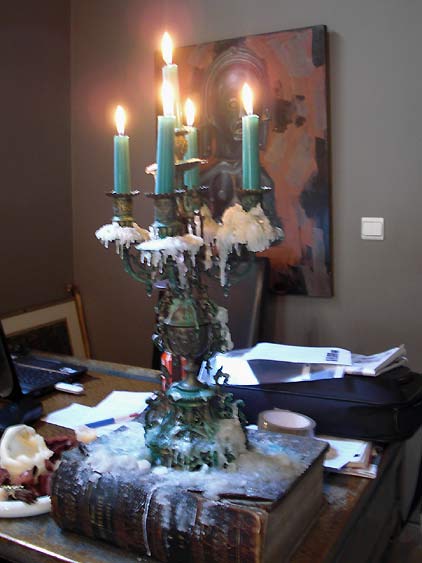 A well-used candelabra on the desk of the above gallery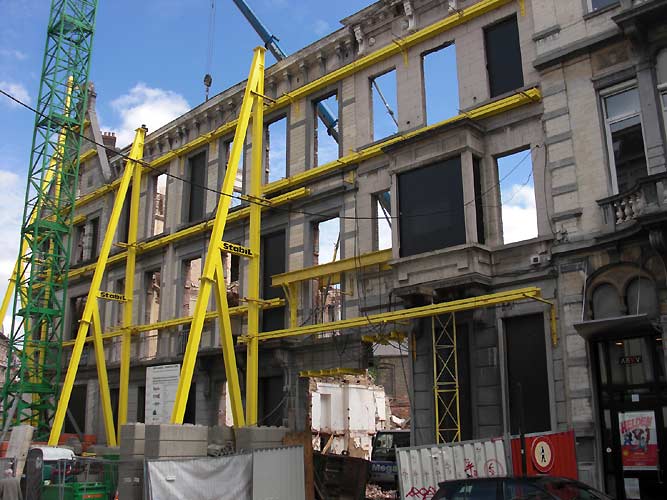 Evidence of construction and renewal all around. Check out the facade of this building being held in place by steel beams on rue Watteeu just down from Serge Schoffel's gallery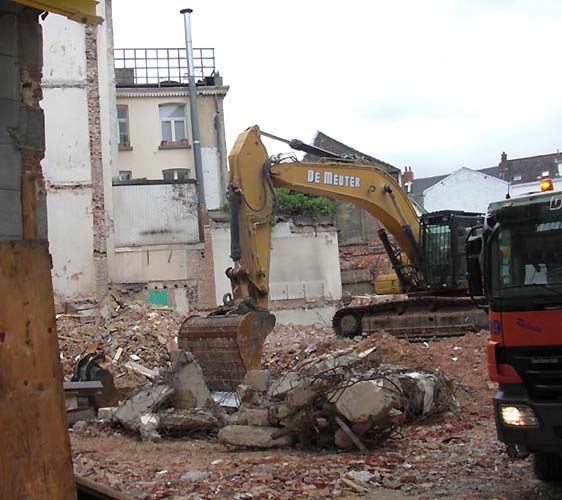 Interior courtyard of above
tight squeeze
View from 7th floor of the Hotel Chambord. Construction cranes dotting the skyline.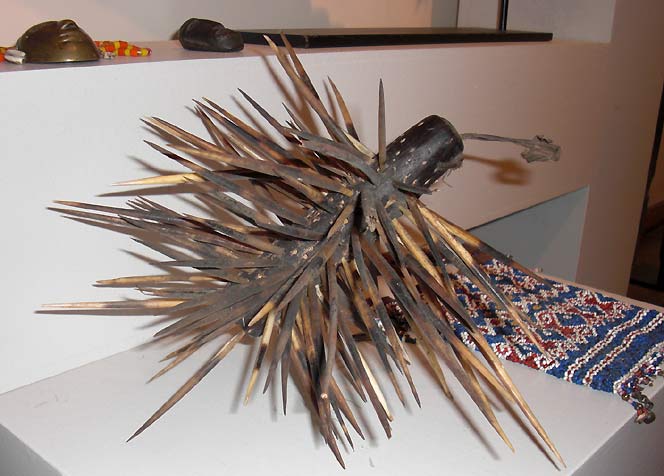 This fascinating object belonged to Riccardo Colombo. It is a shaman's charm made from quills of a Malayan Porcupine, Dayak people of Borneo
(Riccardo Colombo) These ancient glass wedges were used in Vietnam in the manufacture of making glass beads
David Serra (Barcelona) had a headrest exhibition on the first floor of his gallery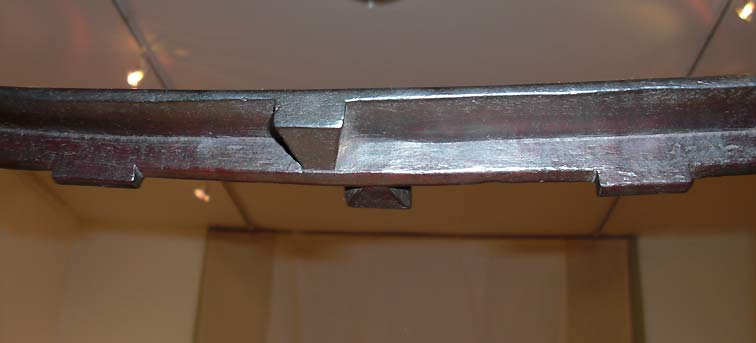 (Serra) Detail of a fine Fijian example above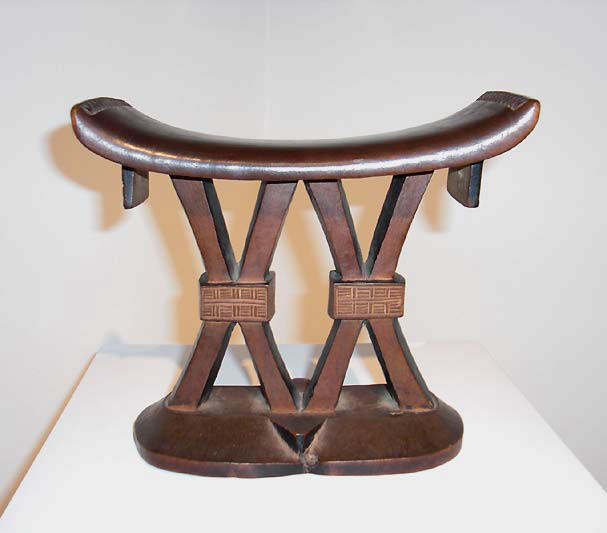 (Serra) Shona headrest, Zimbabwe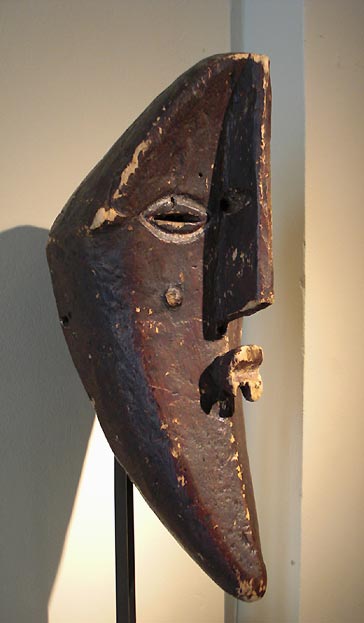 (Serra) Left, a 19th century Kamba staff top, Right a Lulwa mask of narrow elongated form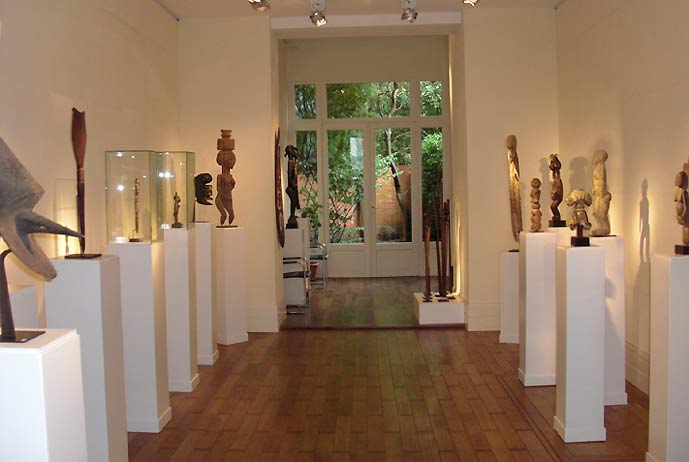 Serge Schoffel's gallery, upstairs view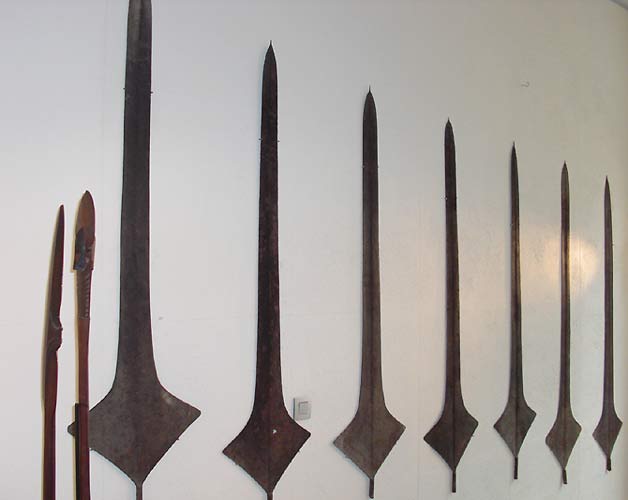 (Schoffel) an impressive display of large Congo spear currencies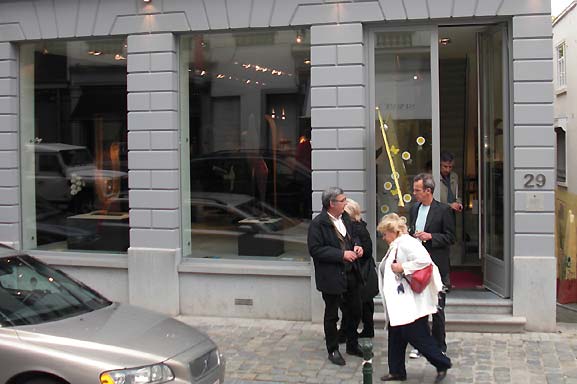 Exterior of Patrick & Ondine Mestdagh's newly completed gallery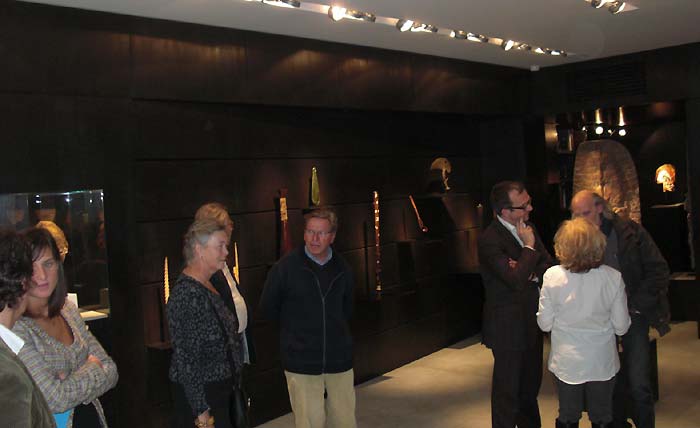 Interior Mestdagh Gallery
EXHIBITION OF JAPANESE AINU ART FROM THE COLLECTION OF JOE GERENA (Joe died in January of 2012 and was an exhibiting member of Bruneaf from the beginning)
presented on the second floor of Mestdagh's Gallery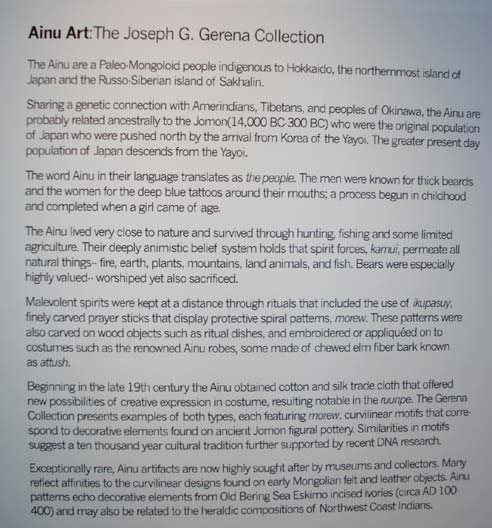 Essay by Thomas Murray, copyright- all rights reserved.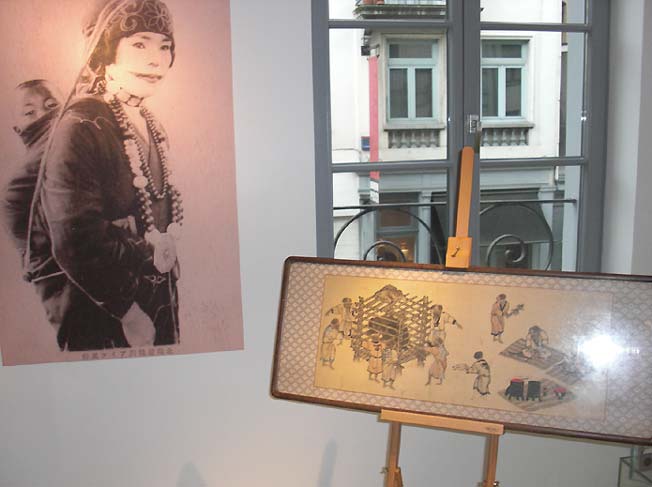 Presented by the Mestdagh's together with Joe Gerena's wife Marge, this special exhibit touched us all in some way. It was a poignant and fitting way to remember Joe and a magnificent way for him to share his collection with us.
A group of prayer sticks "Ikupasuy"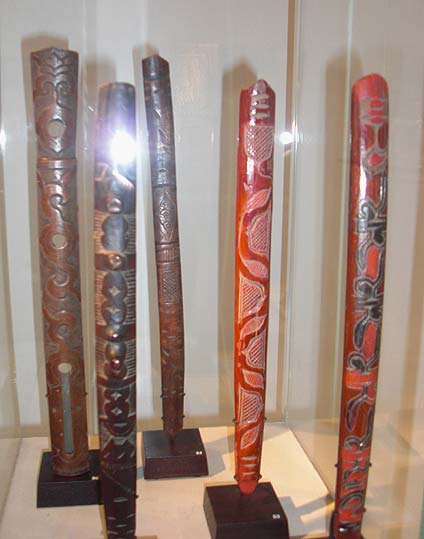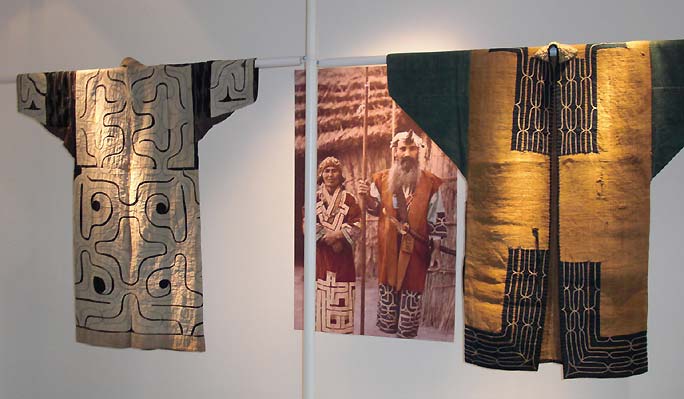 "Retarpe" Robes
End Ainu exhibit
Here comes the rain again…
"HEAD IN THE STARS"
Headrest Exposition presented by Bruneaf
This impressive exhibition was organized by Pierre Loos, Thomas Bayet & Sophie Caltaux. I highly recommend buying the catalog to see much better images which includes many rare examples not seen or published before. The exhibit was made possible by material on loan from the Bruneaf participants, private collections and the Musée Royal d'Afrique Central (Tervuren Museum)
Selection of various E. African headrests
Selection of Luba headrests
Property of Tervuren Museum. MRAC Tervuren copyright, all rights reserved
Luba headrest, Felix collection
Shilluk headrests Sudan
Headrest, Sudan (?) Claude-Henri Private collection
Kenyan, Ethiopian and Tanzanian headrests
Property of Tervuren Museum all rights reserved
Polynesian Headrests from Tongan and Fiji
Fijian Headrests
Detail of a Tongan headrest
New Guinea Headrests, two on the left from the Huon Gulf Region (Tami Island) and a stone-carved Lower Sepik example on the right
Examples of South African Headrests
Headrests from Zimbabwe
(Property of Tervuren Museum. MRAC Tervuren copyright, all rights reserved) The headrest top center, an amazing Bena Lulua example is on the cover of the catalog
Another Shilluk headrest from Sudan
End Exhibition
Dimondstein Tribal Arts with large refined Hemba figure. This year Josh was exhibiting at 61 rue des Minimes
Francois Rabier with a selection of large scale Indonesian wood and stone sculptures
Interior of Alain Guisson's home. I believe this was the first Bruneaf where he exhibited in his house which was just a short walk past the galleries on rue des Minimes
Guisson, Bena Lulua crouching figure
Guisson
(Guisson)
Missed a really reasonably priced piece here! You have to be quick on the draw.
Guisson with a collection of various decorated Congo gourds
Guisson, Mangbetu figure
Galerie Frank Van Craen, with a New Guinea Karawari Yipwon figure and Congo Spoon
(Brant Mackley and Michael Evans) widow display with Oceanic and Northwest Coast fish hooks
This was one of the better New Guinea pieces in the fair. It was a Murik Lakes figure measuring almost 24 inches. It belong to Michael Evans was featured in the catalog
Gallery of Brant Mackley and Michael Evans. Sorry guys, I had more interesting photos but accidentally deleted from my data card.
Brant Mackley, with a large Yupik Eskimo mask
Olivier Castellano (Paris) told me that he had strong sales before the official opening of the fair
Interior "Native Auctions". Nicolas Paszukiewicz and Sebatien Hauwaert put other another exciting sale of African and Oceanic Art at "Native" Auction House
A bit hard to focus on the art here.
"Caravan" Tribal Art Forms and Colors, Bert Garrebeek
Bert Garrebeek with a group of Moba figures
Some dealer friends from Portobello Road in London, Owen Hargreaves and Jasmine Dahl
Art on wheels
A wonderful group of Southern New Ireland Limestone kulap ancestral figures
Conru with a rare Solomon Island Funerary stone vessel from Choiseul Island.
(Detail of above) Kevin told me to his knowledge he had never seen one for sale
Yann Ferrandin with an early encrusted Cameroom Bangwa miniature figure
Ferrandin with a Hemba and Luba figure
(Ferrandin) A superb Vanuatu Malekula Lance/ spear section
Yikes, this would have been an appropriate sign for this gallery on Impasee Saint-Jacques
This shallow step "UP" into this gallery tripped many people up. Even with red tape it proved hazardous to a distracted visitor not looking down! A simple ramp transition would be an easy fix for next year.
Time for a smoke. San Francisco just passed an up-side-down law that bans smoking in public places, BUT the ban does not include "Marijuana". I kid you not!
Francois Coppens having a romantic moment with a Dayak Hampatong from Borneo. I'm very proud of this photo. It took almost 10 years for Francois to "warm up" to me enough to let me take a photo. He was keeping his powder dry to surprise us with something good. Thanks Francios! He still didn't want his art photographed but this was surely enough.
A tree on rue des Minimes outside Coppens gallery
NIGERIA Exposition by Joaquin Pecci
This year Pecci had a surge of ambition and rented a large gallery on 55 Rue de La Regence where he had his Nigeria exhibit in grand fashion. There were many pieces with good lighting and fine presentation. In addition to this special exhibit, he was also featuring at his gallery on Rue des Minimes an exposition on headrests to coincide with the Bruneaf exhibit.
Mambila figure (?)
A screaming Mumuye figure
Abstract being-from-another-planet Mumuye
Ibo figure
Entrance
Yoruba Stool
Wurkun figure
A very cool Wurkun figure
Wurkun/ Waja figures
A broad group of Ekoi and Ejagham skin-covered headdresses
A unique example with natural looking elements
(End- Pecci Nigeria Exhibit)
Outside Galerie Visser.
Galerie Visser with a powerful abstract Asmat sculpture of large scale. Awesome piece.
Galerie Visser- A Solomon Island wicker shield & a Cook Island ceremonial adze
Galerie Visser- Asmat Digul River shield
Galerie Visser- Mentawai Panel, Indonesia
Every time I stopped by Adrian Schlag's he was closed. I figured either he saw me coming and locked the door real quick, or he sold out early to his "Art Basel" customers?
Pascassio Manfredi- A Dayak shaman's ritual ladle. A very memorable piece.
Tension and power collide
Pascassio Manfredi- Top portion of an ancient Dayak food bowl
Pascassio Manfredi- Detail of above. Mind-blowing use patina
Pierre & Valerie Dartevelle
Ambre Congo – Upstairs 17 Impasse Saint-Jacques. Pierre Loos seated (center)
Ambre Congo (Pierre Loos, Thomas Bayet & Sophie Caltaux)
Ambre Congo- A group of Yoruba Ibeji figures
Ambre Congo- A Mangbetu Slit Drum with a great zipper-like native repairs
Detail of Above
Ambre Congo- Group of Kuba raffia lidded boxes. The open book is "Weaving Abstractions" showing similar examples
Ambre Congo- An early New Guinea Lower Sepik headrest
Ambre Congo- had a number of Fon shrine pieces on display
Ambre Congo- A southern Chinese lacquer shield "Nuosu Yi" from Sichuan province
Ambre Congo- A group of Naga body adornment from Myanmar
Renovation in the Sablon
Ah shoot, I forget whose gallery this was but their New Guinea Highlands feather hat/wig struck me
Yo De Buck had this early Bobo mask from Burkina Faso
Yo De Buck with a pair of unusual Makonde masks
Galeria Raquel ye Guilhem Montagut (Barcelona)
Montagut (Barcelona) Songye Fetish
Montagut (Barcelona) A Dogon Tintam (?) figure Ex. Pierre Langlois Paris
Montagut (Barcelona) Right- a Royal Cameroon Bamileke figure
(Montagut) A really good Senufo figure and a Yombe figure on the right
(Montagut) The volume, scale and quality of this Luba-Songye mask was noteworthy in person
(Montagut) A complete Fang reliquary seated figure with bark receptacle box
Alan Naoum Primitive Studio, 30 Rue Sainte-Anne. That Chokwe mask above his Cigar display was really lovely and was a featured ad in the Bruneaf Catalog
Alan Naoum- Luba bowl bearer sculpture
Exterior window display of Marc Felix's Congo Gallery. This Kusu figure (on an auto-rotating base) was his featured piece in a thematic exhibition on "The Kusu"
(Exterior Marc Felix's gallery) I didn't quite know what to make of this larger than life character? He seemed to be impersonating Felix's style (cigar, bright orange hat, attitude) stealing his thunder. Whoever he was he tried to charged me 2 euros for taking his photo!! In good fun, I gave him an American quarter and said keep the change.
END
(Text and photos by Michael Auliso)