Written by Michael Auliso and republished here with his permission.
Missing most of the images on page 1, page 2 is complete!
This year there were 65 exhibitors, five fewer than last year, which felt like a more practical number. New Dealers included Jacaranda Tribal (NY) and Lucas Ratton (Paris). Last year I wrote that 70 dealers was "critical mass" for this event. Continuing the trend from last year, prices remained lower than in past years when the global economy was healthier. Prices were not bargain level but they were mostly rational, at least for Paris. The fair unofficially began the morning of Monday September 5th which was two days before the advertised date.
Next to the ultra high-end TEFAF Maastricht fair which encompasses all antiques, the Parcours des Mondes is most significant fair in the world for tribal art. Consider that unless a dealer can exhibit at least $300,000 in inventory they are not seen as a real player by their peers and probably shouldn't be exhibiting in Paris. Having some very serious material is a prerequisite for exhibiting and many dealers spend a year in advance preparing. Walking into each gallery is like peering into each dealer's bank account, net worth, ego and importantly their taste and talents. It is sensory overload to try and take it all in at once but I recommend that if you have even a "passing interest" in Tribal Art that you must attend this fair before you leave the planet.
I've now heard enough feedback that I can comment in general terms about sales. Oceanic material, by two to one, was selling better than African. Most dealers sold their best couple pieces and were left with the rest. The buying activity was mostly focused around "top level" pieces almost regardless of price. If the quality is there, the buyers were responsive. The astute buyers seem to be ignoring middle quality art unless the price is very tempting. This is a broad trend and one I began noticing shortly after the recession began. Dealers who apparently sold well include Yann Ferrandin, Kevin Conru and Michael Hamson to name a few.
Attendance seemed up over last year and in fact I had the most trouble ever trying to book a hotel room even two months in advance. September is also one of busiest months in Pairs for tourism so book well in advance to secure accommodations. Contrasted with last year, more dealers left their old inventory at home and were exhibiting fresh exciting pieces. That said, there were still plenty of art objects which were familiar to most of us.
Unlike the USA where vacant retail space abounds and virtually no retail Tribal Art galleries remain, Paris seems almost immune to the global recession. I think the culture in France is largely responsible for that. There is no comparison with the level of connoisseurship and importance that is placed on the art. Passionate collectors see art as a vital element in a well rounded life, and view it like a second currency and store of wealth. Parisian collectors draw less of a distinction between cash and art. In the states your retirement fund is your 401k pension while in France your art holdings are seen as virtually the same thing.
I was amazed by how strong Polynesian art was represented this year. This is the strongest showing of Polynesian pieces I've seen yet at the Parcours and I'll be talking more about that. There was also some of the best New Caledonian and Vanuatu material I've seen in one place.
Dealers who put on impressive exhibits included Yann Ferrandin, Jean-Yves Coue', Antonio Casanovas, Laurent Dodier, Bernard Dulon among others.
As in past years the Parcours catalog, which is always beautifully produced, seemed far less available in participating galleries. I couldn't find one anywhere and eventually had to buy one at the Parcours information office for 10 euros.
As an aside, I noted that the weeks leading up to the fair, most dealers sent out one or more email blasts about their exhibition. After the first batch, the "others" seemed totally ineffective given the sheer volume in the pipeline that followed… The impact was arguably anti-climatic for additional dealers piling on.
Renaud Vanuxem's Gallery where he had an exposition titled: "Sculptures XI"
Vanuxem with an early Philippine Ifugao Bulul and a Maori figure he dated back to the 15th-16th c. as I recall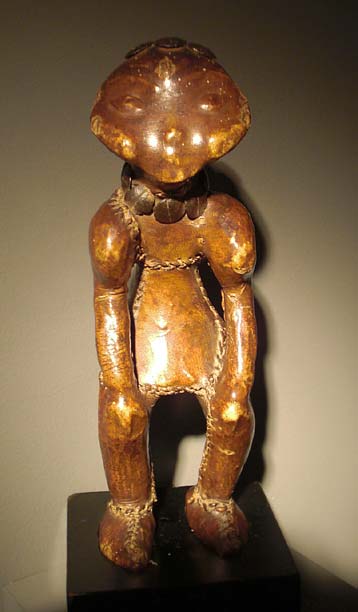 Vanuxem with a powerful skin covered Cameroon figure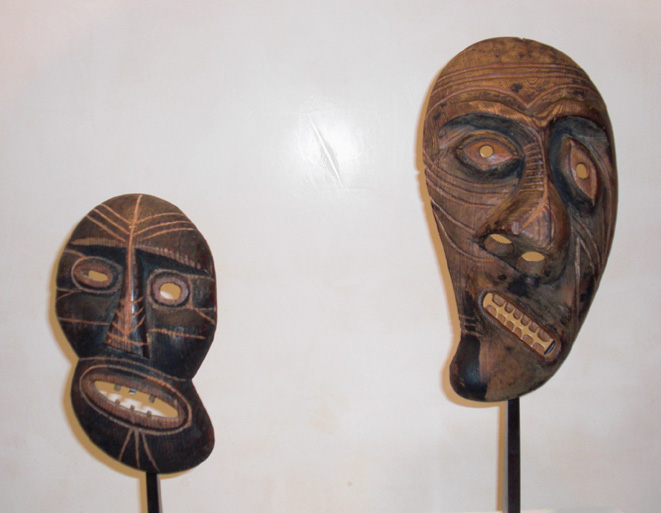 Serge Schoffel with a pair of expressive Greenland Eskimo masks
A series of photos from Bruce Frank's exposition of 101 passport masks
His use of green/ yellow wall brackets was a clever balance and contrast to the otherwise monotone masks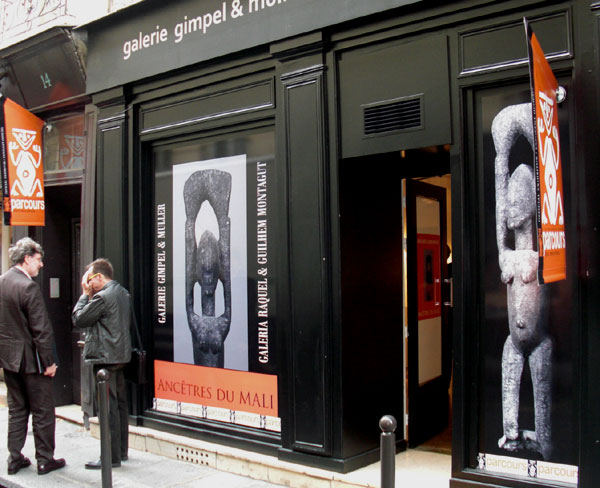 Galerie Montagut was one of several galleries targeted by thieves this year
Michael Hamson's gallery: A New Guinea Telefomin shield and a Middle Sepik Hook
Michael Hamson's gallery: A solomon Island Bougainville staff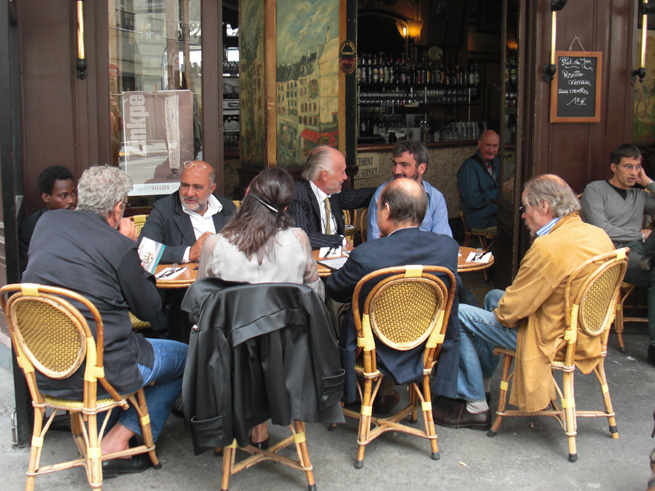 Lunch time cafe scene at La Palette, Philippe Ratton (center right) holding court
Entwistle Gallery rue des-Beaux window displays. Voted best vitrines by me. That Maori hei tiki was massive and the finest quality.
Entwistle Gallery
Entwistle Gallery: That Maori "kotiate" hand club in the background was probably the earliest and most unique example I've seen, having a transformational face/ body on the handle. I really wanted this piece but I couldn't talk Lance and Bobbie into accepting payments over 10 years 🙂
Entwistle: Maori "pouaka" tinder box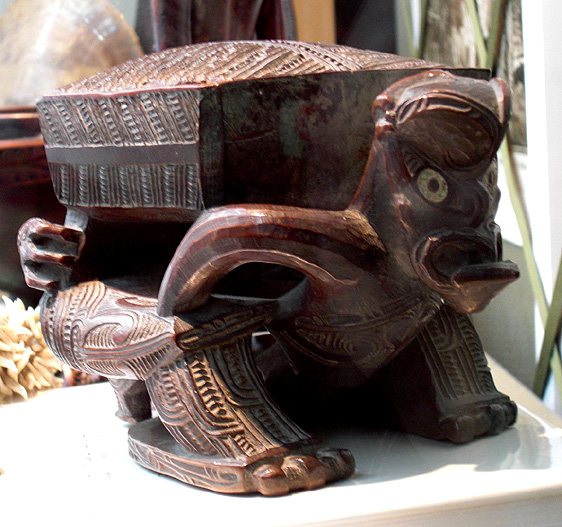 Entwistle: Opposite end of Maori "pouaka" tinder box
Entwistle: Ivory Coast Anyi female figure
Conru: I was drawn in by this rare carved wooden pig. The sculpture is from the Brazilian Amazon. It has applied vegetable dye paint mixed with Bees wax
Conru: Group of Solomon Island clubs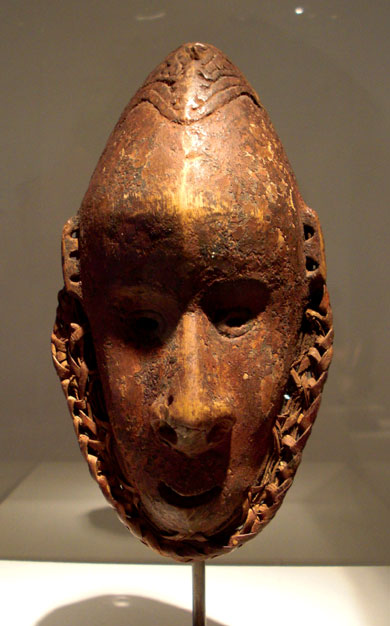 Conru: A Mangbetu wood and ivory vessel and a small ancient New Guinea Sepik mask
"Dealer Extraordinaire": Mr. Jean-Yves Coue' on his gallery on 53 rue de Seine. I'm very impressed with this man. Last year he put on an amazing exposition of Vietnamese "Jorai Art" & he was making continuous sales day and night nonstop. The year before that he did a top-shelf "African Art" exposition of all fresh material. And this year he changed art genres again with a gallery full of impressive Polynesian and Melanesian art! Now think about this…. Some dealers narrow themselves to only selling art from a particular country, or even narrower, from a single culture! Coue' is blessed with the three elements necessary for "shape shifting" from one culture and continent to the next! He possesses great passion, a great eye and obviously adequate capitol. Although I don't know him personally I'm guessing he has a number of personal collections he maintains. We will all be looking forward to what he'll surprise us with next year!
Jean-Yves Coue'
Jean-Yves Coue' with a group of Fijian "culaclua and kinikini" war clubs. He had a very successful show and sold about one third of his pieces.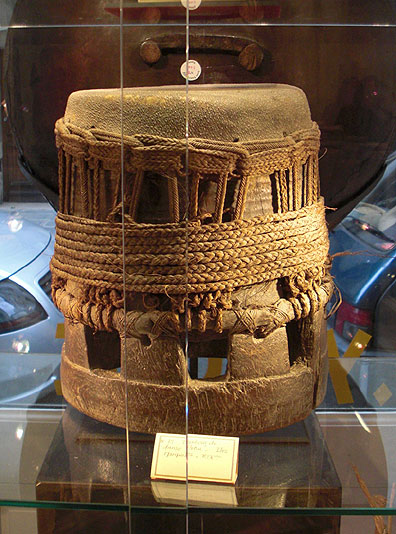 Jean-Yves Coue': Rare Marquesas Island Drum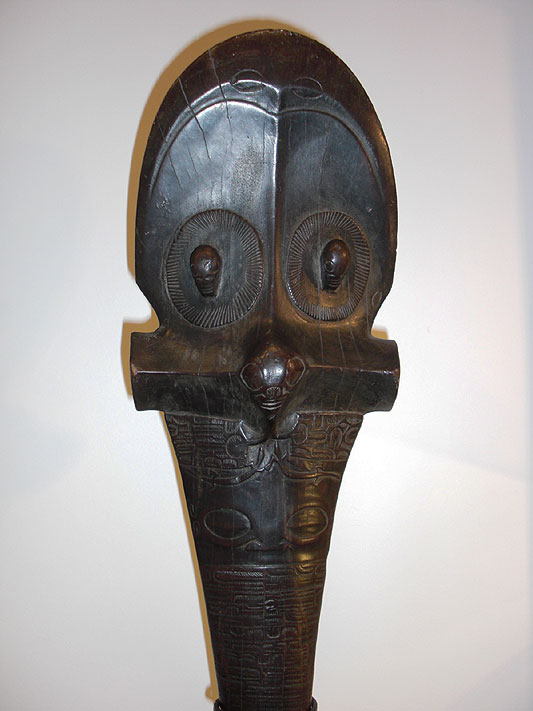 Jean-Yves Coue' with a Marquesas Island 'U'U club from the James Hooper collection, priced over 6 figures
Jean-Yves Coue' with some Solomon Island parrying clubs and spears. His gallery was somewhat crowded which made photography a little tough.

Jean-Yves Coue' with a New Caledonian figure and a New Caledonian green stone ceremonial scepter which had the largest stone blade I've seen. Putting together an exhibit with such quantities of scarce material like this would be virtually impossible to duplicate in the States.
Jean-Yves Coue' with a Marquesas Island lidded bowl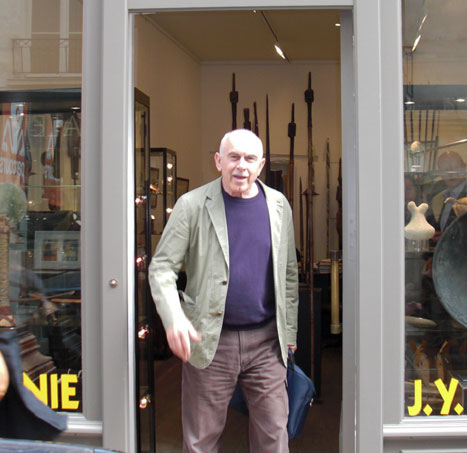 Bill Evans from Sydney exiting Coue's gallery
A great quality Asmat male ancestor figure at Visser's gallery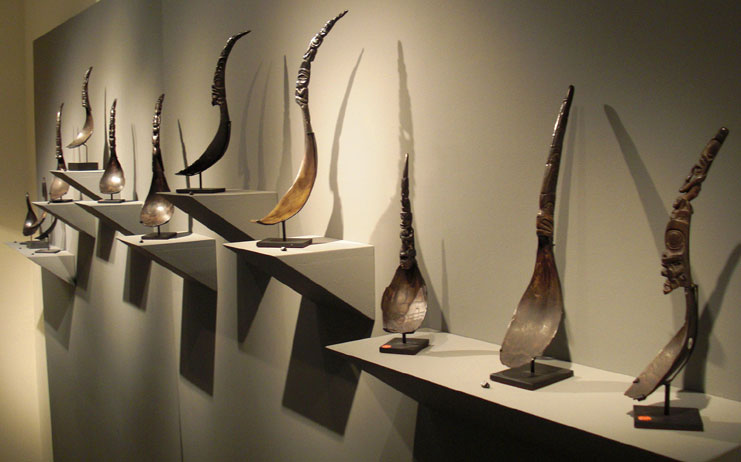 Laurent Dodier's Exposition: "Totems Miniatures" features his collection of Northwest Coast Spoons which he had been collecting for 20+ years. He produced an 80 page catalog as well.
Laurent Dodier
Laurent Dodier exterior vitrine with a handsome Tlingit Shaman's rattle
The reporter becomes the story… Laurent wanted to take a photo of me holding this particular spoon I admired. As I recall, I think he said it came from W.O. Oldman's collection (?)– great provenance!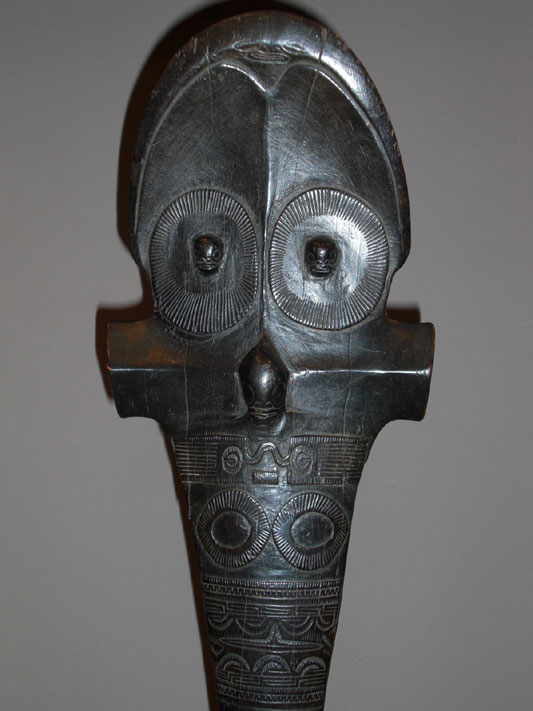 Laurent Dodier with a Marquesas Island 'U'U club.
Other dealers who were also showing 'U'U clubs included Alain Bovis, Galerie Flak, Jean-Yves Coue', Jean-Edouard Carlier and maybe one other person. I've noticed a rhythm to the availability of these iconic clubs. There are spans of time where these are not available and then a burst of them will come out of collections offered by dealers and auction houses, as is to be the case right now. According to Steven Hooper only about 200 clubs of this vintage have survived which means only a fraction of that figure are in circulation! That might be surprising considering they "appear" to be fairly abundant.
David Serra (Barcelona) with a 19th century Makonde drum from Mozambique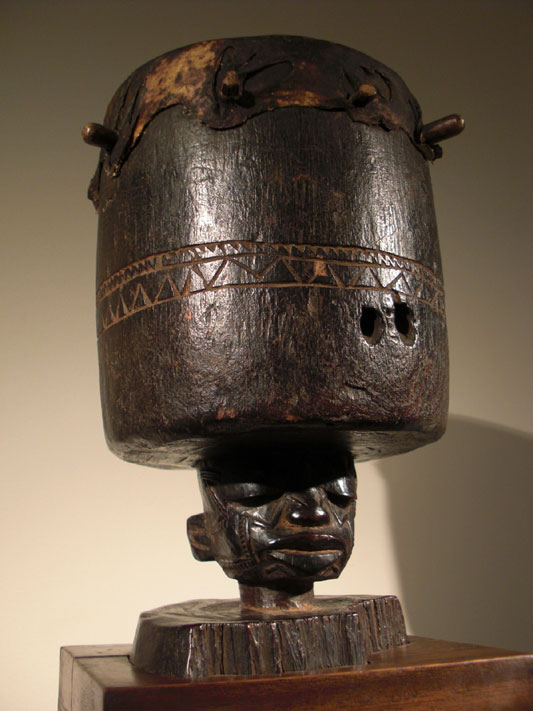 another angle
David Serra with an early Middle Hills Nepalese mask
Jo De Buck with a fine Mangbetu prestige staff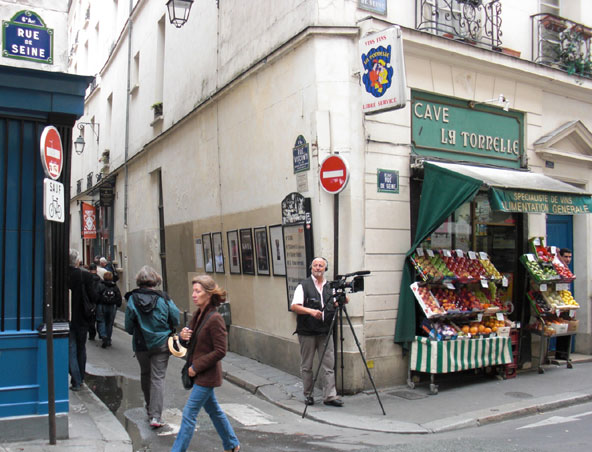 The narrow rue Visconti has a dense concentration of dealers
Patrik Frohlich with a Baga figure. As I recall he said this was collected in the 19th century. He also had a wonderful seated female Ovimbunu figure. I didn't photograph it but it was in the Parcours catalog.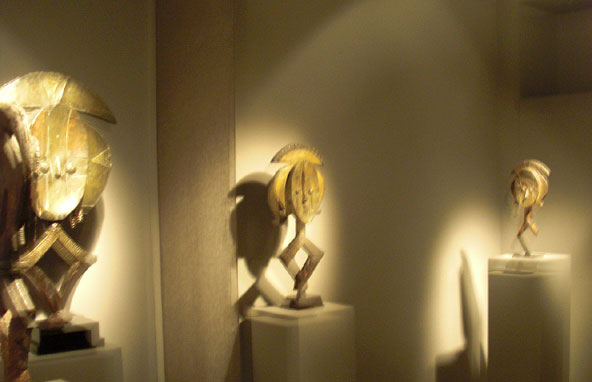 Due to the lighting, my photos of Yann's exhibit were poor. If anyone has good images please email me: sales@tribalmania.com (Julien's note: This address is no longer valid)
Yann Ferrandin continues to WOW us. He produced an exposition of Kota reliquary figures which were all great quality. But what impressed me was how thoroughly he redesigned his gallery to achieve the particular effect he was after for this special exhibit. The setting was museum-like with dim spotlights only on the art. The visitor walked a kind of U shaped labyrinth delineated by hanging floor to ceiling metallic mesh fabric panels used as backdrops. It was very classy and dramatic. Being someone with an eye for design, he did such a great job on the setting he created that the art came close to being overshadowed. The Kotas were terrific but I found myself tuning into the Zen-like "ambiance" (lighting, textures, colors and flower arrangements) more than the art itself. That was my take and I spoke with others who didn't share my view.
The nature of the exhibit greatly limited the number of people who could be in there at anyone time. I had to return several times before the crowds had thinned to a point where I could actually look. All that said, Yann spares no expense in his presentation, even publishing a catalog, and deserves all our admiration. Virtually everyone was talking about his exhibit and it was a highlight for many of those in attendance!
The following 13 photos are from Ana & Antonio Casanovas' exposition titled "Sculptures, Ceremonial Vessels in Primitive Art". This was probably my favorite gallery not only for the art but the presentation as well. Ana and Antonio obviously take the Parcours fair very seriously and to their credit were showing many fresh pieces of noteworthy quality.
This amazing woven rattan effigy vessel was from Borneo.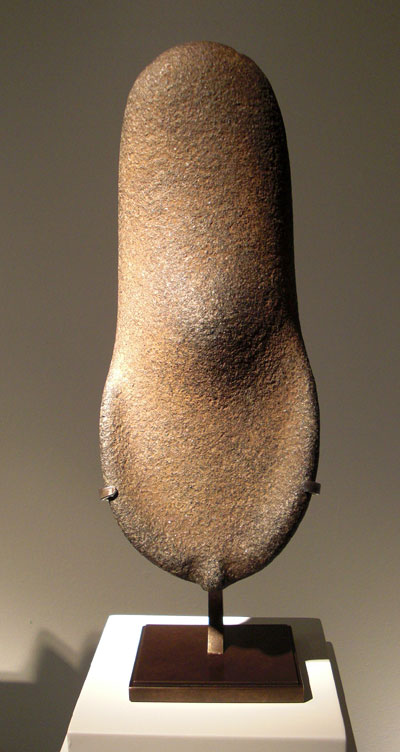 This elegant ancient stone originates from the Sahara Desert. Its use was not well known but one of its functions was likely for grinding grain.
Casanovas
A unique anthropomorphic Kuba lidded power box with feet!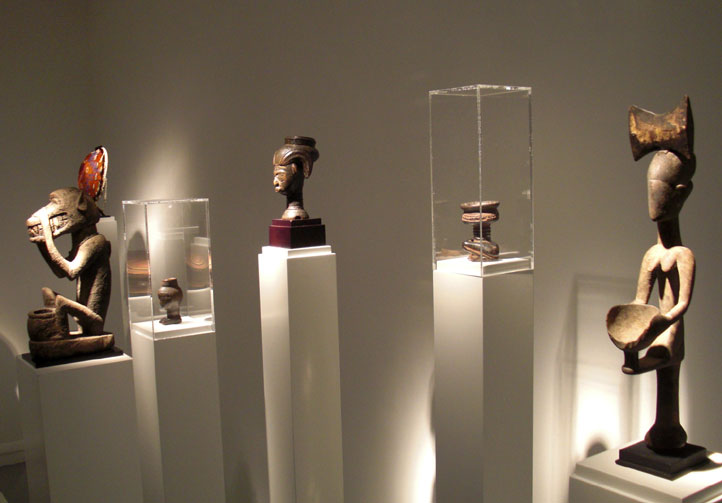 Casanovas
Casanovas: A Northwest Coast grease bowl, probably Haida
Casanovas: A Northwest Coast grease bowl
Casanovas: A Kuba or Dengese cup and a Mangbetu decorated pot
Casanovas: An important early Luba bowl bearer
Casanovas: The Northwest Coast Tlingit bird bowl on the right was also featured in the Parcours catalog
There were a rash of thefts this year and guy below was responsible for at least some of them. I reflected on this… and it occurred to me that Paris and Brussels are virtually the only places where people are passionate enough about Tribal Art that they actually "steal" it! In the states, I know three people with collections of tribal art who have had their homes burglarized. In each case the tribal art is never even touched.
The Parcours staff was exasperated with these incidents and place the responsibility with the dealers for not locking up, fastening down or tying pieces to cinder blocks.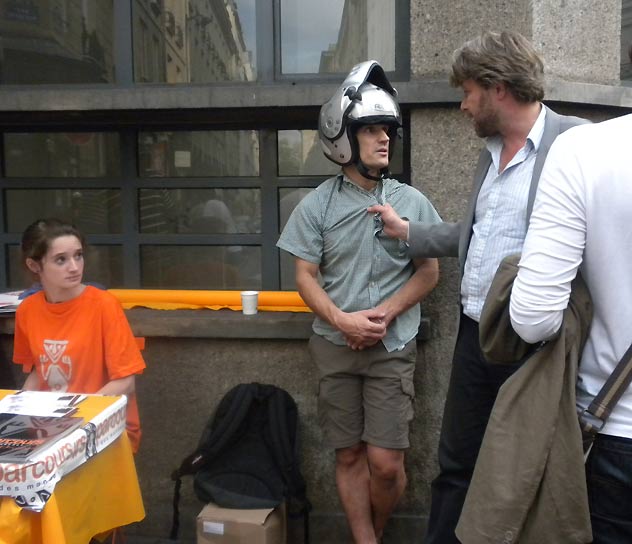 Photo by Lin Willis
Portrait of a thief: Take a good look at this guy with the helmet. Joris Visser (grabbing his shirt) caught him stealing a piece of art red handed in his gallery on rue Guenegaud! Joris quickly locked his gallery and chased him down before he had a chance to escape on his scooter. The incident unfolded in dramatic fashion right in front of the Parcours information table on rue Mazarine and Jacques Callot.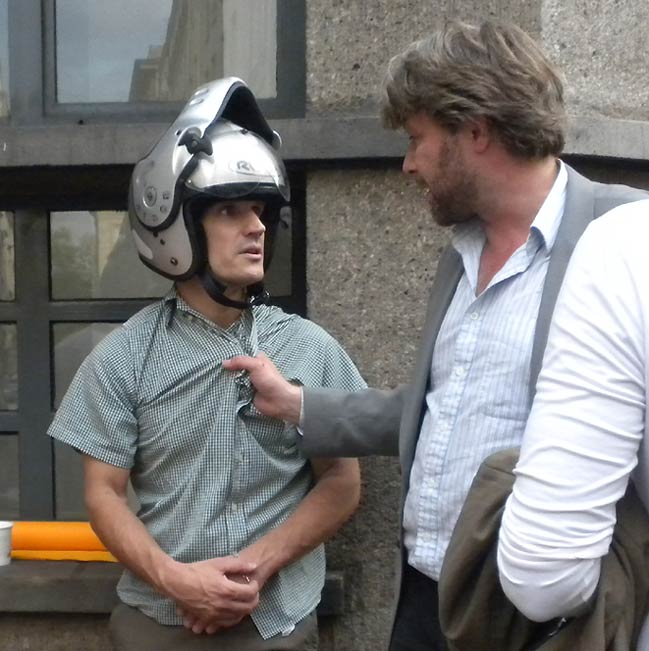 Photo by Lin Willis
The thief pleads with Joris to let me go.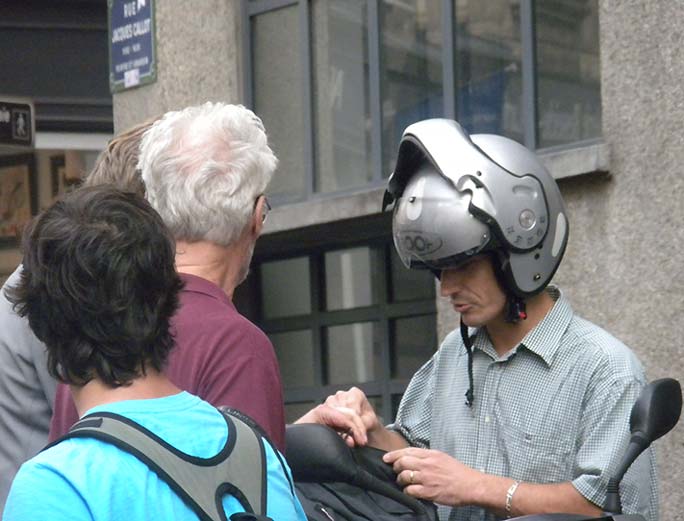 Photo by Lin Willis
As they wait for the police, Joris and Jim Willis have him open his backpack.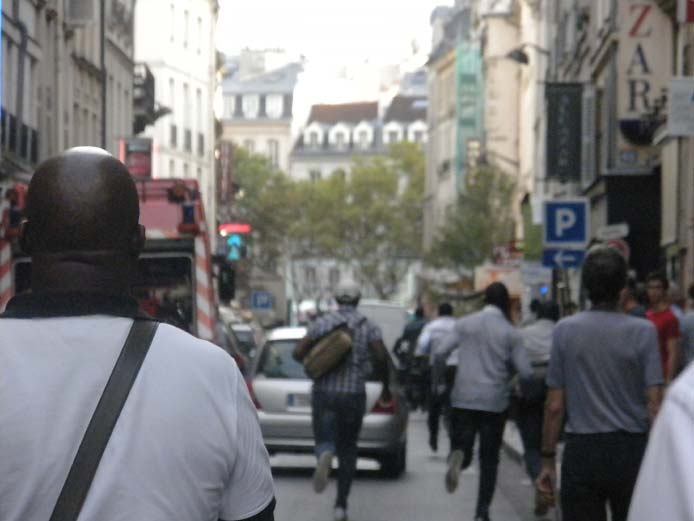 Photo by Lin Willis
Sensing an opening, the thief sprinted down rue Mazarine toward Boulevard St. Germain. A group of African dealers gave chase but apparently didn't catch him. The police arrived 30 minutes later!! There was a "do nothing" security guard there, who Joris says let him get away. In hindsight everyone should have removed their belts and tied him to a post!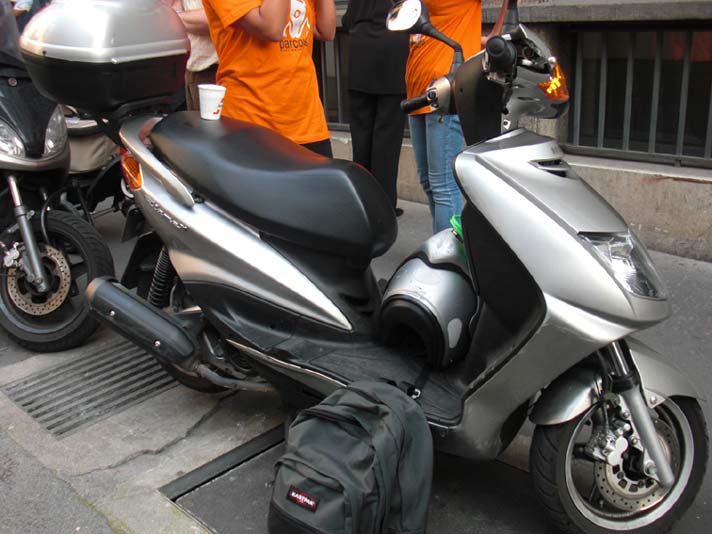 The thief left his scooter behind and was apparently hiding stolen art inside his seat compartment.
Joris explains, "Because the idiot guard let him escape, the police could not go to his house and check if some of the other objects stolen the days before might be there. Officially the police can not enter someone's house uninvited between 9pm and 6am. So we do not know if it was the same guy or gang who was responsible for all of the thefts".
I'm not aware of every theft or what object was stolen but Herma Visser (Joris' mom) had a small piece stolen as I recall at her gallery on rue des Beaux-Arts. Sadly she told me that piece was on consignment. Ouch!
Pamphlets like this were circulated around the fair. This particular Dongon Iron figure was stolen from Raquel Montagut's gallery.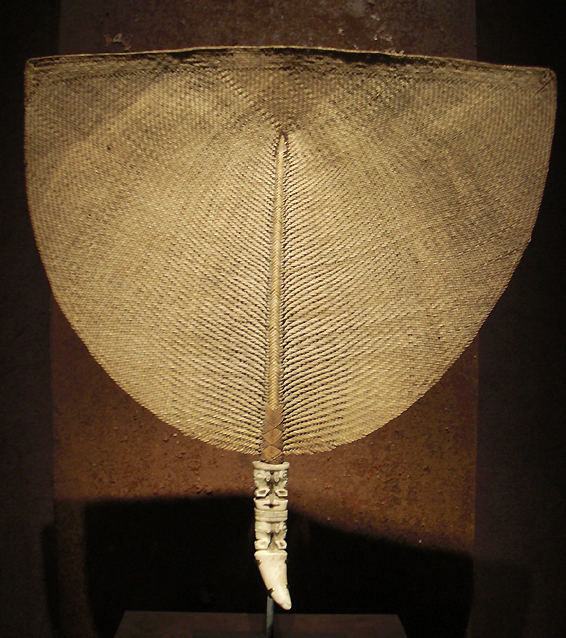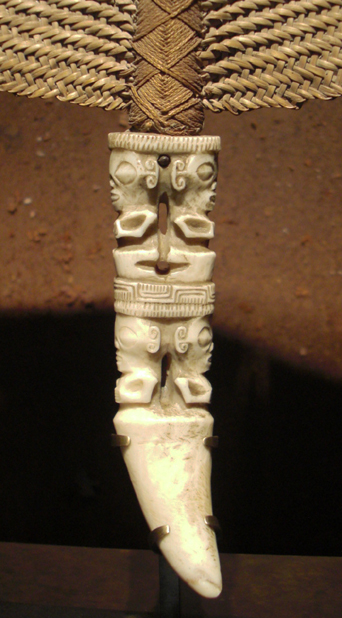 A few highlights from Galerie Flak's Polynesian Exposition. Above, A Marquesas Island fan with Marine Ivory handle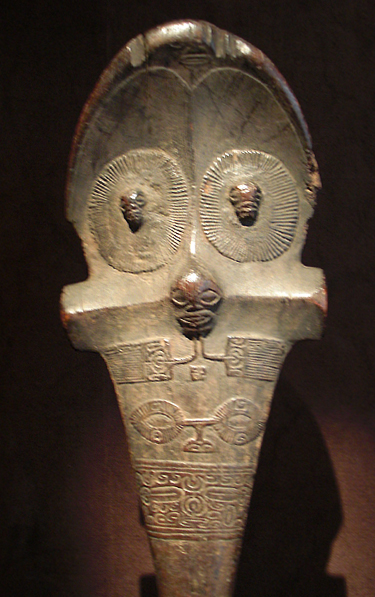 Galerie Flak, with a Marquesas 'U'U club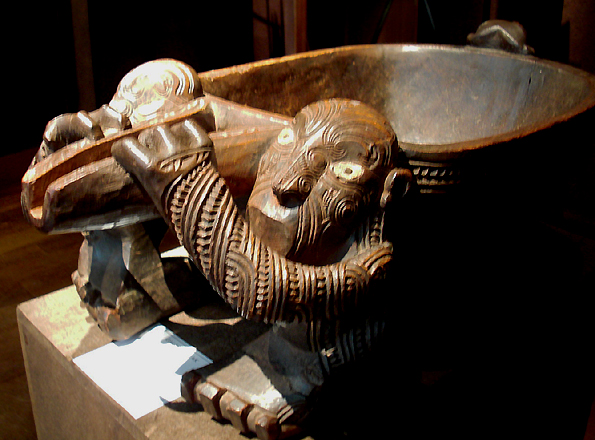 Galerie Flak, with a Maori Bowl I featured in my Bruneaf show review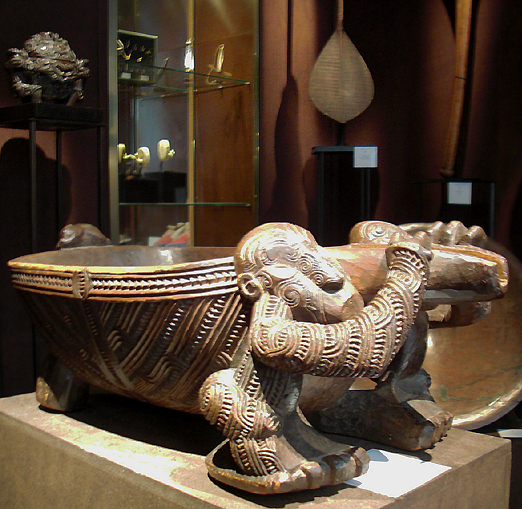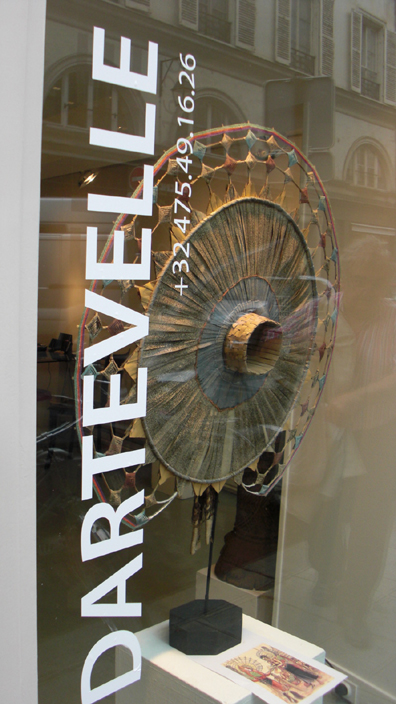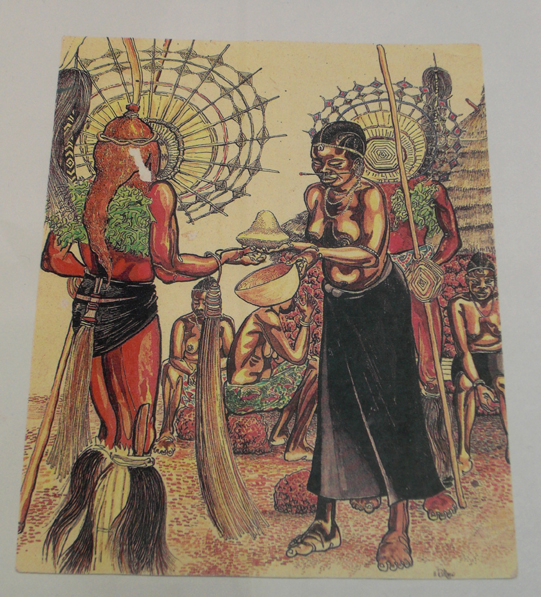 Pierre Dartevelle had this unusual African radial headdress (likely from the Congo)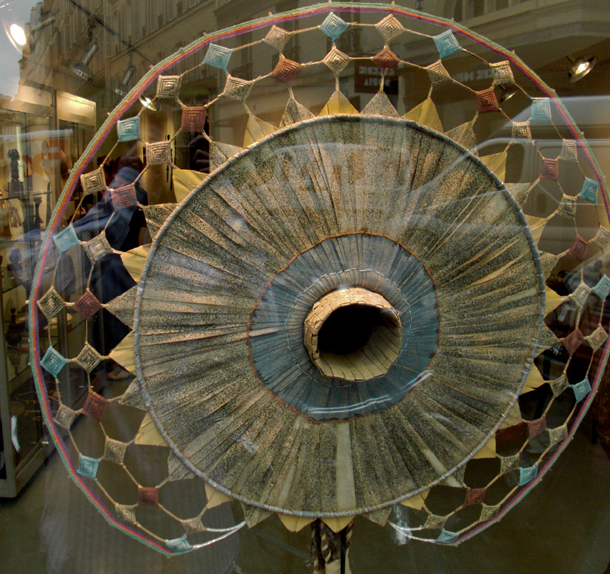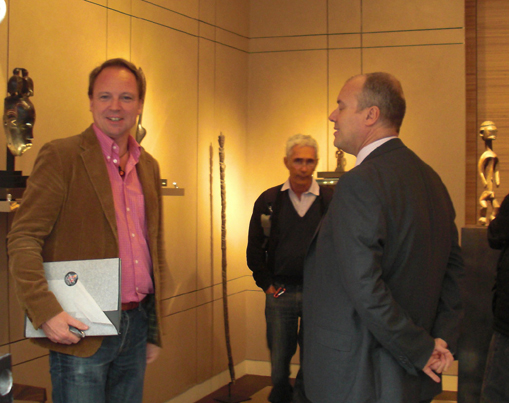 Interior of Jean-Baptist Bacquart's Gallery on rue de Seine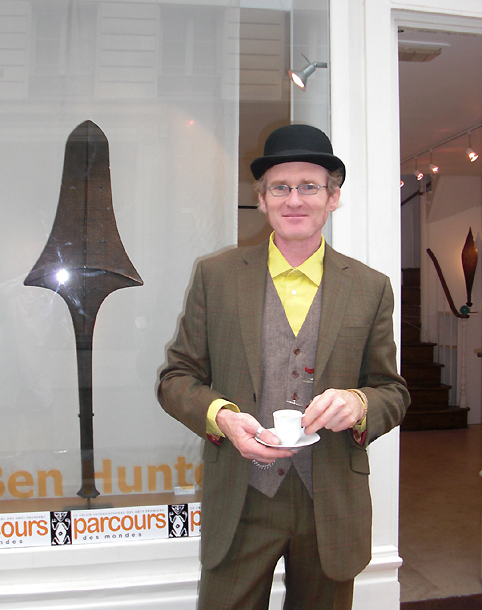 Ben Hunter from London with a great Fijian kinikini club with dog glyphs in his vitrine.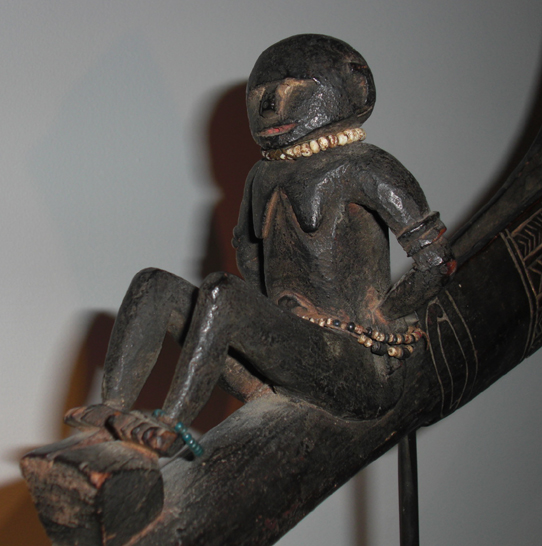 Ben Hunter's "master-carved" early 19th century Solomon Island dance club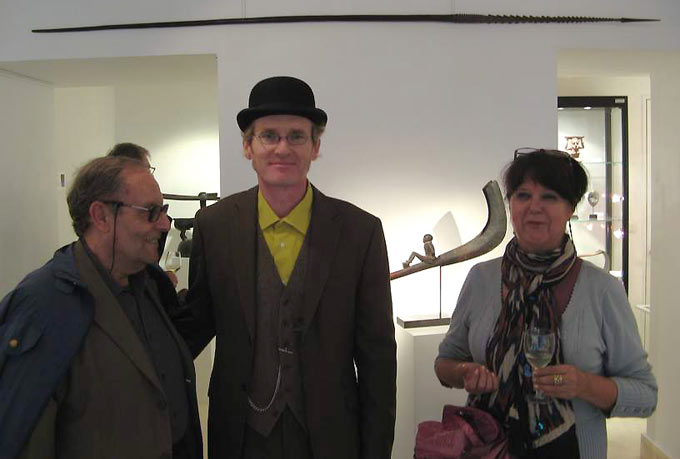 I had the pleasure of meeting these good people for the first time in Paris: Robert and Daniela of L'Esprit Tribal (Italy) at Ben Hunter's Opening night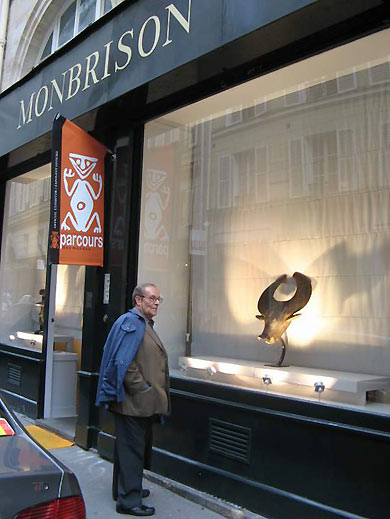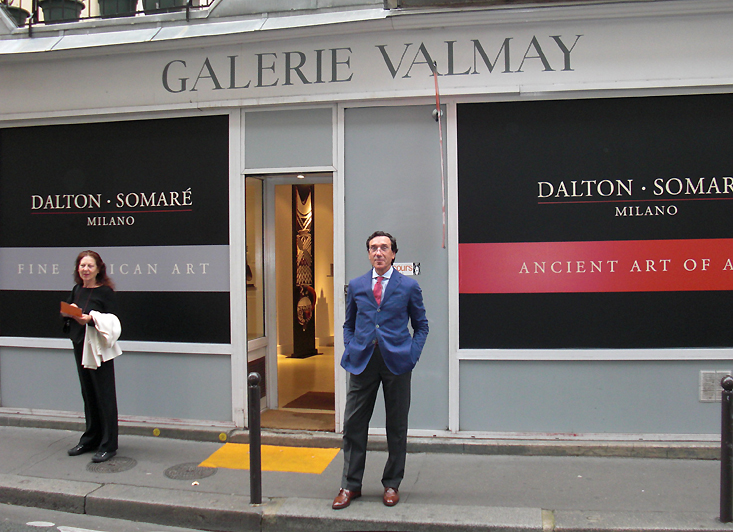 The "maestro" of African and Asian Art, Leonardo Vigorelli and I trade glances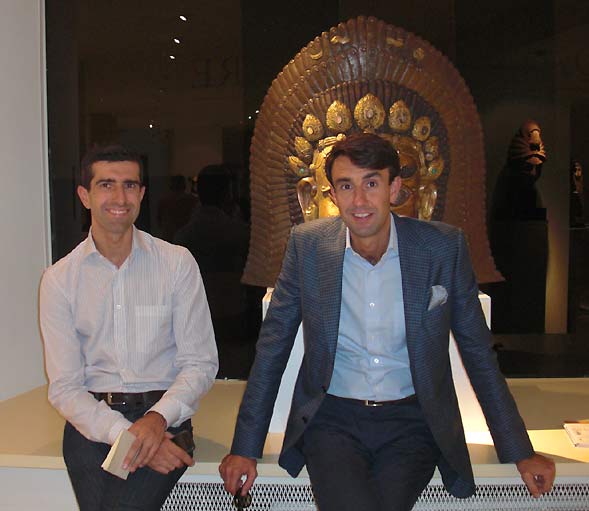 Interior Gallery of Dalton Somare'. The Vigorelli brothers: Tomasto (right) and his brother who I honestly don't know, sitting in front of a gilt Buddha Head.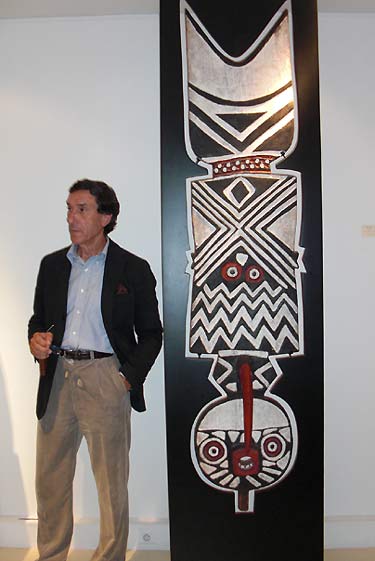 Leonardo Vigorelli next to a large Bwa plank mask from Burkina Faso creatively "nested" in a display panel.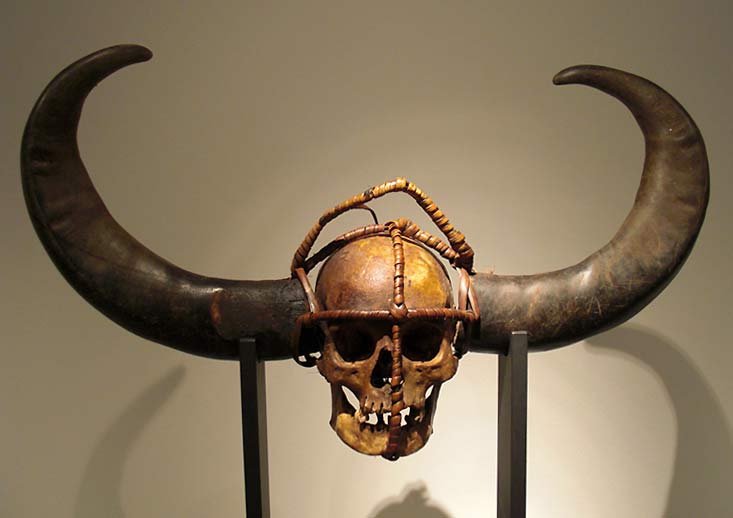 Dalton Somare': WOW, feel the power of this piece! It is a human skull trophy head with attached buffalo horns from the Naga People of Myanmar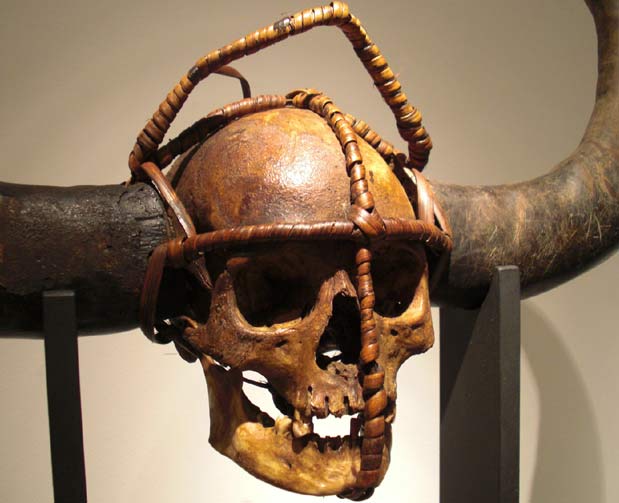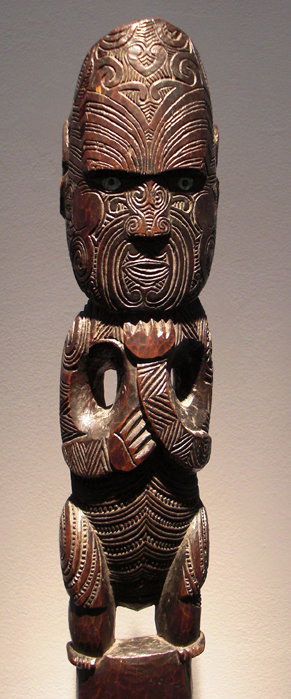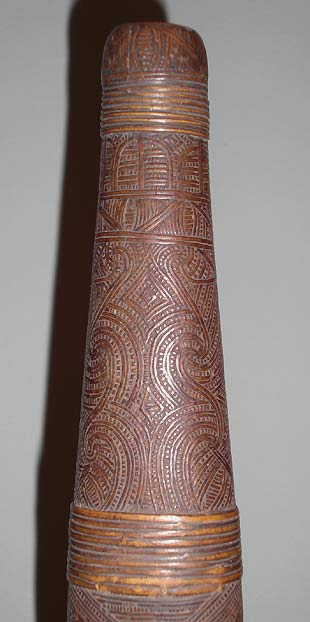 A selection of fine pieces displayed at Nasser & Co.: A Maori figure in the N. Island Style and a finely incised Maori "putorino" flute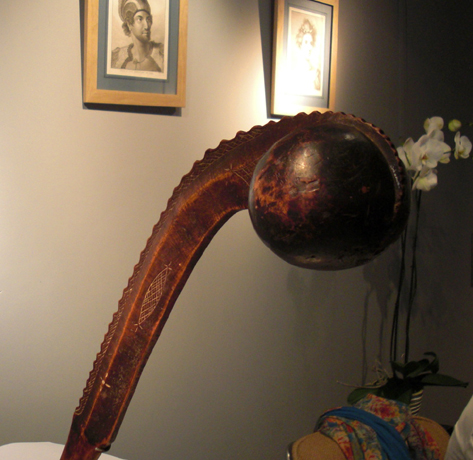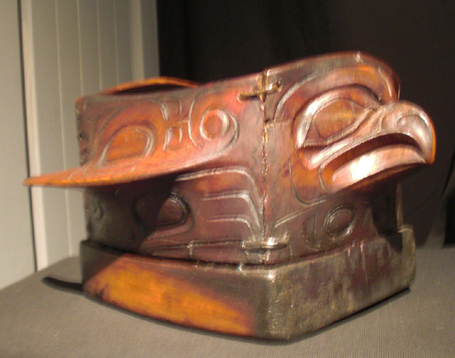 Nasser & Co. with a North American Great Lakes Ballhead war club and a wonderful Northwest Coast Haida/ Tlingit bent corner grease bowl in the form of a raven.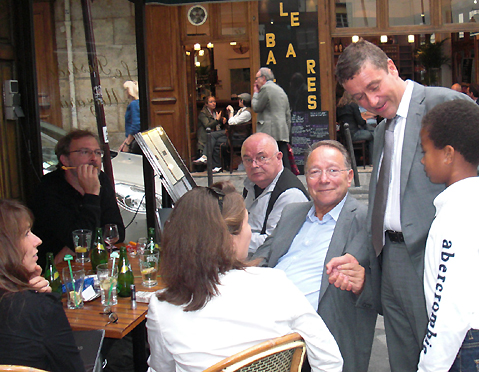 The Parcours des Mondes directors and organizers: Alex Arthur (black shirt), Pierre Moos (seated shaking hands with Bernard Dulon)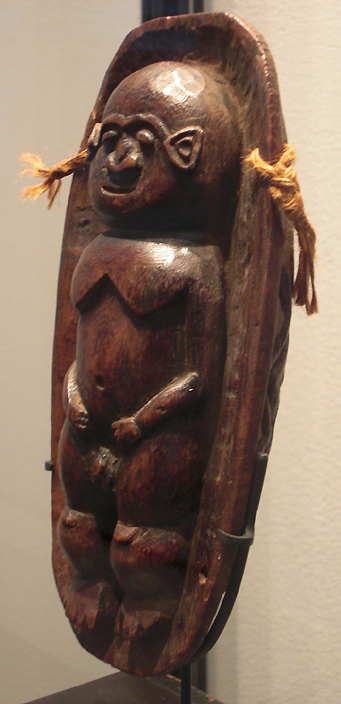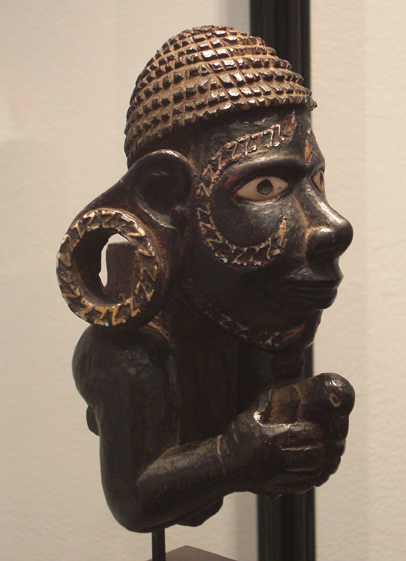 Wayne Heathcote's gallery on rue Jacques Callot. This curious New Caledonian piece only measured about 9 inches and was apparently used as a magic charm or amulet. Seen on the right is a fine Solomon Islands canoe figurehead "nguzunguzu". Wayne lost his passport sometime before his scheduled trip to Paris. He was able to get a replacement but almost missed the fair, arriving in Paris several days late. Luckily all turned out okay and Wayne's brother in law Volker was there to set up the exhibit.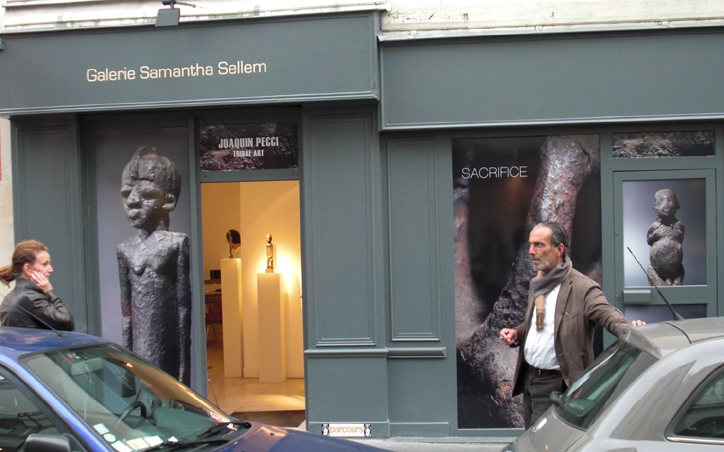 Joaquin Pecci with some dramatic window art. His exposition was: "Sacrifice, Du Sang et du sens" Les Patines Comme Syntaxe Invisible du Monde"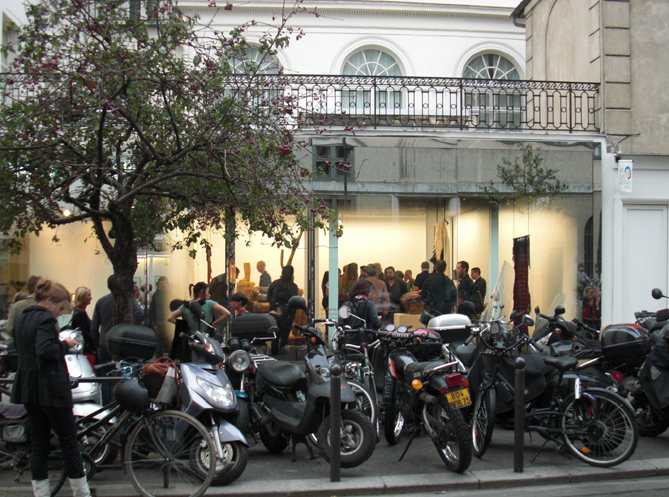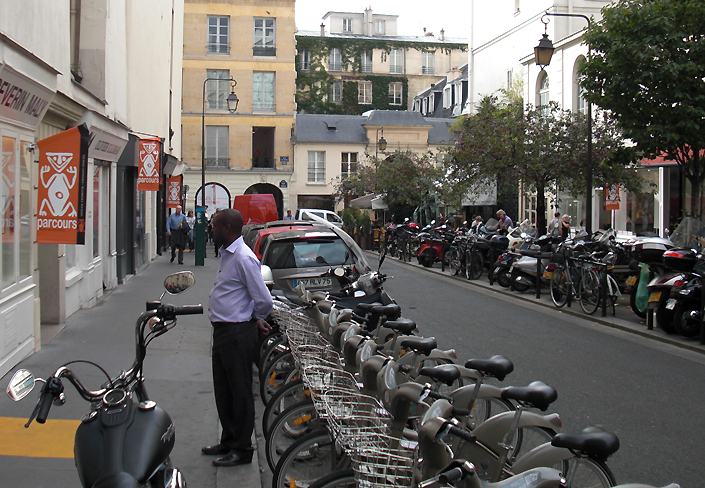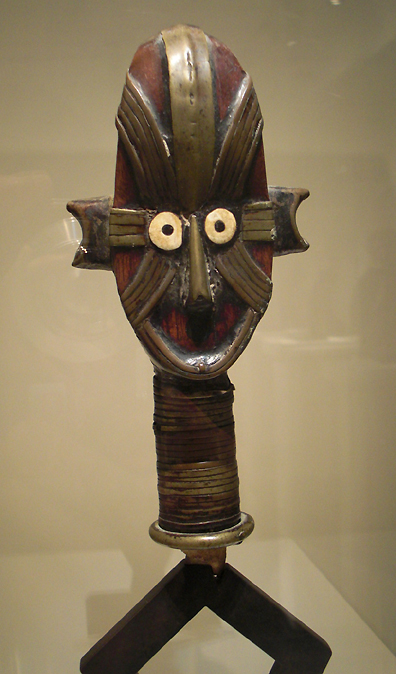 Bernard Dulon also had an exposition of Kota figures titled "Ancetres Kota" and published a 126 page catalog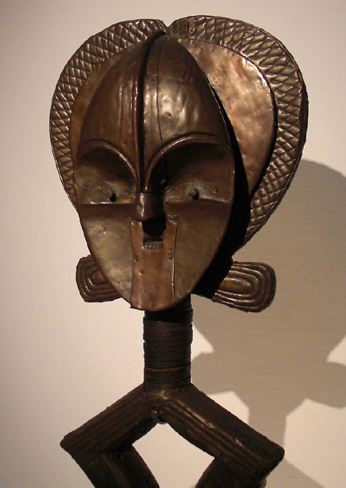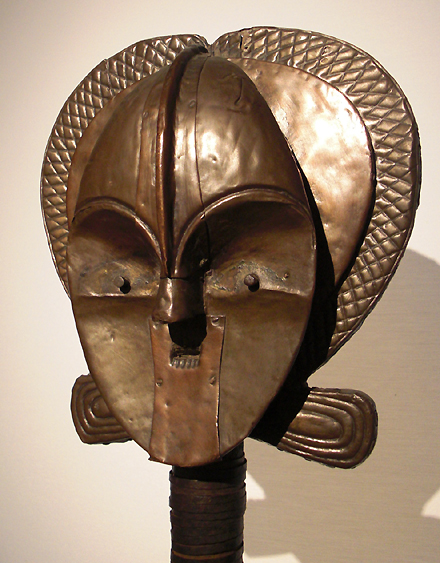 Bernard Dulon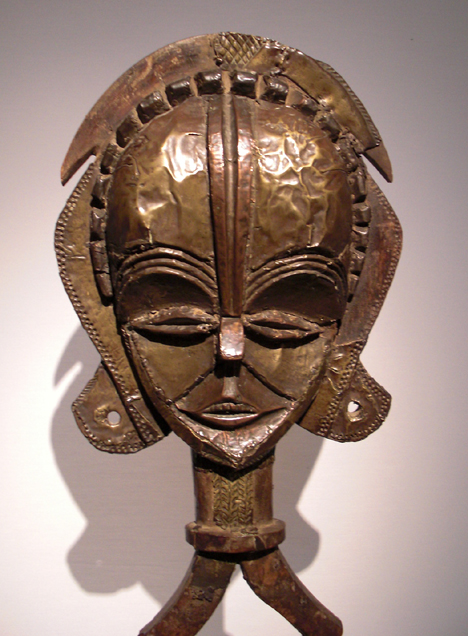 Bernard Dulon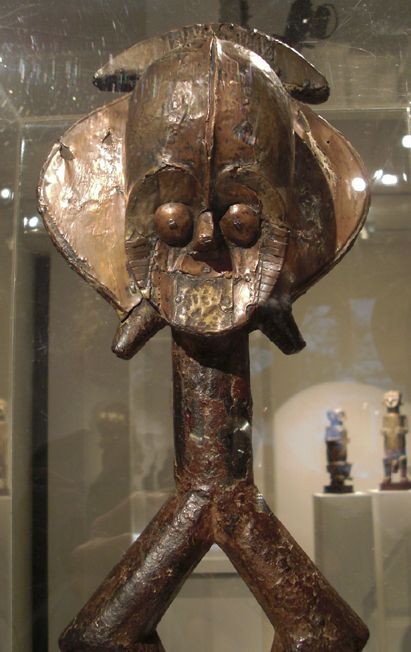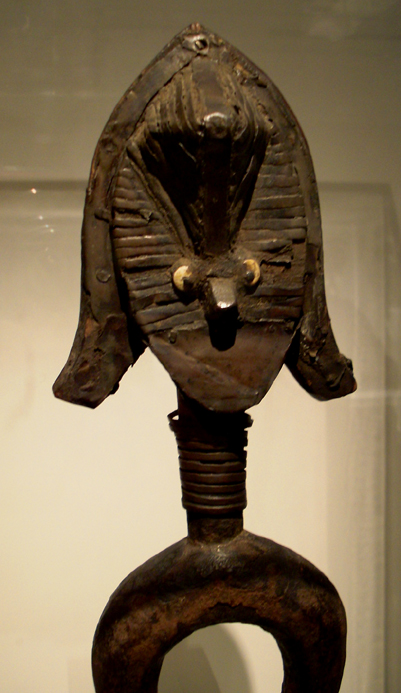 Bernard Dulon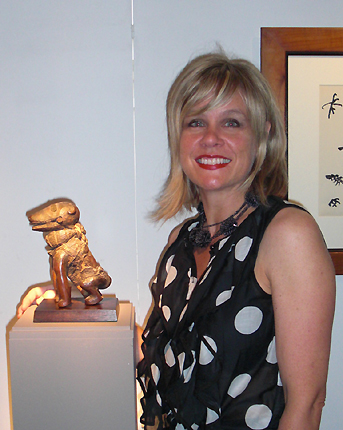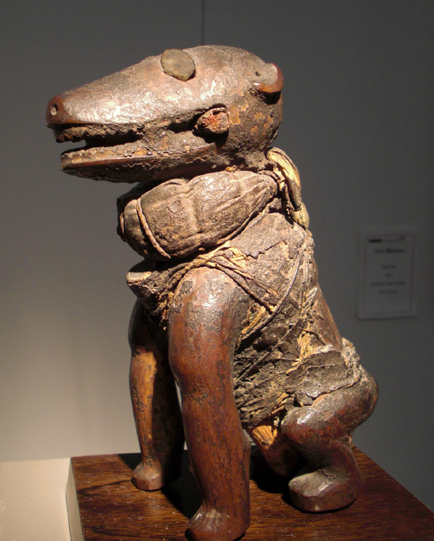 Galerie Jacques Germain. Jacque's wife Natalie next to a wonderful African Kongo Dog fetish. It was also published in the last issue of "Tribal Art".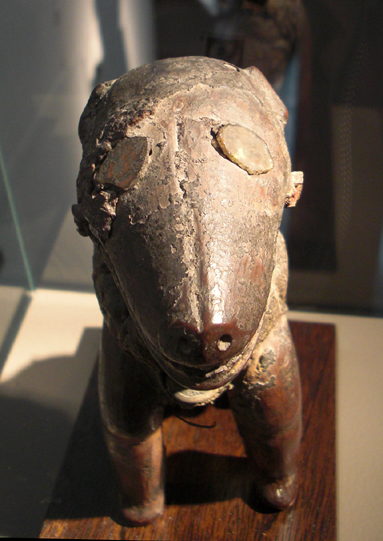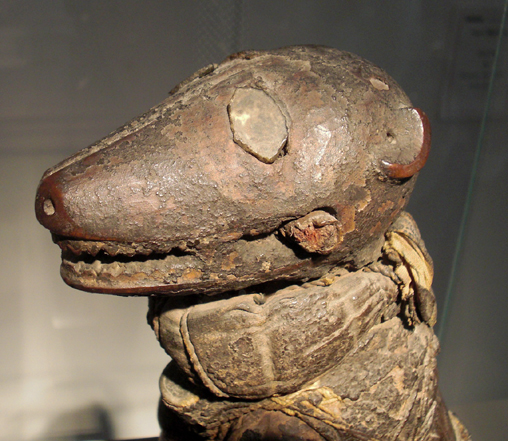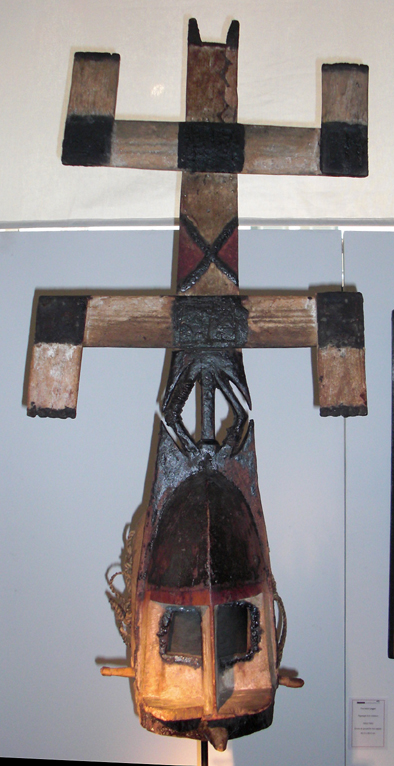 Galerie Jacques Germain with an expressive Dogon "kanaga" mask with outstretched tongue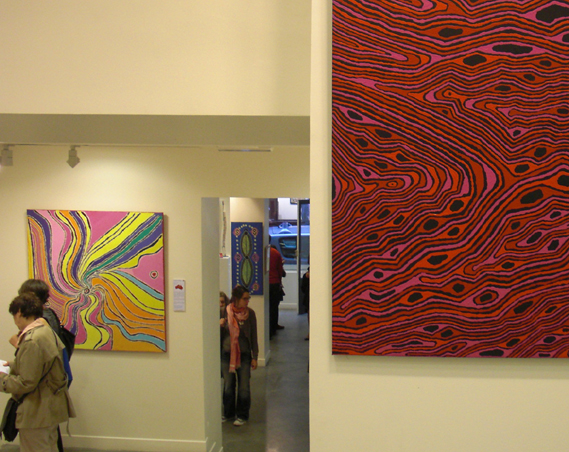 Stephane Jacobs Arts d'Australie on 51 rue de Seine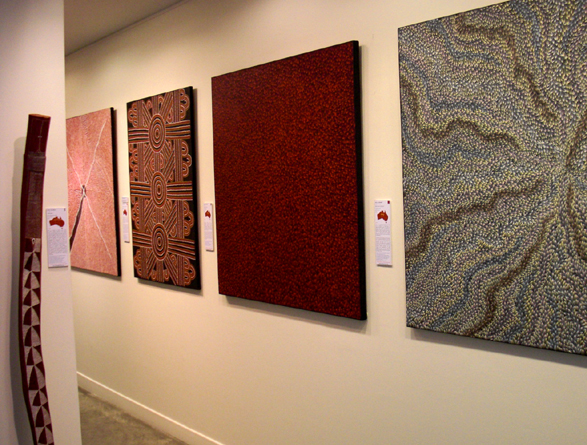 Stephane Jacobs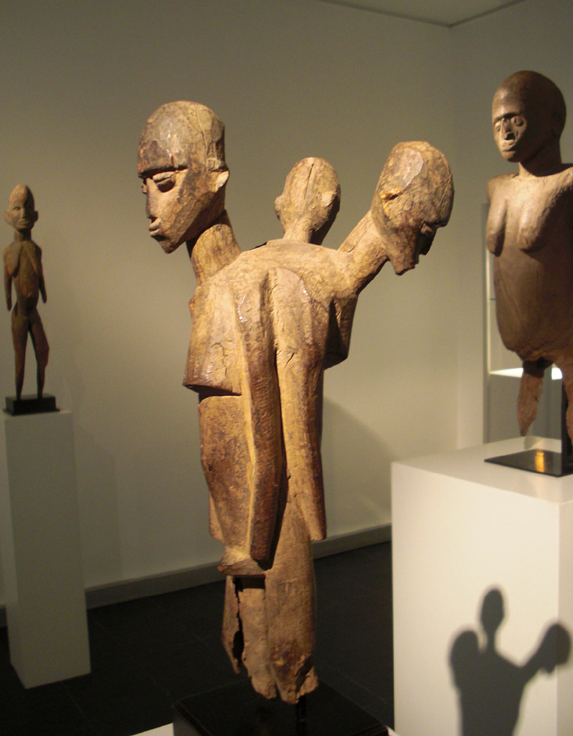 Tribal Art Classics: Adrian Schlag had an exposition of Lobi Sculptures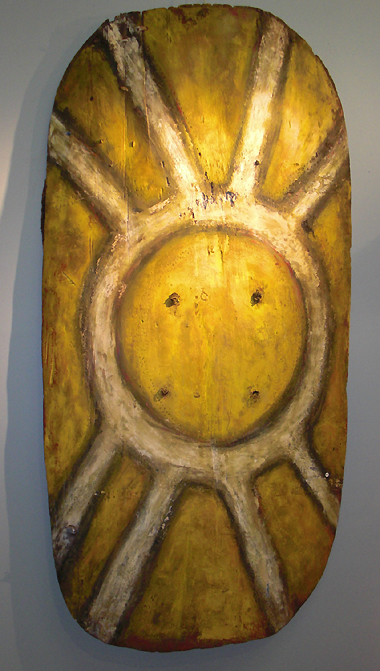 Chris Boylan with a massive boldly painted New Guinea Western Highlands shield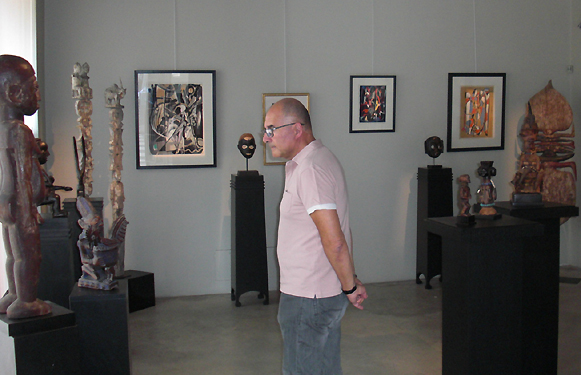 Galerie Ratton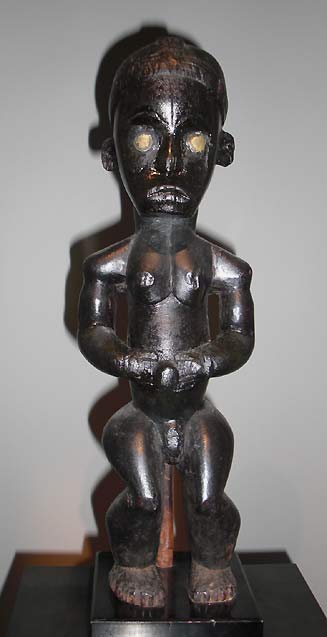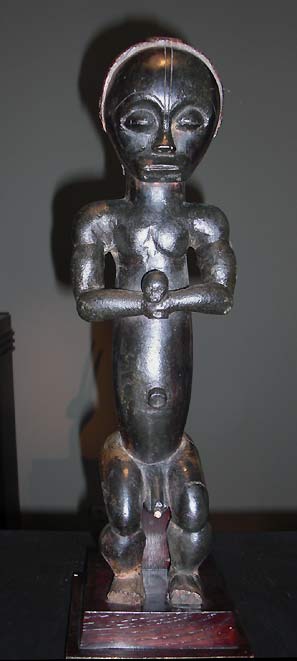 Galerie Ratton with a couple of published Fang byeri figures. Note the one on the right holding a baby head!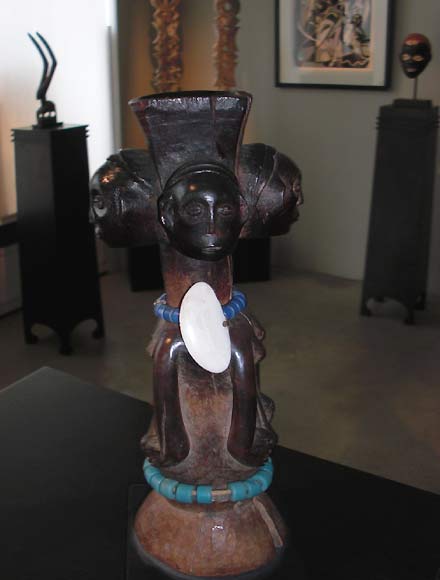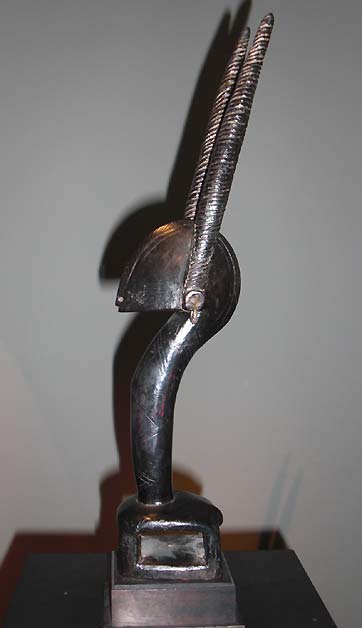 Galerie Ratton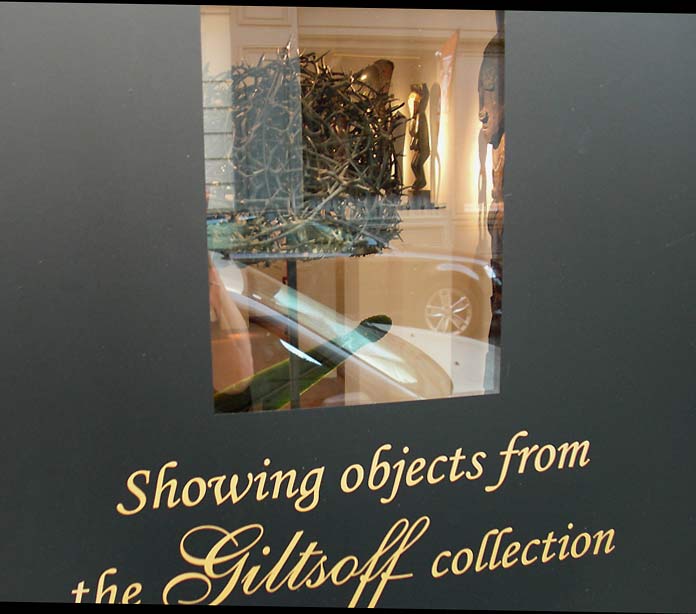 Notice the fascinating Congolese crown of thorns, now owned by Giltsoff, which I featured in the last Bruneaf show review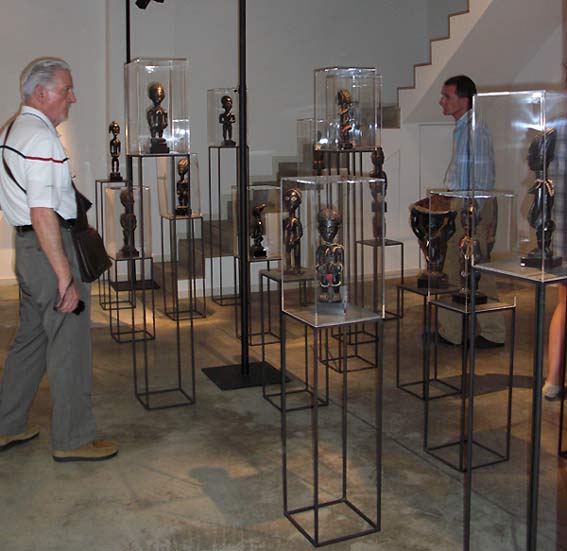 Galerie Afrique, Alain Dufour had an Exposition: "Statuaire de L'est Ivoirien". Note how he is not taking any chances with most of his pieces covered in plexiglass cases.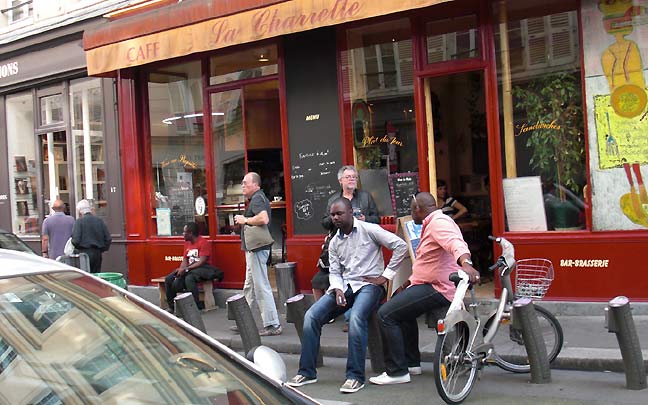 African dealers on rue des Beaux-Arts eager to sell you as much questionable African art as you want from the trunk of their car or hotel room.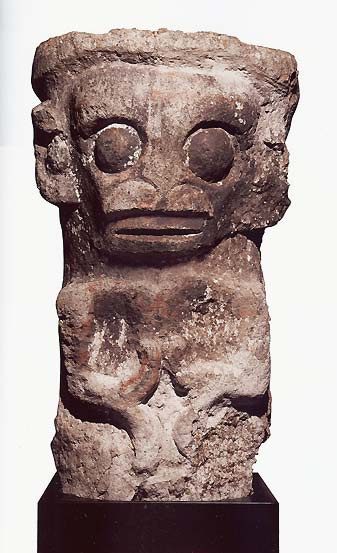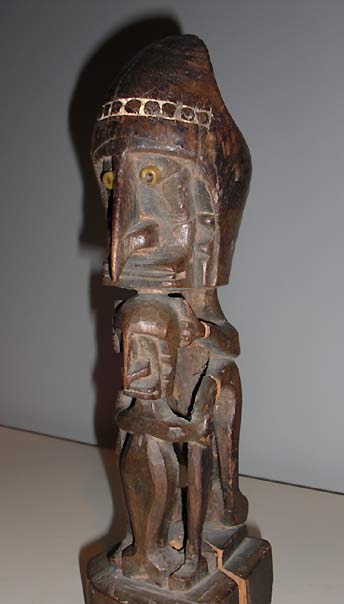 Pascassio Manfredi: Davide told me that the Toba Batak stone ancestor sculpture from Sumatra (left) may date to the 13th-14th centuries. He correctly said that it shows early "Marquesas influence" of the style often seen on the Marquesas bone toggles. (Right) A fine quality Korwar figure– a personal favorite of mine.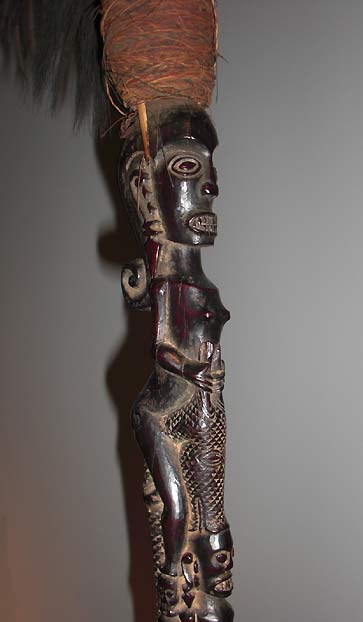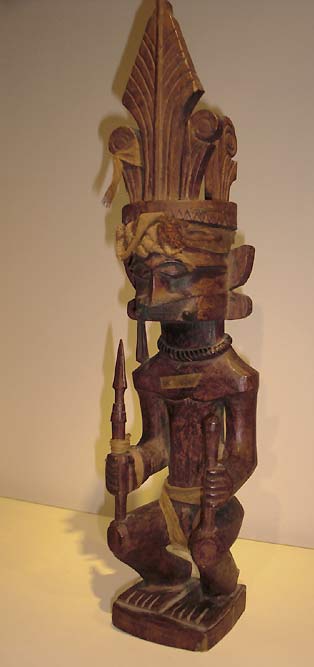 Pascassio Manfredi: (left) a Batak "tunggal" priest's staff with portrait-like face and a Nias ancestor figure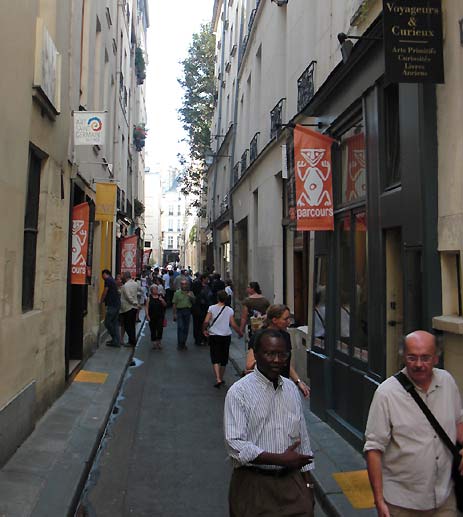 rue Visconti on a busy Saturday afternoon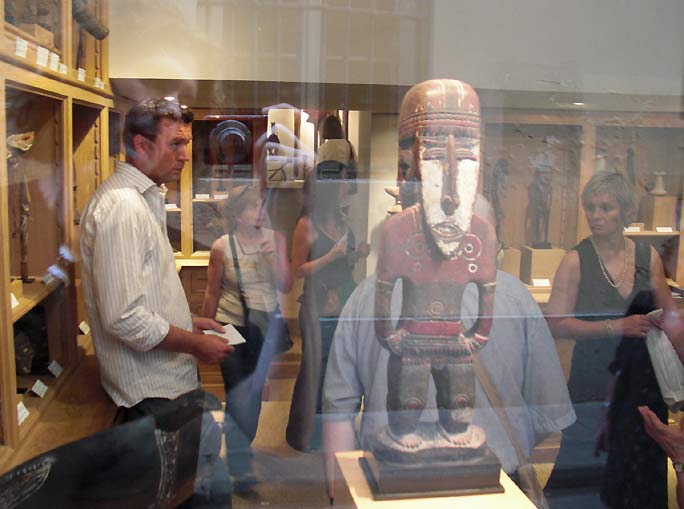 Voyageurs & Curieux, Jean-Edouard Carlier: Keeping a watchful eye on the visitors. A Huon Gulf Tami Island ancestor figure is featured in the window.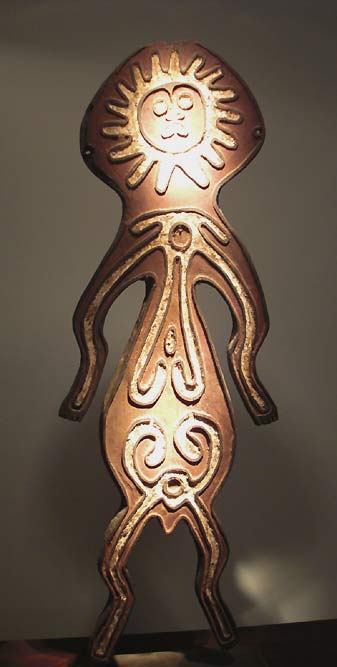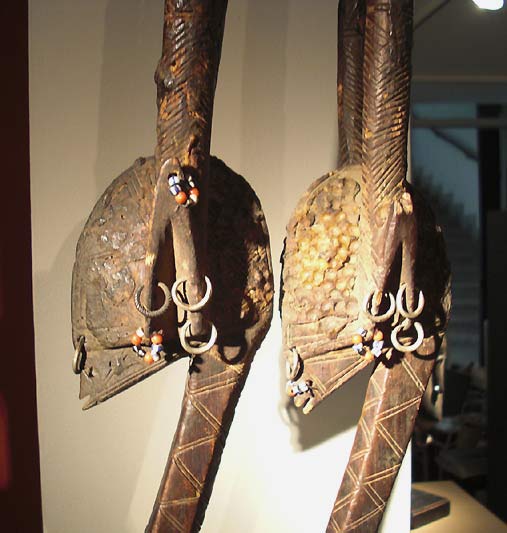 Philippe Laeremans Tribal Art: A New Guinea Papauan Gluf "bioma" figure (left) and a close up view of a double headed ciwara from Mali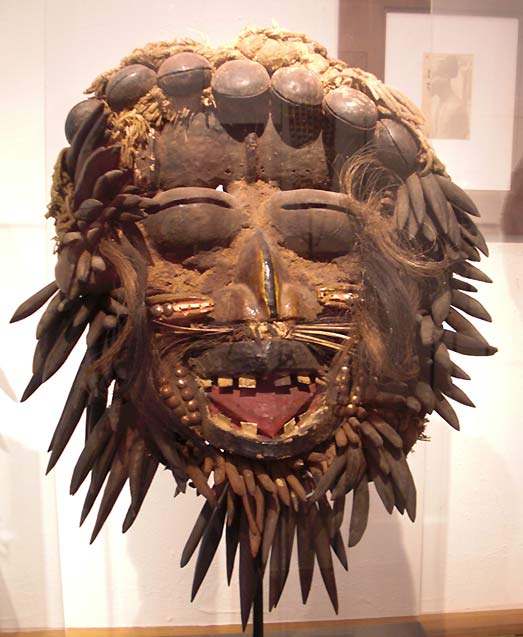 Dan We' mask offered by Alain Lecomte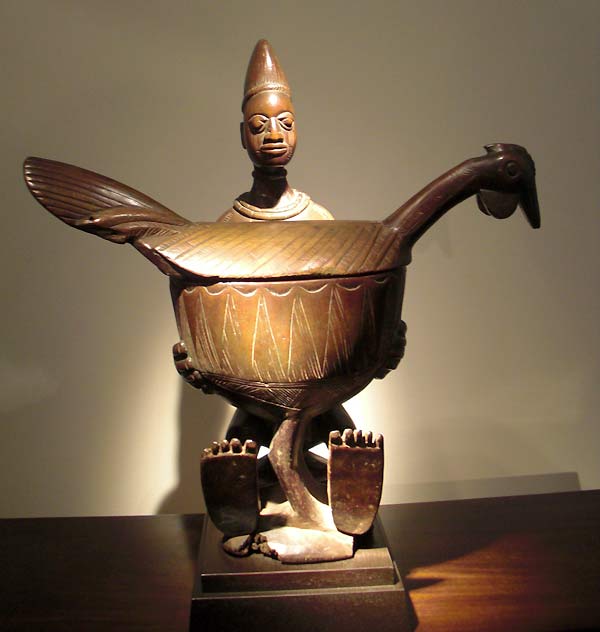 Philippe Laeremans with a handsome Yoruba offering bowl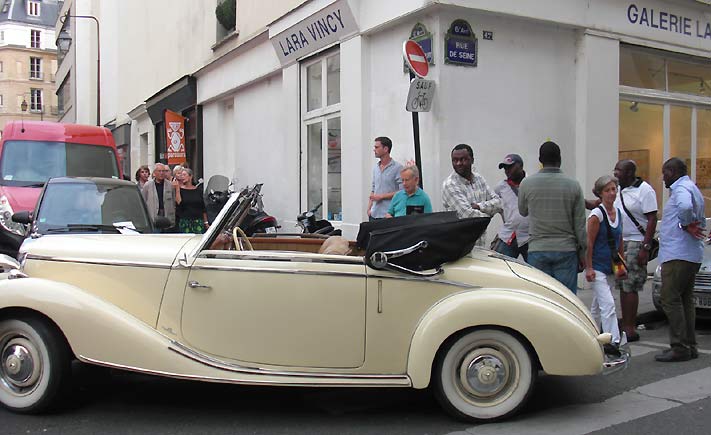 This vintage convertible Mercedes across from La Palette drew a lot of attention
(Text and photos by Michael Auliso)