Written by Michael Auliso and republished here with his permission.
What a difference a year can make! It was difficult to muster the enthusiasm to write this years show review. Stating the obvious, there were not enough buyers to support 106 dealers when the market was healthy let alone when the market is soft. One can image what happened to sales in this poor market climate. If you're a fruit vendor it is not a wise idea to try and sell fruit where crowds of other people are selling fruit too. If you're smart you go to the corner where you're the only vendor. As expected the quality of the art remained very high and consistent with previous years.
The dealer turnover for this show was significant. Generally dealers covet their spaces at this venue, yet some noteworthy dealers, mostly Europeans, didn't exhibit. These spaces were filled by dealers on the show waiting listing. Absent this year were Antonio Casanovas, Galerie Flak, John Giltsoff, Alain Lecomte, Adrian Schlag, etc. There was very little of the usual dealer-to-dealer pre-buying that has so naturally occurred in the past. It may be that the promoters will have a very challenging time getting dealers to commit to the New York Tribal show this May.
There were herds of people and the aisles were often crowded. On several occasions my booth was so crowded you couldn't even see the art. However, few attendees had the courage or confidence to buy. Most likely they just wanted a day out & an "art experience" to inspire them or cheer them up. A few customers were indeed buying and I want to sincerely thank them for their support and courage in the face of a "tsumani" of negative economic news. In previous show reviews I've beat the drum about how new visitors must come and experience this event. It was gratifying to see a number of Australian and European tribal art enthusiasts who came for the first time! Thank you to all our Internet friends!
It was not all bad news. A handful of dealers who have loyal customers, did manage to have a successful show. Leonardo Vigorelli, Charles Hourde, Yann Ferrandin, Bruce Frank, Kirby, Wayne Heathcote, and Mike Hamson, to name a few. However, a vast number of dealers told me they sold only one or two low end pieces, not making their costs, and some had a bust show altogether, not selling a single piece! But it is a little difficult to get brutally honest feedback in a slow market. A dealer who had a good show might not want to admit it to their less fortunate colleagues. Conversely if a dealer had horrible show, they might try to keep a "stiff upper lip."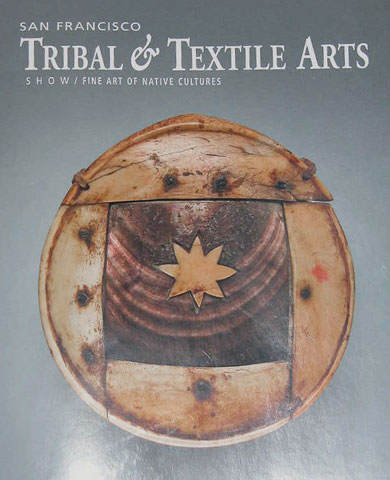 Catalog cover: Fijian breast plate from Kevin Conru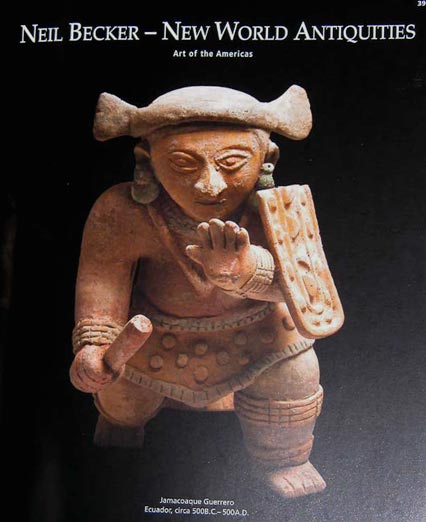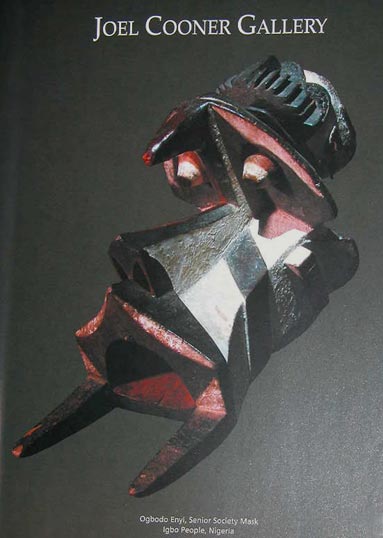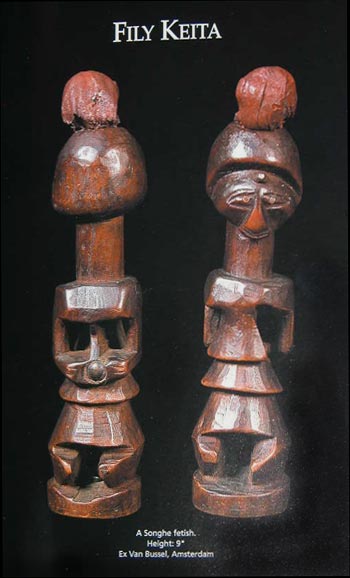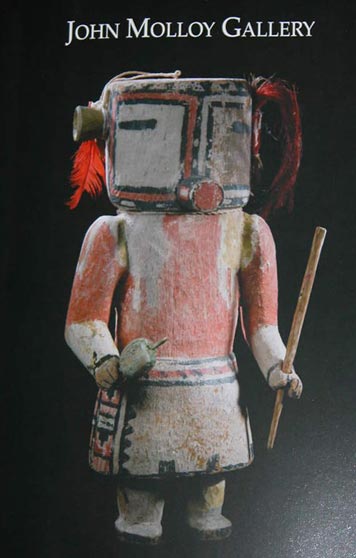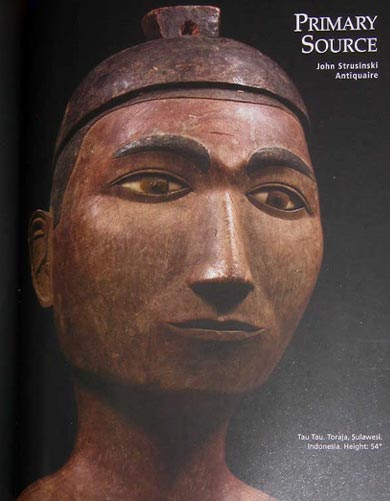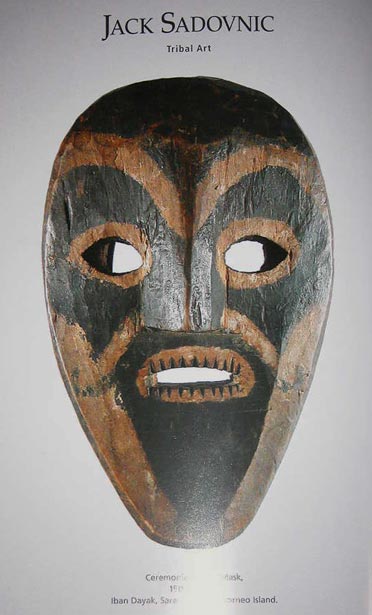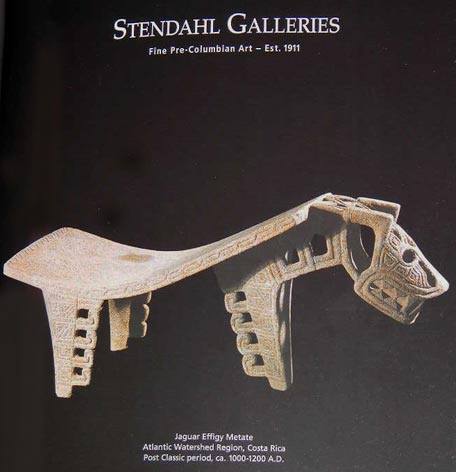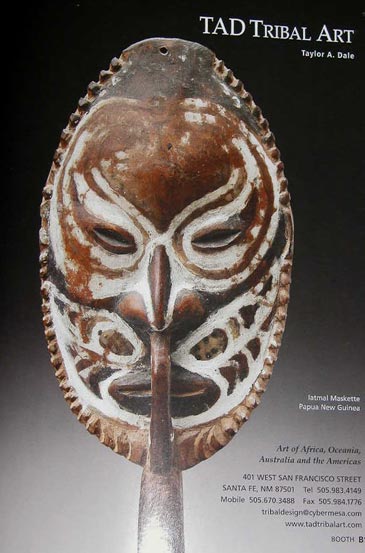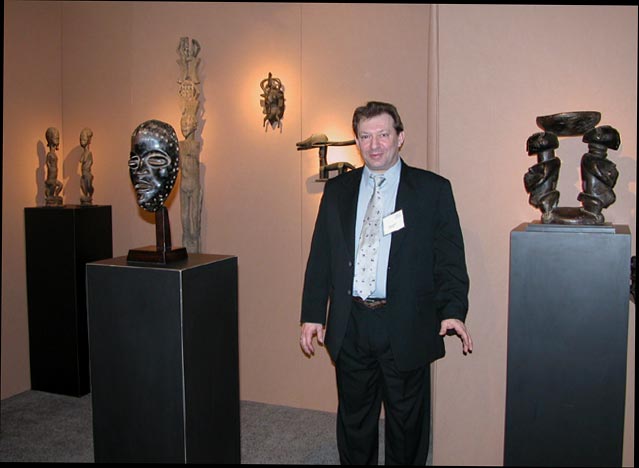 Serge Schoffel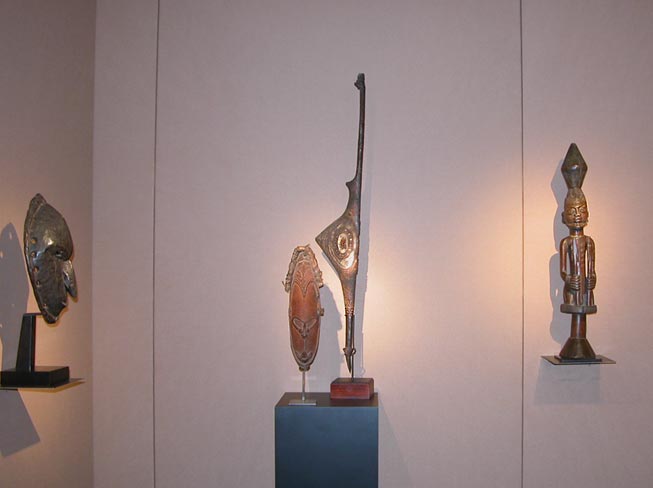 (Serge Schoffel) An early and compelling New Guinea Sepik spear thrower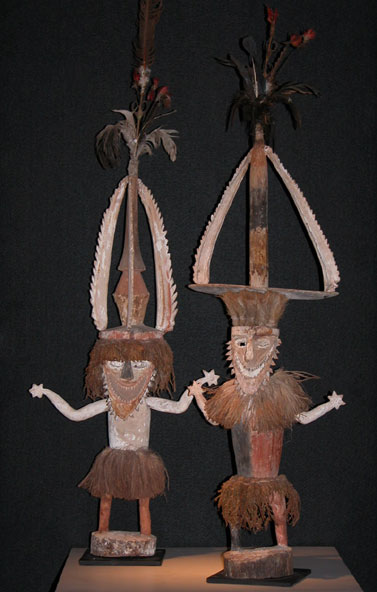 (Joris Visser) Pair of New Britain Tolai figures. Joris' strategy is simply to bring extremely rare and unique pieces, guaranteeing his success. Works every time!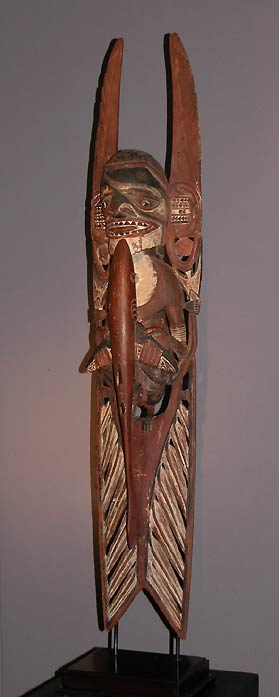 (Joris Visser) An important New Ireland Malagan carving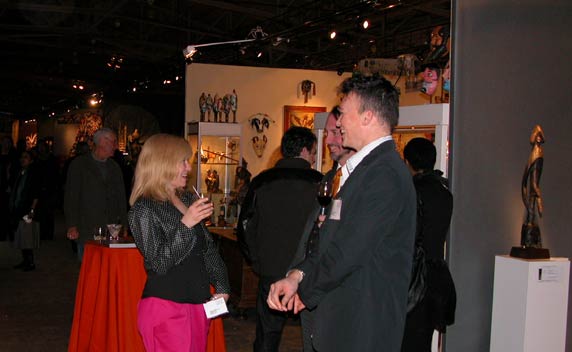 Opening Night: Jasmine Dahl, Jonathan Fogel, Owen Hargreaves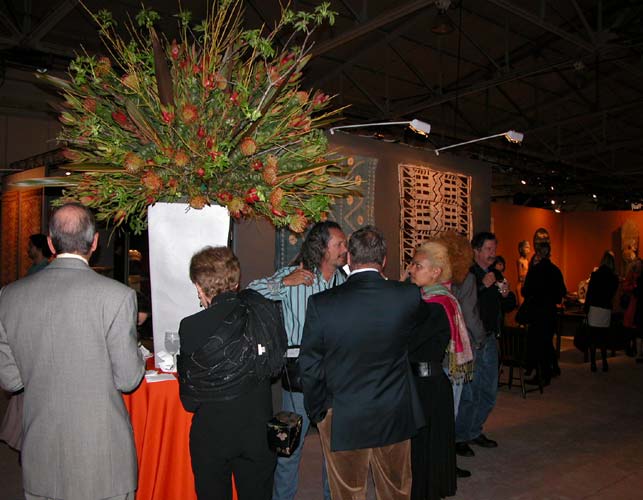 Opening Night: Artist Jose' Bedia (striped shirt) whose paintings and drawings were featured in the foyer of Festival Pavilion. Jose is a passionate tribal art collector.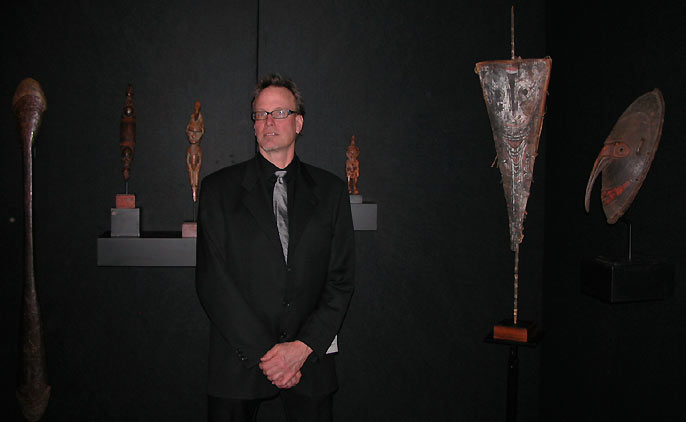 A stylish Kirby Lewis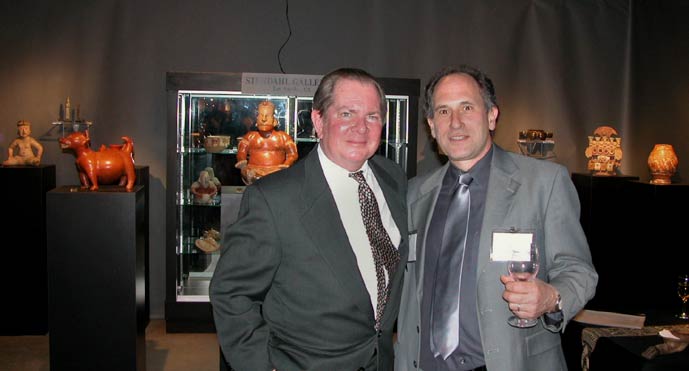 Stendahl Galleries: Ron Dammann (left) with Joshua Dimondstein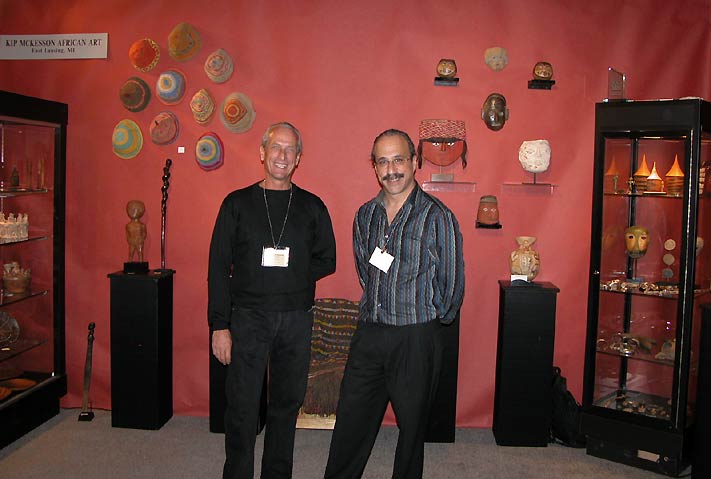 Kip Mckesson (left) and Neil Becker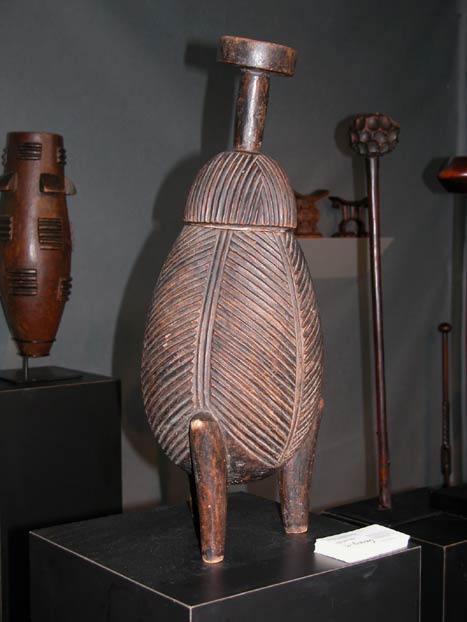 Jacaranda, Daniell Rootenberg: A superb anthropomorphic Zulu Milk container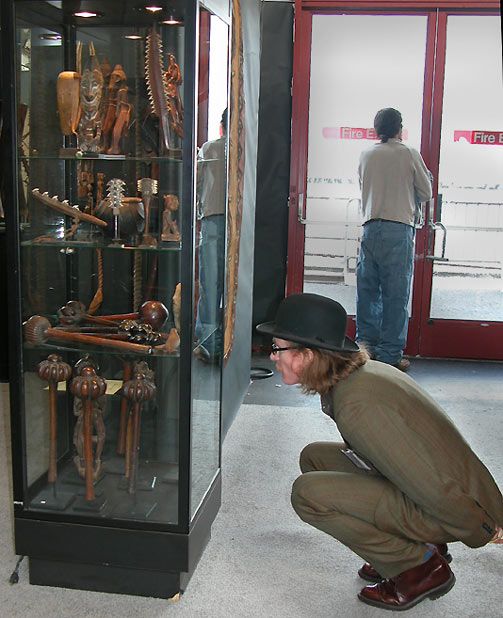 Ben Hunter scrutinizing the art (maybe he needs stronger glasses?)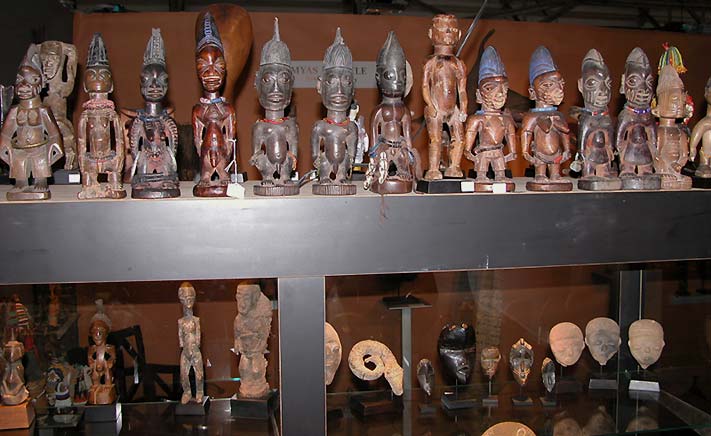 Amyas Naegele with a formidable army of Ibeji figures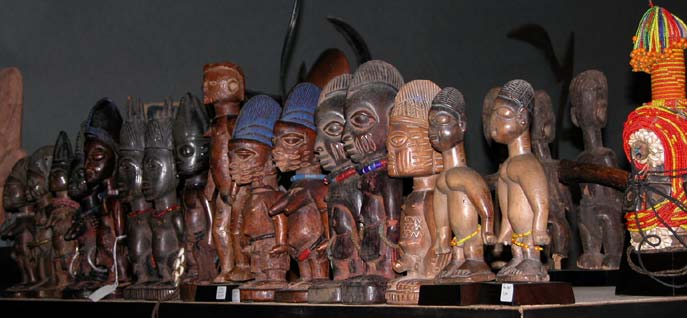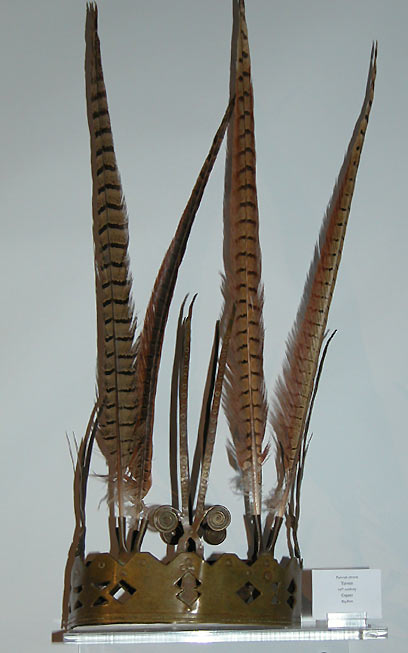 Joe Loux with a rare Paiwan brass and feather Crown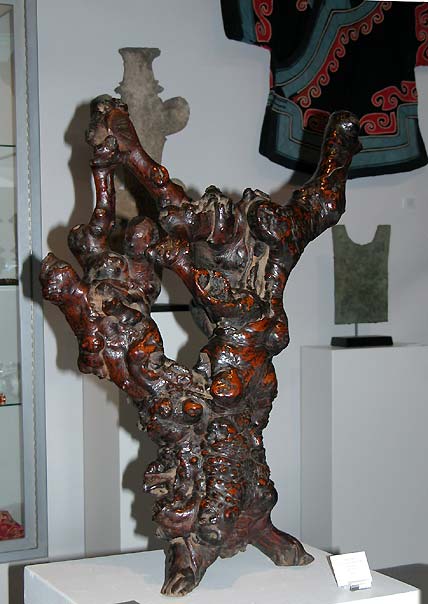 Joe Loux, 19th c. or earlier Northern Chinese Burl Scholar's Object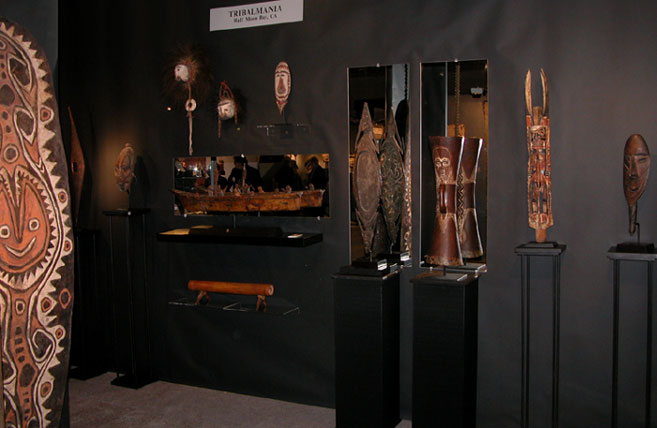 Tribalmania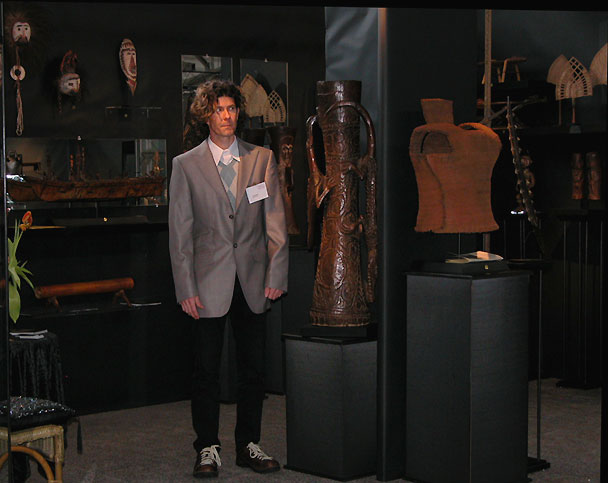 Waited so long for a sale, my hair grew out & I got stiff
In general, the show is more beneficial to the customers than the dealers since there is so much under one roof and comparisons on quality and price can be easily made. It was rumored that the dealers who sold the best were not even in the show. They decided to exhibited privately in their homes and galleries, like Dave DeRoche and David Rosenthal. This year Bob Dowling, Peter Boyd and Michael Rhodes choose not to do the show but instead offered an enjoyable exhibit of mostly African material in Bob's House. It was well organized and they all sold well. This goes back to my fruit vendor analogy… You've got to wonder!
Most every year I mention how problematic and political the "vetting" of art is at the show. Its repetitive and this year was no exception. Participating Dealers should NOT be vetting other participating dealer's material. It is a Glaring conflict of Interest. Fear of being barred from the show keeps most dealers silent even though a majority feel it is not a fair practice. One dealer reportedly walked into a booth during the vetting process and without even picking up the object pointed to it and exclaimed "THAT'S OUT!". He was later embarrassed to discovered, that it was a piece he had previously sold!!!!
Petty Haggling: I spoke with many collectors and dealers who were at the show before writing this review. Some dealers were experiencing unprecedented petty haggling from buyers, who after showing considerable interest during the show, would finally offer HALF of the asking price!! This unsavory tactic rankled a lot of us especially when we had already made our prices as reasonable as possible. It seemed as if buyers had a "foreclosure" mentality. Art is generally bought with discretionary income, is not leveraged and auction prices remain strong. So just as we're being fair on price, customers need to be fair as well to help maintain good relations going forward in this evolving market reality.
Having said that I would like to add that out of hardship golden opportunities are born. For those who have the means, confidence and foresight to buy, it couldn't be a better time. Great art, especially with solid provenance, will always be in demand. Owning such a piece can bring you immeasurable joy, will never be worth zero and you need not lose sleep worrying about down ticks. Over time the economy will improve and this window of opportunity won't remain open long.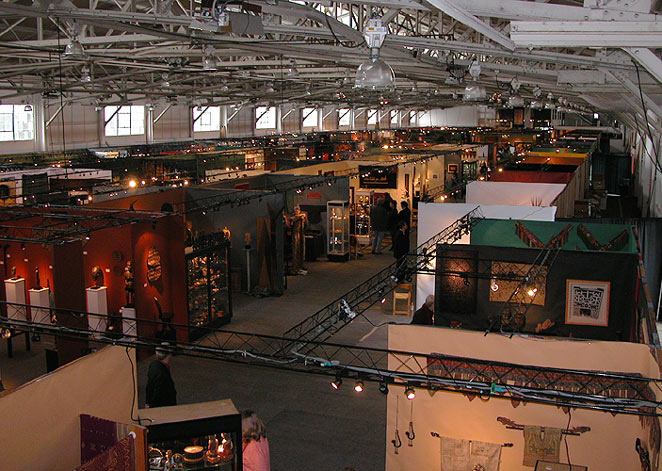 Festival Pavilion, overhead view of the 50,000 square feet of dealer exhibits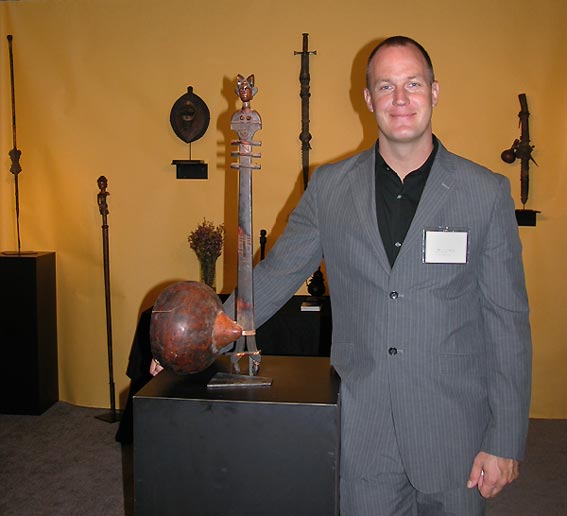 James Stephenson next to a lovely Zaramo Zither from Tanzania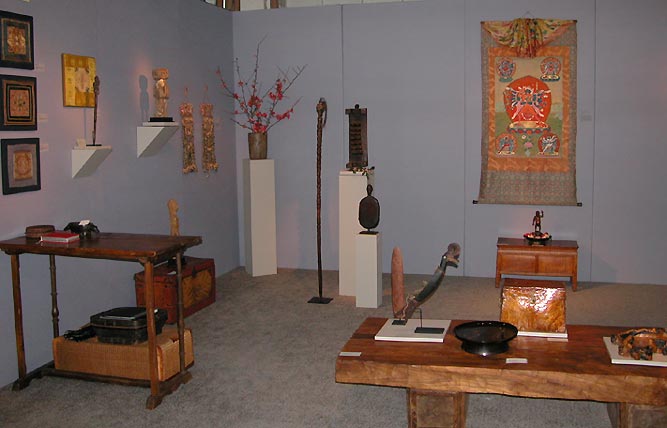 Vicki Shiba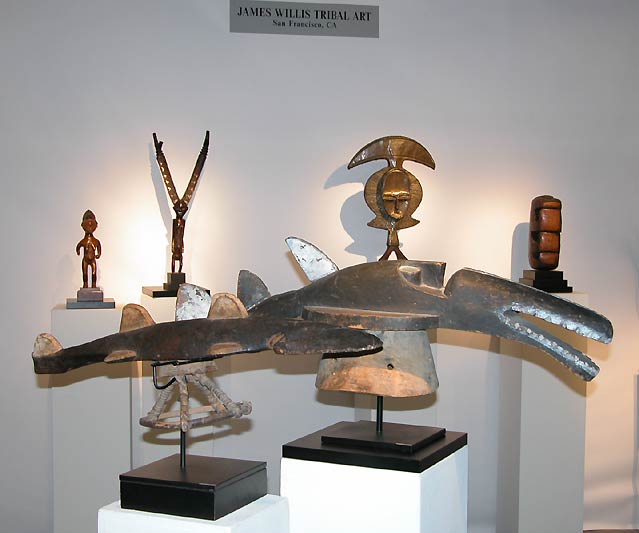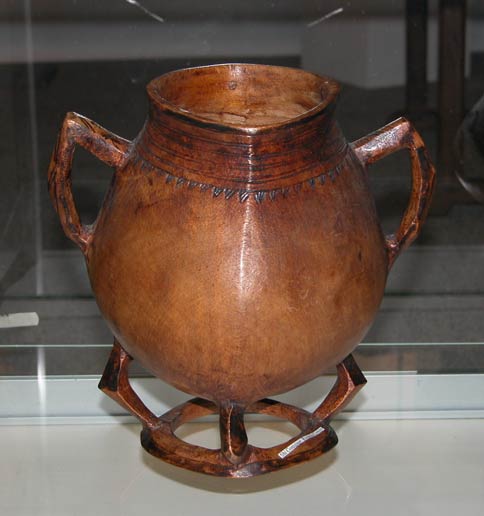 James Willis had this curious anthropomorphic vessel from E. African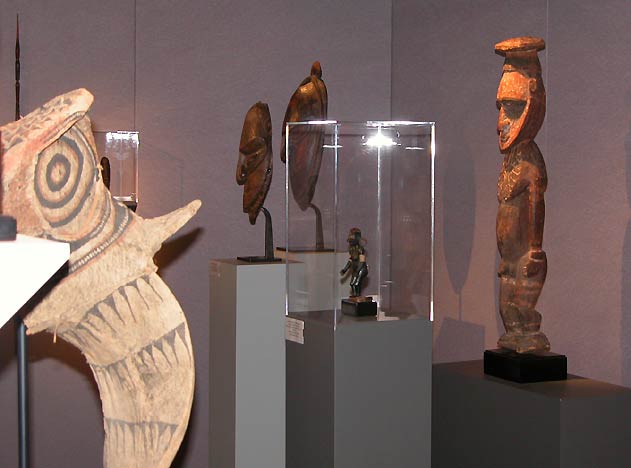 Kevin Conru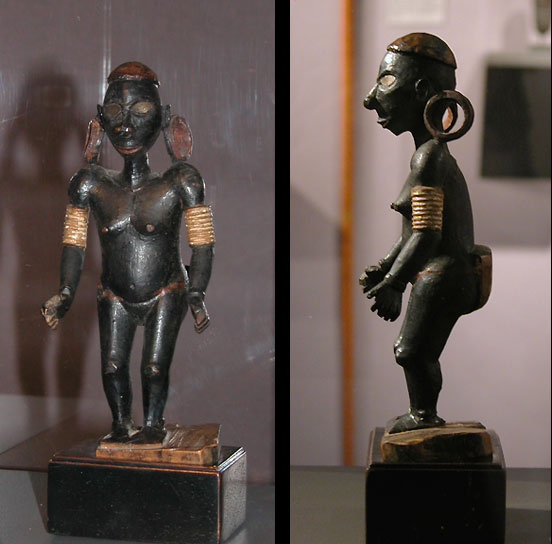 Kevin Conru: This exquisite early 19th century Solomon Island female figure was one of my favorite pieces in the show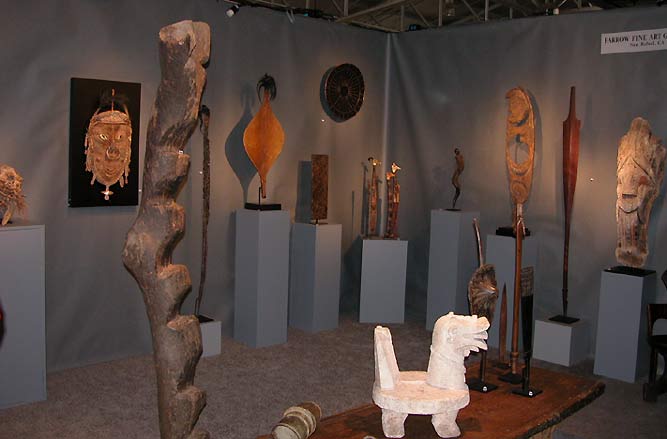 Erik Farrow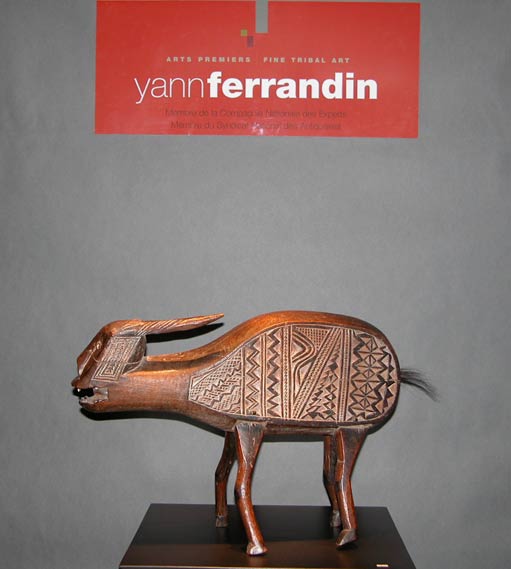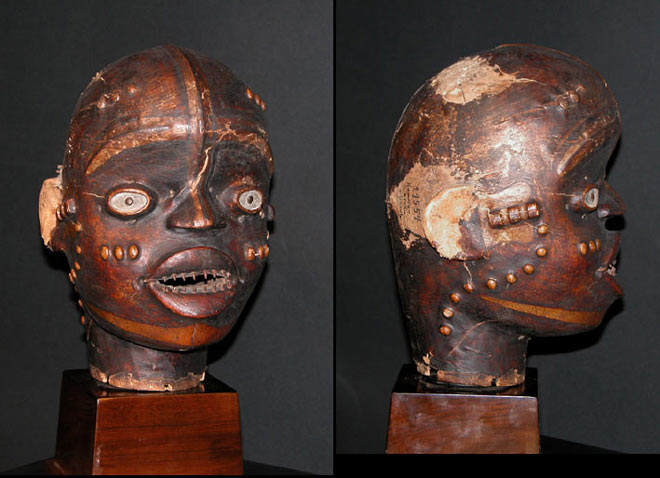 Alain Naoum with an expressive an ancient Nigerian Ekoi Head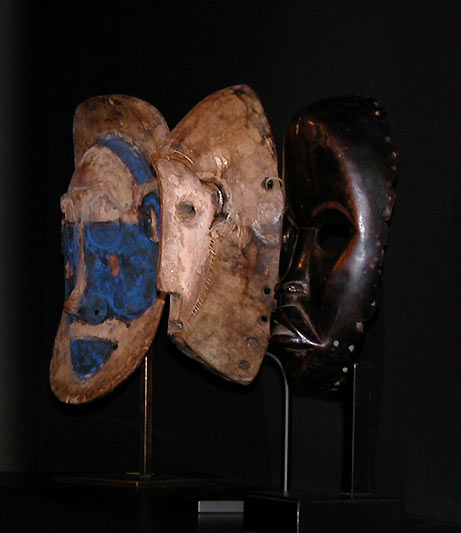 Alain Naoum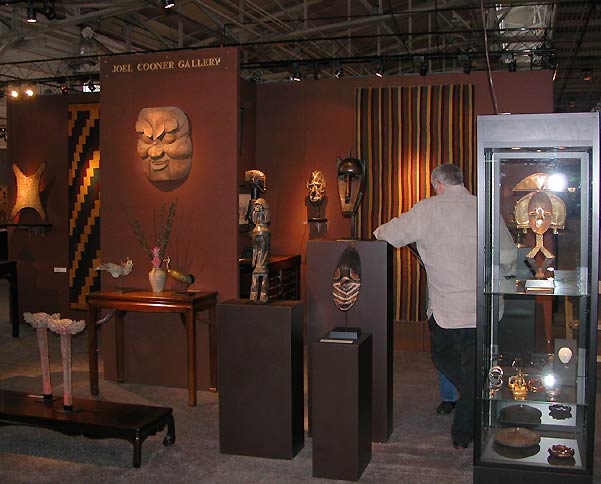 Joel Cooner's gorgeous designed booth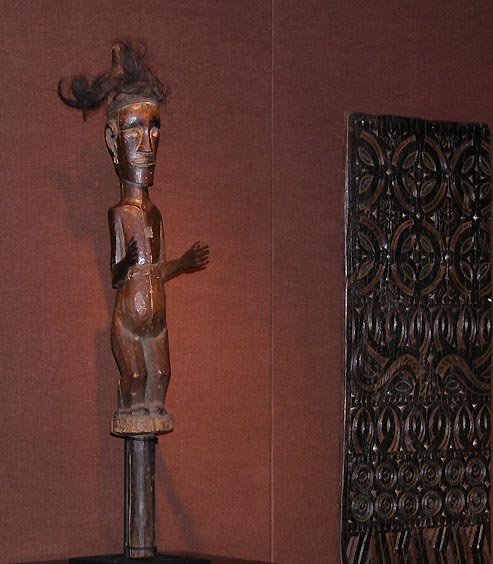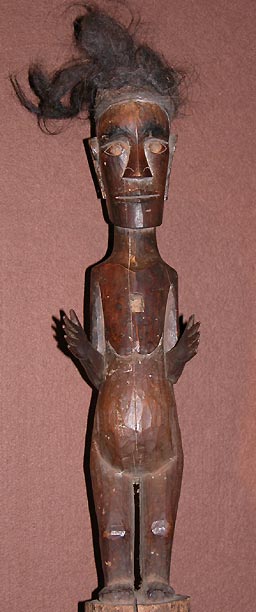 Joel had this very fine Batak Pagar guardian figure from Sumatra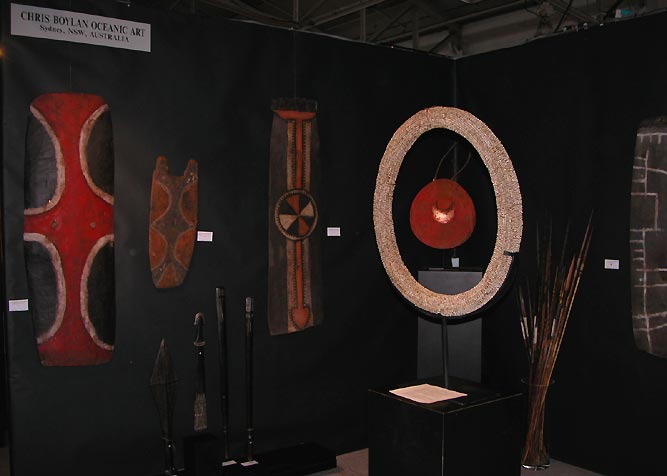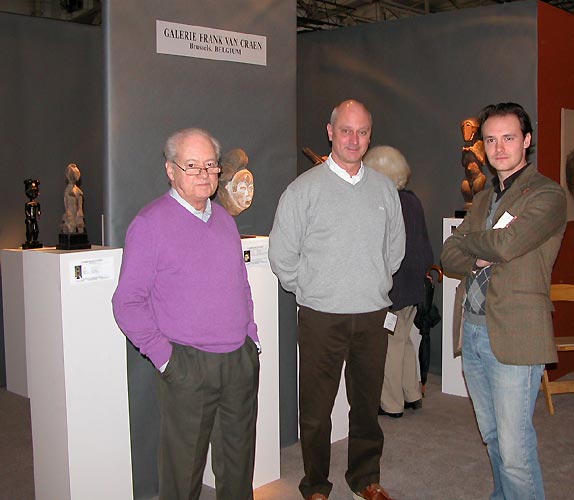 Left to Right Lucien Van de Velde, Frank Van Craen and Charles Hourde' striking a pose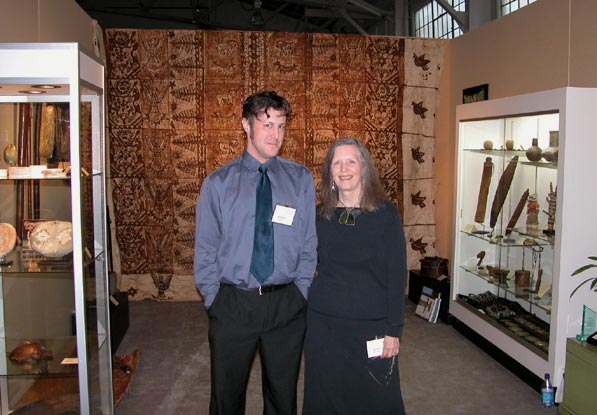 Ramona Morris and son Justin had a successful show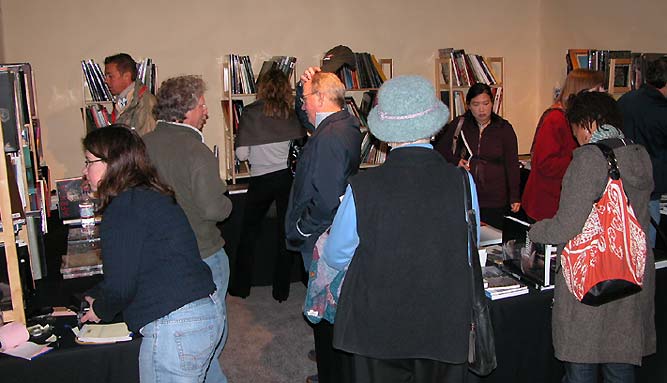 CMG Books was continuously selling, having an appealing inventory.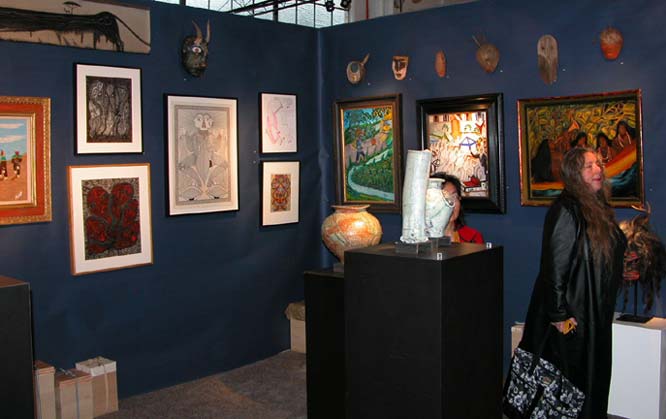 Cavin-Morris Gallery with contemporary masks, ceramics, paintings and drawings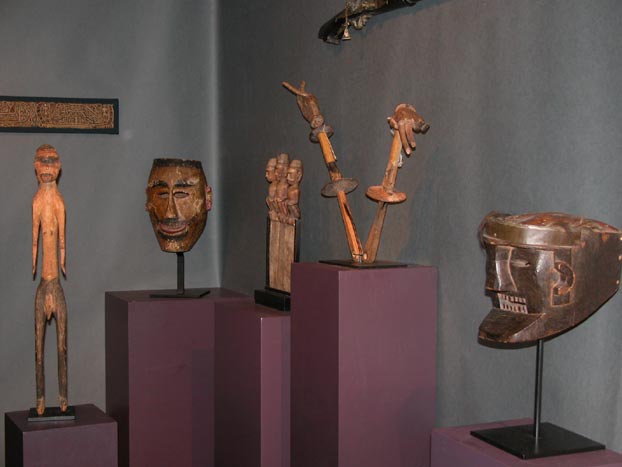 Thomas Murray

Thomas Murray: large Batak Pagar figure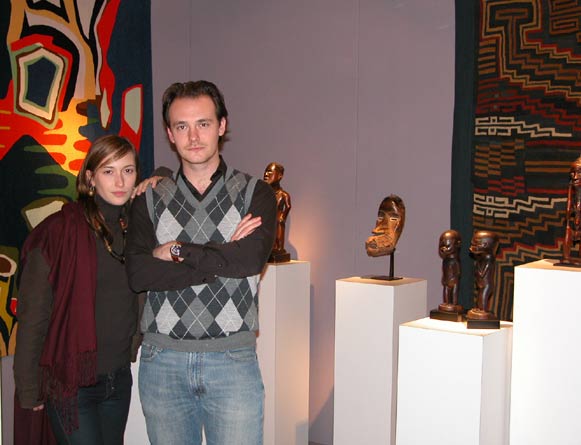 Charles Hourde' Paris, exhibiting for the first time in San Francisco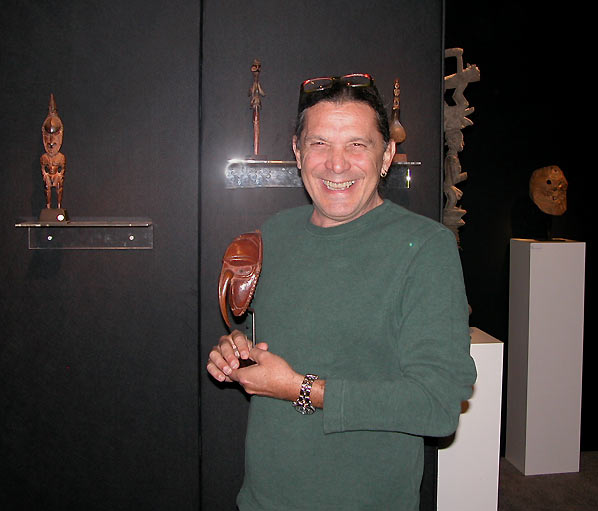 Jack Sadovnic holding a Masterpiece New Guinea Ramu amulet mask. I asked him the price twice but he just smiled. I'm note sure if he was willing to part with it? He was happy that day because he sold a New Caledonian Roof Spire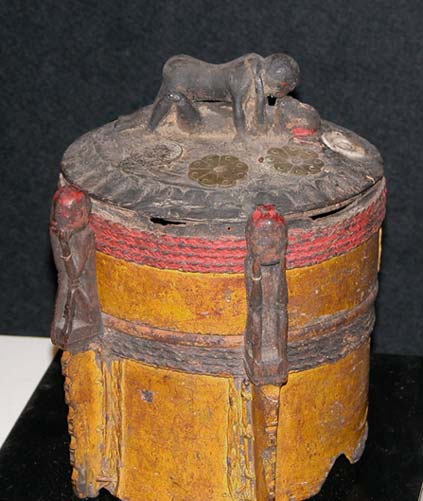 Sadovnic with an unusual Dayak Shaman's paraphernalia container (Borneo) with erotic figures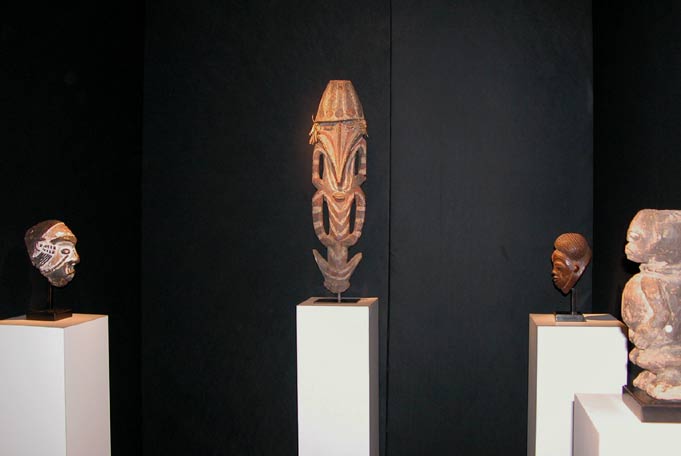 Joaquin Pecci

Pecci with an early stone-carved PNG middle Sepik hook figure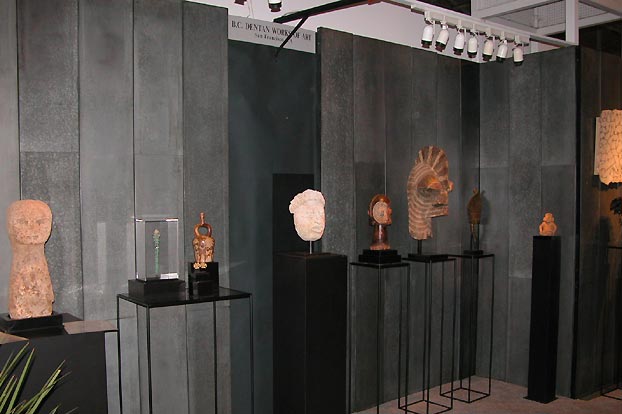 B.C. Dentan featuring a Mayan terracotta head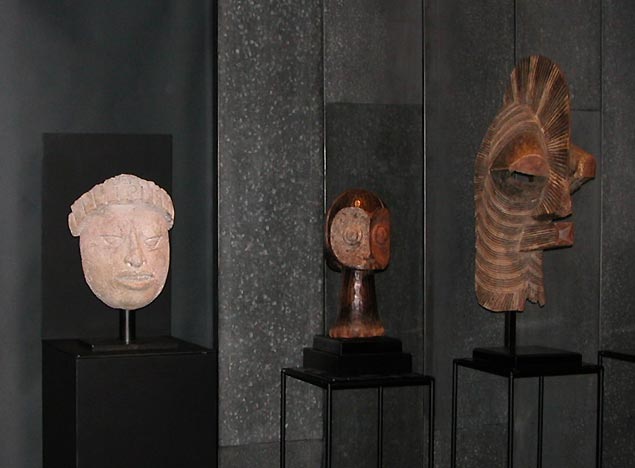 Chester Dentan used the most attractive stone-like panels for his backdrop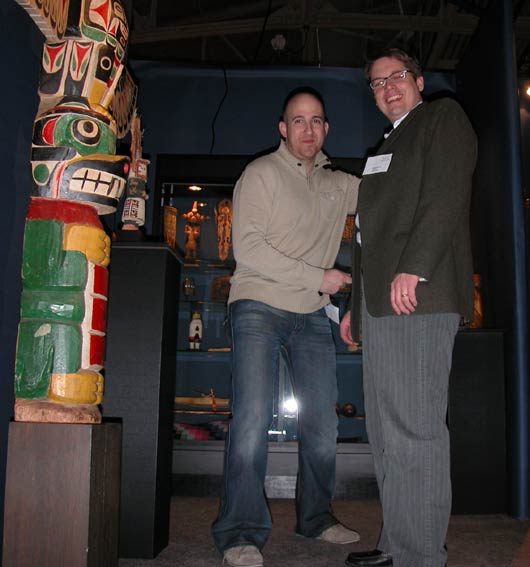 Brant Mackley's booth, Craig De Lora (left)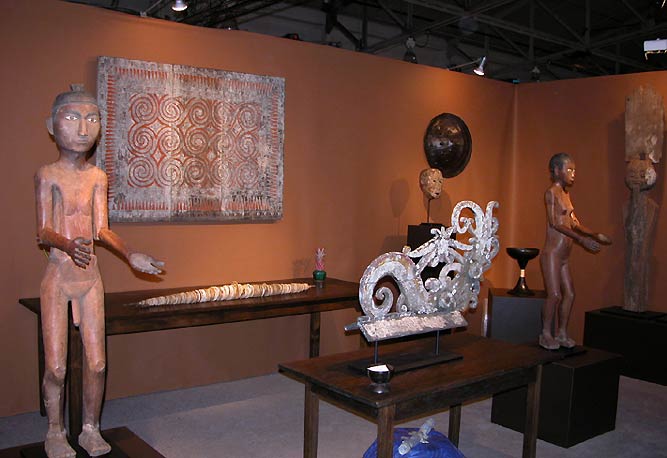 Primary Source with a fine pair of Tau tau figures from the Toraja people of Sulawesi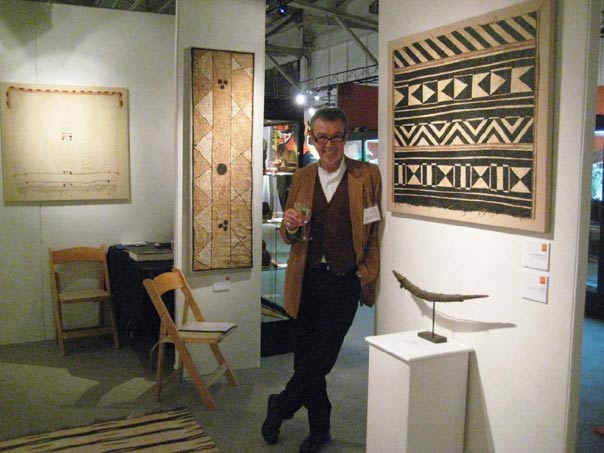 We end with a toast from Clive Loveless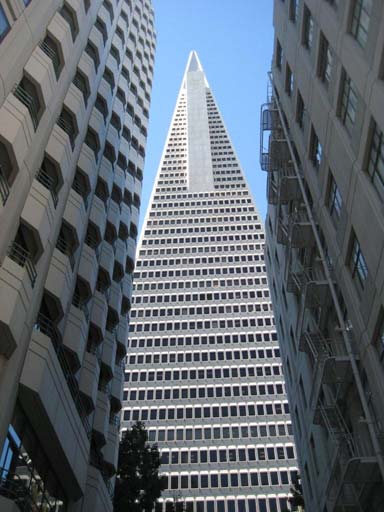 The clouds have lifted and things are already looking up
Photo courtesy of Clive Loveless (Financial District- Transamerica Pyramid)