Written by Michael Auliso and republished here with his permission.
Unfortunately, all photographs and page 2 are lost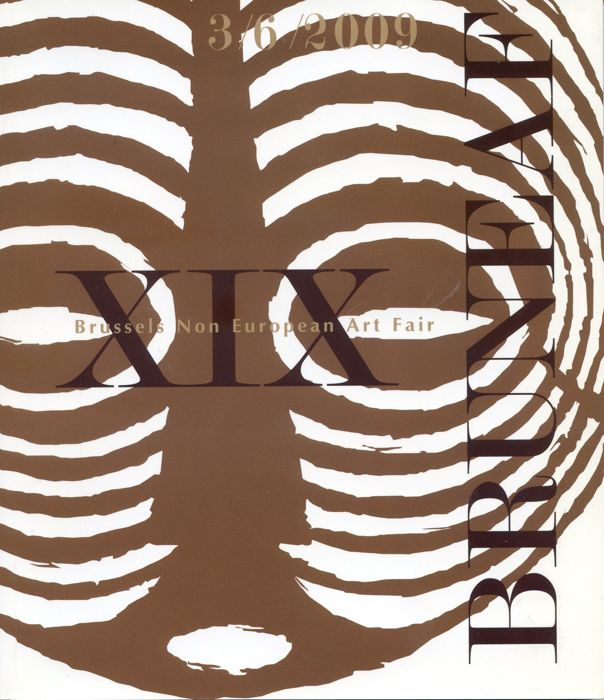 THE JUNE 2009 BRUNEAF TRIBAL FAIR IN BRUSSELS"
*photos courtesy of Sam Singer and Clive Loveless
This year there were projections that sales at Bruneaf might be dismal because of the global recession. On the contrary, many dealers reported decent sales. Interestingly, the "flop" happened instead at the Paris auctions, which to date had been virtually immune to the downturn.
Kevin Conru tells me that "Bruneaf was surprisingly okay this year. Not a stellar year, but far from a bad one. As long as the price to quality ratio made sense, folks responded". Kevin's report is overall consistent with others I've heard. The bottom line is that many collectors need that "art fix" and nothing can keep them from getting it for very long, not even a wretched economy. Bruneaf organized an exhibition called "Congo Mythical Masks" to honor the major temporary exhibition called "Persona, Ritual masks and Contemporary Art" organized by the Royal Museum for Central Africa based in Tervuren.
Everyone looks forward to the Bruneaf art week which is both a rich art and social experience. Regretfully, I couldn't attend this year but I still wanted to provide you with some great images to record this exciting event.
Marc Felix and Pierre Loos, opening night of exhibition of "Congo Mythical Masks"
exhibition of "Congo Mythical Masks"
exhibition of "Congo Mythical Masks"
exhibition of "Congo Mythical Masks"
Tad Dale: New Guinea Washkuk house board
Conru
Conru
Conru
Conru
Conru
Conru
Conru
Serge and Lulu Schoffel
Coppens
BOAF, Michael Woerner Oriental Art: Buddha's Footprint, Burma 18th-19th c.
BOAF, Exhibition of Marcel Nies, Antwerp
Marcel Nies
Antonio Casanovas showing clients an unusual Bamana(?) figure in natural light
Casanovas
Casanovas
Manfredi: Group of Dayak Mandau swords
Manfredi holding a Javanese Topeng mask
Manfredi, Modang Dayak Panel Borneo
Yann once again had the biggest poster for the myopic.
Yann Ferrandin and Eugenia
Yann Ferrandin
The rest of the review is lost