Written by Michael Auliso and republished here with his permission.
Unfortunately, all but 1 of the photographs and page 2 are lost.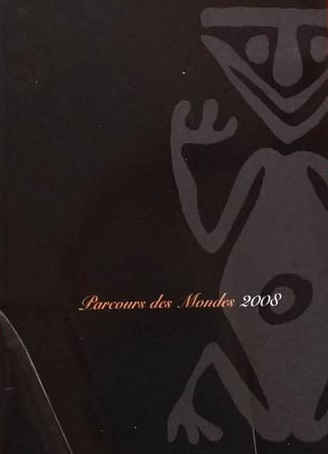 This was the first year that the Parcours was operated by Tribal Magazine. It was refreshing to see the new look and needed changes that were made. One example was a smaller well designed catalog with wonderful old world map. The participating dealers said they were impressed with the great support staff, who quickly addressed all needs. The exhibiting galleries were Super obvious, each having a cool triangular carpet on their doorstep with the Parcours logo!
There were about 64 dealers in all, and the fair was bigger and better than ever. The quality was very high yet there appeared to be a lack of "fresh" exciting pieces. A good deal of the art was identifiable as being from previous auctions as well as a dealer's remaining stock. I was struck by the vast number of Baule figures and African weapons this time which represented the bulk of some dealers offerings.
I found the Parcours to be overwhelming in scope this time. I suppose that a collector looking for a specific object or that special something which immediately spoke to their aesthetic, could comb through the galleries fairly quickly? From my standpoint of carefully observing and reporting it became exhausting looking at such a vast landscape of Tribal Art. I never thought one could overdo on Tribal Art but I did. If you try to take it all in too quickly, the art can go "dull" on you. Of course so many pieces and such variety to look at meant that there was something for everyone to appreciate! If you didn't make it this year try and come next. It is the most important tribal fair on earth.
When asked, Sam Singer, a San Francisco Bay Area collector, told me the Parcours met and exceeded his expectations, saying:
"This show was the best ever in Paris. The quality of material, the quality of the dealers, the multiplicity of artworks, African, Oceanic, Indonesian, Himalayan and Native American make the show particularly noteworthy in its diversity. We have been to every Parcours except the very first one, and this one stands out as the best…it has been getting better and better each year as time has gone on. So, if you're really hooked, and we think of ourselves as really hooked, this year's Parcours was fantastic."
Dealers told me they felt that customers were making buying decisions more carefully. In past years customers were buying objects priced under 6000 euros with abandon. Not so this year. As with a fair of this scale there are never enough customers for all dealers to excel. However, a number of local and non-local dealers had great success. They included Renaud Vanuxem, Yann Ferrandin, Lance Entwhistle, Bruce Frank, Alain Lecomte, Philippe Laeramans, Kirby Lewis and others. It was not possible to speak with each dealer but roughly two thirds reported being pleased with their sales. That said, a number of dealers (mostly non-French) said sales were off from last year which they tend to attribute to the slowing EU economy. Rumor has it that a number of the high-end pieces that sold were later returned several weeks after the global financial meltdown.
Prestige Pricing: The topic of "prestige pricing" is an interesting one. For example if a dealer would normally price a Baule Figure for 8000 euros, their price during the fair might be a more a optimistic 12000 euros for the prestige of having the piece in Paris and trying to appeal to a wealthier clientele. This aspect was especially true for African material. The problem is that the buyers in Paris are extremely astute, and in tune with market pricing. Also there is so much art available this time of year, that unless a dealer has a truly rare piece or a great example of its type, the price can not be elevated in such a competitive environment. It is unrealistic and foolish to do so. My colleague Dave DeRoche noted that the price he was quoted the most was 18000 euros. Those same pieces would fetch far less in the States. In fact, the European Dealers are far more realistic and must often cut their prices to the bone when they are exhibiting at the San Francisco show.
Patrick had an impressive selection of pre-contact New Guinea spears with ancestor faces
These African runners were even trying to sell a piece to this little girl 🙂 Patrick Mestdagh was on the 2nd floor above Claes and had a wide selection of African Weapons
Interior: Heathcote and Frank
(Heathcote and Frank) Look at the quality of this New Caledonian Chiefly Roof Spire
(Heathcote and Frank)
Heathcote and Frank pointing out the finer points of a piece to a San Francisco Bay Area couple
(Heathcote and Frank) New Guinea Stone-Carved Abelam Figure
(Heathcote and Frank)
Alain Lecomte produced a special exhibition and catalog. He reported having a very successful show.
(Galerie Amrouche) Pierre's exhibit of probably 200 Lamba sculptures from Togo was held in Alain de Monbrison's Gallery. Needless to say there was A LOT of talk about these newly discovered figures. Apparently they were flying out the door and were priced reasonably between 2500-3500 euros a pair. Amrouche who has a house in Togo was successfully making a market ifor them at the Parcours. His exhibit made for lively discussion. Opinions of the figures ranged from being fun and whimsical to awkward and uninteresting. The harshest critics felt the exhibit was not aligned with the kind of quality you would expect to see associated with Amrouche. Well, love or hate them he had everyone talking and that was the whole point.
Yann Ferrandin
(Galerie Meyer-Oceanic Art) That wonder Maori Nephrite "hei tiki" above, Ex. Charles Ratton, had its original cord and toggle.
(close up) A very fine 18th C. Maori Nephrite Pendant
(Galerie Afrique) with an Exhibition of Sculptures and mask from Burkina Faso
(Galerie Flak) Congratulations to Rolland, Edith, and Julian Flak for producing this amazing show of Northwest Coast and Eskimo Art. Rolland told me it took 10+ years to make this a reality. They published a book presenting the pieces for the Exhibition titled "Totems et Chamanes". They utilized a reflective silver house insulation and painted it black to cover the walls. The overall effect felt as if you had entered an kind of ice cave. It was very effective for viewing the art.
(Galerie Flak)
(Galerie Flak)
Adrian Schlag's during the opening night at his gallery. Adrian had a powerful Nigerian Jukun figure lower left that received a lot of attention. My favorite piece was a small kota reliquary (center) with a sensitive oval face and bulbous forehead (published: Bernard de Grunne, Masterhands 2001)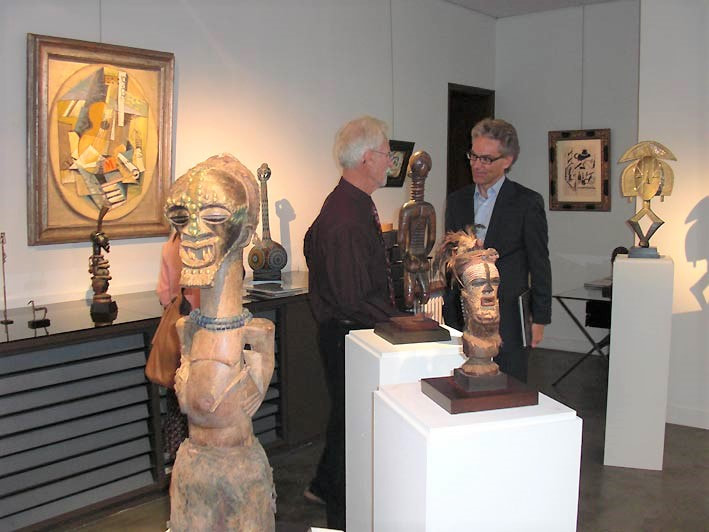 Galerie Jacques Germain at 2 rue des Beaux-Arts. The large Songye Nkishi figure with teeth was Jacques Parcours catalog piece. Jacques (Right) talking with James Willis (Left)
(Dandrieu Giovagnonoi) with a Powerful Cameroon squatting figure
(Lisa and Philippe Lareremans- 19 rue Guenegaud)
(Lareremans) with a MASSIVE Baule "Goli" Mask
(Renaud Vanuxem) Exposition: "Ancestors"
(Renaud Vanuxem) A lovely display of Dan Passport masks
(Renaud Vanuxem) I especially liked this large eroded ancestor figure (Dayak or Timor)
(Entwistle) A magnificent Anthropomorphic Vanuatu Food Dish
Detail of above
Opening night at Lewis/ Wara Gallery. Kirby had a small ancient Sepik charm figure which would have likely produced a very early c-14 date.
(Lewis/ Wara Gallery) A fine and early Trobriand Island Massim female maternity figure
Dave DeRoche (Seated) and Michael Auliso, 5 rue des Beaux Arts 5th Floor Flat
Our 5th Floor Flat quickly became a popular hangout especially during the evening wine and cheese hour. I want to thank all of you who climbed the five flights of stairs to see us! It was delightful meeting many of you for the first time who I've only known by email! You've made my trip to Paris a rich and rewarding experience.
(Tribalmania items) Left, a master-carved Fijian Gugu club with human figures. Right, A large 19th century Lake Sentani Lime gourd with faces and its original stone-carved figural lime stick.
(entrance) Dave and Mike's 5th floor flat
Unfortunately, except for the below images The rest of the review is missing
(Parcours des Mondes 2008) Joseph Gerena (RIP) and Judith Schoffel transporting new purchases.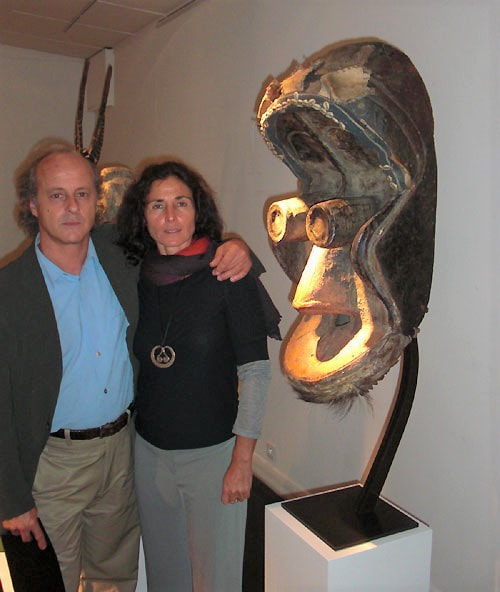 (Parcours des Mondes 2008?) Antonia and Ana Casanovas (Arte y Ritual) next to a massive Dan Mask.