Written by Michael Auliso Dave DeRoche and republished here with Michael Auliso's permission.
Unfortunately, Page 1 is completely missing except for these few images, Page 2 and 3 are here but are missing most images.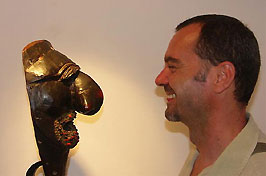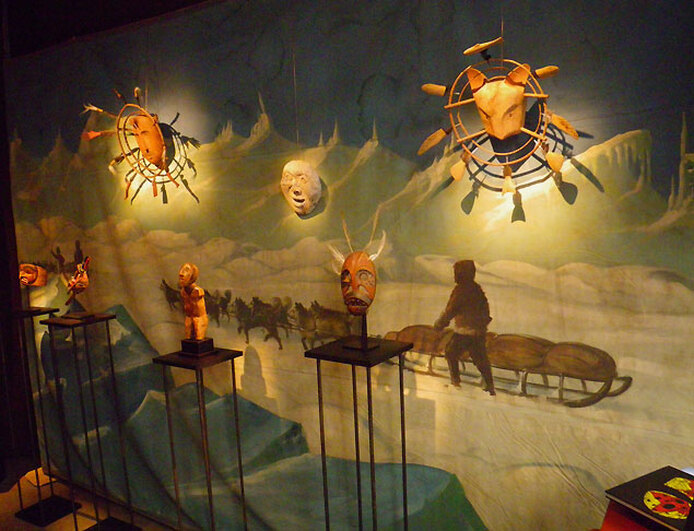 (Parcours des Mondes 2007?) Galerie Flak with a memorable Northwest Coast/ Arctic Exhibition.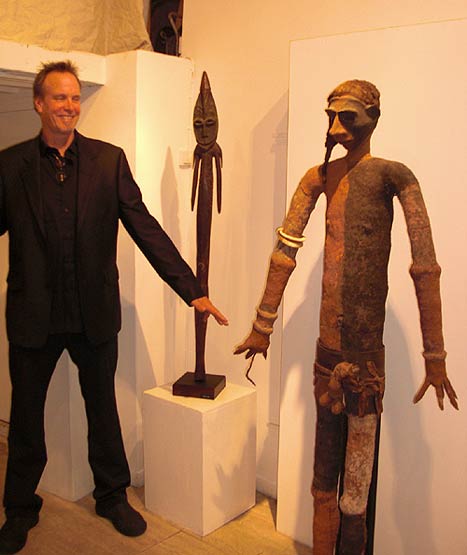 (Parcours des Mondes 2007) Kirby Lewis (Lewis Wara Gallery) striking a pose with his Vanuatu Rambaramp effigy figure.

Have you ever seen a glassed-in ant farm display at a natural history museum? It's a lot like like Paris Parcours. But an ant farm has only one queen, and in Paris there are 50 persons who would like to be that queen ant. Paris is abuzz. It's quite exciting. The number of dealers is extraordinary and the quality of art is extraordinary.
All the action is in tight. A few special streets – Seine, Jacques Callot, Guenegaud, Mazarine, Beaux Arts, and Visconti are clogged with galleries like the tourists' arteries with foie gras.
Rue des Beaux Arts is aptly named still, for here on one blockbuster block reside some of the most stellar art galleries. Alain de Monbrison, with African, and Anthony JP Meyer, with Oceanic, are both venerated institutions where for decades collectors have been able to see top-level pieces. They remain top class, welcoming visiting collectors and friends from far-off countries. Alain, often referred to as the mayor of the neighborhood, has been joined by his vivacious daughter Sarah.
At the end of the block near the legendary Ecole des Beaux Arts sits Galerie Ratton-Hourde. It is co-owned by Philippe, nephew of the late legendary dealer Charles Ratton, and Daniel Hourde, a tall, quiet Beau Brummel who besides being the flashiest dresser in the quarter also has a fantastic eye for African art. A year ago when everyone was in Paris for the opening of the Musee du Quai Branley, Ratton & Hourde put on an exhibition of Fang reliquary figures that was astounding, and shouted out their ability to show great things. Yet this week of Parcours, their gallery boycotted the Parcours — quel dommage!
Daniel's son, Charles Hourde, had his tiny gallery wide open and buzzing with visitors and action. Let's hope this charming next-generation dealer with his enthusiasm and fair prices is able to generate a next generation of new collectors. Charles, with an associate, also offers Pre-Columbian art. This is good to see, as is the fine small gallery of Pre-Columbian virtually next door opened by Santo Micali, who for years has had his spectacular Galerie Mermoz in the fanciest Right Bank neighborhood.
Two younger or newer dealers to keep an eye on, in addition to Charles Hourde, are Olivier Larroque, who made a nice start on rue Mazarine but hails from Nimes, and Lucas Ratton. Lucas, grandson of Charles Ratton, was not a Parcours participant, perhaps because he was doing the weekend's Salon des Collectionneurs. But he had an impressive booth there, and he has quickly and ambitiously built the classiest tribal gallery at Paris' flea market.
Somehow over the years I've failed to become properly acquainted with the dealer Alain Dufour, probably because he is known for his major exhibitions being on the Riviera every summer. Despite my surname, being American I am not required by law to go every August to the south of France like the French are. But I should start, because Dufour displayed a wonderful assortment of African art objects during Parcours, first on rue des Beaux Arts and then over the weekend at the Salon des Collectioneurs. Some of Dufour's pieces are elegant, and some are art brut, but all stretch the eye. My favorite was a Baule seated maternity figure, perhaps 27″ or 70-75 cm tall, with curving arms holding her red-pigmented child. An enchanting work of art, and at a surprisingly low 20,000 Euros, perhaps the steal of the show.
My wife Nancy noticed that it seemed that every piece I asked the price of in a Paris gallery brought the reply: 18,000 Euros. Coincidence perhaps, or maybe this is the new average price for a good thing at Paris Parcours. I was asking about some of my favorite good things, but I was not asking the price of great things or famous things or things that I obviously could not afford. I was asking about things that I thought I, and perhaps typical tribal art collectors, could afford. If my memory serves, and it might not, five years ago pieces of this level were 7,500 –10,000, dollars in the USA and Euros in Europe . Now they are 18,000 Euros and for Americans that's $25,000. All the more reason that it was nice to see a superb, highest-aesthetic, fit-in-any-collection piece priced in the range that now appears to be for the middle-class.
Two more prominent galleries on rue des Beaux Arts, always worthy of significant study, have top-level art but different atmospheres. Lance Entwistle brought to Paris his honed aesthetic, his British Empire connections, and the reserved classic ambiance of a dark London men's club. His pieces are superlative, his prices are superlative. Among several striking works of art, I can still picture his Hemba figure, Niembo region, and his pretty young Italian assistant.
Iron Equestrian Fragment at Galerie Flak
One of the most thrilling sculptural pieces on view at the Paris Parcours was this ancient iron equestrian figure from what is now Mali. Probably Dogon or pre-Dogon, the horse and rider lacks its hindquarters but has dynamism and movement, personality, eye-catching excitement, and superb sculptural form. Dealers especially were spotting it and coveting it, including two American dealers with notably discerning eyes: Joel Cooner and B.C. Dentan. The iron piece had great age, as well, according to metal-art curator Prof. Dan Mato and others. I congratulated the Flak family for having the piece and castigated them for pricing it beyond me: 25,000 Euros. It is, of course, hard to price a unique piece and a masterpiece, and it is hard to afford one too.
Galerie Flak glowed all Parcours week like a party in progress. Always a fun visit, visually and verbally intense, during Parcours it was crowded and festive and manic. This week it was more than just the outgoing personalities of la famille Flak — Roland, Edith with the flaming red hair, and son Julien. Word had buzzed around the art quarter that Galerie Flak had a stunning theme show: Face to Face
EXHIBITION: "Face to Face" Galerie Flak
Roland Flak showing a mask to customers
One of the greatest shows in the Paris Parcours was "Face to Face" at Galerie Flak on rue des Beaux Arts. Brilliantly conceived and curated, representing 30 years' worth of collecting utilitarian Western-world masks and then juxtaposing them with tribal-world masks, this show had spectacle, impact, aesthetic quality, drama, psychology, fear, humor, and whimsy! There were superb tribal masks and riveting working-mens' masks for people like riveters. There were carefully found, selected, and purchased 'objets trouves' that were mask-like or head-like. I wanted them all. Collectors, dealers, and visitors all around the Parcours were marveling at and talking about this show.
Half the show were tribal masks: African, Eskimo, Oceanic. The quality was excellent, led by one of the most beautiful Punu masks I have ever seen. The other half of the show, intermingled to striking effect, were working men's functional masks of primarily the western world, plus some mask-shaped artifacts of industrial cultures. Antique welders' masks, baseball catchers' masks, fencers' masks, bellows — the Flaks told me these represented 30 years of collecting, and the juxtapositions with tribal ceremonial masks were startling and fascinating.
The 'mask' on the right is a 1950s invention for air quality
Rolland Flak posing with a Dan Mask
Amidst the audacious and exciting mask show at the Flak's could be found one of the most beautiful Punu masks ever seen.
The Flaks are well known among the tribal art community. They are everywhere. They travel paripatetically, buy and sell aggressively, and chat cheerfully. They deal in African and American Indian and Oceanic art, and they collect Kachinas and I bet lots of other intriguing things. They have had some memorable theme exhibitions in their small twin galleries, and published collectible books. Their Face to Face is a knockout, for many the most exciting visit in the 2007 Paris Parcours.
Dealers Yann Ferrandin (right) and Eugenia Bianco in their small but high-quality gallery on rue de Seine. Yann has just signed a lease for a new retail gallery location on the lively, central, but less car-congested rue Visconti.
Yann Ferrandin sold this great Northwest Coast rattle during the Parcours, as well as a wonderful Pre-Historic Eskimo ivory figurine.
One of the greatest art objects at the Paris Parcours was this New Caledonian Kanak Mask. It appeared to have had centuries of patina from use. It was offered by Yann Ferrandin gallery, and here admired by Parisian connoisseur Christophe Rolley.
New Caledonian Kanak Mask by itself
On rue de Seine within smoking distance of the cafe La Palette, Patrick Didier Claes surprised everyone with his strong show of Nigerian material. It wasn't the strength and quality of his material that was a surprise, as Claes keeps turning up significant artworks, but that this dealer associated with Belgium and the D.R. Congo would go Nigerian for the Paris Parcours. His show was stimulating, highlighted for me by an iconic Eket figure.
(Didier Claes)
Among the knockouts was this powerful Eket sculpture by a known hand.
(Didier Claes)
Another wonderful piece was this Chamba Bush Cow mask with unusually rounded and lovely lines.
OTHER THEME EXHIBITIONS:
Jo De Buck did a wonderful show of Fetish Figures, plus a nice little catalog worth emailing Jo to request. The show was especially strong on fetishes from the Congo area, as you might expect from this well-connected Belgian dealer. Many Songyes, Kusu, Luba, Hemba, Teke, Yaka, and a rare Punu.
At the gallery of Jean-Baptiste Bacquart, visiting from London, I craved three pieces: a published New Caledonian lance-top, at 35,000 Euros, a super ivory Lega mask, better valued at 19,000 Euros, and a whimsical Lovale or Luena couple.
Chris Boylan had graphically strong Oceanic shields, and seemed to be selling well to Oceanic collectors and dealers.
Last but not least, Renaud and his Galerie Vanuxem had one of the best shows in Paris : Art of Mali. Renaud, an admirable younger dealer of energy and honesty, told me he had saved up some of his pieces nine years for this show. Wonderful cubist and abstract Dogon sculptures inhabited his small gallery, with a fine selection of Bamana masks and figures and chi-waras as well. No, there was nothing huge, but the quality and obvious age and the personality of these relics was extraordinary. Great art for art's sake, or perhaps for mankind's sake. And what happens when great art meets no hype? In a tiny gallery that's not a household name internationally? Well, maybe there is a god in heaven because the straight-shooting younger dealer with the fair prices found himself beseiged by a huge and appreciative crowd that bought about half of his show the first day.
These Images Courtesy: Jean Claude Verdodt
Michael Hamson: With a New Guinea Pre-Contact Yangoru Boiken Figure (Left) and a Coastal Sepik Hook
AMERICAN DEALERS:
There is a smaller American-dealer presence in Paris than there have been in some other times and cities. But here are Joshua Dimondstein, Tony Aninos, Michael Hamson, Bruce Frank, Kirby Lewis-Wara, and Carlo Bella of Pace Galleries.
Bruce Frank had a good grouping of intriguing small objects, including a powerful Cameroon sculpture but at a painful price (ex Jacques Kerchache). Bruce had an underground tunnel that led to a dramatic Mbole figure. Sharing the ground floor with Bruce was Roberto Gamba, with some Pre-Columbian art and gorgeous jewelry.
Tony Aninos, a Californian, also had a fine display of SE Asian stone sculpture: a Borobodur head, a Gandharan head, and a great Gandharan head that show Kashmiri influence.
Michael Hamson had a wonderfully three-dimensional and full-figured New Guinea hook, with the additional rarity of figurines around the base.  It seemed quite early to me, but I didn't have a chance to ask the always-busy Michael about it.
HIGHLIGHTS FROM OTHER EUROPEAN GALLERIES:
Rue Visconti was quite lively, buzzing with younger dealers trying harder and younger collectors and older scholars. Meeting and greeting and comparing observations is possible and pleasant on rue Visconti, as it is spared the traffic and parked cars of the neighboring streets and the terrifying buses squeezing up rue Guenegaud. Yann Ferrandin, a good thinker, is wise to have chosen rue Visconti for his new, opening-soon gallery location.
Maine Durieu's new gallery there barely held her large following, who were buying up her fine small bronzes and other fine figurines. Eight red dots were showing after the first two hours. I hope the crowd did not overlook the several superb Baule figures, of more size, that she also displayed.
Gallerie S.L. shows pieces from all over the tribal world, including tribal Asia . I fell in love with a stone headrest, of all things, which was elephant-shaped, greatly patinated over hundreds of years, and hailed from China, of all places. It sold fast, inexpensively.
Over on rue Jacques Callot, where the cafe La Palette could be considered the epicenter of the action, crowds were large and lively. Bernard Dulon, one of the most important players, had important pieces. Next door, Carlo Bella represented Pace Galleries impeccably and ebulliently ("I was just thinking about you!"), with some great small African figures in the front room and some great big ones in the rear room. Carlo also had the guts to put a grouping of real art brut pieces in the front window. On the other side of the same gallery, the first-class Belgian dealer of Asian antiquities, Marcel Nies, showed Khmer and other superb sculptures.
Adrian Schlag hosted a small, superb show of Batak sculpture from Indonesia. Adrian pulled out of his cache some 20 saved pieces of one of his first loves, Batak, and created a striking exhibition: Datu shamans' staffs, small figures with big hands, equestrians. The Musee du Quai Branly apparently had originally scheduled a Batak show at this time, but unfortunately for synchronicity, postponed it. Schlag shrugged.
Churinga Images Courtesy: Jean Claude Verdoodt
At Wayne Heathcote's Gallery he had a fine New Guinea Suspension Hook as well as a selection of Australian Aboriginal Churingas.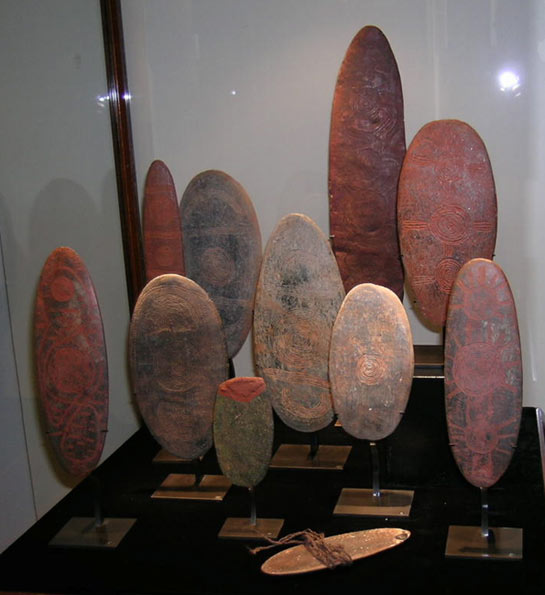 An impressive selection of Aboriginal Stone Churingas at Anthony Meyer's Gallery
This monumental painted Churinga (Gallery Meyer) was priced at 165,000 euros! (approx. 239,000 usd)
Christine Valluet and her gallery now have her daughter as partner. As usual there were beautiful masks and figures, and as usual the prices seemed very fair. Eskimo and Northwest Coast and Oceanic art add nicely to the African mix.
Yasmina Chenoufi at Noir d'Ivoire had a marvelous Benin head of compacted clay, seeming like a big gray stone head, larger than life-size. Simple but powerful. Could it be Ife?
In his permanent gallery on rue Visconti, Jean-Eduard Carlier has consistently intriguing Oceanic pieces, plus knowledge and ambiance, in his Voyageurs et Curieux.
Joaquim Pecci had an horse and rider from the Himalayas that was extremely evocative. It had movement and sculptural power, a rough but successful work of art. Joaquim sold it on opening night. His other pieces were mostly classical African.
Sam Fogg had a big display of small Ethiopian crosses. Did you know that Marc Ginzberg has been collecting Ethiopian crosses? What next?
Dealers with temporary Parcours galleries on rue des Beaux Arts added to the impact and enjoyment. Alain Naoun always has interesting new acquisitions and at fair prices, and he and associate Patrick Morgan showed me a cubist Dogon sculpture that I meant to go back and wheel and deal for. So little time, so much art.
Davide Manfredi had his usual powerful Indonesian display, and a beautiful bride as well.
Temporarily next door, Dandrieu Giovagnoni showcased some ancient and famous African masterworks, in the front room. They had been tested and dated to hundreds of years old, and my eyes and my memory of having seen them published concurred. In the back room were good solid purchaseable pieces.
Among the galleries I enjoyed, and although briefly mentioned here I studied in depth because I find their offerings very intriguing and often very tempting as purchases, were: Joshua Dimondstein, Alain LeComte, L'Accrosonge, Joris Visser, Kirby Lewis/Wara, Reginald Groux, and Serge Schoffel.
I also drooled over many exemplary objects shown by these dealers, who I tip my hat to for their ability to turn up beautiful objects of classic aesthetics: the Vigorelli family of Dalton-Somare; Bernard Dulon; Johan Levy; Alain Bovis; Yann Ferrandin; Jacques Germain; Wayne Heathcote, and Patrik Frohlich.
A good tangential addition to the Parcours were the Australian Aboriginal paintings shown in a temporary gallery on rue Guenegaud by Parisian private dealer Stephane Jacob. Stephane also showed Aboriginal old wood artifacts, a feathery pair of assassin's shoes, an ability to educate visitors about dot painting, and an irrepressible good sense of humor.
Across the street, Antiquair Grusenmeyer added diversity and quality with antiquities and SE Asian art, as did the Asian gallery Sagemonoya on the block behind.
While two of the longest-lived galleries on rue Guenegaud were not part of Parcours, the smaller Argiles and Majestic, Kevin Conru was there in all his glory, holding court and courting the best collectors.
Not far from the Parcours Fair, a Costa Rican Pre-Columbian stone sphere of grand size and uncertain use, on display at Le Musee du Quai Branly, also of grand size.
EXCITING NONTRIBAL GALLERIES IN THE DISTRICT:
While enjoying rue des Beaux Arts at anytime, one should drop into two nontribal galleries just for the history: one named for Claude Bernard, who has been there for 50 years and is now celebrating with a show of paintings by his late friend the surrealist Matta; and the other named for Albert Loeb, there 25 years or so, who shows contemporary art but annually during Parcours mounts a visually stunning tribal display, like his Senufo birds this year.
Leaving the market aside, a delightful exhibition was put on by an historic gallery of surrealism, Galerie 1900-2000, permanently on rue Bonaparte. It was done with objects on loan, not for sale, from the former Oceanic tribal art collections of famous surrealist artists, mainly Andre Breton. Thank you, gallerists Marcel and David Fleiss, for your educational and inspirational efforts. One piece for sale that struck me was an Easter Island pole club, with Janus faces on one end. Old and published and rare, it seemed very fairly priced at 30,000 Euros.
Paris Parcours is a moveable feast, the best buffet in the world for lovers of African and Oceanic art.
Merci, Paris!
Dave DeRoche
by Dave DeRoche
On Assignment for Tribalmania: First Rights
Copyright @2007 by Dave DeRoche, All Rights Reserved