Written by Michael Auliso and republished here with his permission.
PRICES SKYROCKET!
NEW RECORDS SET FOR MOST EVERY TYPE OF OBJECT!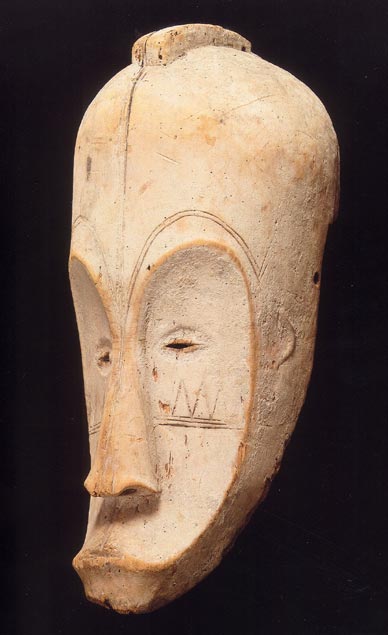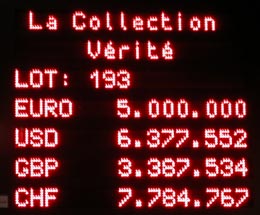 Fang Ngil Mask 19″, Final Price w/ commission $7,340,184 usd
It was Saturday at 2.30 pm at Drouot's in Paris. The second floor was packed with dealers and collectors. In attendance was a celebrity crowd of "who's who" in the tribal art world. There were three auction rooms with pre-assigned seating with the main floor and two satellite rooms having video monitors. The main floor was reserved for those bidders with the largest bank accounts.
It would be an understatement to say that this landmark sale was brilliantly promoted.  It is the most important sale of objects since the Hubert Goldet sale in 2001 which also featured Alain de Monbrison and Pierre Amrouch as experts.  That sale contained 600 objects and raised $11.3 million.
It is no secret that there were masterworks quietly pre-sold from this collection prior to the sale which were never cataloged.  But the market didn't care as there were many other rare objects that attracted spirited bidding.  The official total take for the 514 lots in the sale is $55,440,000 USD (44,000,000 Euros)!!!!   This figure is not just significant it is "bombshell" when you consider Sotheby's claims a sale is a success after raising 5 million.  All 514 lots were sold, eight went beyond one million euros and another 36 fetched more than 150,000 euros.
The marketplace defined new record prices for published and known masterpieces.  However, many of the HUGE prices realized for other objects were true anomalies in an otherwise sensible marketplace where equilibrium is the norm.  One can not simply say that a 100,000 euros is now the going price for a Dan Ladle or that 350,000 euros is what a good tji-wara headdress goes for now.  No, on the contrary, this was a unique sale.  Its stellar hype and promotion attracted wealthy collectors of fine art, paintings and modern sculpture, who were buying tribal art for their first time ever and ultimately "inflating" prices.   It is believed that some the "first time" buyers who were artificially inflating prices were dignitaries and friends of the French President Jacques Chirac who arguably have more money than knowledge.
There were some insane prices for relatively common objects.  For example an average Batak Shaman's Staff from Sumatra sold for 33,000 euros.  A New Guinea Tapa Cloth sold for 35,000 euros.  A New Britain Tolai Dance Ornament completely void of pigment brought 37,000 euros.  A 7″ Sherbro stone sculpture from Sierra Leone sold for 53,000 euros.  But prices did not go to Pluto for ugly or late objects.  This was true for both African and Oceanic pieces.  The deal of the sale, at first glance, seemed to be a New Caledonian Kanak post or house ornament which sold for a hammer price of 4000 euros!  No premium was placed on unattractive pieces.
The 2″ thick catalog cost 100 euros and was hardbound.  After toting around such a heavy thing for a while it felt like you were carrying a whole book shelf.
Yes, the prices below are real and not your imagination!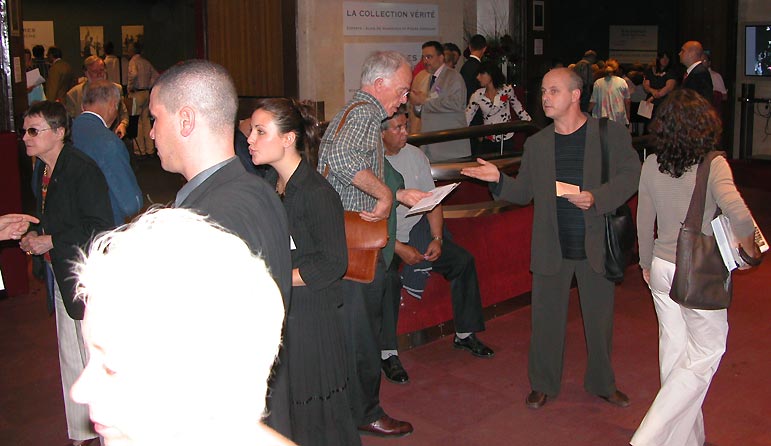 In the Foyer 10 minutes before the auction began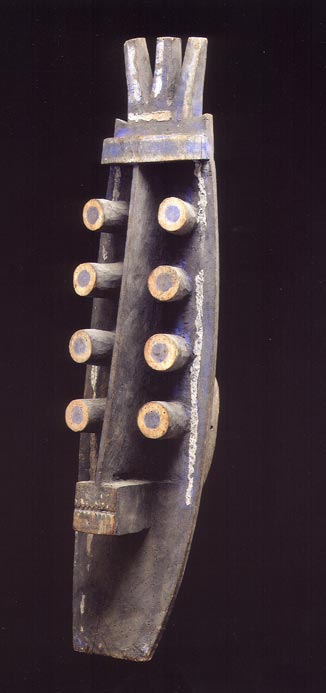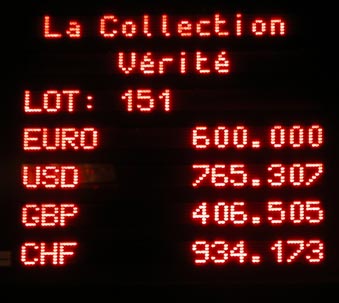 Grebo Mask, 34.25″ Final Price w/ commission $886,103 usd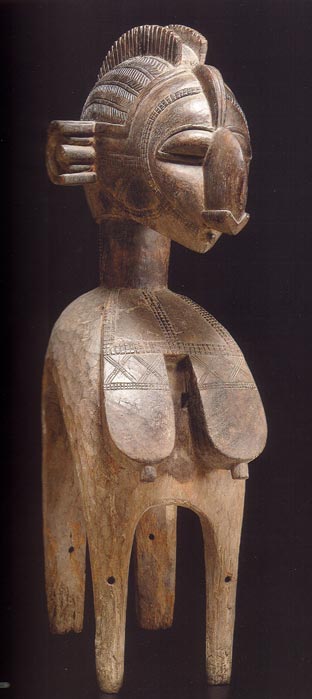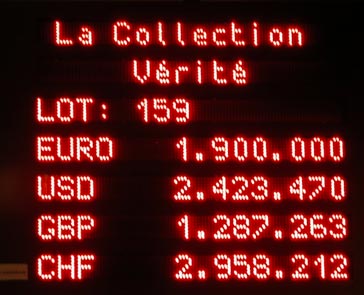 Baga Nimba Shoulder Mask 50″, Final Price w/ commission $2,792,990 usd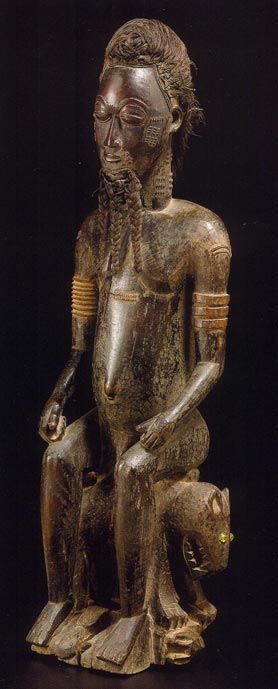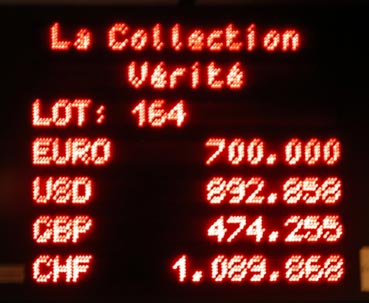 Royal Baule Statue 38.75″, Final Price w/ commission $1,032,472 usd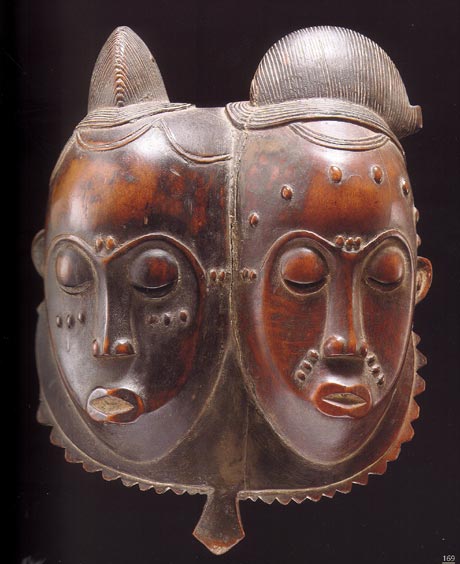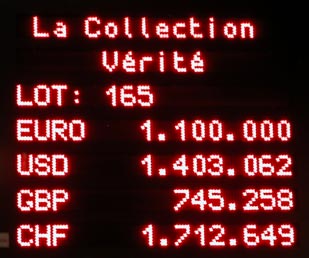 Baule Mask 11″, Final Price w/ commission $1,619,521 usd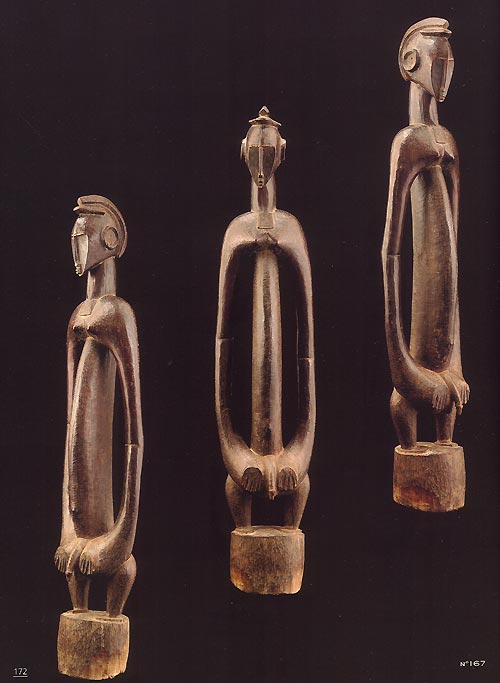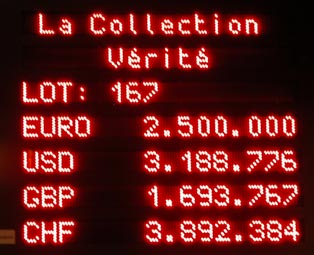 Senufo Deble Rhythm Pounder 36.75″, Final Price w/ commission $3,673,092 usd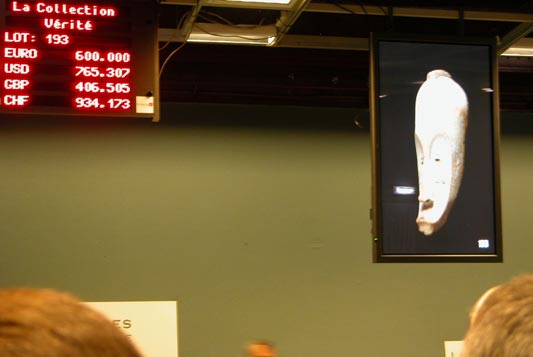 Fang Ngil Mask Bidding Opens at 600,000 euros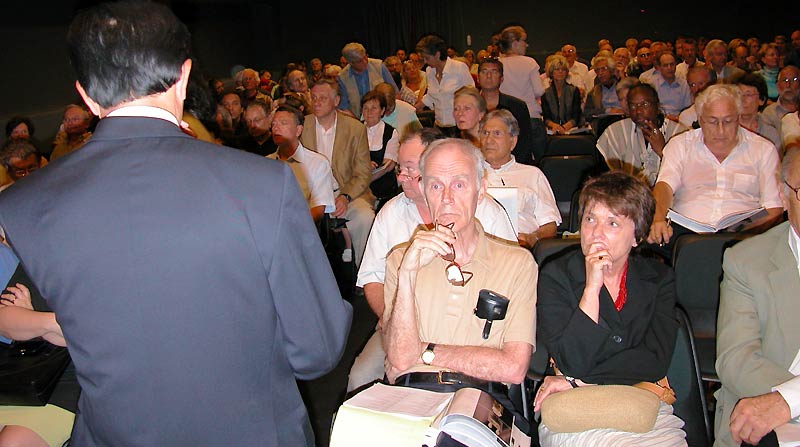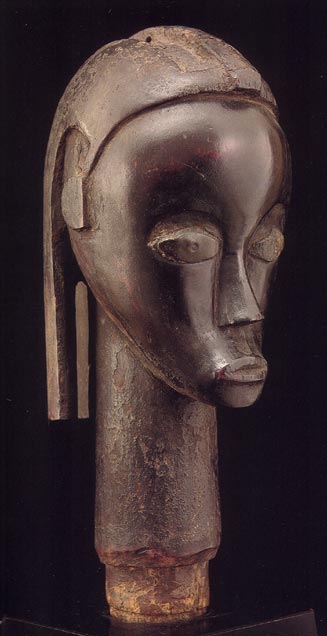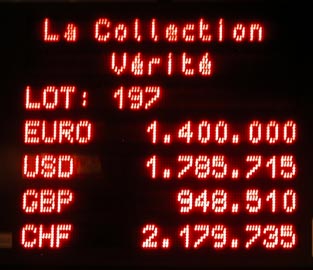 Fang Tete Head 15.5″, Final Price w/ commission $2,059,572 usd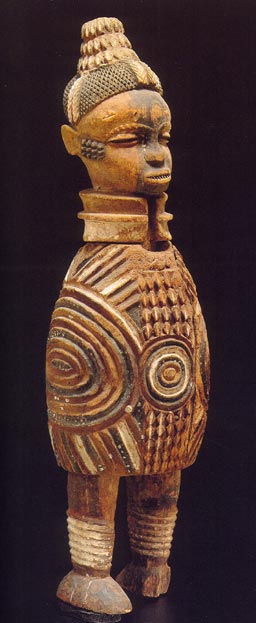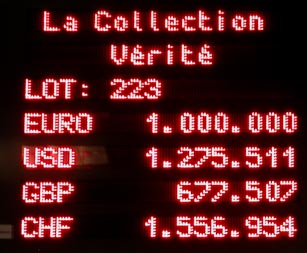 Kuyu Statue 32.75″, Final Price w/ commission $1,472,837 usd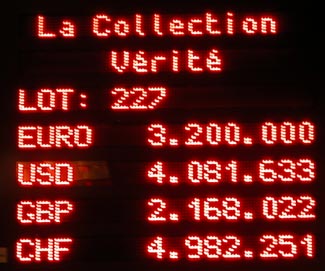 Chokwe Figure 58″, Final Price w/ commission $4,699,878 usd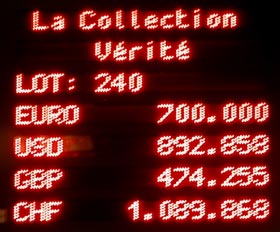 Kongo-Solongo Reliquary 34.75″, Final Price w/ commission $1,032,786 usd
As might be expected, there were scores of "runners" at the Verite preview as well as outside the auction during session breaks.  Some of their selling tactics were very direct and aggressive to say the least.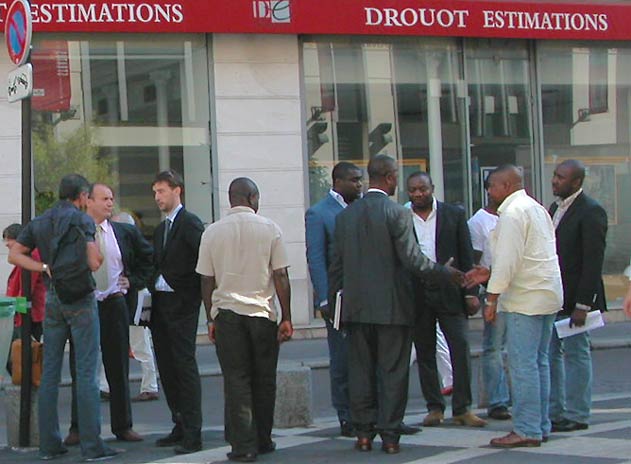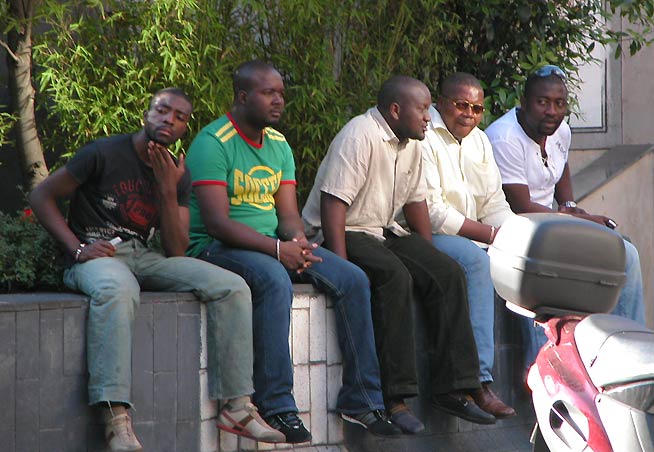 THE OCEANIC
The obvious question is will Oceanic Masterpieces, which are actually more scarce, ever command the same prices as classic iconic African Art?  Well, the good news is it now appears that oceanic is catching up.  A rare Solomon Island Skull Shrine in the shape of a Bonito fish sold for $877,000 USD.  A New Ireland Malangan Figure standing on one foot with arms outstretched sold for $442,260 USD.  New Guinea art certainly earned some respect too.  An undisputed masterpiece lower Sepik "stone carved" figure brought $413,280 USD.    The New Guinea Abelam house lintel measuring 129.75″ was "preempted" by the Quai Branly Museum at a hammer price of 48,000 euros.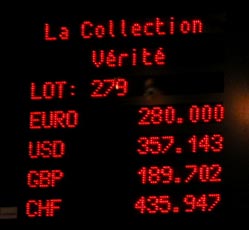 Superb 25.5″ Lower Sepik Figure, price w/ commission $413,280 usd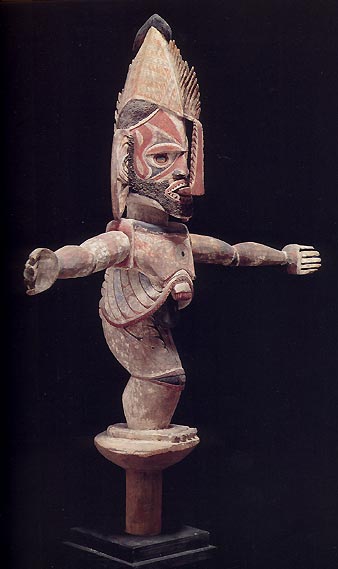 Lot 253, New Ireland Malangan 45.5″, Final Price w/ commission $442,260 usd

Lot 262, New Pigment Dish 23.75″, Final Price w/ commission $53,524 usd

Lot 269, Vanuatu Rom Mask 26″, Final Price w/ commission $118,944 usd

Lot 286, Admiralty Island Male Figure 43″, Final Price w/ commission $148,680 usd

Lot 287, New Guinea Shield 69.25″, Final Price w/ commission $47,578 usd

When the hammer fell at 30,000 euros (44,600 USD) for this New Britain Toali Dance Ornament (lot 308) with virtually no pigment, no provenance or publication history, several were surprised. Its estimate was 10,000-12,000. Perhaps two collectors of modern art were bidding against each other??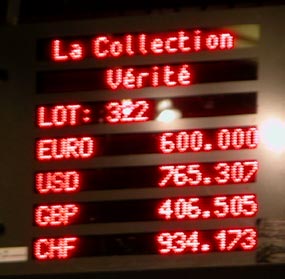 Lot 322, Solomon Is. Skull Shrine 78″, Final Price w/ commission $877,000 usd. The human skull in the midsection obviously completed this piece, however, few people actually believed the skull was old or Indigenous.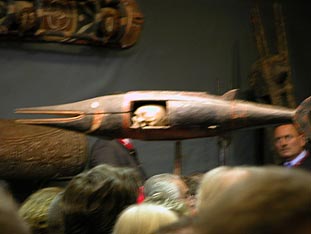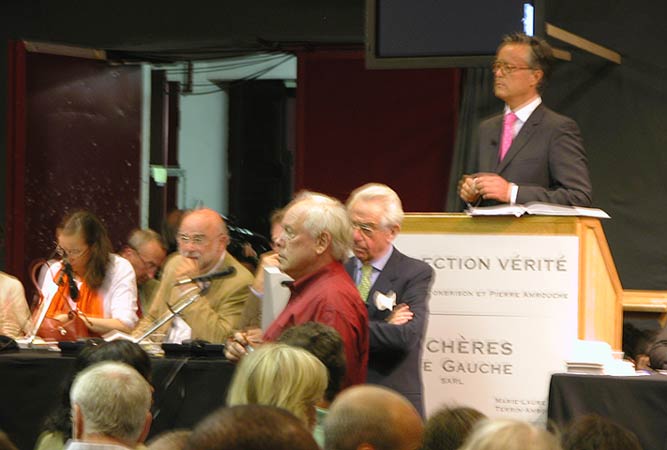 Seated: Alain de Monbrison, Standing: John Friede (Red Shirt)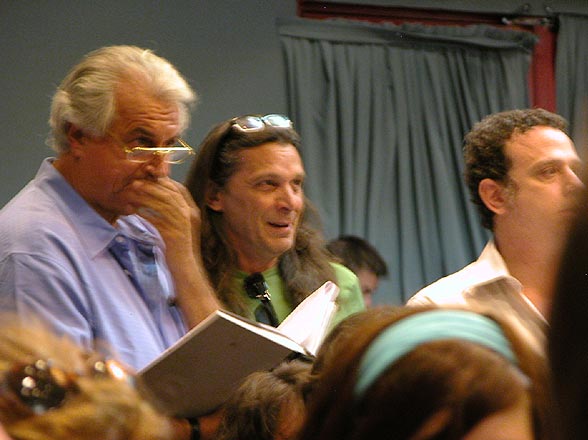 Left to Right: Wayne Heathcote, Jack Sadovnic, and Bruce Frank
A word to collectors.   If you're looking for a good deal buy from your favorite dealers and establish "personal relationships".  In the end you'll be getting much more value for your money and likely be offered great pieces when available.  If status is more important to you, by all means go to these big auctions, be seen, and proudly keep your paddle high in the air until the hammer falls…