Written by Michael Auliso and republished here with his permission.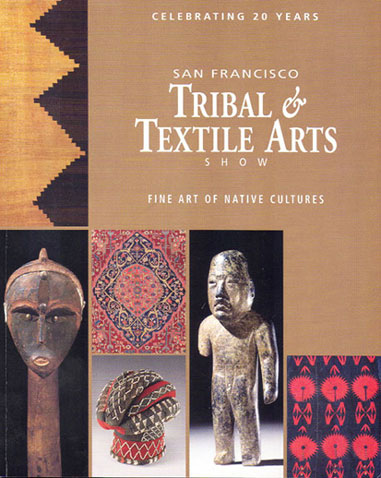 This brief review will be limited in Scope to mostly Tribal Art, even though this show included textiles The annual Tribal Art Show located on the waterfront Marina at Fort Mason is a "Must See" event for any and all persons interested in the field. This year visitors were treated to beautiful weather in San Francisco, and the Marina with a view of the Golden Gate Bridge is gorgeous location for any venue.
The largest Tribal Show in the Untied States was once again charged with excitement. Once a year in the second week of February the 60,000 sq. ft. Festival Pavilion at Fort Mason officially becomes a "mega store" of antique Tribal Art. San Francisco continues in the direction of being the major U.S. destination for Tribal Art. Incidentally that is also the goal of the 17 dealer group comprising "SF Tribal". Making San Francisco into a Tribal Art meca similar to Brussels or Paris is exactly its purpose, and it is obviously being realized.
This years show had a long waiting list of prospective dealers, but only added an additional four totaling 107 exhibitors. Show promoter Bill Caskey said they had their largest Gala Preview Opening night to date (The opening was a benefit for the De Young Museum). Attendance on the following Friday was very strong and remained steady on Saturday and Sunday. This years show was widely attended by overseas collectors and dealers particularly from Europe and Australia.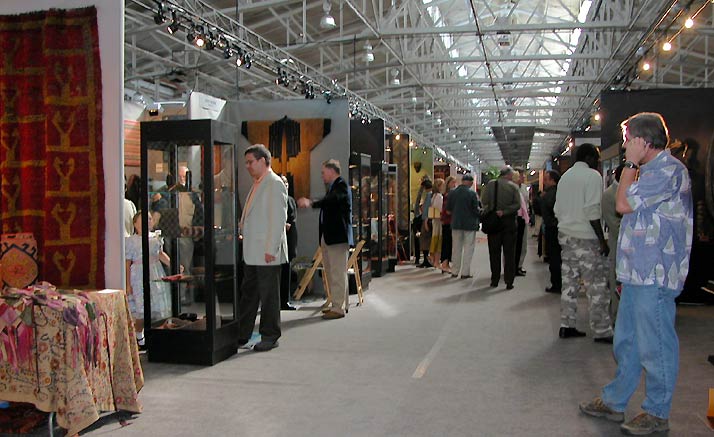 Interior of the Massive Fort Mason Festival Pavilion, Row B
The composition of exhibitors saw a noteworthy shift this year. A few of the dealers not present this year included William chose not to exhibit this year since his newly remodeled gallery is just minutes from Fort Mason. New exhibitors included Galerie Flak (Paris), Serge Schoffel (Brussels), Oumar Keinde (Dakar, Senegal W. Africa), Jeffrey Myers & Earl W. Duncan (New York), Joe Loux (Santa Fe, NM). Tribalmania (Santa Cruz/ Ben Lomond, CA) was back after a 3 year break.
The featured exhibit in the Foyer this year was titled "To Catch the Eye & Hold the Spirit: Ritual and Prestige Containers From World Cultures". It was curated by Vanessa and Andres Moraga. As evidenced by this exhibit, the variety of vessels, receptacles and containers conceived and fabricated by indigenous peoples around the works is surpassed only by the infinite uses to which they were put, and the assortment of raw materials pressed into service. One of the highlights of the exhibit was a northwest Coast Ceremonial Grease Bowl owned by Dave and Nancy DeRoche.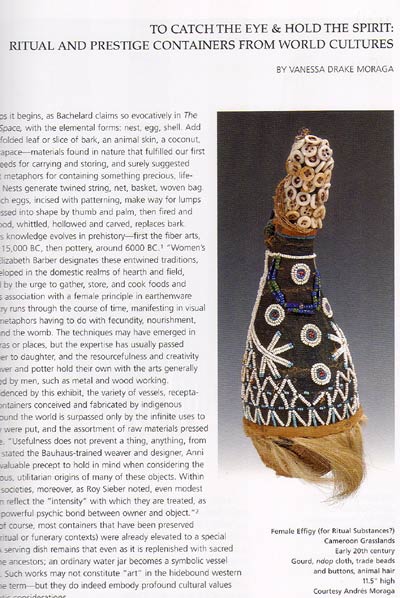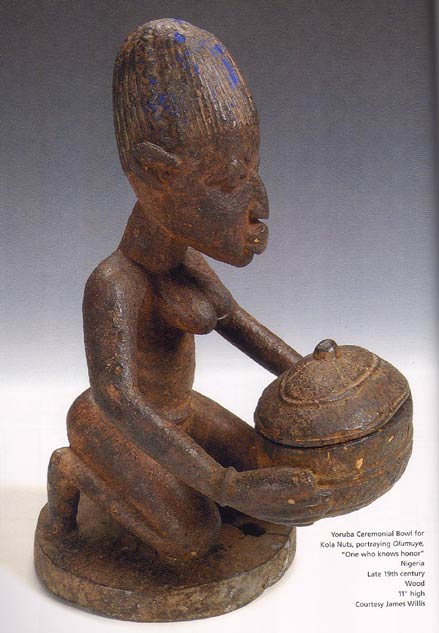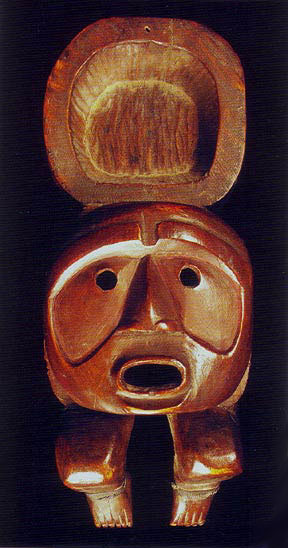 Northwest Coast Grease Bowl, Late 19th C.
Dave & Nancy DeRoche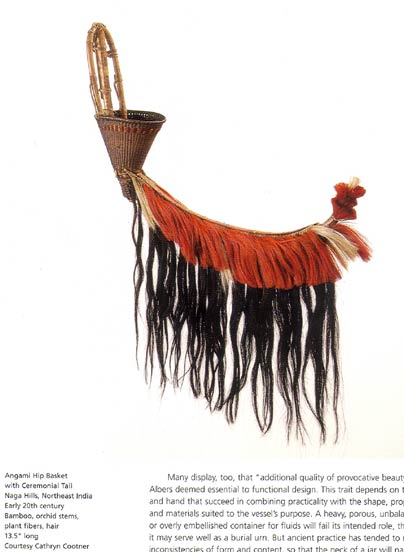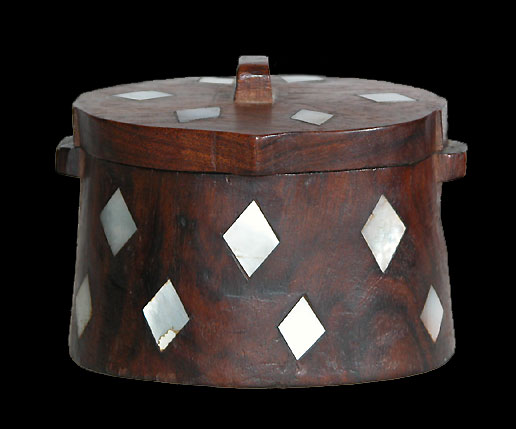 Shell Inlaid Fishhook/ Tackle Box, Micronesia, Tokelau Is. Late 19th C. (Courtesy Tribalmania)
This year it was apparent that Oceanic Art, especially New Guinea Art, was "en vogue". Most likely due to the opening of the De Young Museum featuring "The Jolika Collection of New Guinea Art", the world's most important collection owned by John and Marcia Friede. John Friede was in attendance and appeared very interested in some of the offerings, as did many other collectors.
A number of Oceanic dealers directly benefited from this spike in sales. Through poling various dealers, it was determined that the rise in sales of New Guinea Art was not due to NEW customers as some had hoped. Instead it seems that the Friede exhibition served to further validate New Guinea Art in the eyes of existing collectors. With this added confidence the "purse strings" of existing collectors seemed to be more open. Michael Hamson Oceanic Art (Palos Verdes Estates, CA), who has a large booth close to the entrance of the show, recorded his best show ever selling at least half of his pieces. Bruce Frank (New York) Sold most of his New Guinea pieces. Bruce's quality offerings included an important stone carved Maprik figure, a Lake Sentani Lime Gourd with original figurative lime stick, a crouching Stone carved Biwat Figure, and an impressive early Asmat Food Bowl. Kirby Kallas Lewis (Lewis/ Wara Gallery, Seattle, WA) reported a terrific show also selling most of his major New Guinea pieces. His featured piece was an incredibly rare and large New Guinea Coastal Ramu male figure. One couldn't walk past his booth without looking at it. Equally fine was a New Britain Toali Mask, and a ancient pre-contact Sepik neckrest with three figures–all of course sold.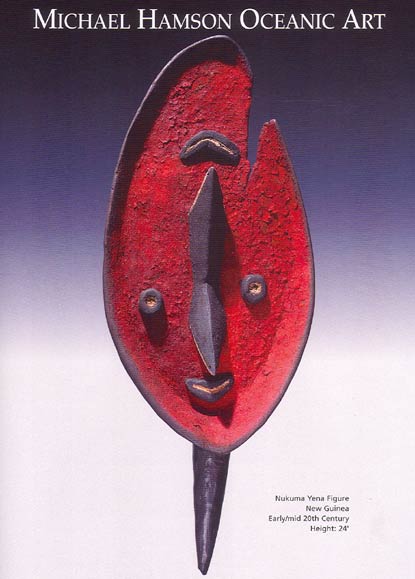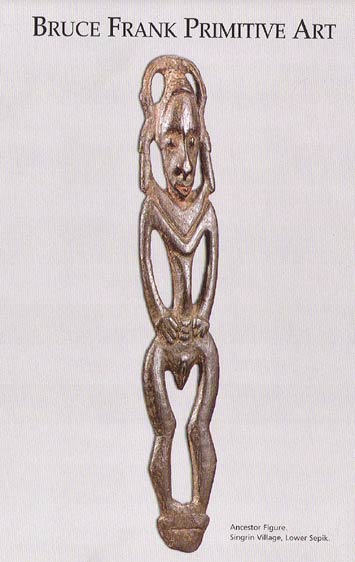 Gallery J. Visser (Brussels) sold his featured piece which was an exciting Solomon Island New Georgia "Nzuzu Nuzu" canoe figurehead. John Giltsoft (Spain) featured a stunning Hawaiian Necklace "Lie Niho Palaoa", Tad Tribal Art (Santa Fe, NM) had a marvelous Marquesas Island Stilt Step with Tattooing on the chin. Kevin Conru (Brussels), showed a Marquesas Island U'U' club, and Large Easter Island Figure. just to name a few of the dealers with choice pieces. Our Tribalmania (Ben Lomond, CA) booth had many fresh pieces, among them a Mid 19th C. Gilbert Island woven sennit body armor vest with shark tooth sword which attracted a lot of attention. Dr. Eric Kjellgren who was present opening night (curator of Oceanic Art at the Metropolitan Museum of Art in New York) was surprised to see the Gilbert Armor and commented how truly rare they are. ( see photos on page 3). In addition here's a link to TRIBALMANIA'S BOOTH with LIST of ITEMS EXHIBITED The most graphically stunning Polynesian object shown at the show in my opinion was Thomas Murray's (Mill Valley CA) Fijian Tapa Cloth.
Perhaps the best Melanesian piece and probably the "sleeper" of the show was Brant Mackley's (Hummelstown PN) Solomon Island female crouching figure from New Georgia which was dated circa 1860 or earlier.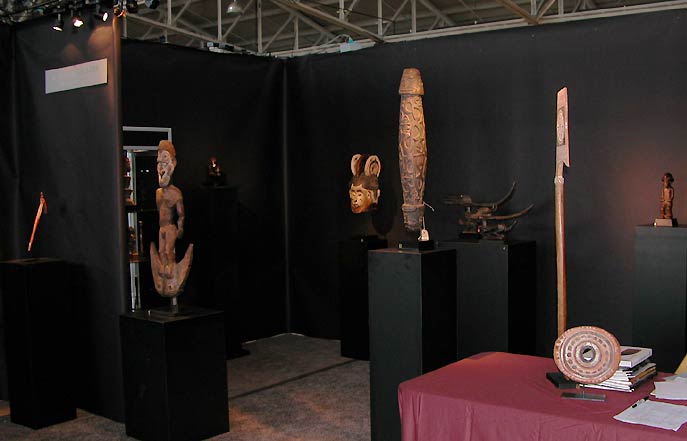 Gallery J. Visser (Brussels)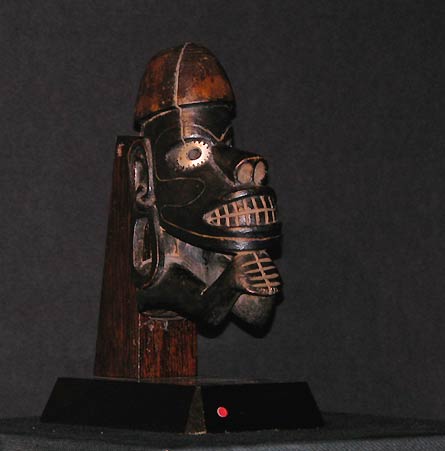 Gallery J. Visser (Brussels)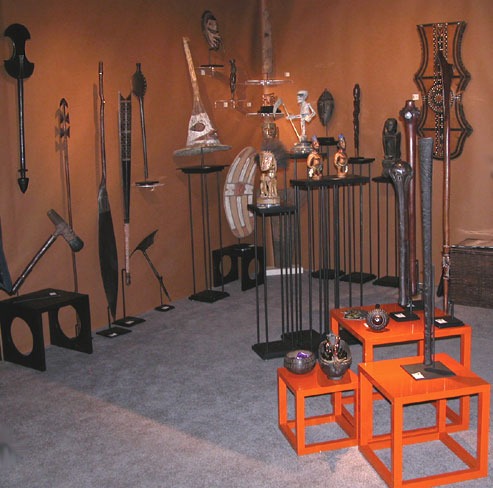 Left Side of Tribalmania's Booth (Ben Lomond, CA)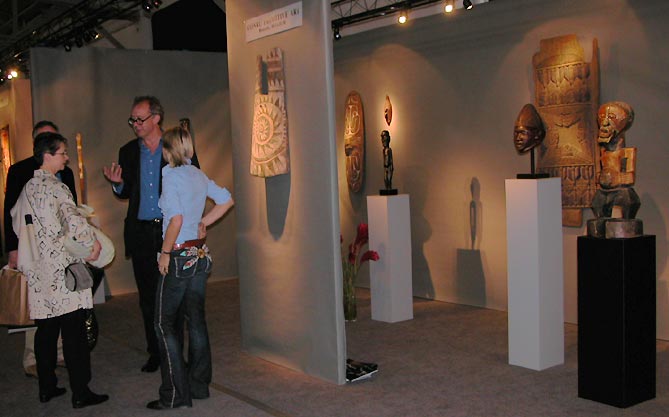 Kevin Conru (Brussels)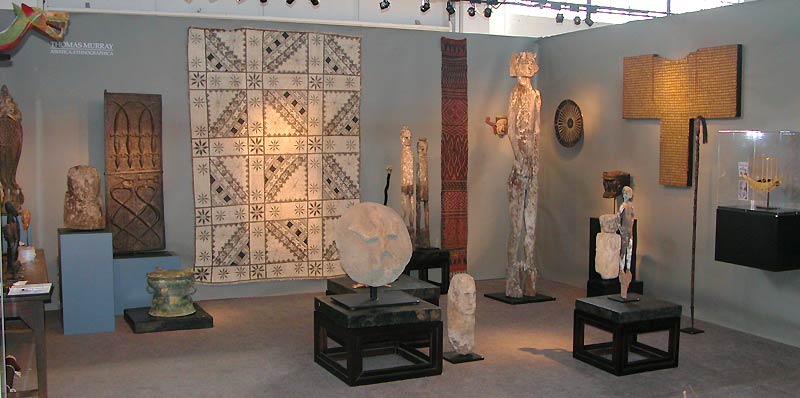 Thomas Murray (Mill Valley, CA)
When looking for unusual Indonesian Art, Davide Manfredi (Milan) and Serge Le Guennan's (Paris) booth immediately comes to mind. They had a number of fine old world pieces including a superb Batak Horn. Many of their pieces were previously owned by Alain Schoffel. Thomas Murray (Mill Valley, CA) had a monumental Dayak figure. Probably the most compelling piece belonged to Joel Cooner (Dallas TX) who had a world class Dayak Coffin Finial. Mark Johnson (Marina Del Rey, CA) exhibited some very rare early Beaded bags from Sumba of a vintage and quality seldom seen in the market today. Mark also had an excellent Batak saddle-like seat, which is an artifact previously unknown in Batak material culture. Other notable pieces included John Strusinski's "Primary Source" (Los Angeles CA), Dayak Ladder from Borneo and Viki Shiba's (Mill Valley CA) Archaic Dayak Post having three figures. The post's age was estimated 500-700 years old. It was wonderful to see that B.C. Denton (San Francisco CA), had a superb 18th century Japanese Mask on display.
Mark Johnson (Marina Del Rey, CA)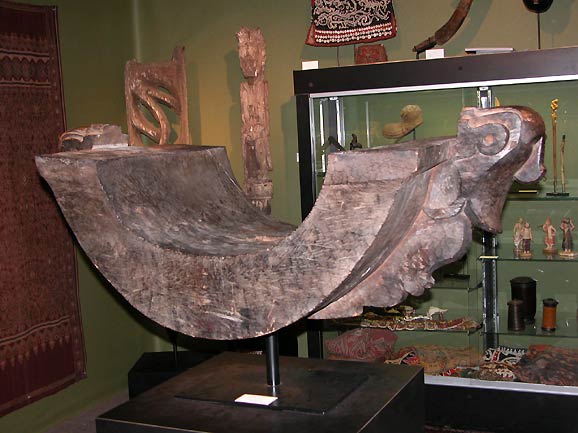 Mark Johnson (Marina Del Rey, CA)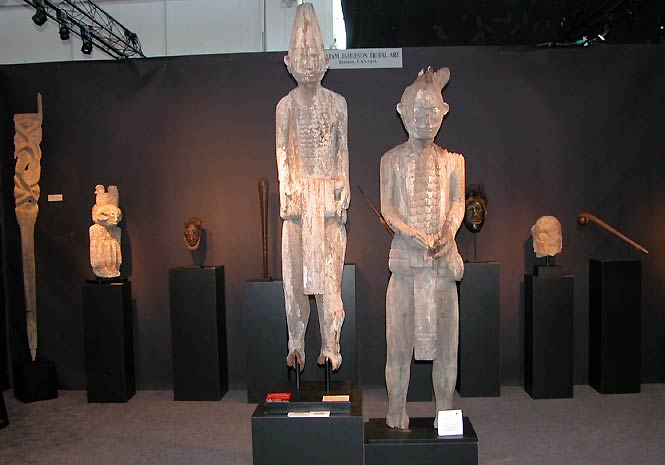 William Jamieson (Toronto)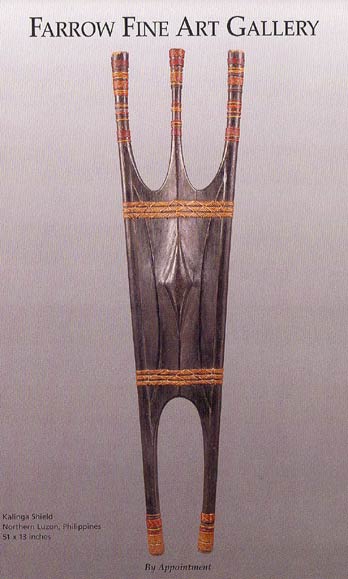 Unfortunately, the rest of the review has been lost