Written by Michael Auliso and republished here with his permission.

This year in Santa Fe there were TWO concurrent major Tribal Art shows, the renowned  Whitehawk show,  & Historic Indian & World Tribal Arts show.
Whitehawk show, in its 23rd year, moved to its new temporary location at the El Museo Cultural de Santa Fe. During the excavation of its old location at the Sweeny Center, ancient artifacts were found which will delay its reconstruction, possibly indefinitely.
For those who have not been to Santa Fe the Whitehawk show it is a unvetted venue with a mixture of everything from jewelry, folk art, Spanish Colonial Art, Pre-Columbian art to Tribal Art. The show was made up of 109 dealers making it a melting pot of cultural material. One booth might have Sotheby's quality Oceanic and African pieces, while a booth one row over will have reproduction art. The show is informal and has the ambience and energy of an indoor flea market with divided booths. It has a festival quality, and customers like the fact that there are deals to be found there as not everything is priced at retail. The merchandise is so varied that there truly is something for everyone. Marcia Berridge is the new Producer of the show. Some of the noted Tribal Art dealers exhibiting at this show included Mark Johnson (Marina Del Rey, CA), Spencer Throckmorton (New York), Art Primitivo (New York), Tribalmania Gallery (Ben Lomond, CA), Patrick Morgan (Paris), Joe Lux (San Francisco), Bill Sutterfield (San Mateo), Christopher Selser (Santa Fe NM), James Barker (Santa Fe NM) to name a few.
The opening night of the show was charged with excitement and packed with customers as well as dealers from the competing. The food was abundant and really good once you found it, one of the features Whitehawk is known for, but navigating though the show with its two satellite rooms on the far left was confusing. The show is unique in that it allows "early buyer entry". Anyone can purchase a non exhibitor pass for $175 and enter the show while the dealers are setting up! The buyers enjoy this privilege but not most dealers. The Antique Tribal Art Dealers Association had hoped that the show promoter would agree to a 2 hour window this year before admitting early buyers, but she did not. It is worth noting that no other major Tribal Art Show in the country allows early buyer entry. This has been a tradition and part of the program of this show since its inception. This practice obviously generates additional revenue for the promoters, but is a security and safety concern for the dealers, and should in all fairness be discontinued. If "Earlybirds" gave vendors significant sales they would not be so strongly opposed to it. The benefits of this custom are clearly one sided.
Barry Cohen's Historic Indian & World Tribal Arts show once again was held at the Shellaberger Tennis Center, at the College of Santa Fe. This year the show was vetted for authenticity by non-exhibiting dealers and collectors; which helped elevate the quality of the show further. This was a sound decision as it boosts buyer confidence. Last year's show was tarnished by the abundant questionable African material which seeped in. As this show aspires to be on the level of the Caskey Lees shows, it was obviously important to the promoter to keep the standard of Art in this show as high as possible.
The opening night highlight was a special book signing by legendary American Indian Dealer George Terasaki. George's book featured his collection of Northwest Coast objects and was titled "Transfigurations". The book, limited to 500 copies, initially sold for $250 for the first 100 copies, and increased in price as supply dwindled. The objects in the large format gorgeous book were all photographed by George. Steven Brown wrote the text and was also present for the book release. An important event to be sure, that somewhat made up for the all too apparent lack of catered cuisine, something that people generally expect when they have paid for a high ticket event.
This year the show had 95 dealers up from 77 two years ago. Several dealers from Brussels participated for the first time including, Patrick Mestdagh, Joris Visser, and Jo DeBuck. They were facing a thirty percent currency handicap by selling in U.S. dollars as opposed to the strong Euro. Exhibiting members from "San Francisco Tribal" included, Steve Berger, Andres Moraga, Bob Dowling, Vicki Shiba, and Thomas Murray.
Compared to the Whitehawk show, attendance appeared thin during the day. There is a long list of noted Tribal dealers that have dropped out of this show finding it financially impractical. It is refreshing to see good quality material, but there is overall an element of excitement lacking in the general ambience of this years show.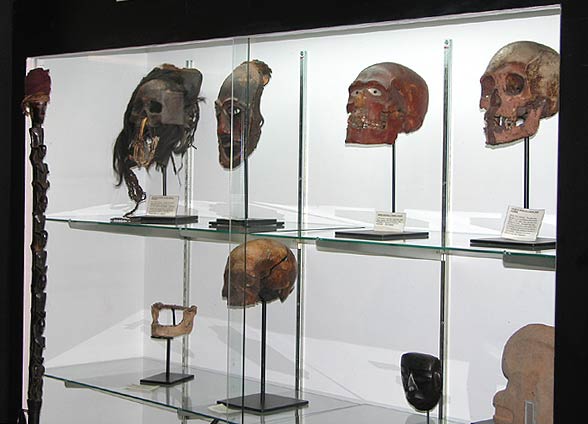 Bill Jamieson's Showcase of Human Trophy Skulls.  The second one from the right with shell eyes is a rare example from the Torres Strait Islands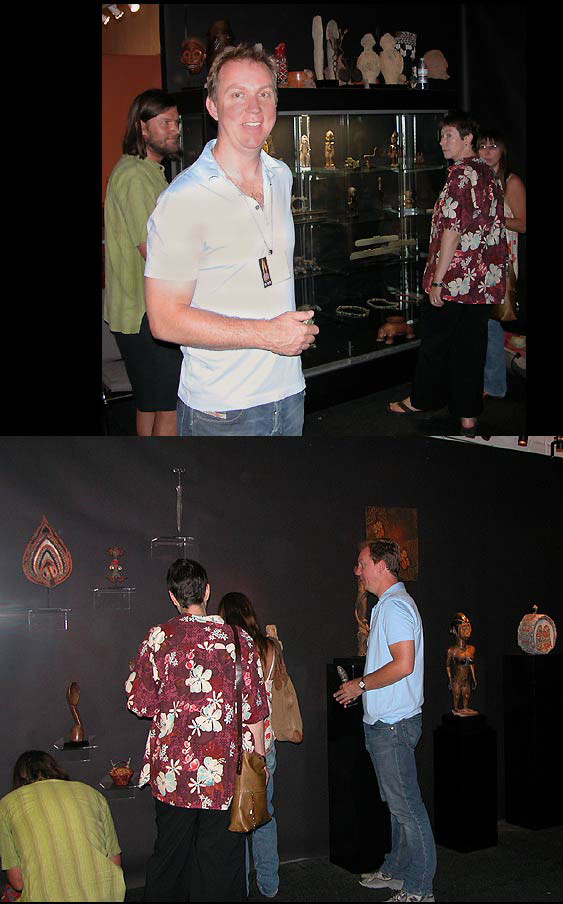 Robert Dowling (San Francisco) on opening night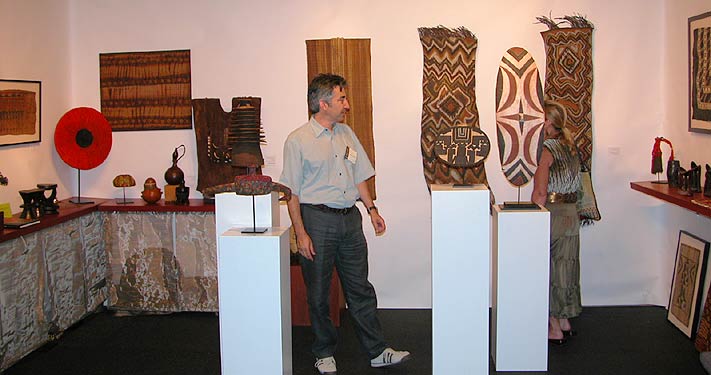 Andres Moraga (San Francisco) .  Note the very graphic New Guinea woven women's hoods on the back wall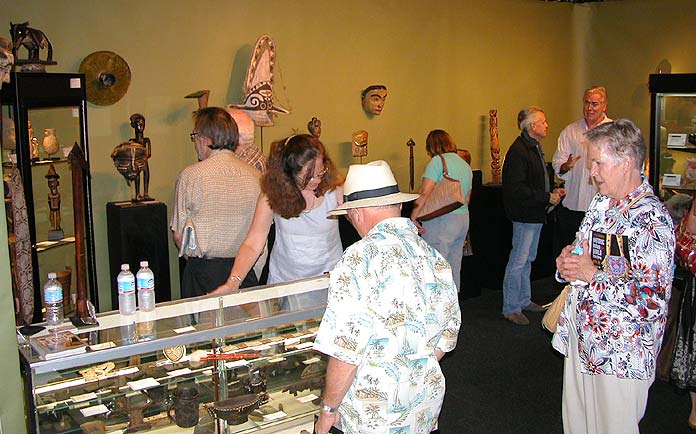 Tad and Sandy Dale (Santa Fe) together with Anthropos Gallery (Right), Ron Normandeau (Los Angeles). Ron had an amazing Tlingit Fighting Knife with Whale effigy handle.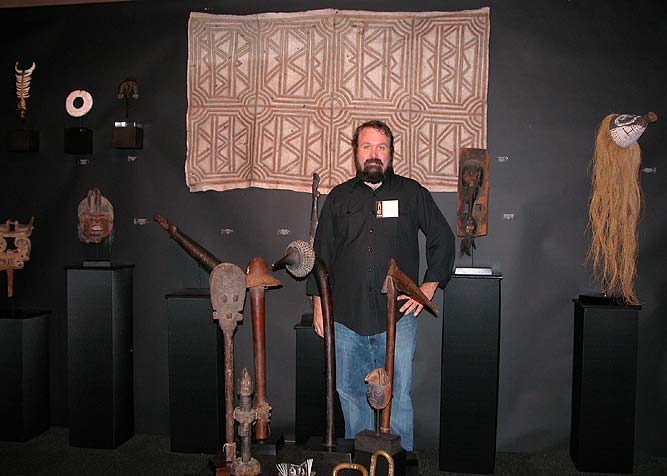 Matthew Hickey (Pennsylvania)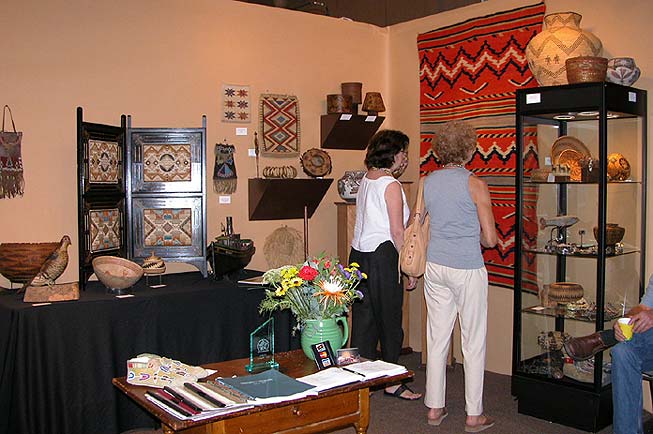 Merrill Domas (New York)
Brant Mackley (Pennsylvania)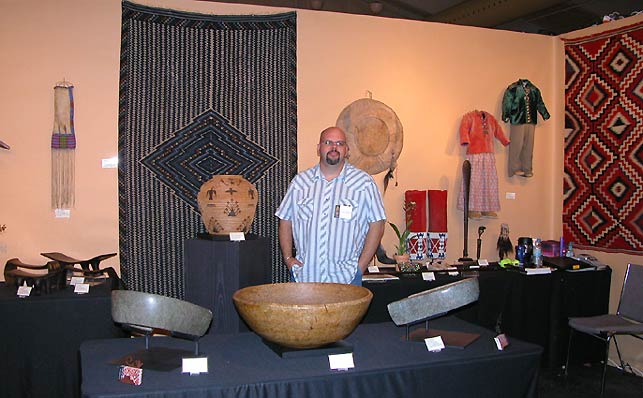 A Piece of the Past, Casey Conway (Arizona)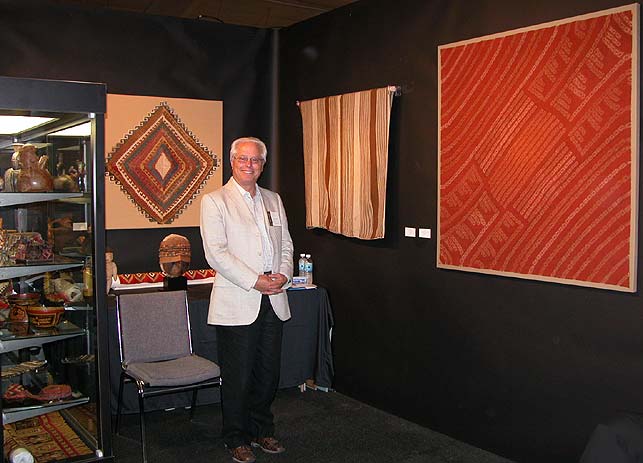 Steve Berger (San Francisco)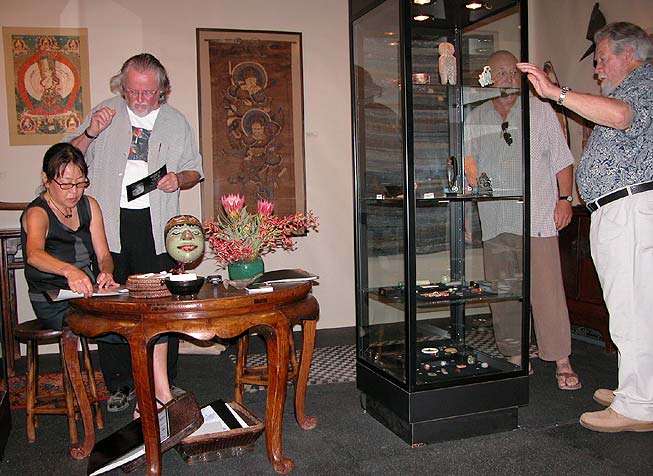 Vicki Shiba (San Francisco) together with Tony Milton (behind cabinet) (Santa Fe)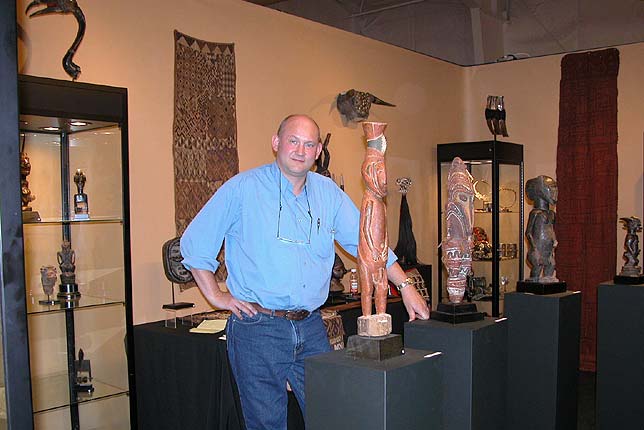 Yo DeBuck (Brussels) Exhibiting with "Singkiang" Linda Pastorino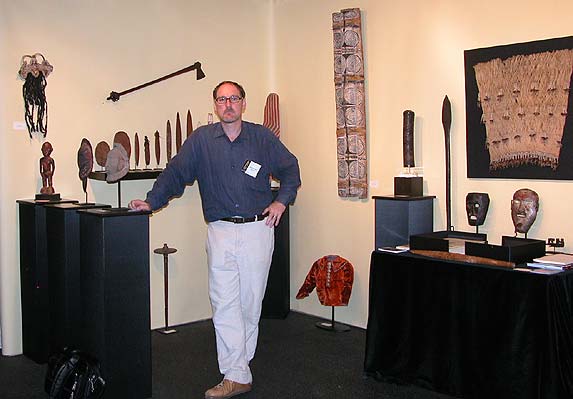 Michael Evans (Pennsylvania)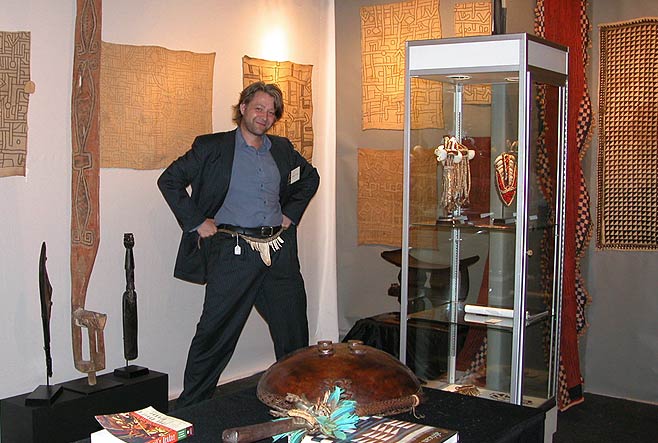 Joris Visser (Brussels) Displays a piece a New Guinea Shell Jewelry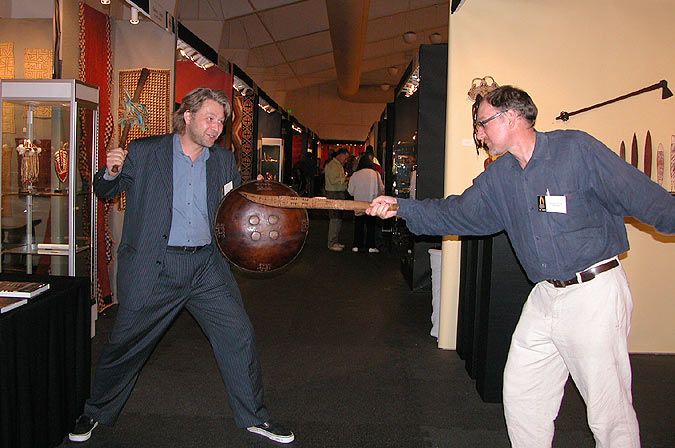 Competition was often fierce between dealers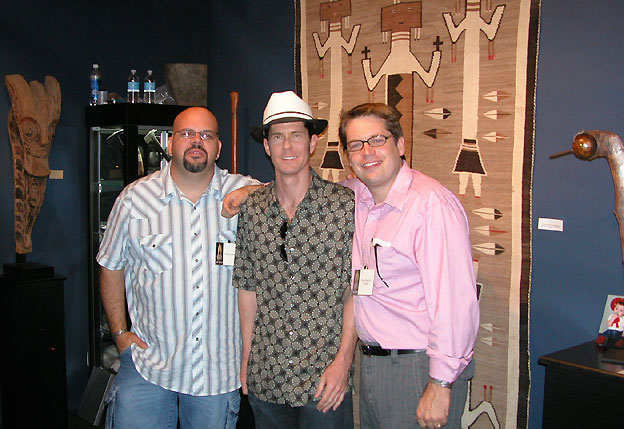 Left to Right:  Casey Conway, Michael Auliso, Brant Mackley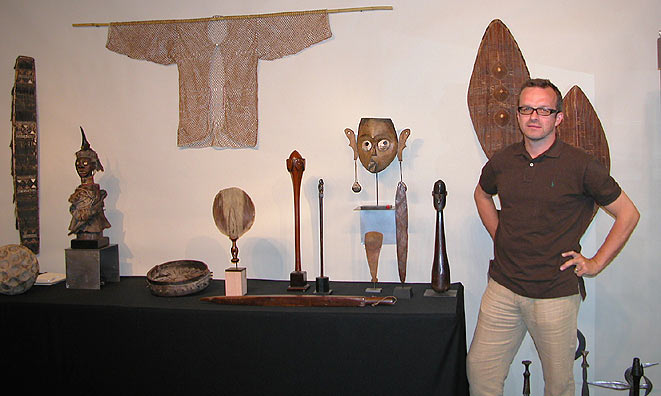 Patrick Mestdagh (Brussels).  Notice the terrific Dayak Mask with crazy eyes and twisted mouth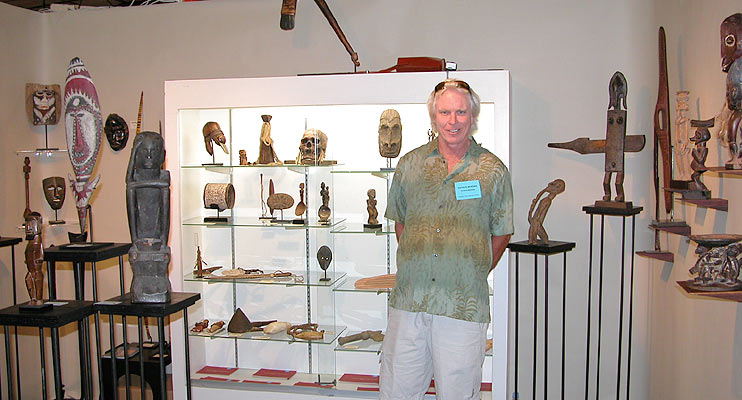 Patrick Morgan (Paris), exhibiting with Tribalmania (California)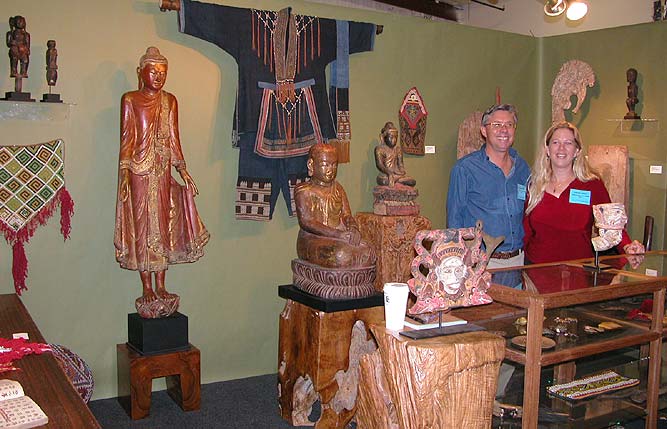 James and Carey Barker (Santa Fe)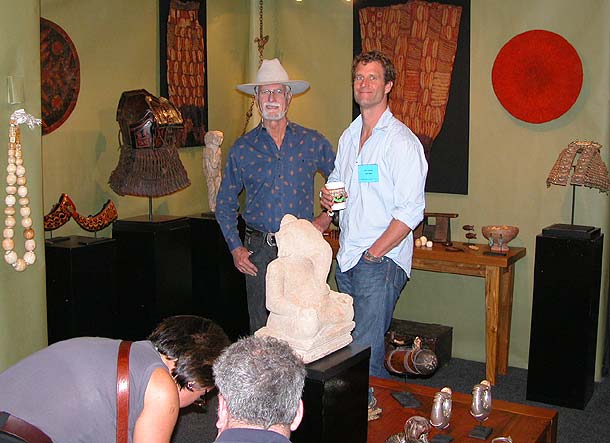 James Willis  and Joe Loux (San Francisco)
A word about the Santa Fe Market:
With two shows and TWO HUNDRED PLUS dealers exhibiting, it is difficult for many dealers to do better than "break even" since the local market for "Ethnographic Art" is meager and there is so much competition. The existing local market in Santa Fe is sufficient to support the permanent galleries but, sales are clearly diluted by the two shows happening simultaneously. Dealers I spoke with reported that the majority of their sales were to "other dealers". That suggests that without the dealers coming together and buying from each other, few sales would be made. The good news is that the collectors will find there are buying opportunities and dealers eager to make sales. For the upscale Cohen show to realize its full potential it needs to draw much larger numbers of collectors from out-of-town. A factor that has made the annual San Francisco Tribal Show a huge success.
Feedback I've received from visiting collectors is that two shows are one too many and it is inconvenient having to drive to each. Apparently people miss the days when you could "walk" from the Plaza to the Sweeny Center and then stroll to the El Dorado Hotel where the Cohen Show used to be held. Of course the serious collectors won't be deterred by a drive but the easier it is for people to attend the better for everyone involved.