Written by Michael Auliso and republished here with his permission.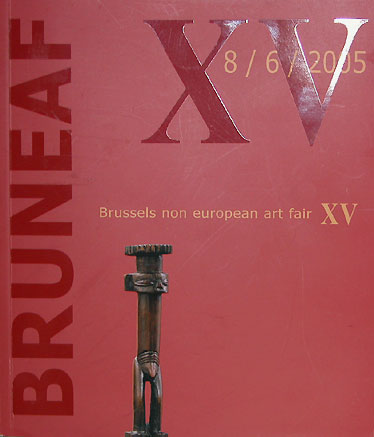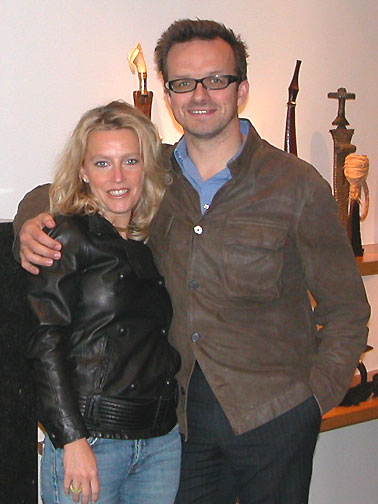 Bruneaf's New President: Patrick Mestdagh with Wife Ondine The Bruneaf Tribal fair, in its 15th successful year, featured 46 dealers exhibiting around the quaint and historic Sablon Antiques District inBrussels.   The fair is held simultaneously with the Bruneaf Ancient ArtFair (Baaf) and the Bruneaf Oriental Art Fair (Boaf) which makes for a concentrated art experience.  Unlike Tribal Shows in America, Bruneaf is non-profit and is organized by dealers for dealers.  The appointed president this year is Patrick Mestdagh who replaces founder Pierre Loos.   He has an ambitious job and we wish him much success.
The Sablon district is highly concentrated with a large number of Tribal Art dealers who have permanent gallery headquarters in that area.  Visiting dealers from the USA and other countries rent out space from local merchants for the special six day long event.  A good number of the local dealers have their own galleries on Rue de Minimes and elsewhere.  Visitors to Bruneaf can likely see about 70 percent of the show by simply walking into the galleries with the yellow Bruneaf flags.  Not all galleries have flags.  Some galleries have outdoor carpets which say Bruneaf so it is advisable to refer to the map on the back of the Bruneaf Catalog since it can be easy to miss or overlook various galleries.  This article is a brief overview for those who were not able to attend the Bruneaf Show and is intended as a service for visitors to the Tribalmania website.   We regret that we were unable to mention or show every exhibiting dealer.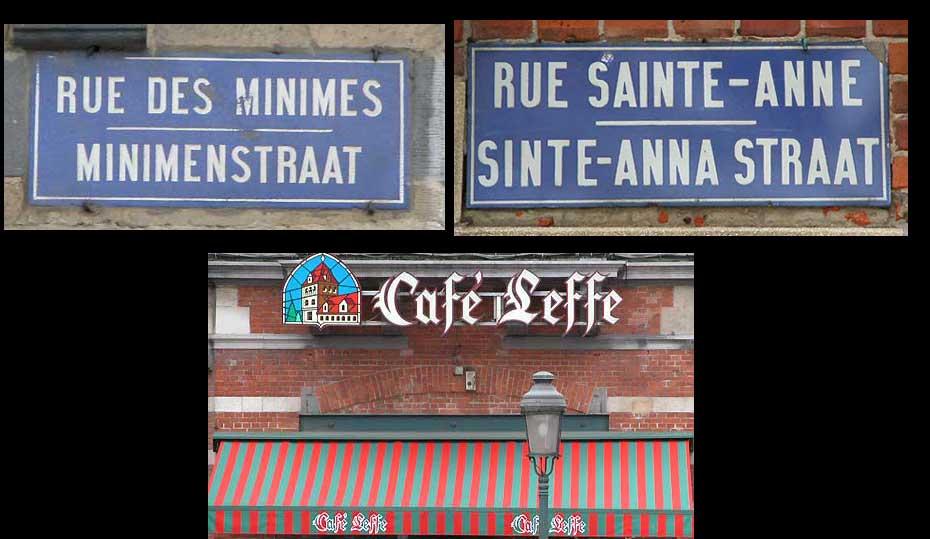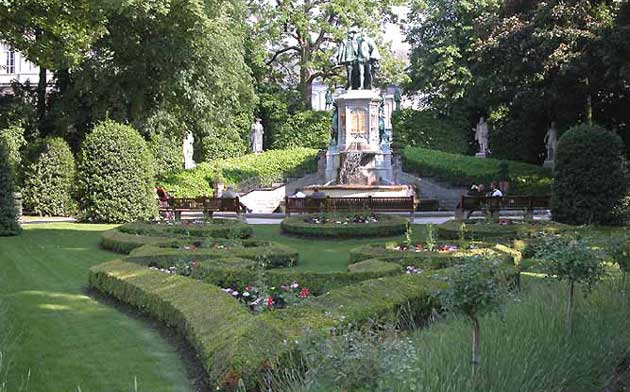 Jolly Hotel Du Grand Sablon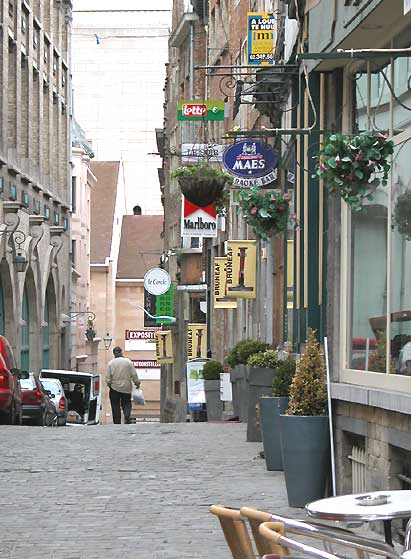 Rue Sainte Anne
Attendance was somewhat down this year. The reason seemed to be that there was at least 15 million euros in tribal art being auctioned in Paris at the same time which apparently kept some collectors from attending. Nonetheless, people were still buying.
This year Wayne Heathcote participated in Bruneaf and exhibited some of the best oceanic material in the show.
The most significant tribal piece in the whole show was from Indonesia. It was a rare and important monumental Nias stone "Adu" ancestor figure offered by Rabier Cy Art located on 8-10 rue des Minimes. The figure was in dramatic light in a downstairs stone basement and its presence immediately got your attention! Unfortunately no photographs were allowed of this piece. The price of the figure seemed to vary widely depending on when and who asked the price. The quoted prices varied from $450,000 euros to $700,000 euros. It sold towards the end of the show to an unknown buyer for an undisclosed sum.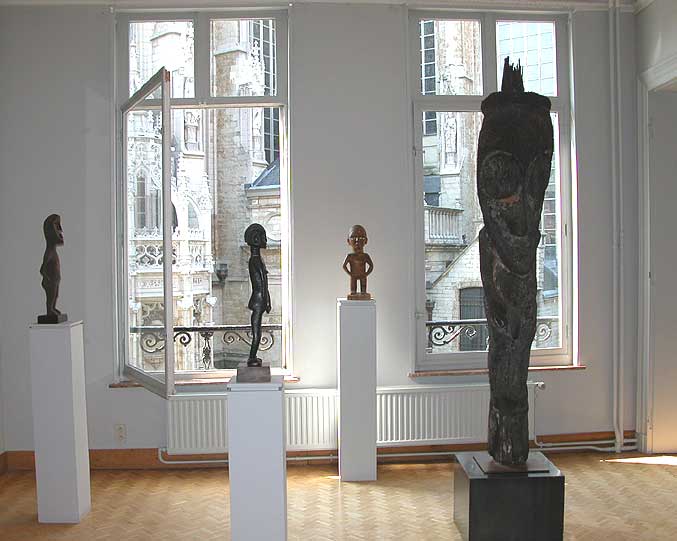 View from the Second Floor of Kevin Conru's Spacious Gallery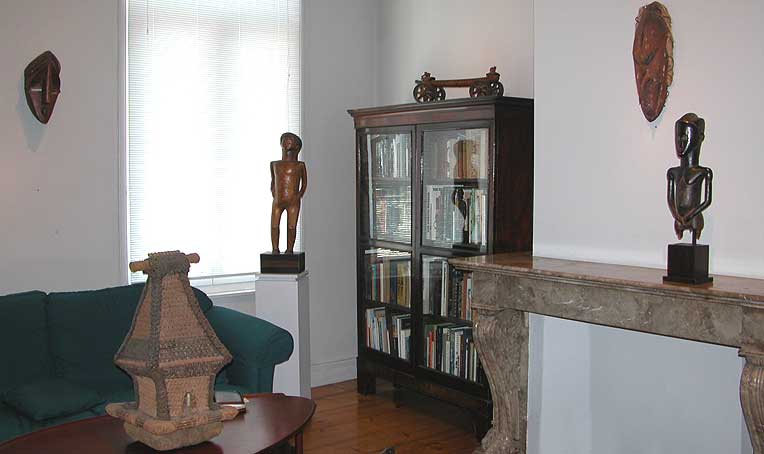 Kevin Conru's Gallery with an important woven Sennit Fijian Spirit House on the Table and a Fang Torso on the Mantel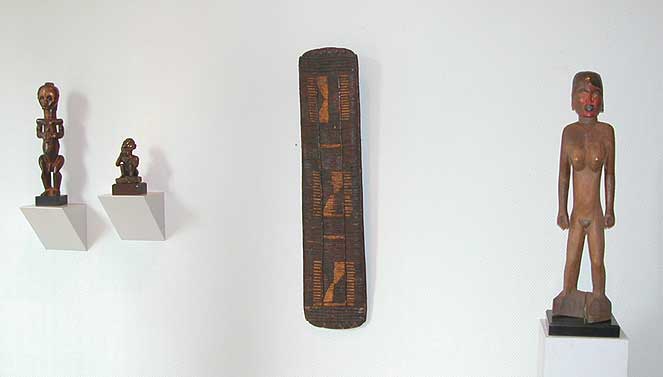 Kevin Conru's Gallery cont. with a rare Nicobar Island Figure on the Right
Skulls seems to be popular with collectors this year. Francios Coppens said that he sold at least twelve skulls both Dayak and Oceanic. In African Art, there were very few pieces that were priced over 30,000 euros and subsequently few, if any, masterpieces.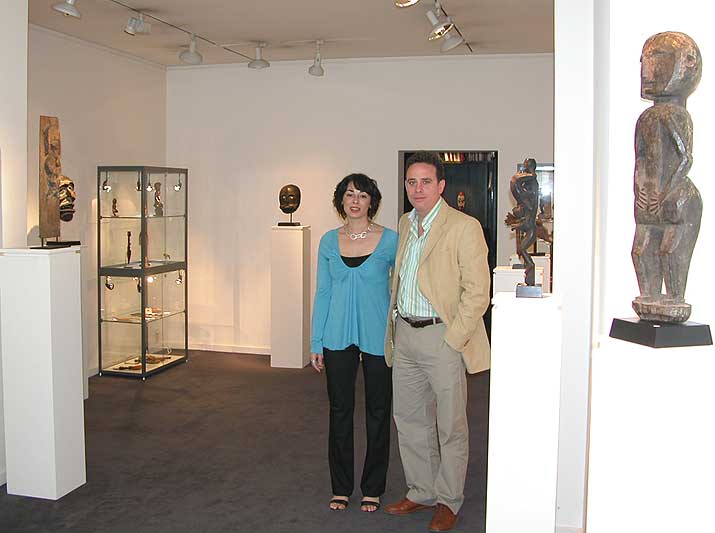 Bruce Frank in this Gallery on 15 Rue Ernest Allard.  This was Bruce's first year at Bruneaf.   Bruce said that sales were strong and he even sold his featured piece in the Bruneaf Catalog which was a 19th c. Northern Nias Ancestor figure from the collection of Dr. Edmund Muller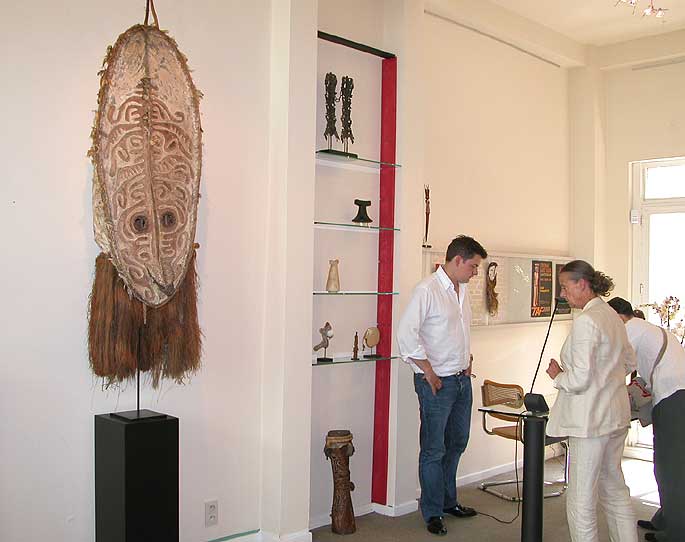 Mia Van Bussel's Gallery on 28 rue Sainte Anne.   Her large New Guinea Papuan Gulf fiber mask featured in the center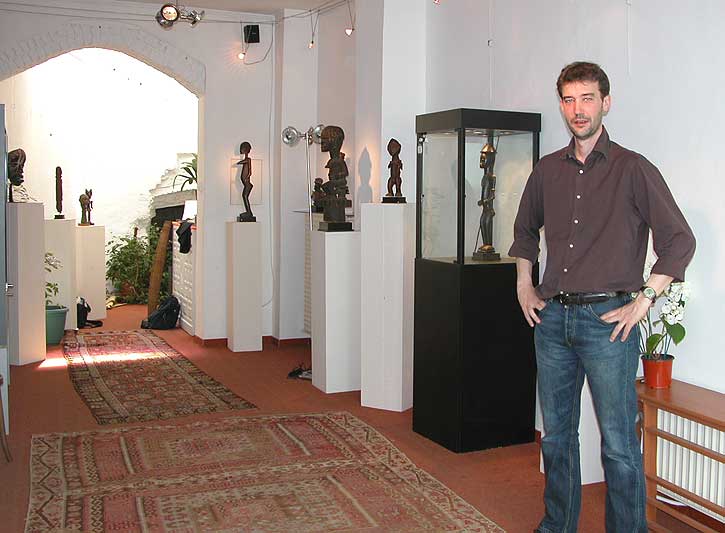 Yann Ferrandin (Gallery Valluet-Ferrandin) on 14 Rue Guenegaud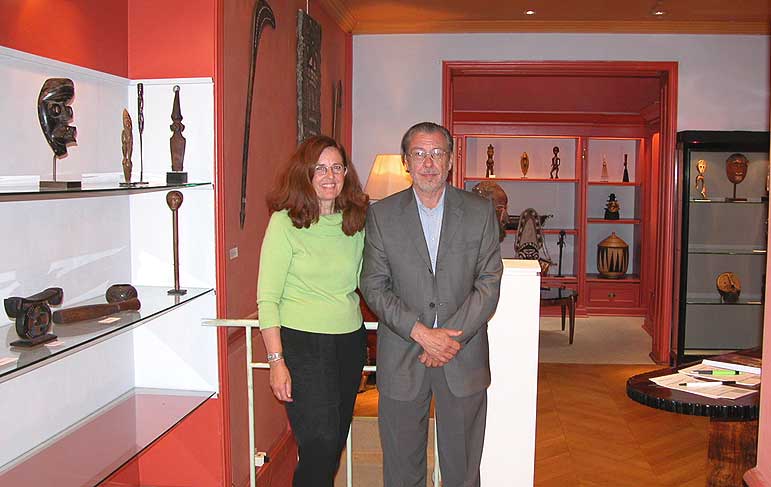 Tad and Sandy Dale in their gallery on 48 Rue de Rollebeek.  The gallery featured a warm color pallet which showed off the art well.  Tad reported having a very successful show selling a large number of pieces!  Sales included an Ngbaka figurative Harp, a New Guinea Canoe mask featured in Tribal Art Magazine and a number of African pieces to friends of the noted Brussels collector Willie Mestdagh to name a few.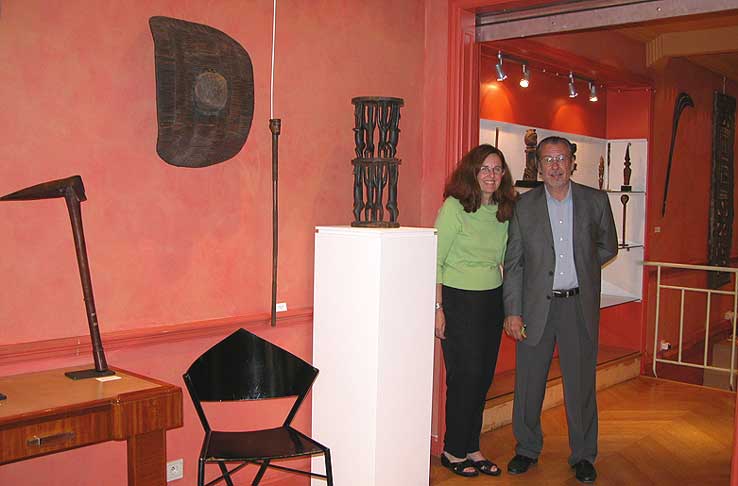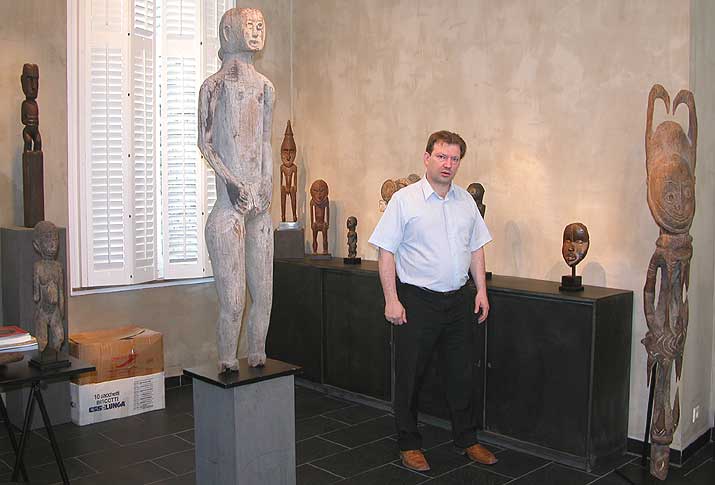 Serge Schoffel in this permanent gallery on 47 Rue des Minimes.  Serge always has a great mix of high quality African, Oceanic and Indonesian Art.  That Maori Figurative post on the upper left pedestal was extremely nice and priced at $30,000 euros.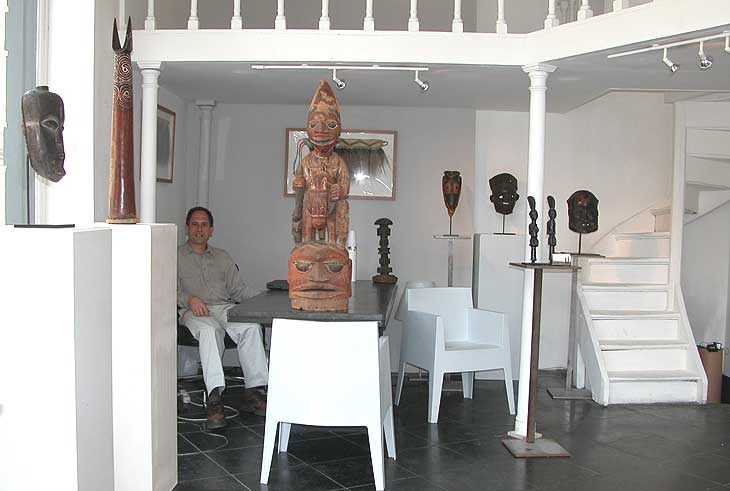 Joshua Dimondstein in this spacious gallery on 58  rue des Minimes.  It finally caught Joshua alone when he was not busy wrapping purchases from clients.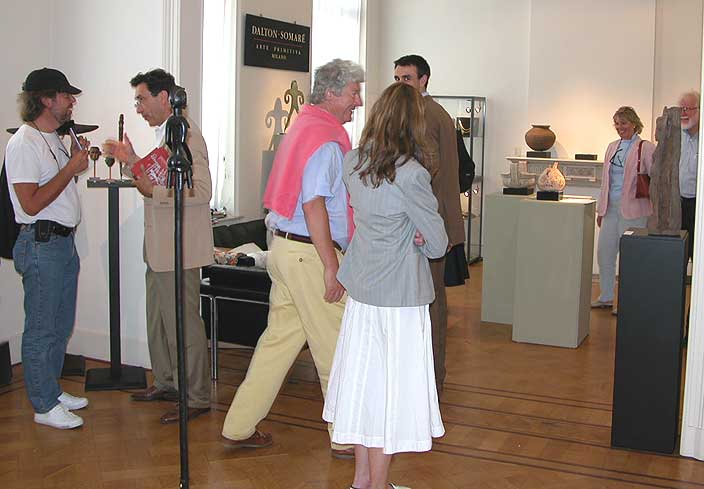 Leonardo's gallery was constantly packed with people.  He is seen talking with a preeminent collector of human skulls in a baseball hat.  John Giltsoff (center) with pink sweater.  Leonardo permitted a photo of this Vili skull shown below.  It was one of the more unusual pieces to be found at Bruneaf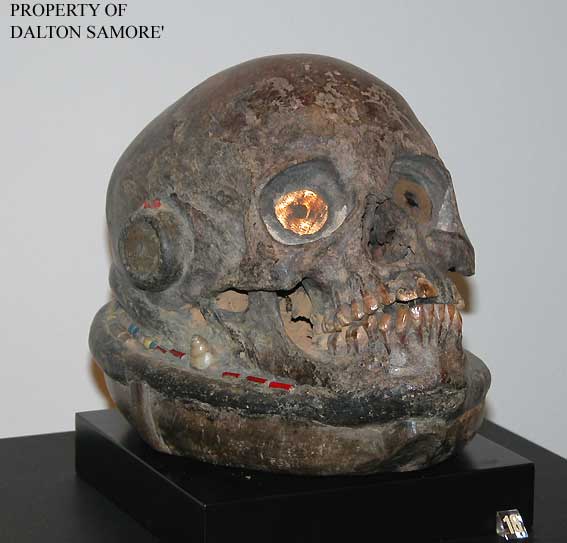 A fascinating African Vili Over modeled Skull from the Congo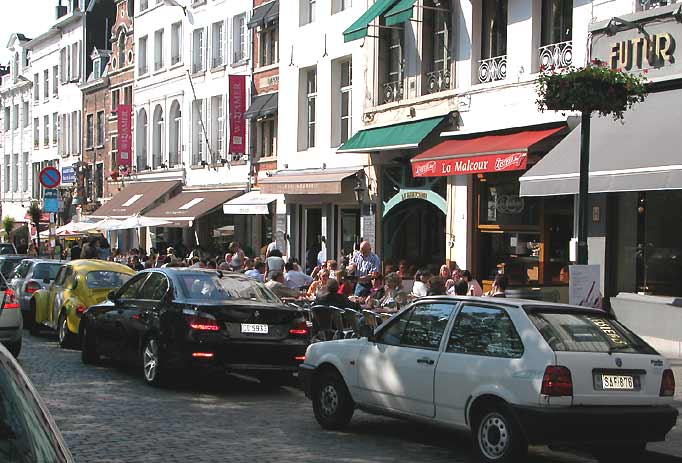 Cafe life in the Sablon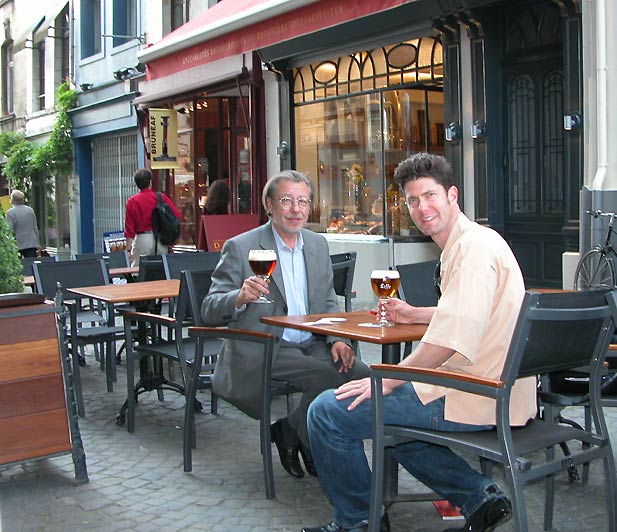 Anytime is a good time for a beer in Brussels.  Tad Dale and Michael Auliso at the landmark Cafe' Leffe.  Tad's gallery is seen in the background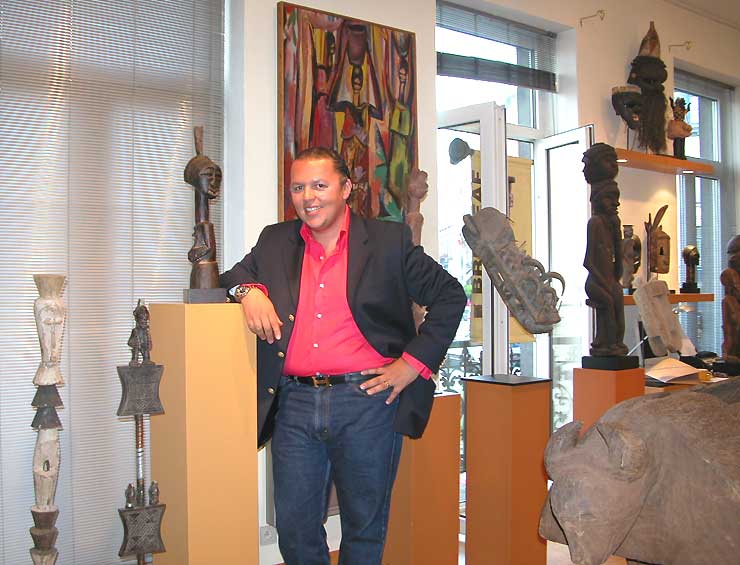 Alain Naoum in his second floor gallery on 77 rue Lebeau standing next to an expressive Songye figure in the Beneki style with turned head from the collection of Mert Simpson New York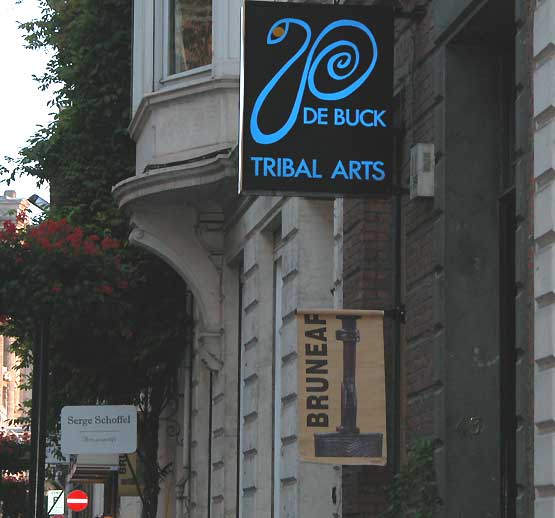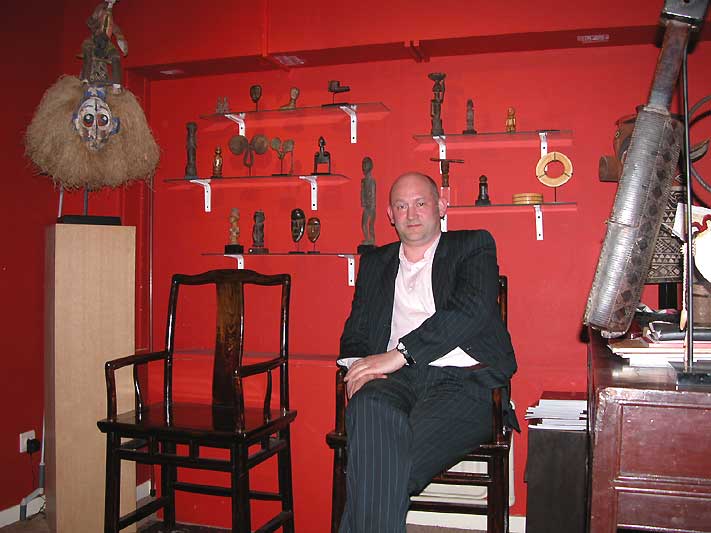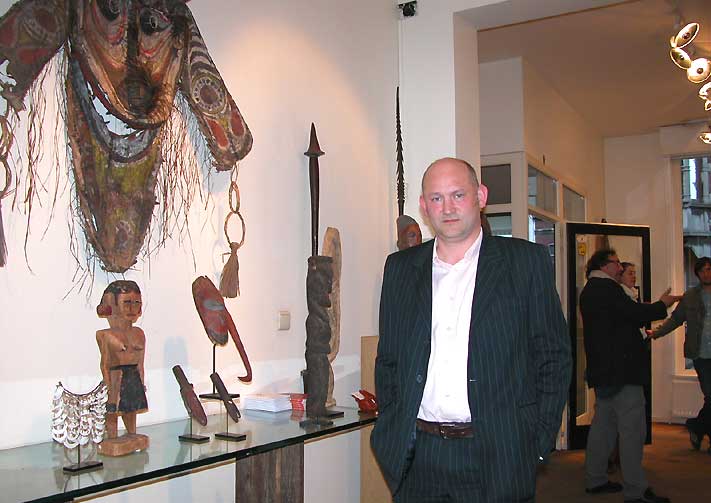 Jo De Buck in his permanent gallery on 43 Rue des Minimes.  That figure on the far left is a rare Palau female figure from Micronesia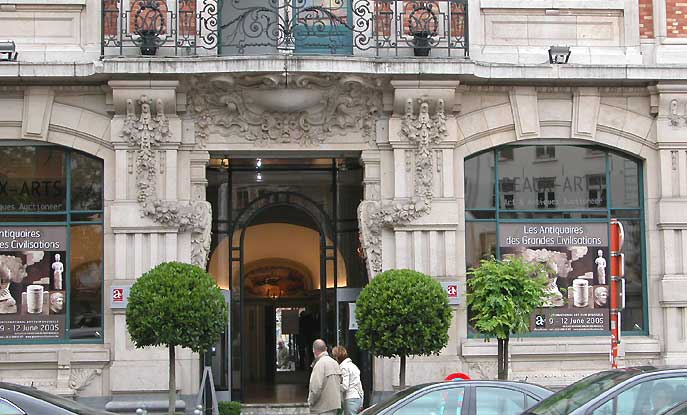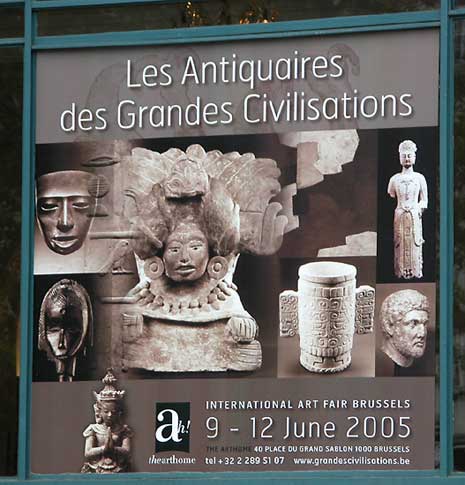 Also going on in conjunction with Bruneaf was this "Les Antiquaires des Grandes Civilisation" show.  This exclusive show had guards in the entrance scanning each person entering and exiting.  Basically there was ancient art and paintings for sale and few if any pieces were priced under $60,000 euros!  American dealer William Siegal from Santa Fe New Mexico had a Mayan mask with etched writing on the back priced at 1,000,000 euros.


On the first day of the show there was a commotion at an African Dealer's gallery on Rue Guenegaud. There were police cars and a lot of arguing that afternoon. Apparently what happened was while the dealer was speaking with a pair of clients, an African runner handed his business card to the couple. The dealer immediately asked the man to leave. When the man refused an argument ensued. Then, the dealer, who had a background in boxing punched the man in the face! The police came shortly after and then it was business as usual.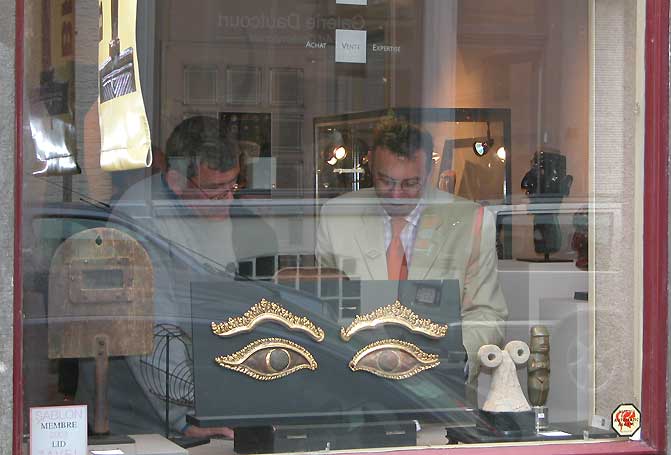 Joseph Gerena in his gallery on 33 Rue des Minimes.  Joe sells the most diverse tribal art in the business.  This time he was even showing some old Military items which fit into the theme he was doing.  One of his featured pieces was a 19th c. Alaskan Eskimo wooden hunting visor with applied Sea Lion whiskers and applied seal ivory amulets.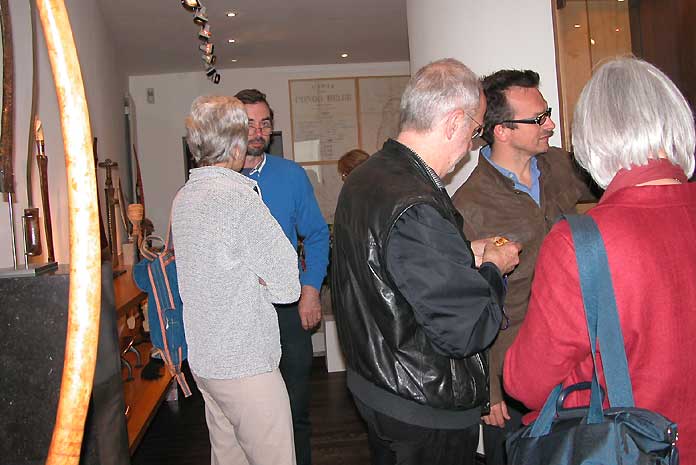 Patrick Mestdagh showing customers a Pende Ivory Mask in his crowed gallery on 31 Rue des Minimes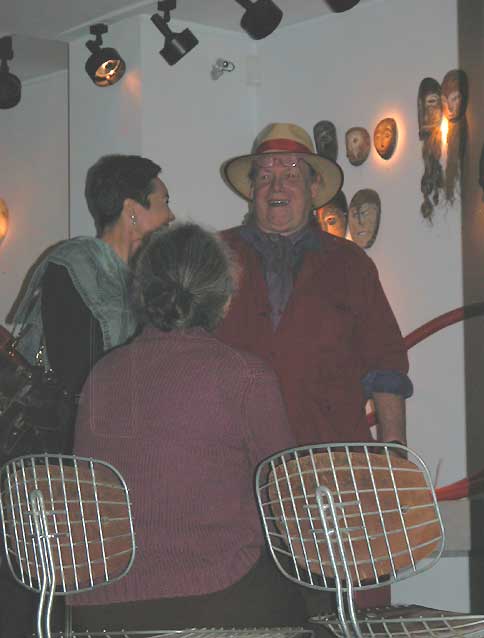 Marc Felix  with a grouping of very impressive Lega Masks from his successful Mask exhibit from the Maniema Area of the Congo in the background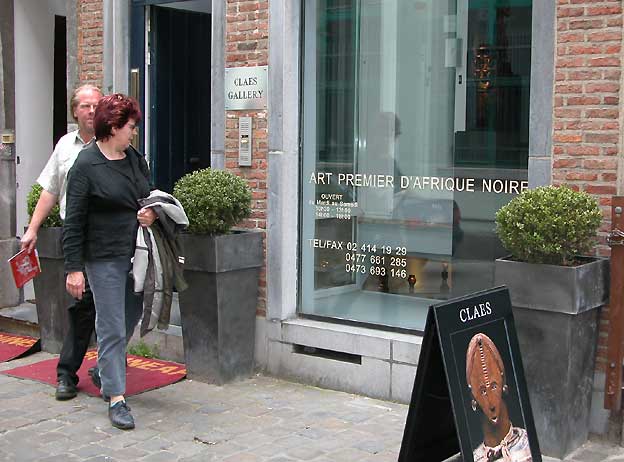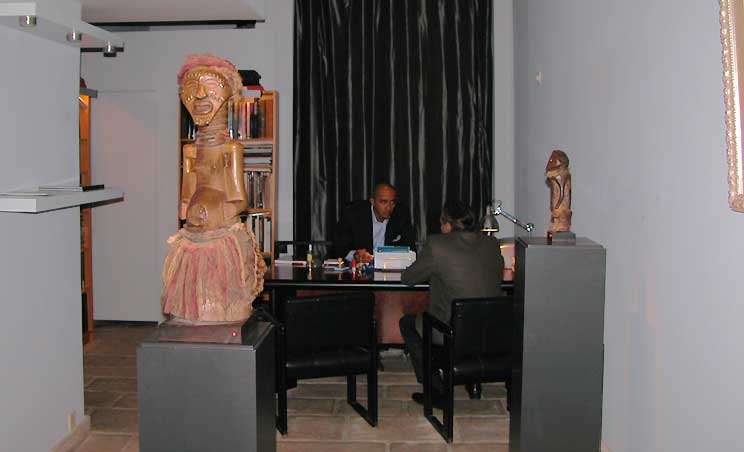 Patrick Claes has many people wondering where on earth his is finding African Art of this quality??  On the main floor of this gallery he takes a minimalistic approach and shows only a "handful" of pieces, perhaps just 6 or 7!  This is very effective and the observer can completely focus and give attention to one piece at a time.   However, each piece he shows is typically a  "knockout" and is sold not long after opening night.   Continued success to you Patrick!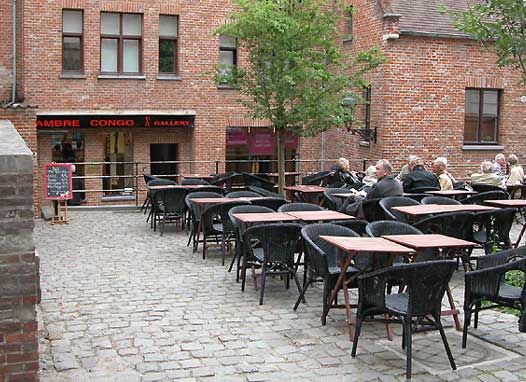 Cafe on Impasse St. Jacques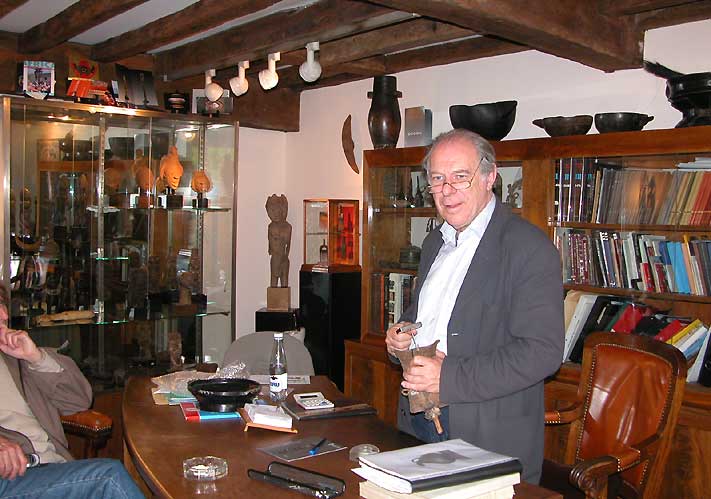 The Godfather of the Sablon, Peirre Dartevelle in his gallery on 8 Impasse Saint Jacques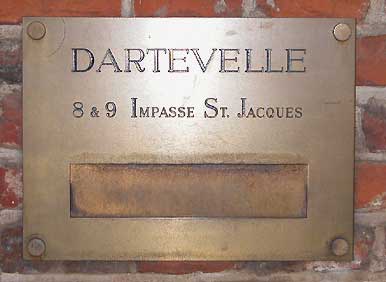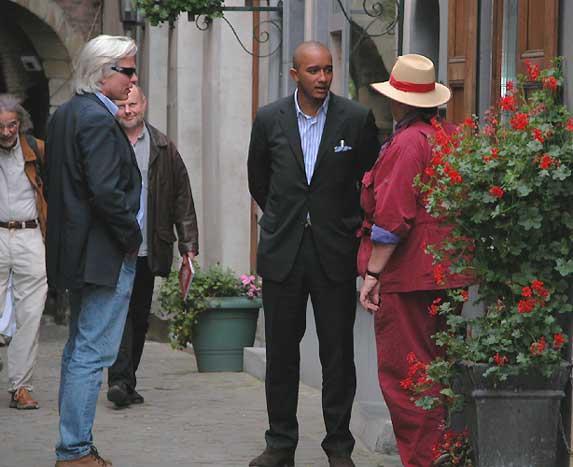 Street Scene in front of Marc Felix's Gallery (Left to Right:  Patrick Morgan, Patrick Claes, Marc Felix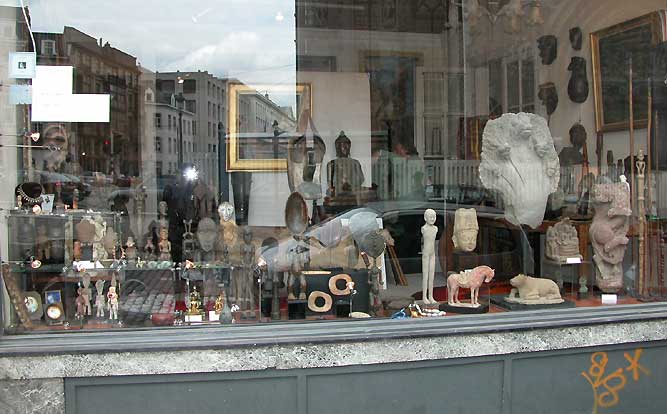 Buyer beware.  If you're visiting the Sablon area of Brussels for the first time you should know that dubious shops like these selling fakes and reproductions from all cultures are dotted around the Sablon.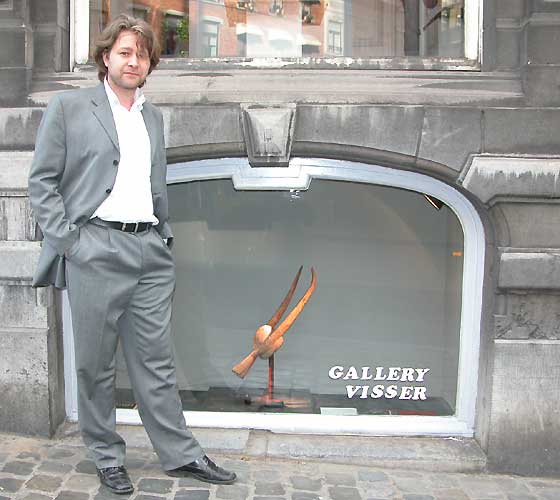 Joris Visser standing in front of his newly renovated "second" gallery on 67 rue Lebeau.  His Nigerian Mama mask featured in the Bruneaf catalog is seen in the display.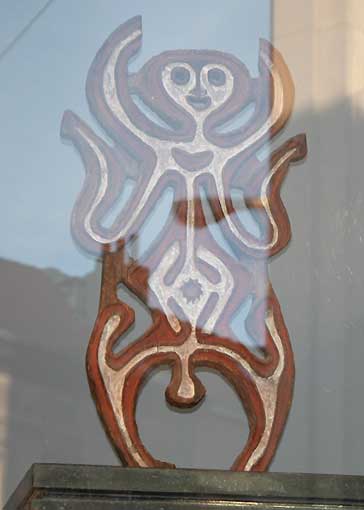 A fine Papuan Gulf figure also offered by Joris Visser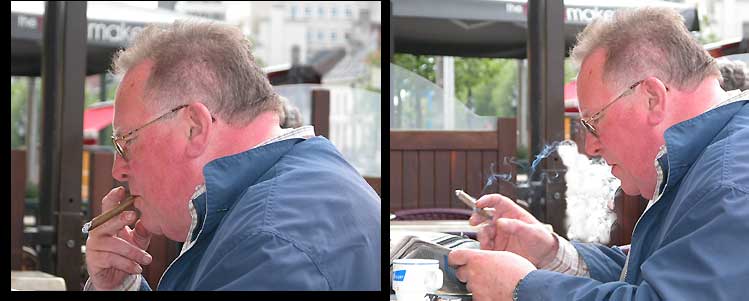 As mentioned in the previous year's show review, the cigarette and cigar smoke is significant at Bruneaf.  If you're sensitive to second hand smoke this will be an issue for you, as there is no getting away from it.   Not anywhere!  The good new is that Patrick Mestdagh is working on having all of the galleries "nonsmoking" in a couple years.  It is a big task but an important one for nonsmokers.
END