Written by Michael Auliso and republished here with his permission.

Most of the images referenced below have been lost, the texts are still included.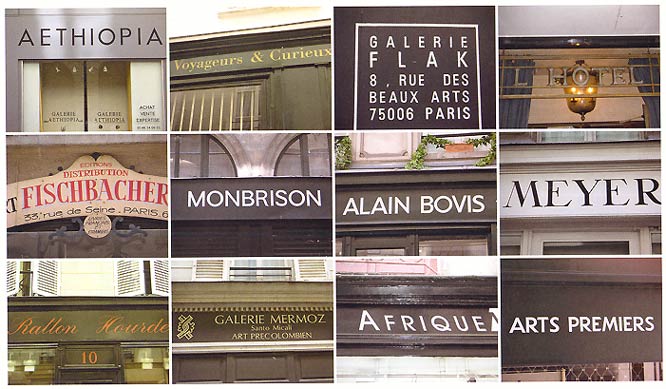 The parcous des mondes show is undisputedly the best and highest quality show in the world– "period"! There is no venue in the United States that has material comparable to the level of fabulous tribal art displayed at the Parcous des mondes show. Simply put, every dealer had any number of pieces that would be worthy of the cover of a Sotheby's or Christies catalog and a few dealers were selling quality art far exceeding anything ever seen at auction. This year the bar was raised extremely high with every dealer exhibiting their greatest objects. This was the fourth year of the show and according to local dealers attendance was noticeably greater this year.
Participating dealers numbered 50 which is about 40 percent more than last year! The quality and the abundance of the material was often overwhelming. Some dealers commented to me that they would love to see the number of exhibitors cut by "half" arguing that there is too much material, meaning stiff competition for customers. It is unlikely that the show promoters will decrease exhibitors, but apparently want to limit the fair to around 50 dealers, its current level.
Overall the African Art was so supremely fine that I couldn't possibly do it justice in the scope of this review.
The Oceanic material was phenomenal to say the least. Wayne Heathcote confirmed his position as leader with a number of important Polynesian pieces including a Marquesas Island Canoe prow and a impressive Maori Canoe War Prow just to name a few.
Oceanic dealers included Chris Boylan, Wayne Heathcote, Kevin Conru, Lance Entwhistle Michael Hamson , Mauna Kea Galleries, Renaud Vanuxem, and Voyageurs et Curieux to name a few. The Parisians favor African Art while Oceanic Art is a strong second. However, several dealers told me that although there are a few Oceanic collectors in Europe, the majority of the material is purchased by Americans.
Exhibitors having "stellar sales" included Leonardo Vigorelli "Dalton Somare" Milan, Antonio Casanovas "Arte y Ritual" Madrid, and Chris Boylan, Sydney
Several Dealers had exhibits dedicated to one specific tribe only. For example, Galerie Flak had a Lobi exhibit. Galerie Bernard Dulon had a superb Lobi exhibit which included a 5 1/2 foot tall Janus figure for 180,000 euros ($221,400 usd). Both dealers had exhibition catalogs published. Galerie Afrique had an exhibit of Ibo art from Nigeria.
Lance Entwistle was exhibiting at 5-7 rue des Beaux-Arts c/o Giraud Pissarro Segalot
Lance Entwistle's offerings included a Solomon Island Canoe Prow, a New Caledonian Mask, with several large Kota Reliquary figures as the center piece in the gallery entrance. Lance also had a Batak Shaman's mask from Sumatra which had a hammered brass band on the forehead with flowing hair and expressive face, a marvelous example. Perhaps most impressive was a Fijian figure measuring approximately 24 inches tall with black patina priced at 180,000 euros ($221,400 USD). Interestingly, there was a mysterious room within his gallery, obscured from view with frosted glass panels that I assumed was reserved for " established clients" only, where select people were invited in for private viewings.
THE GALLERIES
Anthony Meyer Standing amongst his exhibit of Oceanic Headrests with catalog displayed on the Maori Mantel
More of Anthony's headrests
Alain Bovis proudly standing in his new Gallery space on 9 Quai Malaquais previously occupied for years by Helene and Philippe Leloup who retired
The bold reddish-orange lacquer walls were a rich pallet for his masks and sculpture
Maureen Zarember Tambaran Gallery New York with Assistant Priska (right) exhibiting at 36 re de Seine, Mark Blackburn of Mauna Kea Galleries occupied the beautiful and spacious upstairs space
Mark Blackburn Standing next to an 18th century Marquesas Island U'U' club and an important Polynesian Tapa Bark Cloth. When I visited Mark he was busy packing items which had previously sold. That's not surprising that Mark had many sales. His prices were very fair comparable to other dealers and buyers responded to the value and quality he was offering.
A gloomy Friday afternoon on the narrow rue des Beaux-Arts
View of a Cocktail Party hosted by TRIBALMANIA on the 2nd deck of the Eiffel Tower. We apologize if you didn't receive an invitation as space was limited. (just kidding!)
Interior Wayne Heathcote's Gallery c/o Galerie Etats d'Art, 35 rue Gunenegaud From Left to right: Wayne Heathcote, Jack Sadovnic, and Clients. To the left of Wayne is a glimpse of a rare Marquesas Island Canoe Prow Ornament perched on a pedestal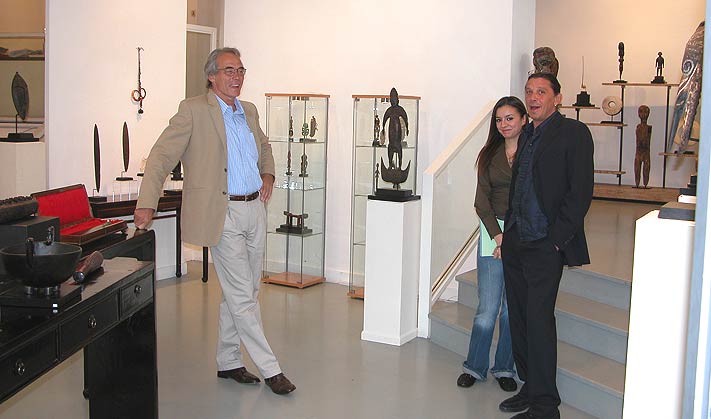 From Left to right: Wayne's brother in law Volker Cubasch, an always-smiling gallery assistant and Jack Sadovnic. To the left on the table is a fine Admiralty feast bowl and a Maori Patu housed in red velvet box. The top shelf of the standing glass case contained a superb Maori Spoon, A Putorino Flute with Ivory toggle and original cord, and a Green Stone Hei Tiki Pendant. Wayne also had an Easter Island Moai-kava-kava of flatted form with an incised circular pattern on the lower back.
Wayne checking to see if his Classic Harley was still where he parked it.
An early Maori War Canoe Prow (photo doesn't show the elaborate pierced decoration on the side), A Banks Island Palm Fern grade sculpture and a powerful Dayak Coffin End
The suave Leonardo Vigorelli (Dalton Somare) exhibiting at Galerie Valmay 22 rue de Seine. Leonardo, Grata and Son had such a successful show it is surprising they still had any objects remaining on their pedestals! Leonardo's success is admirable. He has a keen eye and is a gifted with charm and confidence making customers feel great when they spend $$$. In his words he said that "It was an excellent…. excellent show" He added that his aesthetic seems to match the tastes of the Parisians quite well.
There was reportedly a Saudi Prince at the fair who was buying anything and everything he liked regardless of price.
Michael Hamson in his gallery on 5 rue Jacques-Callot c/o Galerie Landrot. To Mike's left was an important 7 foot + incised Aboriginal Churinga. The New Guinea standing Yangoru figure was one of Michael's expensive pieces which sold immediately, and continued to receive strong interest during the show. His showcase piece (not shown) was a large New Ireland Architectural Panel.
Left to Right: Kirby Lewis and Kevin Conru who shared a large gallery space c/o Galerie Di Meo on 9 rue des Beaux. Together they had a wonderful selection of African and Oceanic/Polynesian Material.
A Kifwebe society dancer in a well tailored worsted wool suit, next to Kirby Lewis who displays an ancient Sepik River Male Figure. The intriguing figure with Human Hair on the pedestal is Kevin Conru's, Fijian figure. It's origin was confirmed after wood sample testing.
Christopher Selser Tribal Art, Santa Fe New Mexico exhibiting at 15 rue de Seine c/o Chart Gallery. From left to right: A Dayak bowl from Borneo, a Northwest Coast Chilkat Blanket, a Batak figure from Sumatra, a powerful Himalayan Shaman's mask with native repairs, right, an Indonesian textile
"Arte Y Ritual" Antonio Casanovas located at 11 rue Visconti
Given the huge number of people at the fair, sales were seemingly mixed. That said, a few dealers, including Antonio Casanovas who has the proverbial "Midas Sales Touch" had an amazing show selling nearly all of his major pieces, including an archaic New Guinea Hunstein Mountain Mask published in the show catalog; a Hawaiian shark tooth hand club, Dayak Hampatongs, Marquesas Island Fan etc… Antonio also displayed a superb early archaic Philippine Limestone burial jar which is an incredibly rare piece to be offered for sale.
His Space was in Galerie Goinard and had a unique spiraling staircase descending into a dimly lit stone basement which gave one the feeling of actually being in a cave, observing the pieces in a natural environment, and imbuing the New Guinea Karawari River Hook figures with a haunting and mysterious quality.
Field Collector Chris Boylan "Oceanic Art Sydney" in his gallery on rue Visconti. This was Chris's first time exhibiting in Paris. I'm sure he was pleased with sales of more than a dozen pieces of good Oceanic and Aboriginal material. I found his prices to be quite fair relative to many of his colleagues which may explain his success. That Sepik Mask with parted nose to his right was magnificent!
American Dealer Patrick Morgan now lives on rue des Beuaux-Arts and was exhibiting at 10 rue des Beaux Arts c/o Ivana de Gavardie. Patrick had a quality array of African, Oceanic, Asian and American Indian material. Several of Tribalmania's pieces were represented here including our rare shell inlaid Philippine Shield seen on the back wall
Josh Dimondstein exhibiting at 7 rue Visconti c/o Atelier Napolitano. Josh is always cheerful and happy to answer questions. He has had a presence in Europe for years now and retains an apartment in Brussels.
Partial view of the Interior of Josh Dimondstein's Gallery. Notice the superb Songye village fetish on the upper level.
The gallery display of Author Jean-Baptiste Bacquart exhibiting at 34 rue de Seine
This standing New Guinea female Gogodala figure was one of the rarest and most captivating oceanic pieces in the show. It had a German provenance dating to the 1930's and was priced at 30,000 euros. It belonged to Galerie Joris Visser, Brussels who was exhibiting at 51 rue Mazarine c/o Galerie Moderne
Left to Right: Alain de Monbrison and Yann Ferrrandin at 7 rue de Beaux-Arts. If money is no object and you're interested in buying an unequivocal African Masterpiece then visit Monbrison's Gallery. In that breath it is only fair to mention Galerie Ratton-Hourde who is just a few doors down and also sells masterpieces!
The most exclusive venue in Paris this September was the 22nd Annual Biennale des Antiquaires show in the Carrousel du Louvre (Located in the Basement of the Louvre). There were 97 world class dealers in total. Among the Monets, Picassos and other important fine art, there were only two ethnographic African dealers (Bernard Dulon and Ratton-Hourde') That is not surprising since a booth at this lavish venue costs 50,000 euros ($61,500 USD) for two weeks. Of particular note, Gallerie Ratton-Hourde' had an enchanting horned Dan Mask which was exquisite. Each booth was unique and looked custom designed by a top Hollywood set designer. One amazing booth had elaborate black velvet tufted walls dotted with hundreds of shimmering lights. If you're in Paris for the parcours des mondes show, you wouldn't want to miss the superb sights of the World's most opulent Antique Show!!
FINIS