Written by Michael Auliso and republished here with his permission.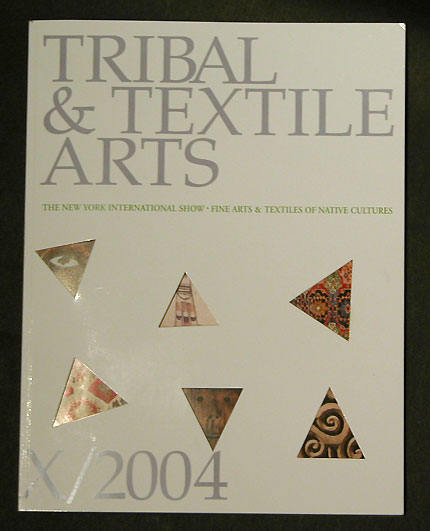 The International Ethnographic & Tribal Antique Art show held in New York City, at the Armory,  at 67th Street, had an excellent attendance preview night, even with the $90 per person admission.  The proceeds from the opening went to benefit The Byrd Hoffman Watermill Foundation in Long Island, a Study Center for the Arts and Humanities. "Bacardi" beverage Company was a sponsor.  The objects d'arte were chaired or vetted for authenticity by Jean Paul Barbier-Mueller, of the Barbier-Mueller Museum, and Robert Wilson.Interestingly, the show this year had nearly double the number of exhibitors as did the 2003 show. Last year there were only 45 exhibitors and this year there were an astounding 88 dealers exhibiting!  The 43 new vendors were an interesting mix of Tribal Art and textile dealers from, Europe, Asia; & several dealers from Santa Fe, New Mexico, many of whom had Native American Material.  Absent this year were Kevin Conru and Wayne Heathcote who had exhibited in previous years.  I was asked by several people if, Paris based Anthony Meyer was represented, he was not.
There was only a one day set up, which obviously was stressful on the exhibitors and technicians alike. It was apparent that everyone was working down to the wire, and several booths were still "dark" even after the doors had open and customers were walking the aisles. It was not long before the electricians had things in hand. There appeared to be a steady stream of people, however, this year's New York show seemed to lack the "excitement" which was so evident at the San Francisco Show in February. One disappointed exhibitor explained to me that "It is hard for New York collectors to get excited. After all, they already own some of the best pieces of art, so mostly they attend mainly to browse & socialize."
Thomas Murray, Asiatica-Ethnographica who had one of the largest roles in the NY show had this to say:"The show displayed a major effort by Caskey-Lees to win back quality dealers who had drifted away from the show (myself included) after several bad seasons following the stock market collapse and 9-11. He (Caskey-Lees)doubled the size and number of exhibitors with a new emphasis on textiles,but also included photography, etc. To further enhance the show the promoters asked me to again curate another exhibit of hats from around the world, similar to the very well received SF Tribal exhibit…this time the New York Times wrote an extensive article on the theme of headdress (I was quoted heavily!) This got some new people in, I am sure. Also, with designers in mind, two rooms" were done giving visitors a concept of how one lives with tribal art. Linda Pastorino did a marvelous "curiosity cabinet" type room with a Victorian scholar/explorer'staste…fossils, shrunken heads, animal skeletons, etc. "Chista" showed a contemporary furniture installation with their wall of shells, as seen in SF. The quality of the displays was on average very high, giving SF some real competition for the honor of best show. Some very important curators, dealers from Europe and collectors came through, and I am pleased to say I sold very well to dealers, with interest from East coast museums and previously unknown collectors buying the majority. In my case, everyone wanted a good deal and I briefly suffered and then agreed. In the end, it worked out well. I think I was somewhat the exception however. There needs to be more visitors with money to spend, but I will be back!"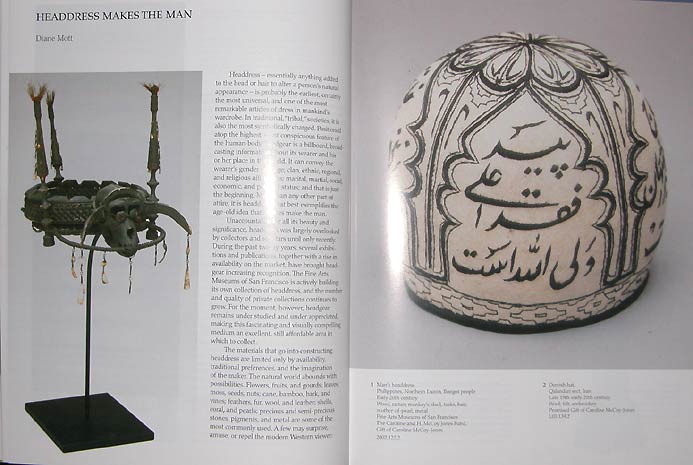 Overall the quality of the material was very high and was consistent with previous years. Show attendees have often commented to me they are truly stupefied at the asking prices.  Yes, the prices at these shows, especially NY, are high and sometimes even "overly optimistic". However, the exhibitors are showing some of their best material which in many cases surpasses the quality of similar art being offered at the major auction houses!  Obviously, the very point of dealers showing their best pieces is to sell at market value.  Many people do not realize how much it actually costs to exhibit in this venue, which averages $10,000 or more after all associated costs, for each dealer!  As we all do know, rare and desirable tribal art pieces have historically increased in value for decades.  For this reason they can be extremely good investment choices.
The reports of sales realized at the end of the show were mixed. Many of the dealers seemed to think that customers were only buying if the price and the object was so compelling they had to add it to their collection. Only a few exhibitors I spoke with said they were satisfied with the number of sales they made. The buying pool for tribal art is ultimately finite on Manhattan Island, and this year twice the number of dealers also meant twice as much competition among them. In addition, the Sotheby's auction took place the day the showed opened, having about 3.6 million in Tribal Art sales.
One or two points worth mentioning, the layout of the booths was somewhat cramped and confusing. A few dealers felt that their regular clients were not able to find them. The show opened on Friday and ended on Monday. Most of the dealers felt that it might have been better to have opened on Thursday and end on Sunday.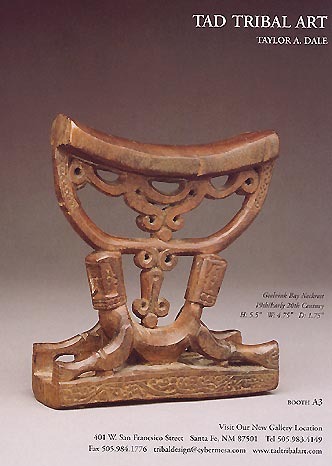 The Oceanic material was very strong and Kirby Lewis Lewis/Wara Gallery, who has consistently high end pieces, had some of the most impressive objects.  Of particular note was his New Ireland Friction drum which was gargantuan in size, had a gorgeous surface, and really fit the phrase "Drop dead gorgeous"   His Papuan Gulf Archer's shield was very early and stone cut, and equally amazing. Kirby's New Guinea Middle Sepik River skull mask was among the best I've seen set off by a mass of flowing hair.  Kirby agreed that although there was a steady flow of people, there was generally a lot of looking, and the overall vibe was more muted than the San Francisco show".  He mentioned selling a fine Maori Feather Box and a Fijian Bow, and generally other mid priced pieces. Michael Hamson Oceanic Art had a fabulously avante garde booth. He had a dozen quality masks at eye level with a Solomon Island Bougainville Figure in the center with a bold aqua color paper background. The color element was extremely effective, making the masks dramatic, and appealing. Michael's Turubu Barak Mosquito masks were incredibly old and beautiful. Mike sold several expensive pieces, including a New Guinea Highlands Gourd mask with striking yellow pigment that was featured in the Show Catalog.  Mike sized up the show in his own unique and colorful style;  "the overall mood of the show was flat. While the San Francisco show had a strength and vitality to it the New York show was anemic with the overall mood most closely resembling that of a cancer ward." He went on, "Unlike the Bay Area tribal art community which is large and enthusiastic at all price levels, the New York crowd is sparse and those few who came seemed to have forgotten their checkbooks." There were also a number of good Polynesian objects. Oddly, there were so many Marquesas Island U'U' war clubs, perhaps diminishing their appeal forsome. The clubs ranged in price from $55,000 to $65,000.  William Jamieson Tribal Art had two of them and sold a simplistic one with little carving on it to a customer from Hawaii.  Joel Cooner Gallery had another.  Sulu Tribal Art (New Zealand) had the other U'U club.  Their small both was overflowing with Oceanic and African weapons.   Jeff had a nice Fijian headrest with whale tooth ivory inlay, a wonderful variety of clubs including a handsome Tongan or Fijian Rootstock club with inlays.  Jeff's close partner Mark was present and did a fine job displaying his African Items.  "The New
York show was our first.. so our goal was to cover costs and introduce ourselves to other dealers and collectors, we accomplished this goal and had strong sales across the board. African and Oceanic where strong as was P.N.G items, so the show was a success for us in both respects. The New York crowd was warm and we received great support and advise from fellow dealers & the Caskey Lees staff of which we where most grateful. It looks as if we will be showing at the San Fran show in Feb and possibly New York again next year" Sulu also exhibited a carved Maori Door Lintel with side posts, which was an ambitious object to bring being over 8 feet tall.Dave Deroche had a pair of remarkable early Fijian split whale toothnecklaces each priced around $12,500.  Taylor A. Dale TAD Tribal ART also had a superb old Papuan Gulf Fiber helmet mask, among his unique consistently fine pieces.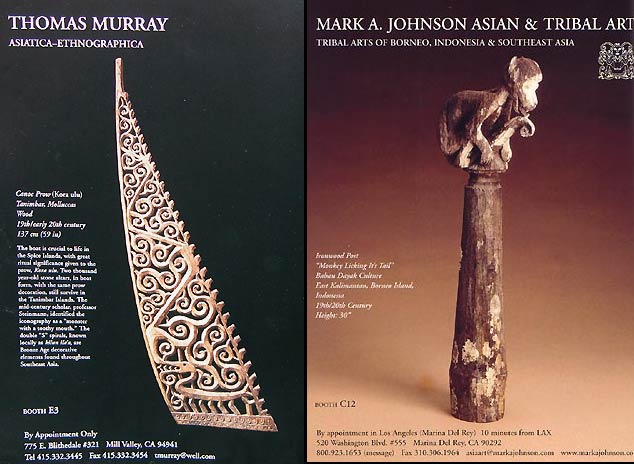 The Tribal Asian and Indonesian material was the highlight of the show.Thomas Murray's featured piece was an exceptional rare open work canoe Prow Ornament from Tanimbar. Equally impressive was his large Nicobar Island figure. Tom sold a number of pieces including a Pair of figures from Borneo, an Eskimo Seal skin Parkabinding.Mark Johnson's featured piece was an archaic Modang Dayak Coffin Finial.Mark also had an impressive collection of Dayak earrings worked in bronze and Hornbill.  As well as several spectacular Dayak masks adorned with Hornbill feathers.Christopher Selser Tribal Art had a classic pair of Philippine Ifugao Bulul figures, as well as an early Nepalese Shaman's mask laden with interesting native repairs. Bruce Frank as predicted, exhibited many significant pieces; a stunning carved Dayak door panel with an amazingly fine figure, an early Nias Figure,Toraja "Tau Tau" figure, Philippine "oklop" hunters helmet with face, and a fine old Sepik "Mei" Mask.  An exciting focal point in his booth was a heavy Naga door' or architectural panel with a pair of sensational crouching figures carved in deep relief.Norman Hurst, Hurst Gallery had an impressive and extensive collection of figurative spoons from N. Luzon several of which had two figures.John Strusinski of Primary Source had a compelling Dayak Monkey guardian figure, and a magnificent Himalayan mask.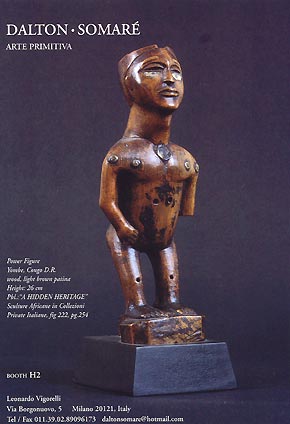 The vetting committee at these shows particularly scrutinizes the exhibitors African material for age and authenticity. This process is often controversial, and perhaps a bit political.  Genuine pieces have been said to have been removed from dealer's booths simply based on aesthetics, which some say goes beyond the role of the committee.  That being said, on the plus side, customers visiting these "vetted" shows can be confident they are buying authentic pieces.
A few observations on the African art: Taylor A. Dale TAD Tribal ART had a fine Ngbaka figurative Harp from the Congo which was one of his featured pieces. Also several extraordinary masks, including a great Pende mask, and a Nigerian Koro seed covered mask. Patric Didier Claes from Brussels had a splendid Kikuyu wooden shield from Kenya. Dave Deroche had a rare and unusual Horned "Gere" mask from the Ivory coast with great patina and inset porcelain eyes. His female Chokwe figure which was very angular and cubistic in form was superior to say the least. Dalton-Somare Art Primitiva from Milano Italy had a strong selection of African material including a Yombe power figure from the Congo. He was promoting his newest book on African art in Italian collections, which I am looking forward to reading. Joshua Dimondstein Tribal Arts had a Bongo commemorative funerary stone. Ryan Willis had a large selection of terracottas from ancient Nigerian cultures. Hurst Gallery had a simplistic, yet finely carved Makonde figural staff from Tanzania, which I saw several astute collectors examining. Alain Naoum Primitive Studio of Brussels exhibited a rare early Ngbaka mask from the Congo. He also had an intriguing Mangbetu folding chair showing colonial influence which he sold to a noted collector. Michael Rhodes/ African Art had a Bamana theme going in his booth. Gallery Valluet-Ferrandin of Paris was present with a lovely Dan mask from the James Hooper Collection (featured piece). Christine also had a large "Woyo" helmet mask from Congo which had a strong presence in her booth. Lastly, Antique African Ironwork had a truly fascinating selection of ancient African currencies some of which were of enormous scale and weight.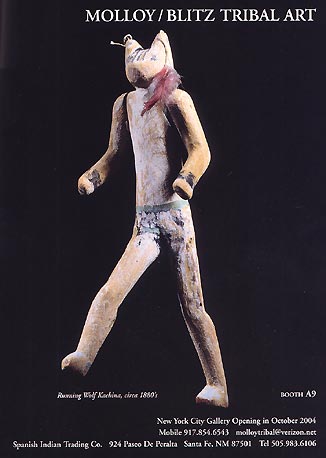 The Native American material was far more abundant and exciting this yearthan last year. Joel Cooner had a classic 19th c. North West Coast Sealform grease bowl which he was asking $38,000 for.  H. Malcolm Grimmer had a dazzling collection of very early "pony beaded" Plains Indian items which even amazed the other Native American dealers.  Brant Mackley Gallery had the broad selection of quality art, we have come to expect and enjoy viewing
.   Among his high impact pieces were a rare style Delaware Indian Bandolier Bag made of  black buckskin, A Northwest Coast Haida Spruce root hat and a Raven mask from British Columbia which I believe was "Kwakiutl.  Brant also exhibited a good mix of interesting Tribal and American Folk Art pieces as well.  Molly/ Blitz Tribal Art of Santa Fe NM had a rare type of Running Wolf" Hopi Kachina doll dating to the 1880's.  Myers and Duncan had a showy and impressive tandem booth again this year, which was located near the center of the garden.  To name just a few pieces, Myers had a complete Northwest Coast Tlingit Shaman's Costume, with frontlet mask.  He also had amural size photo of a shaman wearing the same mask in the 19th century!  A nearly 19th century Northwest Coast carved feast bowl with rounded sides made by an accomplished Haida artist from a single piece of wood, was among his other fine offerings.  Trotta-Bono of Shrub Oak NY had a large booth with many sensational pieces including a very fine 19th century Californian Modoc" bow with excellent paint.