Written by Michael Auliso and republished here with his permission.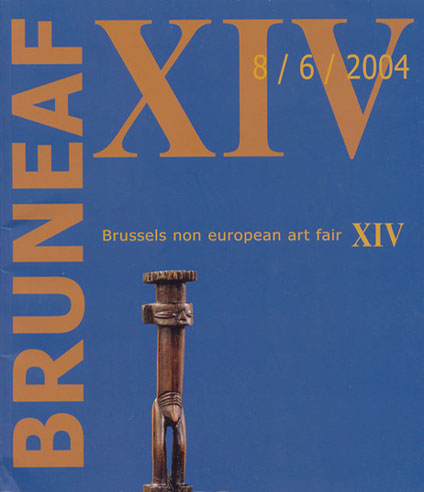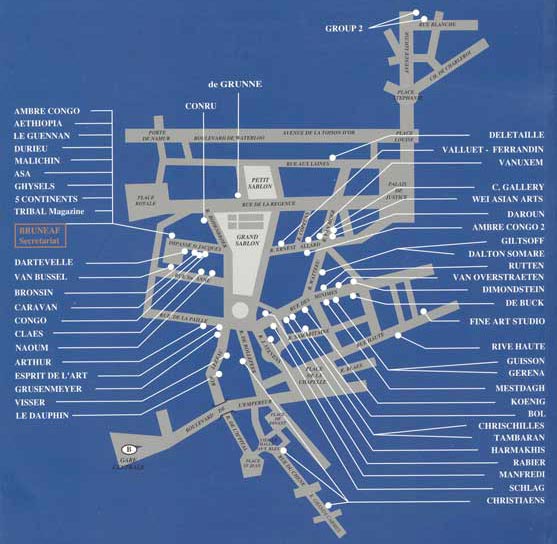 The Bruneaf Tribal fair, in its 14th successful year, featured 50 dealersexhibiting around the quaint and historic Sablon Antiques District inBrussels… The fair was held simultaneously with the Bruneaf Ancient ArtFair (Baaf) and the Bruneaf Oriental Art Fair (Boaf) which made for a richand diverse experience. Unlike Tribal Shows in America, Bruneaf isnon-profit and is organized by dealers for dealers. The acting president isPierre Loos.
The Sablon district is highly concentrated with a large number of Tribal Art dealers who have permanent gallery headquarters in that area. Visiting dealers from the USA and other countries rent out space from local merchants for the special six day long event. A good number of the local dealers have their own galleries on Rue de Minimes. At C. Gallery, I encountered Francois Coppens (Belgium), a friendly andhelpful person. The gallery featured an Impressive Vanuatu Malakula over modeled Skullpriced at 6000 Euros, a marvelous Solomon Island Buka Dance Paddle, andGood Madagascar Material including a pair of Madagascar Sakalava Birds, afood bowl, a huge weathered Madagascar Memorial figure, and a memorableToraja Canoe Prow, & Nias Figure. John Giltsoff (Spain) had an attractive upper level space above DaltonSomare'. His show Gallery had perhaps the most outstanding Oceanic pieces,as well as the definitively best New Guinea Mask; which was a dramatic andancient lower Sepik mask featured in the Bruneaf Catalog. A Zuni DanceShield, Hopi Leather mask, Gilbert Island Spoon, Matty Island Scepter, veryworth mentioning. The display center pieces being an ancient Lake Sentanipost figure, and a Magnificent Solomon Island male figure!! A joy to behold.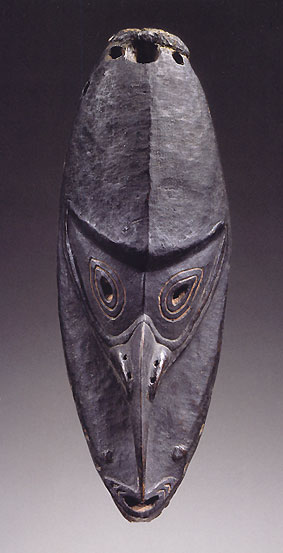 (John Giltsoff) Spirit mask, Lower Sepik Region, Papua New GuineaPatrick Mestdagh (Brussels) had a fine gallery with two levels. Thefeatured piece was an 18th c. Marquesas Island U'u club from the JamesHooper Collection. A rare an unusual Fijian Gata club with TWO ButtressSpurs, Fine quality Fijian Ula club with multiple Whale Ivory Inlays, apair of handsome African Massai leather shields, an unusual Chinese Priest'sceremonial ivory object, and a quality selection of aboriginal material. Ondisplay was an Extraordinary and huge wicker Mambilla Shield. Truly a greatselection of tribal weapons overall! Dimondstein Tribal Arts (Los Angeles) had a world class Mambila ancestorfigure from Nigeria which was also his catalog submission. Joshua also hada captivating Nigerian Ibibio deformity mask and a high quality pair ofBaule figures (male and female) carved by the same hand. Remarkable piecesnot to be missed. Paul Rutten (Amsterdam) a complementary pair of Ataoro figures for $8000euros carved by a master craftsman. Three rare and unusual Congo Barkpounders with carved ivory heads were outstanding. His featured catalogobject was a squat and charming Makonde figure from Mozambique.
Galerie Valluet Ferrandin (Paris) Featured a New Caledonian Water Spirit Mask and an amazing 3 ft. Nyamezi Maternity figure seated on a stool!! A Fine quality 7 ft Cook Island spear with beautiful serrated head was also noteworthy. Yann stumped the panel with a 19th century bow originating from the remote Andaman Islands. Other fine pieces were a middle Sepik figure, lower Sepik mask, as well as a choice Admiralty Spear Point with human figure.Congo Gallery (Brussels) Marc Felix who has played an important role inprevious Bruneaf shows had a temporary Exhibition of wooden shields andwarrior paraphernalia from Central Africa to promote his newest book "GubaII". The exhibit was curated by Jan Elden. Marc's featured piece was apolychrome Tutsi Shield from Rwanda which was also on the cover of his book,and in the Bruneaf Catalog. The shield was bold and attractive, despite therestoration to its left side. The exhibitors had artfully displayedthrowing knives, ivory hair pins and scarification knives on flat fabricpanels. A striking Mangbetu Slit Drum with applied red paint received muchattention. Many of Marc's items were already sold; by the time I got there, indicating he no doubt was having a successful show.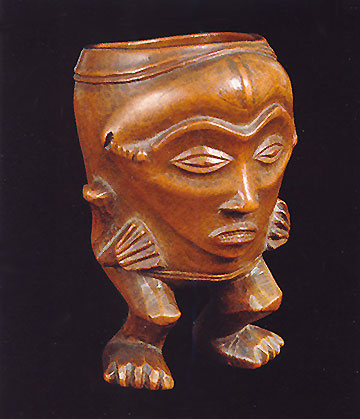 (Pierre Dartevelle) A Pende Cup, D. R. Congo Next door was Caravan, Bert Garrebeek at 3 Impasse Saint Jacques adjacent tothe Jolly Hotel. This is a prime gallery location for the Sablon. Berthad an impressive selection of South African material including numerousZulu ear plugs and about a dozen Zulu Women's hats intermixed with variousdolls and small pieces. His offerings added a splash of much needed color,a refreshing change from the line-up of mainly wood pieces shown in themajorityof the galleries. The weather being somewhat overcast and drizzly for the most part, Caravan was a festive and appreciated stop on my gallery tour… At the end of the narrow cobblestone Street of Impasse St. Jacques was a twostory building housing 9 exhibitors including President Pierre Loos. It washere that many of the most unusual pieces in the show were located. Ispent a lot of time here and it was good place to escape from the greatabundance of cigarette smoke that filled most of the air space of that city,since Mr. Loos had declared it "smoke free". This is a side issue but animportant one. Here's a friendly word of caution. If you're a non-smokerit is likely that the cigarette smoke will be an issue for you at Bruneaf.At times it seemed impossible to get away from it. If the customers weren'tsmoking, often the gallery owners were! I wondered if some of the non-smoking customers wouldn't browse longer if they didn't have to sufferin the smoky galleries? This was the only negative about the Bruneafexperience; hopefully it won't be too great a deterrent to those committedto viewing great tribal art. Dealers in this building included Ambre Congo, Aethiopia, Le Guennan, Durieu,Malichin, Asa, Ghysels, 5 Contenents and Tribal Magazine:Serge LE GUENNAN (France), who sells Asian Art, had a superb "Liao" bronzefuneral mask from Mongolia which was featured in the catalog. Also a veryrare and beautiful Vietnamese thin wood shield with round metal central bossfrom the Moi People. Truly a dream piece for any shield collector.Aethiopia (Paris) featured a fabulous selection of flamboyant tribal hatsfrom the Miao people of Southwestern China, two Solomon Island carved shellnose ornaments and a spectacular traditional Trobriand Island shield pricedoptimistically at 20,000 Euros ($25,000 usd) also stood out.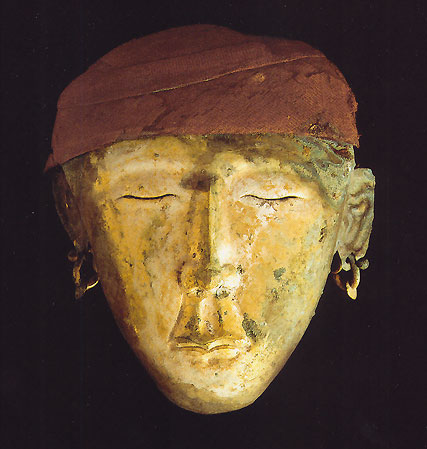 (Serge LE GUENNAN) Mongolian Bronze Funeral MaskAmbre Congo, Peirre Loos (Brussels) Had a wide range of African sculptureand masks, a collection of Fon Fetishes, numbers of pristine forged ironscarification knives and a pair of Mangbetu Slit Drums which are never seenin the United States. Roughly about 65 percent of the material at Bruneaf was African (especiallyCongolese) which is not surprising given the early Belgium colonialism incentral Africa. Although the quality of the Oceanic material was high itwas not abundant and represented about 20 percent. It was rare toencounter a Polynesian piece and Micronesian objects were not existent.Tribal Asian/ Indonesian and Native American material was sparselyrepresented and comprised the remaining 15 percent, suggesting that thistype of art was less in demand and/or slow to get a foothold. It was common to see dealers switch pieces each day in their window. ClaesGallery (Brussels) Briefly had a handsome 3 foot plus Songye Fetish in hiswindow which was sold. The following day he had an elaborate SenufoFirespitter Mask with figure on top of the mouth! A Good selection ofquality Baule figures. His catalog submission was a Kikuyu shield fromKenya which he also exhibited at the NY tribal show in May.
Next door on Rue Sainte Anne, Allen Naoum (Brussels) had a warm inviting gallery with comfortable furniture, on display, a Bakota figure, large Hemba figure, FineSongye female mask with kaolin, great Dan "Go Ge" mask with braided hair,Senufo Female figure, spectacular 6 foot plus Zande slit drum withprojecting Buffalo or Bush Cow head!! Surely one of the best examples known. Wayne Heathcote has a gallery that is located just one block from the JollyHotel on the 2 Place du Petit Sablon. Wayne's gallery was open during theshow but was not a participant. Wayne's gallery is one of the largest in theSablon, and as might be expected housed some true masterpieces. The moststunning was a Tapa mask from the Bismarck Archipelago, and a mesmerizing andwhimsical Nicobar Island Dog Figure with an early maritime provenance! It quickly became tedious constantly having to ask the gallery owner forprices—How much is number 47 and also 88? I can understand the logic, butit was somewhat tiring after a while. It was so much easier when theexhibitors did display their prices and had available price lists. Therewere a number of other galleries not participating in the Bruneaf show nordisplaying the trade mark flag. Many of them were operated by Africannationals, many of whom were said to have dubious material, but were hopingto capitalize on the attendance of the fair. This is understandable but itwas "buyer beware" if you unknowingly wandered into a "Non-Bruneaf" gallery. While wandering in and out of the 50 plus galleries I noticed strikingrecurring patterns. There was the absence of "color" which I have alreadymentioned. As you looked around most everything was brown (masks, figuresetc.). It also seemed that practically every dealer had the same kind ofpieces. And I think I can safely say that they all had at least one or moreof the following: Lobi figures, Baule figures, Hemba/Luba figures, Pendemasks, Chokwe masks, Bamana and Songye masks. Songye fetishes fewer than 20inches were also abundant. This is not to take anything away from theexhibitors and in isolation these were all nice authentic pieces, but afterseeing 20 of them or more, even a beautiful example was diminished by itsmany predecessors.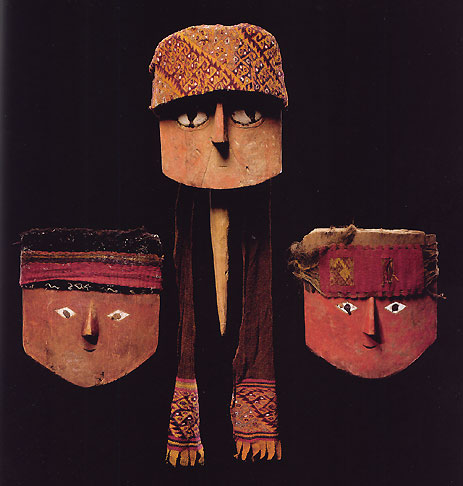 (RABIER CY ART) A Group of Chancay masks from Peru I found it surprising that there seemed to be a good deal of shall we say"hostile competition" amongst the dealers. This was most evident in heatedoutdoor cafe conversations. Well, perhaps that is not so surprising,considering the concentration of dealers in Brussels. As a comparison itwould be like having all the dealers in the U.S. based in Louisiana's FrenchQuarter, which sounds like more fun really… A European acquaintance jokinglymentioned that the most useful thing you could sell the local dealers is nota great mask or figure, but an AK-47. It was refreshing to see that tribal art appeared widely appreciated andembraced by the people of Brussels. It was common to see cafes andrestaurants decorated with Kuba Cloths, Cameroon feather hats, stools andfurniture. Kevin Conru (Brussels & Devon UK) had a spacious upstairs gallery with theambience of a traditional Old World study. His featured catalog piece wasan amazing but complex early New Ireland Tatanua Mask and a 19th centuryKuba mask, each of which were heavily provenanced. Other significant piecesincluded a fine New Guinea Sepik ceremonial food hook (Ex Harry Franklin andJohn Friede), a superb Lwalwa Mask from the Congo, A Fang Figure, and amarvelous selection of New Britain Tolai material and clubs. Alex Arthur Tribal Art (Brussels) Had an exhibit titled "Congo in theFifties" with an exhibit of paintings by Belgian painter Floris Jesper(1889-1965) in his permanent gallery on 134 Rue Haute Street. In addition,he was exhibiting tribal art in a gallery near the Sablon. His Featuredcatalog piece was an unusual Dan we mask from Liberia over modeled withfetish material. In addition he was showing a large Bobo helmet mask,extraordinary Hopi Kachina leather mask with applied nose and feathers,dancing Batak Figure, Tami Island Neckrest and an array of other rare andcurious pieces which kept the customers in awe. Perhaps the most spectacular architecture of any gallery was that of J.Visser (Brussels) and would be considered a "must see" just for its designelements. The building was of the Art Nouveau period with enormously highceilings, a sitting area or parlor, and views of an inviting backyard garden. ancestor pole from Irian Jaya measuring around 16ft. He explained to me that part of hisniche is selling LARGE pieces which can be purchased reasonably since fewother dealers have the space for them. His featured catalog piece wasgraceful Senufo Kpelie mask from the Ivory Coast and a Yoruba equestrianfigure each of which could be seen showcased in his window at Bruneaf. Hisfather Jan died last year and will be missed by the Tribal Art communitywithout doubt. Joseph Gerena Fine Art (New York) was a guest of Galerie Francis Carretteexhibiting at 33 Rue des Minimes. Joe is one of the most knowledgeable andversatile dealers in the business who expertise ranges from Ancient Art, toNative American Art and just about everything in between. Joe was tellingme that the quality of the Ancient art in the (Baaf) show far exceeds thatof the tribal art! His featured catalog piece was a circa 1870 polychromecarved wood figure of a bound shaman from the Kwakiutl people of BritishColumbia. Joe interjected splashes of color in his exhibit with anextensive display of Native American Beaded and Quilled Moccasins. Otherrare pieces included a selection of Ainu art comprising two magnificentrobes, a carved prayer stick, bowl and utensils. Also an Eskimo bent wood food box with applied Walrus Ivory fittings.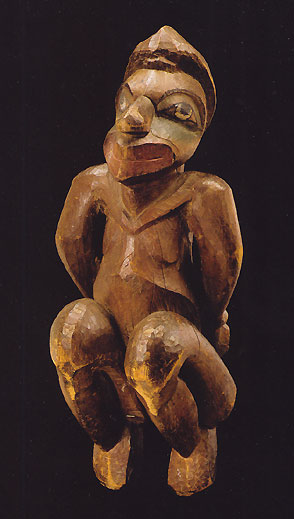 (Joseph Gerena Fine Art) N. Kwakiutl, Bound Shaman Figure, British ColumbiaJo De Buck (Brussels) who exhibits regularly at tribal shows in the U.S. hadin my opinion some of the most impressive African Art in the show. A hugeearly Bamun figure from Cameroon, a rare ancient terracotta headrest fromthe Djenne culture of Nigeria (something I had not encountered before), largeSongye fetish, two sets of Yoruba Ibeji triplet figures!! Also a finegrouping of South African material and smalls like lovely Chokwe whistlesetc. were on display. The show seemed to be well attended. I frequently encountered collectors anddealers from the US and elsewhere. The largest concentration of shoppersseemed to be in and around the galleries immediately surrounding The JollyHotel. Sometimes you had to wait for people to leave before you could enter. The outlying galleries received visitors but there were noticeablyfewer. The consensus among dealers in Brussels is that the market fortribal art has declined and shifted in the last 4 or 5 years. They reportobserving fewer serious collectors actively buying the art. Apparentlyit has changed to a segment of the market buying for Interior Decoratingpurposes and continues to evolve. In my opinion there is no better way to view tribal art than in this relaxedpart of old world Europe. You'll experience friendly helpful dealers in anatmosphere free of sales pressure and most importantly the architecturetruly enhances the pieces. The strolling Bruneaf experience is one ofdiscovery and fascination. Although it may seem an expensive excursion, Ibelieve it to be really worthwhile in the long run, for any seriouscollector, or tribal art enthusiast. This article is a brief overview for those who were not able to attendthe Bruneaf Show and is intended as a service for visitors to theTribalmania website. We regret the delay in posting this review which was due to family illness.