Written by Michael Auliso and republished here with his permission.

You might not expect to find great tribal art in the historic isolated desert community of Santa Fe New Mexico, but think again! The laid back attitude and charming southwest style and culture draws "world class" dealers and collectors alike. There are two ethnographic shows now happening simultaneously which makes for some really happening action.
The Ethnographic show at the Sweeny center (Produced by Whitehawk Associates) is on its 21st year and has 170 dealers. It is located on the corner of Grant and Marcy. The recently added "Historic Indian & Tribal Arts Show" is in its second year and has about 40 dealers. It is located just a half mile away at the up-sale El Dorado Hotel.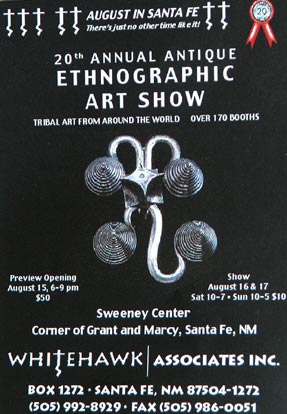 The Sweeny center has a main floor and an upper level. The veteran dealers who have been exhibiting for 10 years or more are set up on the main floor. Everyone else is in small rooms upstairs and are on a waiting list to exhibit on main floor. The show is not "vetted" for authenticity so expect to see a lot of pieces that are new reproductions. It is annoying but the promoters have a very lose interpretation of Ethnographic and don't insist that the items be antiques. So in one booth you may see a someone selling Bakelite costume jewelry and the next booth is a 19th C. Dayak Guardian Figure! Roughly 40 percent of the vendors are selling Spanish Colonial items, with another 30 percent selling African, Asian, and Oceanic tribal art, 20 percent Pre-Columbian, the remainder selling American Indian art, folk art, clothes, books, jewelry and whatever.
Several dealers making their debut at the show were Howard Nowes Ancient Art (Ny) and Bill Sutterfield (CA). Bill only had a single display table but loaded it with nice things including a large Moba figure, Dayak Shield, and fine Paiwan knife. For the most part, African art is a "hard sell" in Santa Fe, although some dealers had limited success. Patrick Morgan, however had a good show and sold a number of African things including an early Madagascar figure, a superb Baule figure for $8500 and a Ashanti Doll for $3500. This was his first time in 9 years to be selling on the main floor and although he only had a single display case he had some of the greatest pieces in the show. They included a superb African Punu Figure for $60K, a 19th century Northwest Coast Tlingit Shamans frontlet mask (major provenance) for $250K, a Marquesas Island Stilt Step together with an unusual stone cut magic charm.
Tad Dale who owns a Santa Fe based gallery just a few blocks from the plaza, had a theme booth titled "Animal Imagery" depicting animal forms in African and Oceanic art. His Landuman mask from Guinea Bissau was an especially fine example. He also had an impressive New Guinea Basketry mask from the Blackwater Lakes with long pendant nose and strong pigment. Tad also had displayed a rare elegant Eskimo Cane with a stylized seal handle having inlaid fish on the shaft. According to Tad's wife Sandy, they had a successful show but their goal is to get people visiting their gallery on Nusbaum street just a few blocks from the plaza. Just prior to the show Tad had an opening of "new acquisitions" in his gallery which was very well attended by collectors and dealers alike. He sold a one-of-kind kneeling Chokwe figure and a stunning Papuan Gulf Human Skull Trophy Mask.
Other dealers also reported having a good show. Mark Johnson (Irvine CA) had a nice selection of Naga Jewelry and hats which he field collected in Myanmar (Burma). His hat were all interesting old examples and he sold everyone of them. Joel Cooner (Dallas TX) as always had a very attractive booth thoughtfully designed and accented with Orchids. Joel had a terrific mix of "great forms" from Africa, Asia and Oceania. He displayed a rare and impressive Mambila wicker shield from Cameroon as well has two Congo wicker shields (one of which he sold). Thomas Murray (Mill Valley CA) had a display of elite and eclectic items with an emphasis on textiles. Tom featured a rare early eye dazzling tie dyed woman's mantel from Argentina.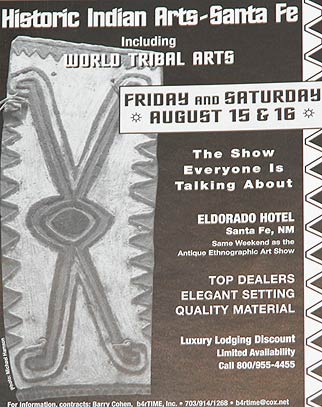 The El Dorado Hotel show drew several new exhibitors with first class material including Michael Hamson Oceanic Art (Palos Verdes CA), William Jamieson (Toronto Canada), Michael Rhodes African Art (New York City), and Brant Mackley Gallery, American Indian Art (Hummelstown PA). The show is about two thirds American Indian Dealers but is quickly becoming more diversified with other material. I don't believe the show is "vetted" but promoter Barry Cohen has hand picked top dealers who have good reputations for selling tribal antiques.
This was Mark Blackburn's (Mauna Kea Gallery, Hawaii) second year exhibiting. Mark had a very good show and no doubt had some of the greatest pieces of art in Santa Fe! He recently acquired a collection of Polynesian war clubs from a museum in Portland Oregon. He sold a Tongan paddle club with figures and Whale Ivory inlay for $6500 from that collection to name a few. Some other noteworthy pieces in his booth was an 18th c. stone cut Marquesas Island ('U'U toa) Ironwood Club ($45,000 as I recall), a selection of fine early Fijian hair combs, a large and beautiful Cook Island Stool, a large Solomon Island Buka dance paddle and a set of "Captain Cook's Voyages". In addition, he had a surprise on the bottom shelf of the display case! Sitting there, for a "short time", was a superb Solomon Island female figure which was likely circa mid 19th century!! He sold it the first day of the show for $16,000 to another dealer, which in hindsight was a bargain for its quality and age.
Michael Hamson reported having a good show considering the majority of customers were there for the Native American art. His sales included a monumental old Boiken fiber mask with strong pigment. He will be back next year. Bill Jamieson was exhibiting an eclectic mix of American Indian, Asian and Oceanic pieces. His featured object was a beautiful circa 1870 Cheyenne quilled war shirt priced at over 100K. He had serious interest in it and may have sold it after the show ended? Bill always has some rare museum quality pieces which will surprise and astonish you. He reported having sales totaling around 30K– Not bad Bill ! Michael Rhodes had a booth of selected pieces of Antique African Art. For me his "standout" piece was a superb early Salampasu mask from the Congo with great patina. He reported having an "OK" show but admitted he would have liked to sell one more "major" piece. He'll be back again next year as well. Michael takes the place of Peter Boyd also an African art dealer, who did the show its first year but had disappointing sales and decided not to return. Further testimony that African art can be a "hard sell" in Santa Fe. It is possible that locals are saturated with African art, even antique pieces, since there are always multiple "African Runners" at the flea market selling workshop reproductions. There are also several galleries in Santa Fe who sell decorative African reproductions.
In terms of Indonesian Material, the highlight was in Charles Gerhardt's booth (Lebanon Ohio). He had a wonderful early carved wood Batak pedestal oil lamp with horse and rider from the Wally Zollman Collection. He sold it to a dealer named Michael Auliso who operates the website Tribalmania.
Expect to see some really great pieces at this show. There are fewer dealers but in general they are exhibiting more exclusive pieces.
So, if you collect or sell tribal art, you should begin to think of Santa Fe New Mexico as a serious venue for good material.