Interview conducted and written by Michael Auliso and republished here with his permission.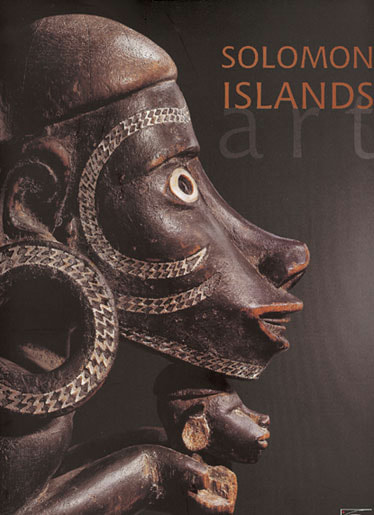 Tribalmania caught up with Kevin in New York this fall, and was granted the following interview:
What inspired you to produce such a comprehensive book on the Solomons?
The Solomons collection started a bit like my South African, a decade earlier.  I found that I was buying great material from the culture, but couldn't find customers who would pay me a bit more.  In the end, I became my own best customer, and the sellers and vendors who knew that I was looking for Solomons art would seek me out or offer good pieces when they had them.
​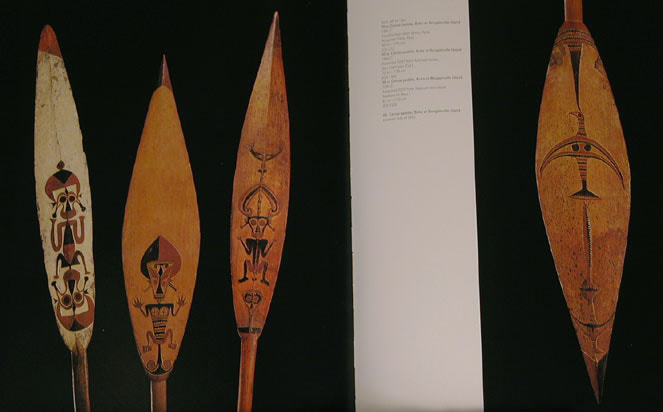 Canoe paddles, Buka or Bougainville Island, 19th C.
​
I had the good fortune of making a few key acquisitions early on, and these provided the cornerstones of building a comprehensive collection. It was also fortunate that the Solomons were slightly off the radar of the major collectors, great pieces could be had and certain jewelry objects and club types were still available. Polynesia, from the time of Oldman, and PNG were definitely impossibilities, and New Caledonia and Vanuatu were areas whereby I didn't see enough great material, at least out of the French marketplace. New Ireland art is quite expensive relatively speaking, and many objects are impossibly rare, and outside of Malangan traditions, one never sees the jewelry objects. Having been an English colony, and with close ties to Australia and New Zealand, it made it much easier to source interesting material in many international marketplaces.
​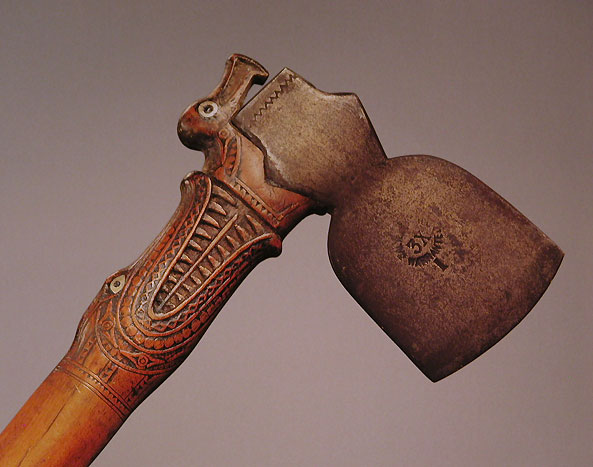 Ornamented War Axe, Roviana Lagoon 19th C.
How long have you been collecting Solomon Island material and why to you find it so compelling?  
I have been collecting Solomons Art since the early 1990's, though a great influx of pieces came in the period of 2003-2006. I am sure this was when I began to seriously look to be more comprehensive, and to try to see if it was possible to build a representative collection of truly 'best-of-type' objects. While no collection is ever truly complete, William Oldman and John Friede have done an extraordinary job of coming close (both collections have many thousands of objects, while my group has about 200 only), I feel that I have done a good job of gathering a pretty varied and balanced ensemble. I have focused a lot of my attention over the years on Pacific material, one of the reasons while the Solomons is attractive, and I do like the language of the art very much. Great art of all types is compelling, and the Solomons has produced an amazing variety of wonderful things.
​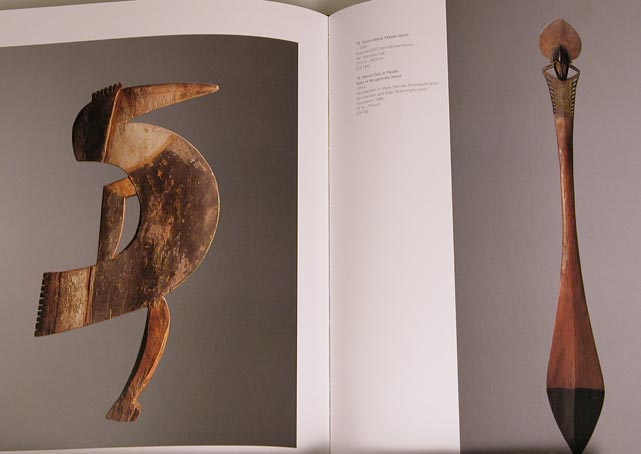 ​ Dance wand, Malaita Is. C 1930,  Dance club , Buka or Bougainville Is., 19th C
Clearly you've built upon what Deborah Waite did in "Art of the Solomon Islands" in 1983.  Did you set out to make this the definitive reference? 
The book project is a continuation of a number of previous works- Southeast African art, and photographic works, and the Solomons book was done in a similar vein. I worked with 5 Continents who are the supreme publishers of tribal books, and we built on our previous good experiences together. There are many books other regions of the Pacific, and I had an opportunity to add to a limited corpus of literature on the art of the Solomons. Also, I was able to interest Deborah Waite in doing a comprehensive overview of the subject. She is a doyen, not only of Solomons art, but of the wider tribal field in general, having published superbly written essays already back in the early 1960's. Her long term focus has been on the Solomons, and it is a tremendous reward for all of us to have her insight put into a large volume.
​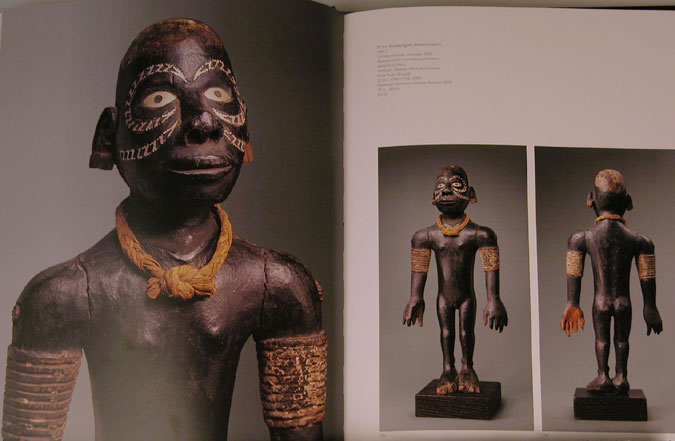 Female figure, Roviana Lagoon, 19th C.
Did you have a goal in terms of presentation?
Another motivation for doing the book was having the opportunity to work with the preeminent photographer in the field, Hughes Dubois. I wanted to not only make a book of scholastic merit, but to also have a book that was superbly illustrated. This could only be done by working with one photographer, and to devote the time necessary to really explore each image. Hughes's visual ear is tuned to perfect pitch, and he valued each object, small or large, equally. I enjoy not just the objects, but the way each object is presented. In the end, I wanted to make the finest book possible on the subject, and to that end, I feel that we succeeded.
​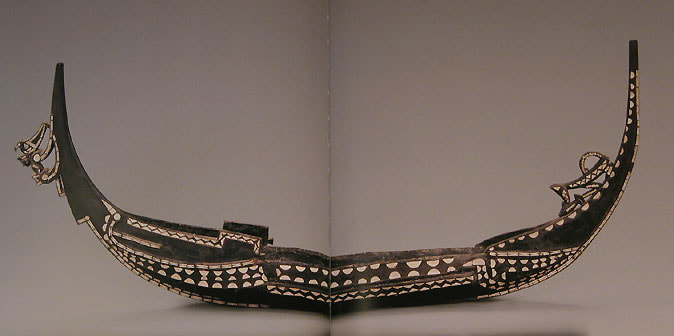 Model Canoe, 45 inches, S.E. Solomon Is., C. 1900
Do you have a favorite piece? 
While I have many favorites, I get pleasure from all the works, even the simplest shell ornaments. Some, like the big Ngusu ngusu from the Hoffmeister collection, I have been after for many, many years. That piece took me three attempts to get it, once in the original house in Prague, then twice at Sotheby's, with an interval of 10 years between sales. Another one, the cover piece, I was also after for many years, as it was the favorite and well-guarded piece of the former owner. Most have come through friends, either dealers or collectors- a situation which is most often the case. Very few works turned up at auction, thankfully, as I hate bidding wars to see who has the most money to throw at things.
​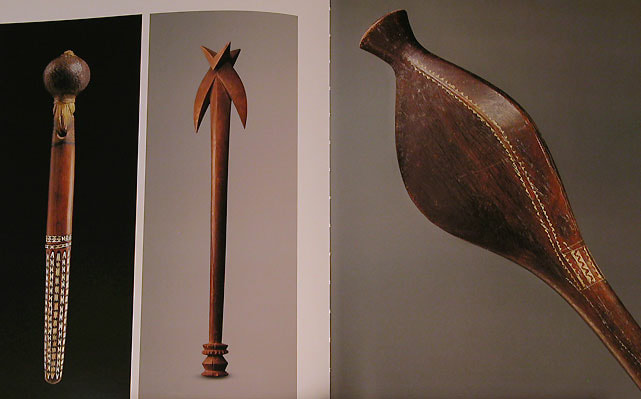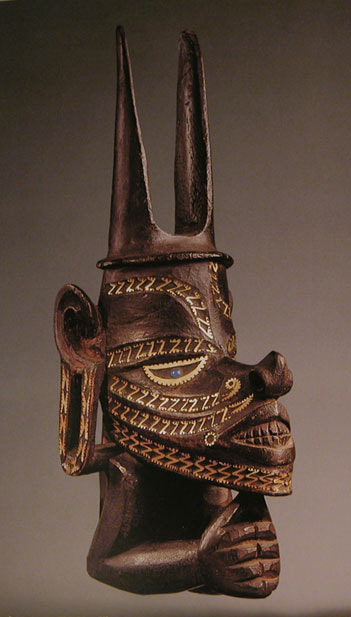 Canoe-prow carving, Vella La Vella Island, 19th C.
​
The canoe-prow carvings are such coveted Iconic pieces.  What's your view of their attraction and appeal in the marketplace?

​I think there are several reasons for the attraction to these prow ornaments.  As sculptures, the transformational human-dog imagery allows for sculptural variety and virtuosity.  As so very many examples were collected, somewhere in the mid hundreds, I would imagine, there is a tremendous scope for comparison. There are small ones and large ones, expensive and less expensive ones, and the interest in that variety captivates.  Also, there is the fascination with their function.  As a protective amulet on a war canoe vessel, there is a lot of magic and power imbued in these ornaments.  This was one of the reasons why they were sought after by the early voyagers to the Solomons.  They were also easy to carry, being of a portable size. 

Finally, they are perhaps the most recognizable symbol of Solomons art, being the one object uniquely associated from there.  Another fact of their commonality is that collectors are more comfortable with the pricing on them, as seen from auction results, than for rarer objects where pricing is much more difficult. Familiarity breeds desire!​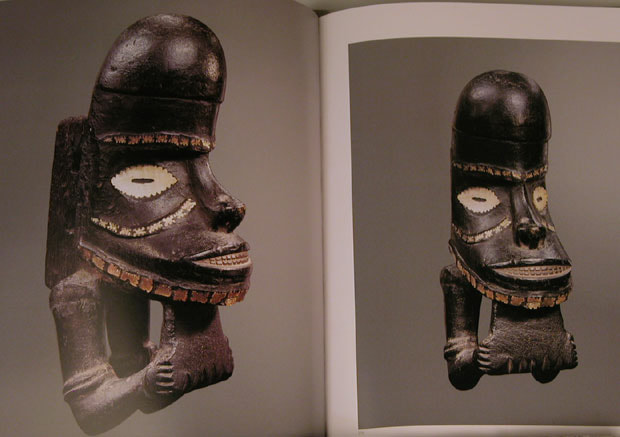 Canoe-prow carving, Western Solomon Is., 19th C., 14 inches,  Ex. Hoffmeister​
Do you feel the time, money and effort expended to publish this book was worth it in the value it adds to your pieces?
As far as the value of all of this, and any future ups or downs, I haven't really considered it all in my calculations. Fortunately, I haven't gotten financially tangled up in the nets which have tripped up some, and I have no plans to sell the published works on. This last statement is in contrast to my sale catalogues, whereby things are for the market. I have missed certain Solomon things in the time preceding the book project, and when they turn up, they are also for sale.
​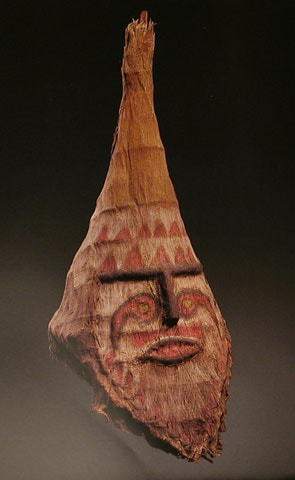 Tapa Mask, Nissan Island, C. 1900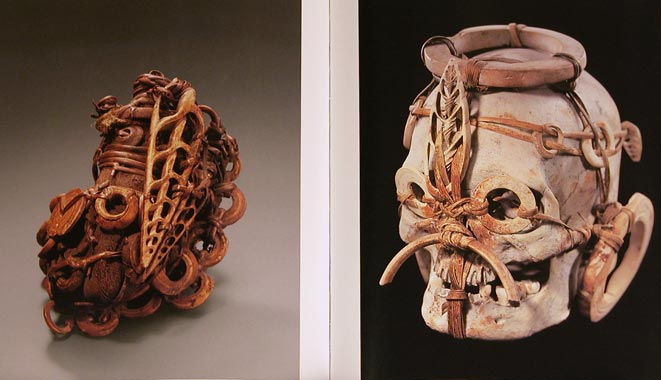 Ligomo Charm, Chea village, Marovo Lagoon. Skull with attached shell rings and rago, New Georgia Island
​
Do you plan to have a special exhibition featuring these pieces in the future?
I don't have any plans for an exhibition or anything. I lend works time to time, but mainly I have published the book just for the book's sake.
Do you have any other books planned? 

I don't have any other such projects planned, as I don't have the depth in another field to do justice to a book. New Britain, is equally under represented in the literature, and I have a goodly number of things, but there some key pieces are missing.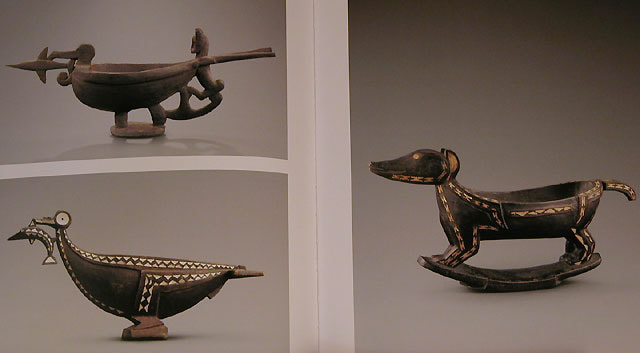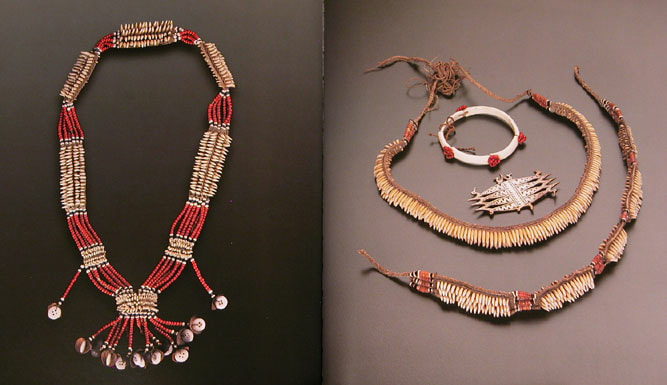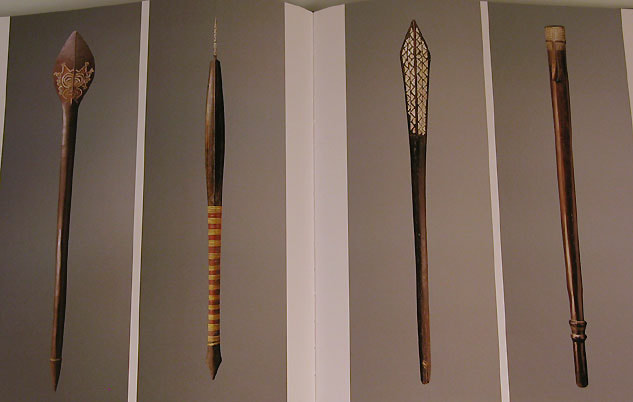 ​
Tribalmania extends its sincere gratitude and appreciation to Kevin Conru for offering his views.

Book Specifications:
Hardcover: 200 pages
Publisher: 5 Continents (September 1, 2008)
Language: French & English
ISBN: 978-8874394944,  978-8874394937
Product Dimensions: 12.5 x 10.2 x 1 inches
Shipping Weight: 3.9 pounds