(In Memory of Saul 1917-2005)
Interview conducted and written by Michael Auliso and republished here with his permission.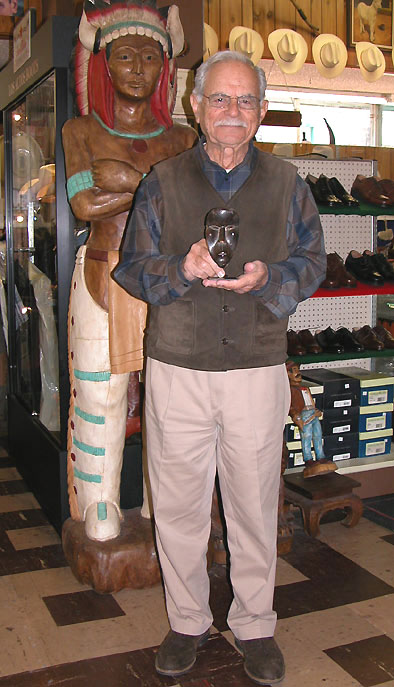 Saul Stanoff holding a beloved Dan mask from his collection
​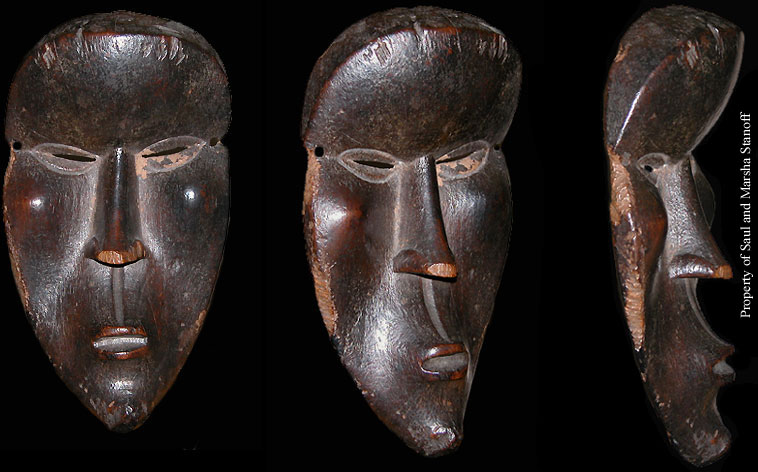 ​
[Saul Stanoff Passed away peacefully on July 2nd 2005 at the age of 88 just three months after this interview. He was extremely proud of this "article" as he called it and enthusiastically told all of this family and friends. Saul was a significant inspiration to me and I feel privileged to have known him. We are all fortunate he was able to share his thoughts before passing. In his words and in the art he collected his soul lives on; he will surely be missed. May Saul rest in peace.]
I recently had the opportunity to spend time with the venerable American collector Saul Stanoff. Saul is recognized worldwide for his superlative collection of diminutive tribal art masterpieces, particularly from Africa . At Saul's request this interview was not tape recorded; rather it was dictated to me over several sessions at his retail Western Apparel store in the San Fernando Valley of Southern California. At the age of 88, having been a collector for over 50 years, Saul has a fascinating history, and speaks with candid authority on a number of direct questions about himself and the art his loves.In our first session, Saul recalled some of the experiences from his early years, and how his upbringing formed his views on life in general.
TM: HOW DID YOU BEGIN COLLECTING TRIBAL ART?

SAUL: "I was a high school dropout and fortunately for me I came from an impoverished background which has helped me a lot. My mother was an illiterate orphan from Russia. I grew up in New York City on the lower east side near Ludlow and Delancy. We didn't have any money, toys… "nothing" and were lucky we could eat. So as a kid I was able to appreciate things that most people couldn't. I would notice things that most people did not. I could look at a manhole cover and say wow that is a pretty looking manhole cover.
Horses and wagons were still used back then and I remember if a horse would die the owner would just leave it in the street because he couldn't afford to have it taken away. Its belly would swell all up and we kids would jump up and down on it like a trampoline ignoring the flies. That's what was available to us to play with, so we did. I was blessed to be born poor. People that were born with a silver spoon in their mouth could not enjoy the apple in the icebox because they had ice cream".
A piece of bread with some butter and a glass of milk was heaven to me. I remember one day as a kid a friend said come over for lunch. I said what are you eating? He said a piece of bread with some jam and peanuts on it. I said, wow give me a slice. It was the most delicious thing I had ever tasted. My mother never had jam or peanuts in the house. See, my friend that was raised on it and could not appreciate it…. he ate it everyday. It was no big deal to him but when you're hungry food tastes better."

About the beginnings of Saul's collecting career:
SAUL:  "I first started collecting natural history items and sea shells years ago.  One day I went to a show and a guy had this clay head. I said 'hey fellow what is this clay head you have here?  He said 'this is 1500 years old and is Pre-Columbian'.  I bought the piece and someone mentioned that I ought to take it to Stendahl Gallery so I did. I remember walking in the door and Earl shouting at me saying 'Don't bring that piece of junk into my gallery I don't even want to see it. Get it out of here now.'  So I took it back to my car and tossed it in the trunk.  I cautiously walked back in.  He said to me 'Listen if you come back tomorrow with a bottle of Chivas Regal I'll give you an education and tell you all about this Pre-Columbian Art'.  I did and proceeded to get an amazing education and drunk as a skunk.  From that day on I was hooked, and when I do things now I do them in a big way!"

In our further sessions I was able to ask Saul more specific questions.
TM:  YOU'VE SAID THAT YOU DON'T LIKE TO BE CALLED A COLLECTOR.  WHAT DOES THAT WORD MEAN TO YOU AND WHAT WOULD YOU PREFER?
SAUL: "The notion of "collector" to me is hideous. I'm not a collector. To me a collector is someone who collects postage stamps and has to have one from every country. There is no beauty in a postage stamp, there's beauty in a one-of-a-kind piece. Some people have to collect every culture and feel they must have something from Benin, something from the Ivory Coast, something from the Zulu. What the hell difference does it make where it comes from as long as it is beautiful? I hate the word "collector". I'm not a collector at all. I'm a custodian a caretaker. If I was a lousy custodian then great art would not come to me. Beauty attracts beauty, passionate people pursue passionate things and that gives you taste."

TM:YOU GENERALLY LIKE TO BUY AT AUCTION. WHY IS THAT?
SAUL: "I like auctions because the playing field is fair. All of the pieces are available at the same time and you know exactly when they are going to be sold. With a dealer a piece could be gone or pre-sold… I also like buying from dealers because you can get good deals and buy things that might go for too much money at auction. For example, I bought this little Northwest Coast Tlingit Raven Pipe bowl from a dealer last year. That same piece at auction may have gone for double what I paid for it when you consider other dealers and collectors biding the price up."

TM:HOW HAS THE MARKET FOR TRIBAL ART CHANGED SINCE YOU FIRST BEGAN ACQUIRING?
SAUL: "Thirty years ago at Parke-Bernet Galleries in New York you would get a catalog with 300 pieces and there was a piece for everyone. There was a lot of junk but there would be sleepers too. Years ago when there was less interest it was easier to get a bargain but the competition is tough now and it is harder to buy. Everyone knows the value of objects. There were fewer collectors years ago too."

TM:WHAT ADVICE WOULD YOU HAVE FOR NEW COLLECTORS JUST DISCOVERING TRIBAL ART?
SAUL:  "Wow, that's tough, very tough see. The good news is that great objects keep appreciating, so if you can get a hold of a masterpiece (at a reasonable price) that is potentially worth $50,000 then new collectors have a chance. If you can't afford one important piece of art then buy books.  There is nothing wrong with that.  It is hard for people who don't have art ability to get going and often they've lost 20 or 30 years before they even start.  So it's important to begin (collecting) early."
TM:WHAT ARE YOUR THOUGHTS ON HOW ART SHOULD BE VIEWED IN THE HOME ENVIRONMENT?
SAUL: "Many evenings when my wife is asleep and its 2 am in the morning, I'll put a piece on a pedestal under "good" light and look at it from all angles. Art needs light and if you leave it in the same place too long it looses its power. Art doesn't deserve to be in the same spot all the time. It needs to be walked around the house and displayed in different areas so you get a completely different perspective. I do this a lot and it can blow your mind how it looks in different areas. Height is very important too… you must play with the height. Sometimes eye level is not always best, so it depends. As you know, I only have about five or ten percent of my pieces out in my house at any one time. The reason is that you can't absorb too many pieces at once. They are powerful pieces and if you had them all out at once it would blow the house apart. So I rotate pieces out of storage and live with a few at a time. Less is more… less is definitely more. One great piece makes a collection."

TM:WHAT IS YOUR FAVORITE PIECE IN YOUR COLLECTION?
SAUL: "That's hard. My favorite pieces change, but thinking about it (long pause) I would have to stay my Tabwa staff finial".
​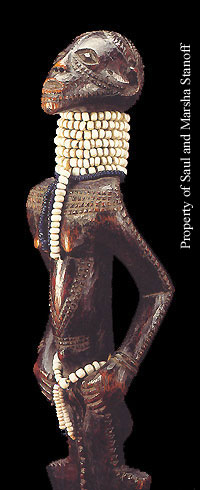 Tabwa Staff Finial
TM:EVERYTHING IN YOUR COLLECTION SEEMS TO HAVE SOME BEAUTIFUL & LOVELY ASPECT TO IT–WHY DO YOU CHOOSE TO STAY AWAY FROM MORE GROTESQUE OR CRUDE LARGER PIECES?
SAUL: "My thoughts about art and aesthetics are that a piece has to be lovable. If you look at a beautiful woman everyone can recognize beauty but that's not so with a piece of primitive art.
I don't like any art which shows western influence. A great piece is magnetic and spiritual and that's why I pay a lot of money for a small piece. I hate to use the word, but it's almost a sexual experience for the brain. Love and sex go together; I can fall in love with an object. Art is an escape for me.
All great pieces have a very spiritual aspect. I'm fascinated with pieces made by a man's hand which shows spiritual belief and vision. Also, I have a good eye…. people know I have a good eye. I love my taste, I enjoy it because you look at a great object…. take a butterfly for example, it is beautiful, but when man makes a beautiful thing with his mind and heart and soul… he comes up with a masterpiece- wowee! I can fall in love see. You know, people ask me how I know if a piece is a fake. An object will tell you if it is a fake.
I can't stand stupidity in tribal art. Authentic tribal art is never stupid; it has spirituality and energy to it. A piece will speak to you and tell you if it is authentic. If it is stupid get rid of it because great tribal art is never stupid. When there is a passion and exchange of energy with a piece it talks to you and tells you that it is real. Sometimes it may stop talking to you then it is time to pass it on to someone else.
I look at art differently than most people do and I'm blessed. I've seen many collections and they bore the hell out of me. The collector will say 'Look its three feet tall and its grotesque and that's how art should be'. No that's not how art should be. See, I can't understand grotesque. Life is too short to live with negative objects.
When Art is great it is not a material thing it is an emotional experience and if more people would have this sensitivity they would not be collecting ordinary things, they would be collecting nice things. Maybe I better keep my mouth shut (laughing)."

TM:DO YOU FIND THAT IT REQUIRES MORE AND MORE POWERFUL PIECES TO AROUSE YOU AS YOUR TASTES HAVE EVOLVED?
SAUL: "All of the pieces have power, but I find that if it is too lovely I get bored with it. A powerful piece stays in my gut much longer. These pieces are not meant to be sweet, kissable and huggable. They deserve a certain amount of respect. If a piece becomes too sweet and too sugary then they've got to go. If a piece loses power for me it becomes sweet and then it time for it to leave the house. Art has to be on wheels as I say. One of the biggest thrills in life is to be able to share the art. A piece will become powerful and alive for me all over again when I share it and talk about it with another person. By showing you this Dan Mask the same is true…. it is magical allover again."TM: COULD YOU EVER IMAGINE A LIFE WITHOUT ART?
SAUL: "There is no real life without art and to live without it is a loss. The first time I walked into a museum as a kid I got my first whiff and felt the aura of the primitive people. In this case it was Native American.
Everyone needs an escape and the only escape I've ever had is the art. I don't take drugs and the sex is just about gone so the only thing left is the art. I tell you a few years back my son died of a drug overdose and with my nervous condition and neurotic ways I felt very suicidal. If it was not for the art I could not have gotten through that period. Art is therapy for me. When I'm looking at a beautiful art object and feeling that energy and spirituality I don't have any problems and in fact I'm in a different world. My wife can talk to me and I don't hear her. Art that is great deserves a lot of attention and that is a wonderful escape for a person like me.
For the last 60 years of my life I've always had an art experience everyday whether it was a book, a magazine or a piece. Art and music go together by the way. I'll put on some classical music and then just place a piece in some good light and just look at it. Art is a living thing, it vibrates. Art is meant to be touched and it can't breathe inside a glass box. In fact a blind man can enjoy tribal art in three dimensions."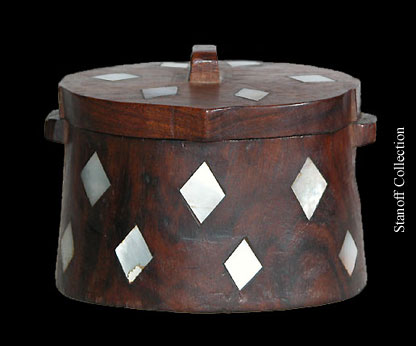 ​Tokelau Island Tackle Box
TM:  DO YOU FEEL THAT YOU'VE SEEN ALL THERE IS TO SEE? 
SAUL: "Luckily I don't have blinders on like some people that say "I just collection one thing and that's it". So no, there is so much great art to look at like Pre-Historic Eskimo, Pre-Columbian, Chinese art etc. There is plenty of art to go around and it will never be exhausted. I find that there is enough for everybody and it's constantly available. A lot of people look but they can't find anything and lucky for me, I can find a needle in a hay stack. I've got to tell you one other thing and that is that I was born with sensitivity and art appreciation and was able to cultivate it to a high degree".

TM: IF YOU COULD HAVE ANY OBJECT IN THE WORLD WHAT WOULD IT BE?
SAUL: "That is a good question. There is one thing and it is in the Louvre in Paris . It is a Zulu spoon with breasts…. ahhhh…..it's gorgeous! That piece has everything going for it sensitivity, sexuality, beauty… it is so simple and the curvature of the neck is wonderful. I could love that thing all my life. The artist who made that spoon was the greatest artist in the world and you know why, he transformed an ordinary object into a masterpiece with every characteristic you could imagine. You can have your Fang figures & your Dogons but just give me that little spoon and you could have half of my collection, well I don't know about half maybe one third (laughs). Jacques Kerchache was responsible for getting that in the Louvre. We got to spend 10 days with Jacques at his house in Normandy. He's a wonderful man …."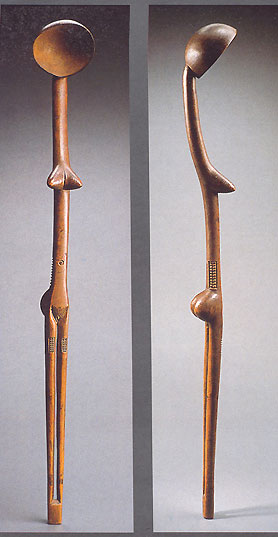 ​Zulu Spoon at the Louvre
​
TM: I BELIEVE YOU'VE COINED THE EXPRESSION "THE PIECE HAS DIED ON ME" WHICH A NUMBER OF US DEALERS ARE FAMILIAR WITH. WHAT DOES IT MEAN FOR YOU WHEN YOU SAY THIS?
SAUL: "Yes, sometimes when I get a piece the energy or power that it initially had for me will run out and goes flat especially when I get it home. This could be within five days or five years. It will no longer move me the same way. Some objects however, are timeless and very powerful continuing to offer themselves to the viewer. I believe Art should have wheels. A collection should move and when I've gotten all of the juice out of an object I feel it is time to let it go and let someone else get the juice from it."
​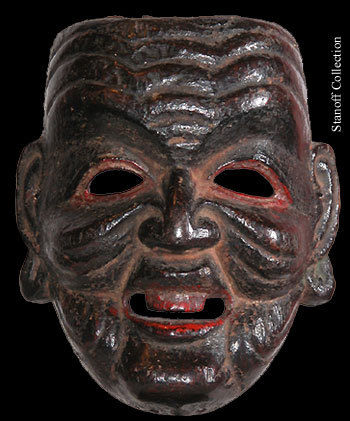 Buddhist Houshang Mask (Monpa) Himalayas Arunachal Pardesh
​
​TM: WHAT WOULD YOU LIKE PEOPLE TO KNOW ABOUT YOU IN PARTICULAR?
SAUL: "I'm shy I don't like to be on stage (long pause). I'm honest and fair and I don't like to go with the masses and I don't have many friends. Well, if people could understand my taste I would feel more comfortable. I don't feel comfortable with most collectors because they don't understand me at all. They don't understand how I buy things or why. They buy with unlimited funds and I buy for love and passion. If you buy for investment and to make money it kills it. Money is the downfall of collecting. It will ruin a collection because if you have too much money you buy everything that is available and end up with a huge inventory.
I have no respect for the new collectors with millions to spend on art who accumulate everything in sight and build a collection in a few years. It is impossible to build a great collection that quick. No, I respect for instance the school teacher in Brussels who falls in love with one piece and has to take 3 years to pay it off. That's the kind of love and passion I respect. I met a guy in Paris after an auction years ago. I said you bought that piece, good for you, you have a good eye. He said 'Do you want to see my collection?' I said how many pieces do you have he said 'Just three'. And how long have you been collecting? He said 'Five years'. I was never so excited to see someone's collection in my life. He lived in a little hole in the wall apartment and his pieces were charming. I enjoyed that very much because he was humble and deeply passionate. If you've been collecting for 3 years and have 500 pieces I don't want to see your collection. Unlike some of these wealthy collectors, I would never have an advisor tell me what to buy…. I want my own taste in my house not somebody else's."

TM: DO YOU THINK YOU WILL EVER PUBLISH YOUR COLLECTION?
SAUL: "Yes, but it must be done a certain way. I'm interested to see what Mark Blackburn's book looks like when it comes out. I don't know about publishing all of my collection, that is too overwhelming. I think 50 pieces would be fine. I don't care about doing something like a text book with descriptions, provenance and it measures 80 cm etc. That's been done and is boring to me. I see something done by a European photographer like Hugh Dubois with beautiful photos and proper descriptions which evoke emotions and feeling."

TM: WHAT IS YOUR ULTIMATE INTENTION FOR YOUR COLLECTION?

SAUL:  It has got to be dispersed.  Museums have basements that are full of stuff and out of 1000 pieces they might only display 10 pieces a year …… This is a shame… it's a crime.  I want other custodians like myself to take care of the art in their own homes. I believe art should be enjoyed by the people.  Someday I want my collection to be sold at auction. Art has been a big part of my life. Each time I look at one of my pieces it absorbs some of my personality.  Life is worth living if I can die and people can still remember me for something. When a piece is sold and changes hands some of myself remains in that object and I love that thought. "
TM:  YOU'VE TURNED DOWN SOME ASTONISHINGLY HIGH OFFERS ON SOME OF YOUR PIECES.  HOW DOES THAT MAKE YOU FEEL TO RECEIVE OFFERS AND IS THERE A POINT AT WHICH IT IS SO MUCH MONEY THAT IT IS HARD TO SAY NO?

SAUL: "It makes me feel good and sad at the same time. I'm overwhelmed twenty times over. I don't buy for investment but the pieces keep appreciating anyway. Ultimately the piece itself is more important than the money. I receive dividends again and again from a piece I love. See, I would have to pay taxes on the money and would then have to go out and try and find a replacement object. It is not likely that I could find something I love as much or would have the emotional impact for me."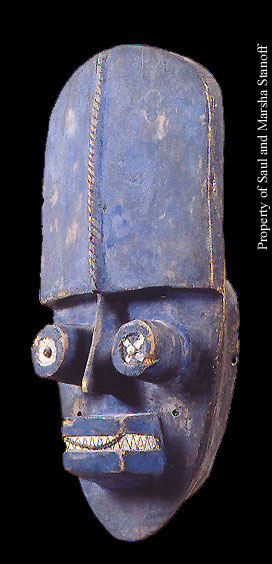 Grebo Mask
TM:  YOU TOLD ME AT LUNCH THE OTHER DAY THAT IF YOU COULD BE YOUNG AGAIN THAT YOU WOULD TRADE "EVERYTHING".  WHY IS THAT? 
SAUL: "Youth is wasted on the young! If I could have the experience I've got now and be 20 years of age again I would give it ALL away. Youth is a waste there is no doubt about it. Why did our creator make people old when they have arrived? You're tired and have all this knowledge it doesn't make sense. You should start life with the knowledge and then gradually loose it when you get older. If you started life and had that previous knowledge in front of you, then you could appreciate anything. You should have 60 years experience and then be young again. What can a young person appreciate? They can't even appreciate a woman…. they are too inexperienced. When you're young you don't observe anything. It takes many years of experience to know how to live. When you're old you can really absorb things.
That reminds me of something important we can end on. I was having dinner in Brussels with Jean Willy Mestach one night. I'm crazy about this man; he is a great artist too. He made a wonderful remark. He said 'Art is what makes life more important than art'. Think about that and then think about it some more! People who don't collect or have passion won't understand this."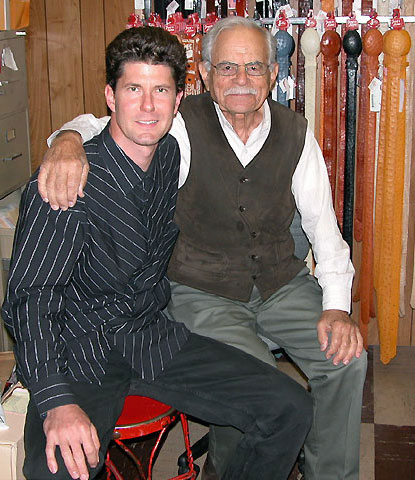 Michael Auliso and Saul Stanoff
​
​Saul is certainly an "original" and I extend him my gratitude for cheerfully and enthusiastically providing this fascinating interview for the visitors to the TRIBALMANIA website!
Michael Auliso